Homemade Cookies Recipe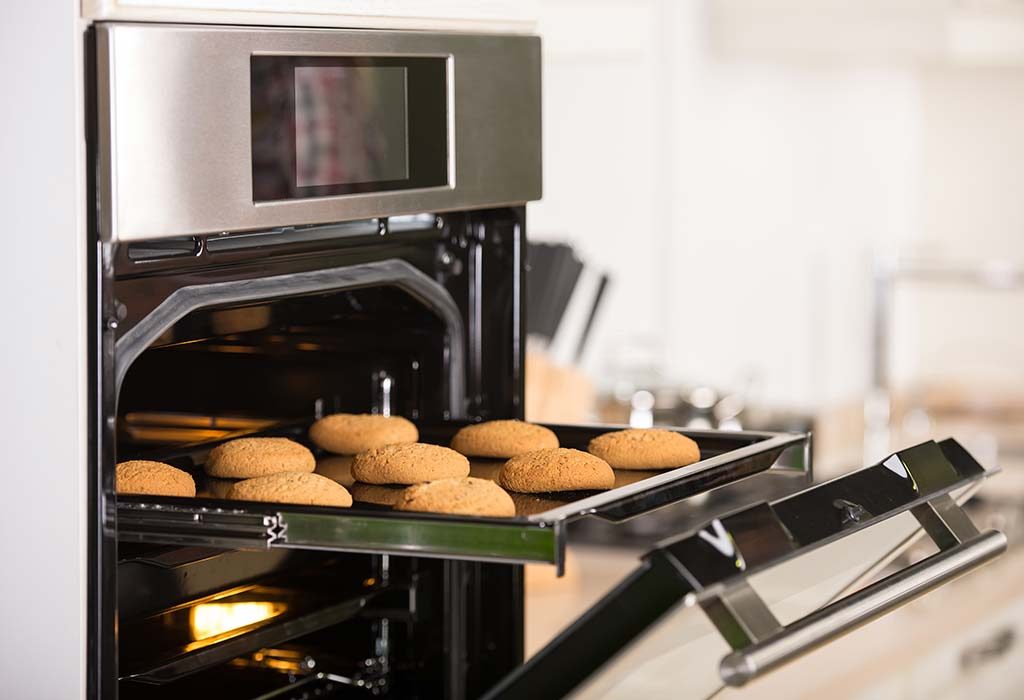 In this Article
Babies love their snack, and if it is a finger food or a biscuit, then it makes it even better. Cookies or biscuits are attractive in shape and size. Generally, cookies are made with refined flour or maida. Try this simple homemade cookies recipe for your toddler that is packed with the goodness of whole wheat flour and dates. A great healthy snack to pack for your toddler when outdoors or for daycare
Cooking Time
| | |
| --- | --- |
| Type | Time(hh:mm:ss) |
| Preparation Time | 00:15:00 |
| Cook Time | 00:15:00 |
| Bake Time | 00:25:00 |
| Total Time | 00:55:00 |
Total Servings: 3-4
Suitable For
Any toddler above 16 months of age
Cooking Method
Gas Stove, Microwave Oven or Cooking oven
Type of Meal
Great for vegans, Suitable for vegetarians too
Meal Schedule
Outdoor Snack, mid-day snack
Recipe Type
Tea-time snack, finger food for munching
Ingredients
| | |
| --- | --- |
| Ingredients | Quantity & Volume |
| Dates | 1/4 cup |
| Whole Wheat Flour ( Atta) | ½ cup |
| Butter | ¼ cup |
| Sugar | 2 tbsp |
Instructions
You must be wondering how to make homemade cookies for your baby that is healthy and equally filling. Fret no more, read on to find the step by step procedure for this delicious and yummy snack:
You have to start by making the date puree first. Follow the steps below:
Chop the dates into small pieces.
Add ½ cup of water to the chopped dates.
Add the dates in the water. First, bring it to boil in a non-stick pan. Simmer the pot after 10-12 minutes until the dates are thoroughly mashed into a puree.
Make sure the dates cook well. If you feel you need to keep it longer, then do so until they are soft and mushy.
Let this mixture cool down and keep it aside.
Next step is to make the dough. Follow the steps below:
Combine the whole wheat flour, butter, sugar in a below. Mix it with your fingertips until it resembles bread crumbs.
Now add the dates puree once it is cold and knead the mixture into a lovely soft, pliable dough.
Cover the bowl with a plastic film and place it in the refrigerator for about 15 minutes.
After 15 minutes, take it out from the refrigerator.
Take a rolling pin and roll the dough on a flat surface (preferably a chopping board or flat plate).
Roll into a sheet of 6 mm or ¼ inch thickness.
Cut out round shaped cookies, approximately 1.5 inches in diameter using a cookie cutter.
With the remaining scraps of dough, roll into a sheet and cut out more cookies.
Place these cookies on a greased baking tray.
Bake in a pre-heated oven at 180 degrees ( 360 degrees Fahrenheit) for 25 minutes. Check-in between to see the progress. Cook until the cookies turn golden brown.
Once done, cool and store in an air-tight container.
Nutrition Information (Per Servings)
| | |
| --- | --- |
| Nutrient | Value |
| Calories | 57 kCal |
| Fats | 2.9 gm |
| Calcium | 3 mg |
| Protein | 0.6 gm |
| Fibre | 0.2 gm |
| Vitamin A | 113.3 mcg |
| Iron | 0.3 mg |
| Vitamin C | 0 mg |
| Cholesterol | 7 gm |
Recipe Tips
These cookies can be fed to toddlers over 12-16 months of age. Since they need to chew, it is advisable to give it to kids who have teeth.
Make sure you chop the dates finely.
Once you boil it, check if they are adequately cooked and mashed.
The recipe above will give you about 12-15 cookies. If you want more, increase the quantity of ingredients proportionately
Store the cookies in an air-tight container as they will get soggy if not kept in a sealed container.
You can bake the cookies in a convection microwave oven if you do not have a traditional Oven-Toaster and Griller.
If you wish you can add small pieces of raisins, almonds, figs or apricots to the kneaded dough.
Homemade cookies for your toddler are an excellent snack for your kids if made in whole wheat flour.
You could also try and use refined flour. But if making with refined flour, make sure you do not feed too much to your child. Refined flour is not easily digestible and could lead to bowel problems.
If using butter, try to use unsalted butter. Buy branded ones available in the market. Alternatively, you could make the unsalted butter into ghee and then make the cookies in them. Unsalted butter and ghee have good fat in them and are safe and healthy for kids.
Health Benefits
Dates are a source of antioxidants. All dates, fresh or dried, contain different types of antioxidants. Fresh dates contain anthocyanidins and carotenoids, while dried dates contain polyphenols.
Dates contain a brain booster. Each little date contains over two milligrams of choline, a B vitamin that's a component in acetylcholine, the memory neurotransmitter.
Buying Guide
Homemade cookies baby food recipe is simple and easy to make. The ingredients are all available over the counter in supermarkets.
While buying dates, make sure that they are juicy and delicious. Make sure you do not buy the dry dates. Buy only branded and packaged form of dates. Ensure you check the expiry date on the packaging
Use only whole wheat flour and not any multigrain flour. Buy good quality wheat flour and check the expiry date on the packaging.
You can alternate butter with homemade ghee.