Multigrain Roti Recipe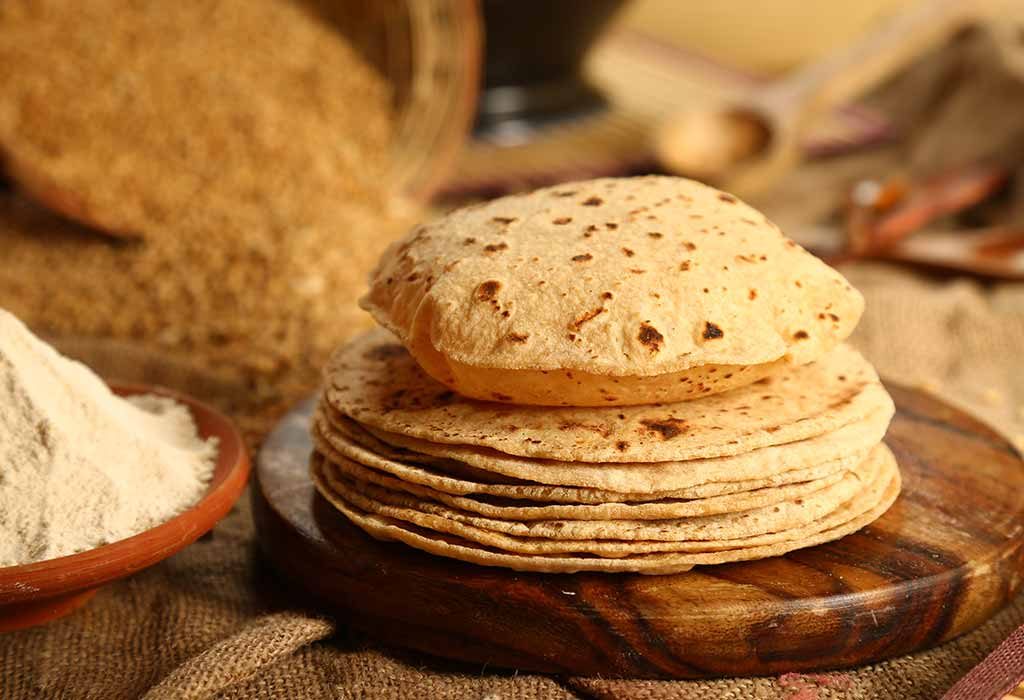 In this Article
Multigrain roti is made by combining more than one flour. Multigrain roti can be served with any vegetable and is a tummy-filling meal. If you are considering making multigrain chapatis for your baby or toddler, you should because it would prove to be very healthy for him Multigrain roti can be fed to infants, toddlers. You can also give it to your baby if he has teeth as he will be able to chew it and digest it properly. If you want to know how you can make multigrain rotis for your baby, below is a recipe for the same. The below-mentioned recipe gives you details on how to prepare multigrain roti for babies.
Cooking Time
The table below presents the total cooking time to prepare multigrain rotis.
| | |
| --- | --- |
| Type | Time (hh:mm:ss) |
| Preparation time | 00:30:00 |
| Cooking time | 00:10:00 |
| Total time | 00:40:00 |
Cooking Method
Gas
Type of Meal
Vegetarian
Suitable for
Babies 12 months and above
Meal Schedule
Lunch or Dinner
Recipe Type
Main dish
Ingredients
Below are the ingredients to prepare soft multigrain roti for babies.
| | |
| --- | --- |
| Type | Quantity |
| Wheat flour | ½ cup |
| Oats | ½ cup |
| Millet flour (bajra, ragi, and jowar aata) | ½ cup each |
| Oil or desi ghee | One tablespoon |
| Filtered water | As per requirement |
Instructions
Here are the step-by-step directions to make multigrain roti for kids.
Powder the oats finely in a blender.
Mix the oats powder, millet flour, and wheat flour in a bowl.
Add the oil or ghee.
Knead the flour to a soft dough.
Keep it aside for 15-20 minutes.
Take a small ball from the dough and roll it out on a rolling board using a rolling pin.
Use wheat flour for dusting and to prevent the dough from sticking on the rolling board.
Heat a chapati pan and put the flattened roti on it.
Let it cook from one side then flip. Place the half-cooked roti over the flame.
The half-cooked side should get cooked completely. You will see it puffing.
Take it off the flame then apply desi ghee on it.
Repeat the above steps to make more rotis.
Serve hot to your child.
Recipe Tips
Below are some useful recipe tips you should keep in mind to make soft multigrain roti for your baby.
Ensure that the oats are powdered well as failing to do it would make rolling roti difficult for you.
You can also add desi ghee instead of oil while kneading the dough.
Don't dust too much flour while rolling out the rotis as too much flour would make the rotis hard.
Apply oil or ghee on the pan before transferring roti on it to keep it softer.
Add a pinch of salt while making the dough if you are planning to serve it without any veggies.
Adding spinach or any other green leafy vegetables to the dough will increase the nutritional value and taste of the rotis.
Flip the first side of the roti after 3-4 seconds and the other side to be cooked longer to give a perfect texture along with excellent taste.
Make sure you cook it well as half-cooked roti may cause stomach irritation.
Nutrition Information (Per 100 Grams)
Here is the breakdown of all the nutritional values present in multigrain roti.
| | |
| --- | --- |
| TYPE | VALUE |
| Carbohydrates | 38 gm |
| Fat | 6 gm |
| Sodium | 5 mg |
| Potassium | 166 mg |
| Protein | 6 gm |
| Calcium | 14 mg |
Health Benefits
Multigrain roti is loaded with health benefits for babies. Below are some of the health benefits of multigrain rotis for babies.
Multigrain roti consists of ragi, which is rich in calcium, magnesium, and vitamin D. All these nutrients will help in strengthening the bones of your child.
Bajra is rich in vitamin B and minerals such as phosphorus.
Jowar flour is a rich source of protein and boosts immunity.
Ghee is also known to boost immunity and help digestion.
This power-packed recipe with all the nutrition is necessary for a growing baby.
Buying Guide
The buying guide ensures that you provide all the nutrition present in the ingredients without destroying them. Below are some of the points to keep in mind while buying ingredients.
Try to buy organic flours available in the market.
You can powder wheat, ragi, bajra, and jowar at home to ensure they don't lose their nutritional values.
Freshly ground grains enhance the taste and aroma of the recipe.
These easy to make multigrain roti for babies are tummy-filling and healthy. So serve it to your child and let him have a hearty meal.