Beetroot Raita Recipe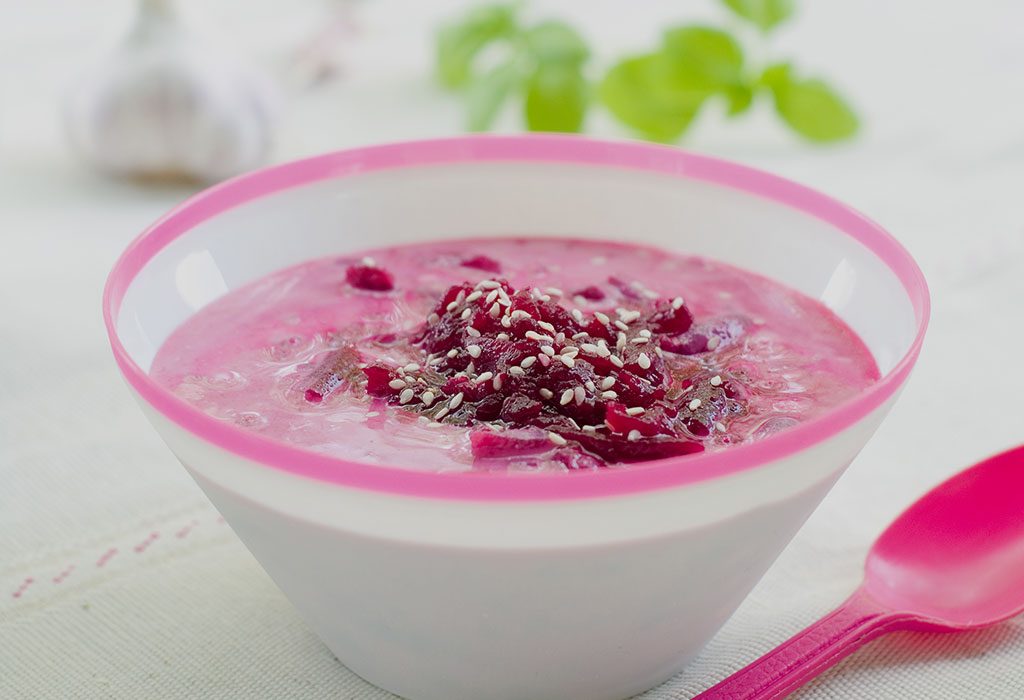 In this Article
Beetroot is known for its nutritional value as it is a rich source of iron, folate and Calcium. Beetroot and curd make a tasty combination for kids, and the colour of the raita is simply attractive to the young and curious eyes. This does not require much chewing for babies who are in the phase of teething. It is also a healthy recipe for toddlers. Beetroot Raita for babies is easy to cook and takes very less time to prepare. It is a quick and healthy recipe which can be eaten by all.
Cooking Time
| | |
| --- | --- |
| Type | Time (hh:mm:ss) |
| Preparation Time | 00:15:00 |
| Cook Time | 00:05:00 |
| Total Time | 00:20:00 |
Cooking Method
Gas Stove
Type of Meal
Vegetarian
Suitable For
Babies from 13 months onwards
Meal Schedule
Lunch or Dinner
Recipe Type
Salad
Ingredients
| | |
| --- | --- |
| Ingredients | Quantity and Volume |
| Beetroot | 2 Nos. |
| Curd | 1 Cup |
| Cumin powder | 1 Tsp |
| Salt | To taste |
| Coriander Leaves or Curry Leaves | A few to garnish |
Instructions
If you are thinking about how to make Beetroot Raita for babies, here are the step by step directions to prepare it. It is very easy and can be made quickly.
Soak the beetroot in water for 2 minutes and wash them thoroughly.
Once they are washed, peel them.
Chop the beetroot into small pieces.
Cook them in a pressure cooker for 3 whistles or till they become tender.
Now, take a bowl and add 1 tsp of cumin powder.
To this add the curd and boiled beetroot pieces.
Mix well by adding salt to taste and garnish with coriander or curry leaves.
Serve this raita to your baby as a healthy salad.
Recipe Tips
Make sure you use sweet curd. If the curd is sour, the raita will not taste good. Also, if the beetroot is not sweet, you can add a pinch of sugar. Remember the below-mentioned points before you start preparing the healthy and simple Beetroot Raita recipe for your baby.
Remember to wash the beetroot thoroughly before you peel it.
Chop the beetroot finely before pressure cooking it.
Make sure the cooked beetroot is soft enough for your baby. It should be easily chewable by babies if your baby is in the teething phase.
Do not use tap water for cooking the beetroot.
The outer cover of beetroots will usually have mud and dirt. Therefore, peel the beetroot fully.
Always wash your hands well before cooking the raita. The utensils used should also be properly cleaned before using them.
Nutrition Information (Per 100 Grams)
| | |
| --- | --- |
| Nutrient | Value |
| Energy | 141 Cal |
| Protein | 5.1 g |
| Carbohydrates | 14.7 g |
| Dietary Fibre | 2.8 g |
| Fat | 3.3 g |
| Vitamin A | 33 IU |
| Vitamin C | 4.9 mg |
| Sodium | 77 mg |
| Potassium | 305 mg |
| Iron | 0.76 mg |
| Folate | 97.3 mg |
| Calcium | 16 mg |
| Zinc | 0.35 mg |
Health Benefits
Beetroot is rich in iron and calcium.
Iron in beetroot cures anaemia in growing babies and toddlers.
Calcium helps in making stronger teeth and bones.
Beetroot is a good source of carbohydrates that has dietary fibres that aid digestion.
If you are feeding only vegetarian food to your baby, then beetroots are a must to give them the required amount of protein.
Curd is a rich source of lactic acid which increases immunity in babies.
Curd helps in maintaining the pH or acid-alkali balance of the stomach keeping acidity at bay. It is sure to reduce colic in babies.
Cumin powder will also aid in digestion, and the baby will get used to the spicy taste.
Curd also regularizes sleep in babies. If you want to have a good night's sleep, then raita like this one will surely help you make a sleep routine for your baby.
It is a tasty and healthy combination of beetroot and curd for babies and toddlers.
Buying Guide
Buy organic beetroots from a good store.
Check for the date of manufacture of the curd if you are using store brought curd.
Make sure you buy good cumin powder which is packed hygienically.
Check for the expiry date of all the ingredients you buy.
The health of kids is of utmost importance to parents. If you have a fussy eater, you can make this homemade beetroot raita recipe to feed veggies to your little one. It enhances both the taste and nutritional value as we have used curd in this. This combination of beetroot and curd can be a powerful and healthy salad for your baby.