Banana Pancakes Recipe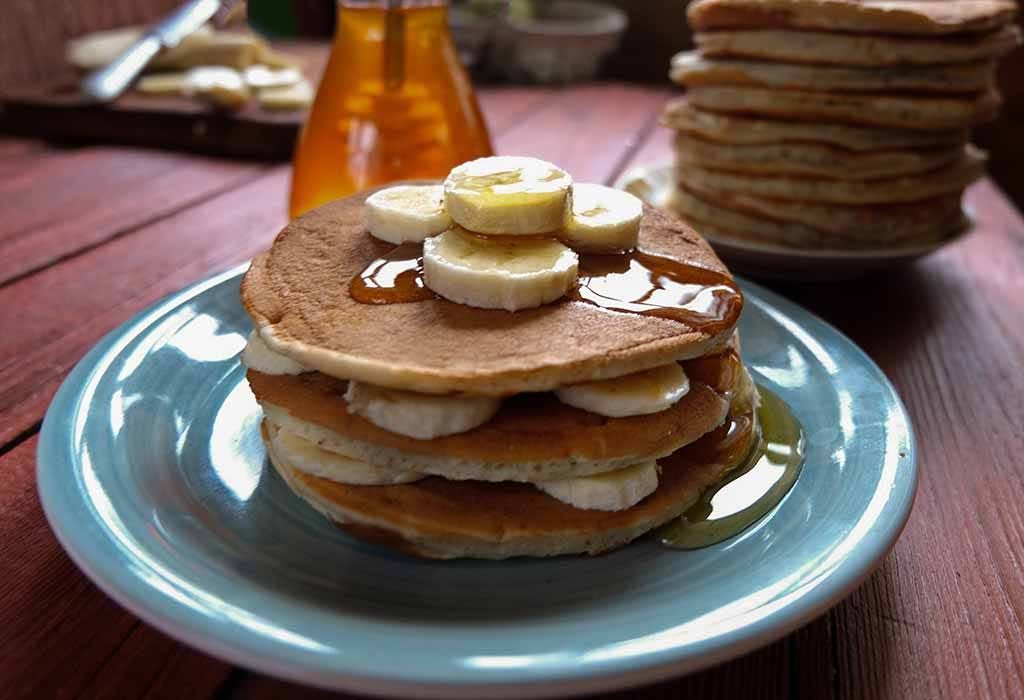 In this Article
Bananas are great food options for babies as you begin weaning them off, and when you whip them into yummy pancakes, it turns into a great finger food or a wholesome meal option for your munchkin. Simple and delicious, this banana pancake recipe is surely going to tickle your little one's taste buds. Wondering how to make Banana Pancakes? Read on and learn how you can make this super easy and yummy recipe in no time!
Cooking Time:
| | |
| --- | --- |
| Type | Time (hh:mm:ss) |
| Preparation Time | 00:04:00 |
| Cook Time | 00:06:00 |
| Total Time | 00:10:00 |
Cooking Method: Gas
Type of Meal: Ovo-vegetarian (contains eggs)
Suitable For: Toddlers older than 14 months old
Meal Schedule: Breakfast, Mid Morning Snack, Lunch or Evening Snack
Recipe Type: Main Dish
Ingredients:
| | |
| --- | --- |
| Type | Quantity |
| Egg | 1 medium-sized |
| Banana | 1 medium-sized and ripe |
| Butter or oil | 1 to 2 teaspoons |
| Oats | 2 to 3 tablespoons |
| Honey (Optional) | 1 to 2 teaspoons |
Instructions:
Here are step by step directions to make banana pancakes:
Peel the banana and mash it nicely using a fork, until no lumps remain.
Take a deep bowl, break the egg into it and whisk it until frothy.
Put the mashed banana in the beaten egg and mix thoroughly.
Throw in oats into the egg and banana mixture and beat until its smooth and without any lumps.
Take a shallow pan and heat it over medium heat.
Grease the pan with butter before pouring the pancake mix on it.
Gently scoop and spread out small dollops of pancake mix on the pan.
Cook the pancakes well from both sides until they turn golden brown.
Serve warm topped with honey.
Recipe Tips:
You can use this simple Banana Pancakes recipe to store pancakes for later use also. Make sure you stack the pancakes in an airtight container and store them in the refrigerator.
For babies younger than 12 months, homemade Banana Pancake baby food recipe can be made without honey too. This is because honey may sometimes contain spores of bacteria that may cause botulism in babies.
For older babies (more than one year), chopped banana can be served with the pancakes to add more texture to the meal.
Nutrition Information (Per 100 Grams):
| | |
| --- | --- |
| Type | Value |
| Carbohydrates | 48 grams |
| Sugar | 12 grams |
| Calcium | 44 milligrams |
| Iron | 2.4 milligram |
| Protein | 10 grams |
| Sodium | 50 milligram |
| Dietary fibre | 6 grams |
Health Benefits:
Wondering how healthy these tasty delights are for your baby? Here are some health benefits of Banana Pancakes for babies:
Bananas are a rich source of fiber, which not only helps in clearing your baby's bowels but also helps the baby feel full for a longer period of time.
The calcium and potassium in a banana are good for your growing baby's bones and teeth.
Bananas are loaded with essential vitamins and minerals such as calcium, magnesium, potassium, iron, folate, etc that help babies in gaining weight.
The presence of vitamin A helps in improving vision and also aids cornea protection in babies.
Including bananas in any form in your baby's diet can help in clearing toxins from your baby's body and thus reduces the chances of infections like urine infections and other such ailments.
Another important ingredient in banana pancakes is oats, which are not only rich in essential nutrients such as vitamin B-6, K, E, folate, niacin, riboflavin, etc. but oats also contain antioxidants that are good for reducing the impact of free radicals.
Buying Guide:
Here are buying tips that you should keep in mind while picking up ingredients for banana pancakes for your baby:
Pick up bananas that are fully ripe, which means that they should be yellow in colour and the peel should easily separate from the stem. If you pick up greener ones, you have to let them ripen for a couple of days before you use them for making pancakes.
As far as possible, buy organic fruits and vegetables for your munchkin as these products are sans any harmful chemical pesticides and insecticides. Such products are a safer bet for your little one.
Make these super-easy banana pancakes for babies. They can be whipped up in a jiffy and will surely bring a big smile to your munchkin's face!