Carrot-Beetroot Coriander Soup Recipe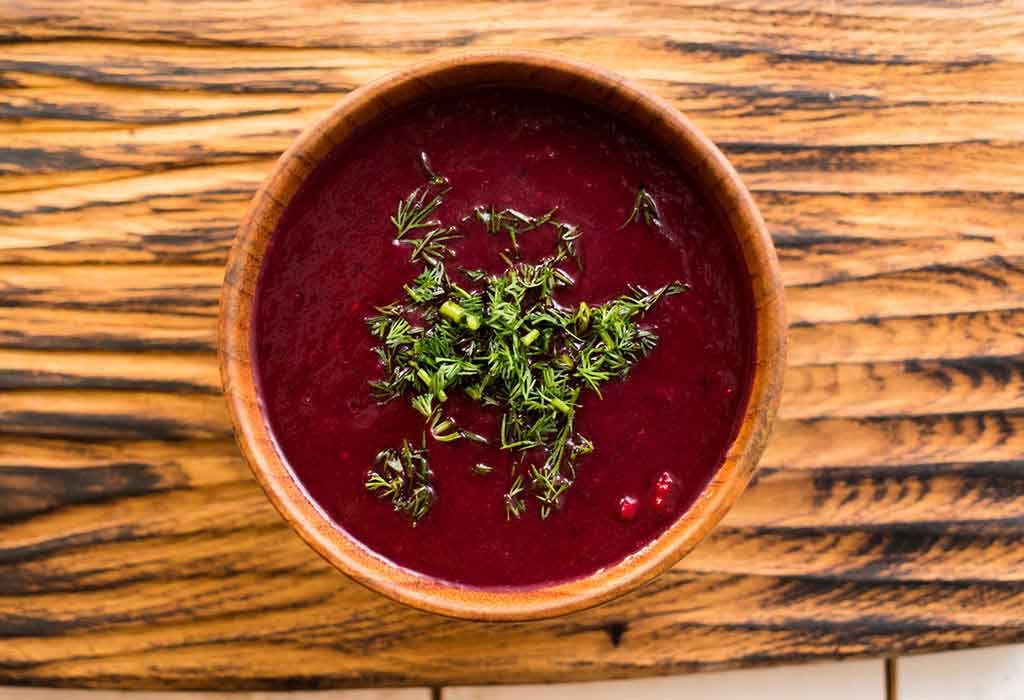 In this Article
Easy to make and healthy homemade Carrot Beetroot Coriander soup will surely get a thumbs up from your baby for its flavour. It serves as a full meal for growing babies as is loaded with nutrients and is filling too. It is ideal for babies above 6 months who are being weaned and proves to be a great way to introduce them to solid food. Both carrot and beetroot are bright-coloured vegetables that are rich in essential nutrients.
Cooking Time
| | |
| --- | --- |
| Type | Time (hh:mm:ss) |
| Preparation Time | 00:10:00 |
| Cooking Time | 00:15:00 |
| Total Time | 00:25:00 |
Cooking Method
Gas
Type of Meal
Vegetarian, Vegan
Suitable For
Babies from 8 months onwards
Meal Schedule
Breakfast, Mid-Morning Snack, Lunch, or Evening Snack.
Recipe Type
Soup
Ingredients
| | |
| --- | --- |
| Ingredient | Quantity |
| Carrot (peeled and chopped) | 1/2 cup |
| Beetroot (peeled and chopped) | ¼ cup |
| Coriander (Cilantro) leaves | a few sprigs |
| Butter | 1 teaspoon |
| Garlic cloves (finely chopped) | 2-3 |
| Cumin seeds | ¼ teaspoon |
| Black pepper powder (optional) | ¼ teaspoon |
| Water | As needed |
| Salt (optional) | As needed |
Instructions
Read on to know the step-by-step instructions guide to making this super healthy and delicious soup that helps in the development of babies and is easy on the stomach too.
Wash the carrot & beetroot thoroughly in running water.
Peel the skin off from the carrots & beetroots using a peeler and chop finely into small cubes.
Transfer the chopped vegetables to a pressure cooker, add a cup of water. Cook for 2-3 whistles.
Wait for the pressure to be released and check the softness of the vegetables.
Transfer the cooked vegetables to a blender. Make a smooth paste. Add more water if required.
Heat a pan and add the butter. Let it melt and add the cumin seeds and chopped garlic. Saute for two minutes.
Then add the vegetable paste to it and let it boil.
Strain the soup using a strainer if making it for babies between the age of 6 to 12 months.
Season with salt and pepper powder, garnish the soup with finely chopped coriander leaves.
Recipe Tips
This super easy Carrot Beetroot Coriander soup recipe is good for babies, toddlers, and kids and can be given in small quantities either by itself or with some steamed rice. Here are some tips that will help you while making this tasty soup for your little one.
All vegetables need to be washed properly.
Adding black pepper and salt is optional and depends on your baby's preference.
You can also grind a few coriander leaves along with the carrots and beets to add more flavour.
Use only RO or purified water in making food for babies or toddlers.
Make sure your hands, vegetables, and utensils are clean when you are preparing anything for your baby.
If you are feeding this soup to babies in the age group of 6 to 12 months then the straining of this soup is essential. For toddlers above one year, you can serve the soup as is, straining is not required.
Nutrition Information (Per 100 g)
| | |
| --- | --- |
| Type | Value |
| Energy | 22 Kcal |
| Carbohydrates | 4.6 g |
| Vitamin A | 529.2 mcg |
| Protein | 0.6 g |
| Fat | 0.1 g |
| Dietary fibre | 1.9 g |
Health Benefits
This Carrot Beetroot Coriander Soup recipe for babies/toddlers is easy and quick to make and is delicious too. It is packed with all the essential nutrients required in a complete meal for a baby. There are numerous health benefits that this recipe possesses and few of them include:
Carrots are rich sources of beta-carotene which helps in the absorption of Vitamin A and develops your baby's vision.
This easy Carrot Beetroot Coriander soup recipe helps in improving the immune system of growing babies and toddlers.
Beetroots are packed with iron and enhances brain development.
All the vegetables used in this soup are super healthy and are rich in vitamins A, B complex, C, E, and K, and help in the overall growth and development of babies and toddlers.
This soup is rich in fibre and is easy to digest.
Buying Guide
Always purchase fresh vegetables and check for firmness and blemish-free bright skin.
If possible, go for organic products as they are best for your baby. These products are not only free of harmful chemicals, pesticides, and insecticides but are tastier, healthier, and safe for your little one.
Now you know how to make this tasty and easy Carrot Beetroot Coriander soup. So don't wait, make this for your munchkin and let her/him savour this soup.