Curd Rice Recipe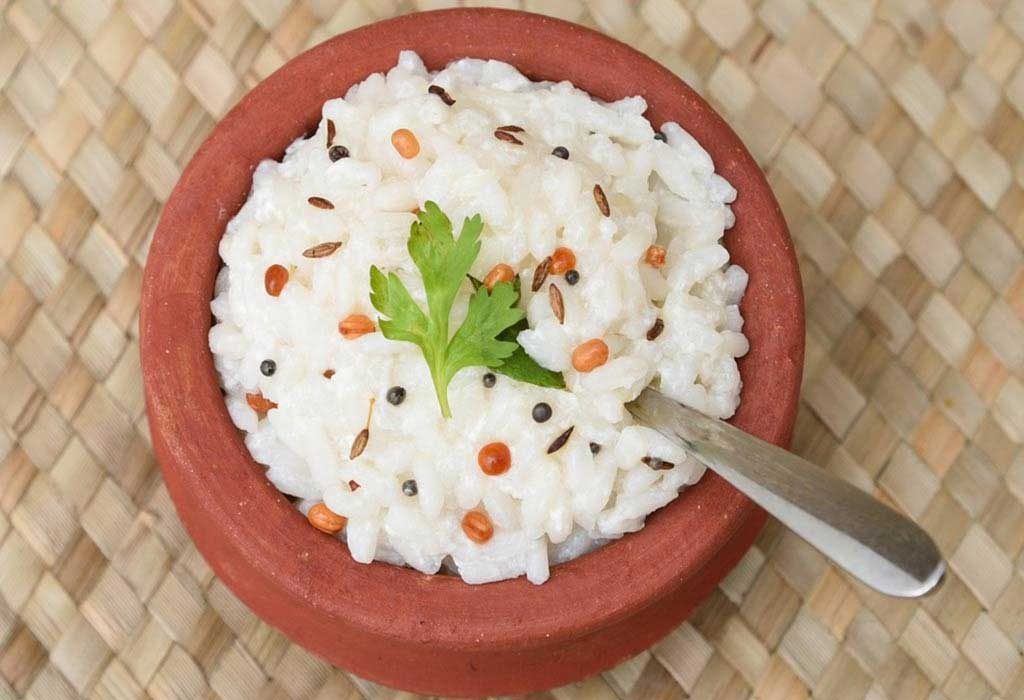 In this Article
A perfect way to introduce a host of flavours to your munchkin, Curd Rice is the perfect meal option to start with. The yummy recipe is not only easy to make but gives nutritional punch to your munchkin. If you are looking for the recipe on how to make Curd Rice, we recommend reading the following post!
Cooking Time
| | |
| --- | --- |
| Type | Time (hh:mm:ss) |
| Preparation Time | 00:10:00 |
| Cook Time | 00:15:00 |
| Total Time | 00:25:00 |
Cooking Method
Gas Stove
Type of Meal
Vegetarian
Suitable For
For weaning babies, who are over 10 months of age.
Meal Schedule
Breakfast, Lunch or Dinner
Recipe Type
Main Dish
Ingredients
Here is the list of ingredients that goes into making Curd Rice for toddlers.
| | |
| --- | --- |
| Ingredient | Quantity and Volume |
| Uncooked Rice | 1 cup |
| Thick Curd | 1 cup |
| Curry leaves | 8 – 10 |
| Mustard seeds | 1 tsp |
| Green coriander leaves (finely chopped) | 1 tsp |
| Asafoetida (Hing) | a pinch |
| Salt | to taste |
| Ghee | 1 tsp |
| Water | 2 cups |
Instructions
Follow this simple step by step procedure to make this wholesome and yummy meal for your baby.
Take rice and wash it thoroughly. Let the rice soak in water for some time.
Pressure cook the washed rice with two cups of water and salt on a medium flame for three to four whistles or until the rice is soft and mushy.
Once the pressure releases, open the cooker and mash the cooked rice with the help of a ladle.
On cooling, add curd to the rice and give a thorough mix. Transfer the contents in a bowl.
Take a flat pan, heat oil in it.
Add mustard seeds, curry leaves, and asafoetida. Cook until you hear the splattering sound.
Add this tempering to the rice mixture and mix well.
Garnish with freshly chopped coriander leaves. Serve this wholesome dish to your baby.
Recipe Tips
Follow these simple tips to make homemade Curd Rice baby food recipe more interesting for your munchkin.
You can churn the rice and curd mixture in a blender for a smoother texture. This is especially great for babies who are newly introduced to solid food.
You can add boiled and mashed vegetables such as carrots, peas, potatoes, etc. for the added flavour and more nutritional punch.
You can add urad dal in the tempering for enhanced texture and flavour if your baby is comfortable in chewing and swallowing food.
Instead of mustard seeds, the whole jeera can be added to the tempering too. For younger babies, jeera powder can be used.
You must consult your paediatrician before giving salt or curd to your baby.
Nutrition Information (Per 100 Grams)
Here are some vitamins and minerals that your baby can get by eating this simple Curd Rice recipe:
| | |
| --- | --- |
| Nutrient | Value |
| Energy | 160 Cal |
| Carbohydrates | 24 g |
| Protein | 5 g |
| Fats | 5 g |
| Fibre | 0.3 g |
| Sodium | 14 g |
| Cholesterol | 10 mg |
The above-mentioned values are for reference purposes only; the original values may vary slightly.
Health Benefits
Various ingredients in curd rice offer many health benefits to your munchkin and some of which are as follows:
Loaded with proteins, rice is great for muscle development in babies. The presence of amino acids also facilitates the development of tendons and ligaments.
White rice is a great source of energy and an ideal meal option for toddlers who are on the move all day long.
Rice is light on babies' tummies because it is very easy to digest.
A rich source of calcium and phosphorus, the curd is great for strengthening the bones and teeth of babies.
Ample dosage of protein and fats helps in facilitating the growth and development of babies.
The lactose and protein in curd help in the digestion process.
Buying Guide
Here are some tips on buying ingredients to make a perfect curd rice recipe:
Make sure you buy organic rice for whipping out any meal for your baby.
Always check the expiry date and check the contents for any signs of infestation.
If buying curd from the market, make sure you check the packing date. The curd tends to get sourer with time, and sour curd can spoil the taste of the dish.
While picking up coriander leaves, pick the ones that look fresh and crisp. Refrain from picking the ones that look wilted or have traces of dirt.
It is a perfect wholesome meal for growing babies. All we need is healthy and flavoursome food for the kids. Curd rice is the best option for all as everyone enjoys and relishes it!