Vegetable Dalia Recipe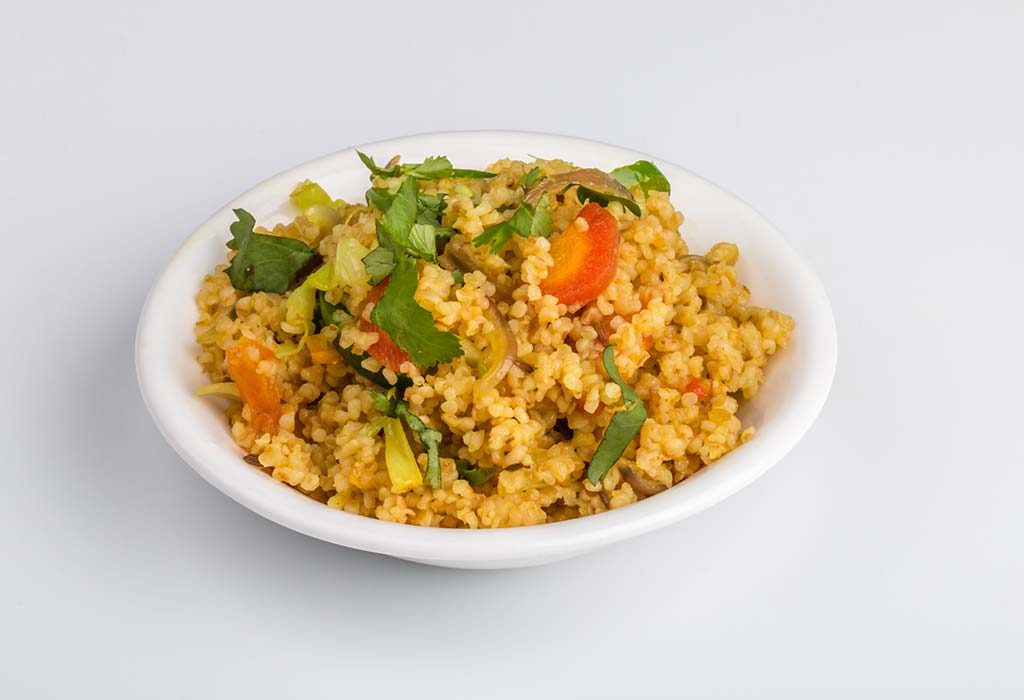 In this Article
Vegetable dalia is a healthy and tasty dish made with broken wheat, moong dal, and vegetables. It is low in fat and cholesterol, high in carbohydrates and rich in iron and fibre. Vegetable dalia is very healthy for kids. It can be easily swallowed and digested by babies. Hence it is one of the best foods for babies and toddlers. It is considered as a one-pot meal and can be cooked in no time. If you want to know how you can make vegetable dalia for your little one, check out the recipe below.
Cooking Time
| | |
| --- | --- |
| Type | Time (hh:mm:ss) |
| Preparation Time | 00:10:00 |
| Cook Time | 00:20:00 |
| Total Time | 00:30:00 |
Cooking Method
Gas
Type of Meal
Vegetarian
Suitable For
Toddlers above 13 months of age
Meal Schedule
Breakfast
Recipe Type
Main Dish
Ingredients
| | |
| --- | --- |
| Ingredients | Quantity and Volume |
| Dalia or broken wheat | 1 cup |
| Moong dal | ¼ cup |
| Onion, medium-sized | 1 no. (optional) |
| Tomato, medium-sized | 1 no. (optional) |
| Ginger, grated | ½ inch |
| Green chillies, finely chopped | 1-2 |
| Carrot, chopped | ½ cup |
| Potato, chopped | ½ cup |
| Green peas, fresh | ½ cup |
| Water | 4 cups |
| Mustard seeds | 1 tsp |
| Cumin seeds | 1 tsp |
| Oil or ghee | 1 tbsp |
| Salt to taste | |
Instructions
Try the simple step-by-step recipe given below to make vegetable dalia at home in no time.
Roast dalia or broken wheat and moong dal separately for some time until they change colour or tum aromatic.
Heat some ghee or oil on low flame in a pressure cooker.
Next, add in the mustard and cumin seeds oil and let them splutter.
Add in the chopped onions and fry for a few minutes or until translucent.
Then add in the chopped green chillies and grated ginger and sauté for a few minutes.
Add the chopped tomatoes and fry them until they turn mushy.
Next, add in the veggies and cook for a few minutes.
Rinse dalia and moong dal thoroughly and add it to the pressure cooker. Stir well.
Add four cups of water, and salt as needed. Give it a nice stir.
Cook it on a medium flame for 4-5 whistles. Your dalia should be cooked properly by then.
If it is not cooked thoroughly, add some water and cook it again without lid for a few minutes until you get porridge-like consistency.
Add coriander leaves and serve hot.
Recipe Tips
Ensure that you remember the below-mentioned points before you start cooking the healthy and simple vegetable dalia for your baby.
Use only fresh peas for this recipe.
Half-cooked dal and dalia can irritate the stomach. So cook them thoroughly.
Always, wash your hands and utensils properly before cooking. Do not use tap water for cooking.
Nutritional Composition (Per 100 Grams)
| | |
| --- | --- |
| Nutrient | Value |
| Energy | 77.72 kcal |
| Carbohydrates | 25.21 g |
| Dietary fibre | 4.46 g |
| Fats | 2.27 g |
| Proteins | 5.14 g |
| Vitamin A | 0.553 mg |
| Vitamin B1 | 0.248 mg |
| Vitamin B2 | 0.064 mg |
| Vitamin C | 13.82 mg |
| Vitamin E | 0.16 mg |
| Vitamin B9 | 0.026 mg |
| Calcium | 25.94 mg |
| Iron | 1.408 mg |
| Magnesium | 47.1 mg |
| Potassium | 260.6 mg |
| Zinc | 0.634 mg |
Health Benefits
Some of the health benefits of homemade vegetable dalia baby food recipes are given below.
Vital nutrients such as carbohydrates and protein are high in dalia and also a good source of fibre.
It has anti-inflammatory properties and hence very helpful in avoiding inflammatory diseases such as heart problems and diabetes.
Moong dal is rich in nutrients. It is loaded with potassium, magnesium, iron, and copper. It also contains a huge amount of protein, fibre, and folate.
It improves digestion and blood circulation.
Carrot has a good number of various minerals and vitamins namely, biotin, potassium, vitamin A, K1, and B6. It is also rich in antioxidants.
Choline is an important nutrient present in the potato which helps improve muscle movement, mood, learning, and memory.
Green peas are rich in fibre and protein.
Buying Guide
These are some tips that you should keep in mind while you go shopping for ingredients that go in the vegetable dalia.
Buy organic and the best quality items from a familiar shop.
Purchase fresh and organic vegetables for this baby recipe.
Check the expiry date of the dalia and moong dal before buying it.
As a parent, you want to feed nutritious and tasty food to your baby. So why not make this tasty and healthy vegetable dalia for him? Go ahead and make it, your munchkin will enjoy it!
?>