Murmura Sev Recipe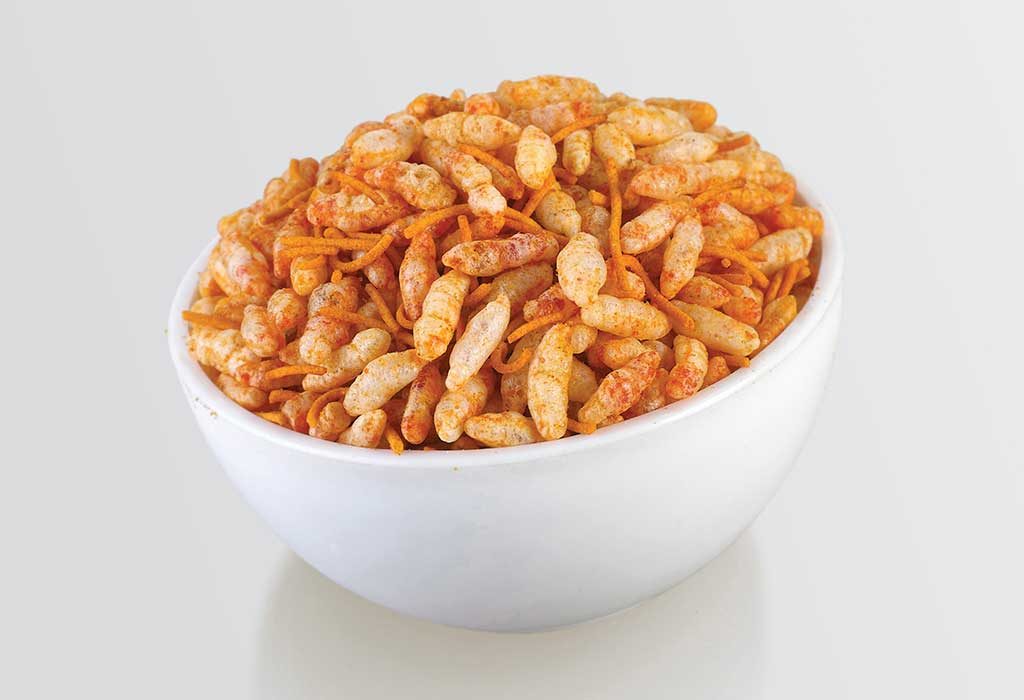 In this Article
This easy murmura sev recipe is a mix of all time favourites – murmura and sev in a dry form. A popular Gujarati snack, this can be served to your toddler as a mid-day meal or an evening snack. Sauteed in oil with a dash of spices, this murmura sev is ideal for your baby who is learning about new tastes.
Cooking Time
| | |
| --- | --- |
| Type | Time (hh:mm:ss) |
| Preparation Time | 00:05:00 |
| Cook Time | 00:15:00 |
| Total Time | 00:20:00 |
Total Servings: 3-4
Suitable For: Any toddlers above 14 months of age
Cooking Method: Gas stove, induction or microwave
Meal Schedule: Appetizer, Mid-day snack
Recipe Type: Starters, Snacks or Appetizers
Ingredients
| | |
| --- | --- |
| Ingredients | Quantity & Volume |
| Sev | 1 cup |
| Puffed Rice (murmura) | 4 cups |
| Oil | 1 teaspoon |
| Curry leaves | 8-10 curry leaves |
| Turmeric powder | ½ teaspoon |
| Chilli Powder | ¼ teaspoon |
| Salt | as per taste |
Instructions
You could very well figure out yourself how to make murmura sev. But this step-by-step guide will help you get that perfect consistency and taste.
Heat the oil in a deep pan – either non-stick or cast iron. Add the curry leaves, turmeric powder and chilli powder and mix well. Saute on a medium flame for 10-20 seconds and keep stirring continuously.
Add the puffed rice and salt. Mix well and cook on a slow flame for about 10 minutes.
Sprinkle the sev and mix well. Cook on a slow flame for about 2 minutes and keep stirring continuously.
Once cooled, store in an air-tight container. Use as required.
Recipe Tips
You can opt to buy store-bought sev or make it at home.
If you are making sev at home, then knead a pliable dough of besan with water—heat oil in a deep kadai. Make small balls of the dough and place it in a presser with the required shape. Press the dough into hot oil and fry the sev until golden brown. Drain in an absorbent towel and use as required.
Fry the kurmura until crisp so that you can enjoy it when it is stored.
Nutritional

Information (

Per 100 Grams)
| | |
| --- | --- |
| Nutrient | Value |
| Total Calories | 181 kCal |
| Protein | 5.1 grams |
| Total Carbohydrates | 20.5 grams |
| Fat | 8.8 grams |
| Cholesterol | 0 mg |
| Sodium | 15.6 mg |
| Potassium | 125 mg |
| Fibre | 3.2 grams |
Health Benefits
Kurmura is an excellent combination of high fibre, protein and complex carbohydrates. A great choice to satisfy hunger cravings during the day and a great snack to keep the stomach full until the main meal.
Kurmura is low on calories and enriched with vitamins and minerals, which gives a quick burst of energy.
Sev is made of besan, which is rich in protein and fibre. It contains good fat and helps to relieve constipation.
Besan also contains nutrients that help to increase the blood count in the body.
Besan contains Vitamin B12 that increases the body's energy metabolism.
Besan is good for the healthy growth of bones.
Besan is an excellent alternative to wheat as ideal for those kids who are supposed to be gluten-free for medical reasons.
Buying Guide
Some essential tips to remember when sourcing ingredients for this homemade murmura sev baby food recipe. Since you will be making these in big batches and storing them, it is essential that you buy fresh ingredients.
Buy kurmura in sealed form from supermarkets. Make sure you check the expiry date. Kurmura can become dry very quickly and it is best to buy fresh ones as you will be making the murmura sev and storing it.
If you are buying sev from the supermarket, then buy it in packaged form. Again check the expiry date on the packaging.
If you intend to make the sev, then buy good quality besan. Besan also comes in a loose form, so avoid buying it as it could be adulterated. Besan in sealed form is ideal, and again it is essential to check the expiry date on the packaging.
Curry leaves need to be fresh. Check to see if there are any holes in the leaves as it means they are infected with worms.
This murmura sev for babies is a perfect snack to offer your growing toddler whose appetite is gradually increasing. Your baby would need some snack after their main meals. This dish is an ideal and healthy choice for your toddler. Rather than opting for store-bought items, go ahead and invest some time to make this snack and store it on your shelves. You can reach out to it any time and serve it without any guilt.