Apple Kheer Recipe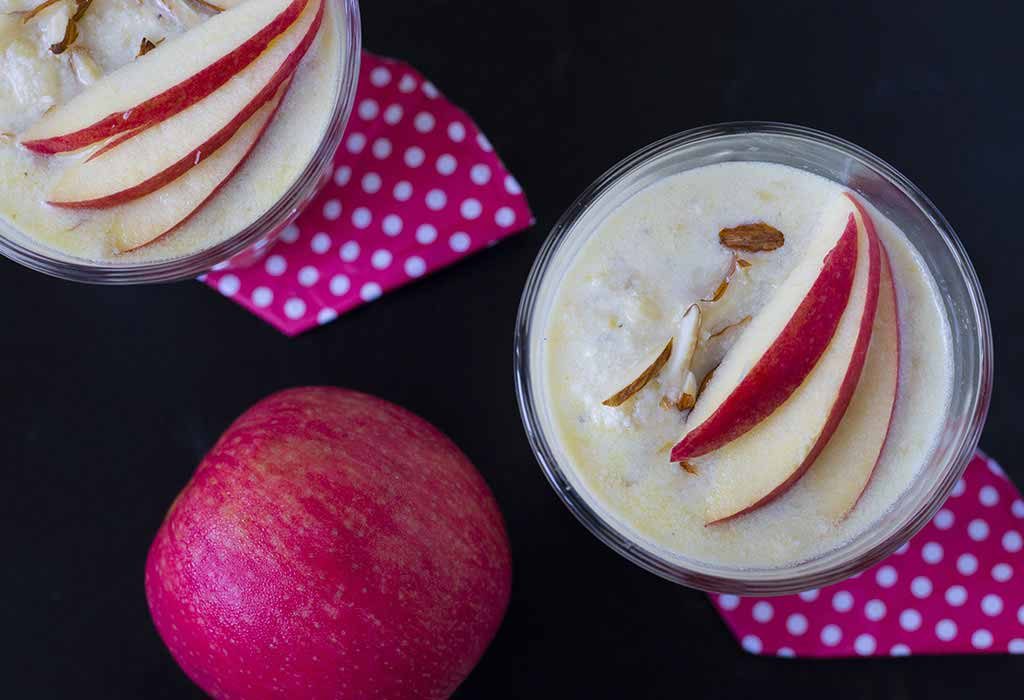 In this Article
A creative take on one of the most famous desserts of India, Apple Kheer is a perfect variant from the normal versions of kheer served. It is more like an apple milkshake with cooked apples blended with sugar, elaichi powder and milk to make it a wholesome meal for toddlers. Try and add this easy Apple Kheer recipe to your baby diet.
Cooking Time
| | |
| --- | --- |
| Type | Time (hh:mm:ss) |
| Preparation Time | 00:20:00 |
| Cook Time | 00:30:00 |
| Total Time | 00:50:00 |
Cooking Method
Gas Stove
Type of Meal
Vegetarian
Suitable For
For babies over 12 months of age
Meal Schedule
Breakfast, mid-morning, evening snack
Recipe Type
Main Dish for breakfast or a snack in between meals
Ingredients
| | |
| --- | --- |
| Ingredients | Quantity and Volume |
| Apples | 1 cup grated |
| Milk | 2 1/2 cups |
| Sugar | 1 tbsp |
| Cardamom pods | 1-2 pods peeled |
| Almonds (optional) | 3-4 |
| Raisins (optional) | 5-6 |
Instructions
Wondering where to begin with this homemade Apple Kheer baby food recipe? With these step by step directions to make the delicious Indian apple pudding, you will be compelled to give it a shot.
Boil the milk in a heavy-bottomed pan or a non-stick pan. Once it comes to a boil, lessen the flame and keep stirring to avoid it from sticking to the sides of the pan.
Simmer the milk on a low flame until it is reduced to half the quantity.
Use a mortar and pestle to crush the cardamom seeds and keep aside.
Chop the raisins finely into tiny pieces.
Add the cardamom seeds and raisins to the milk and cook for another minute. Remove the milk mixture from heat.
Set the milk mixture aside to cool down.
If you are using almonds, soak the almonds in hot water for about 15 minutes. Peel the skin and chop the almonds.
Peel the apples to remove the skin. Grate the peeled apples.
Pour the grated apples in a pan and add sugar. Saute them on a medium flame until all the water content is evaporated. Remove from heat.
Once the cooked apples cool down, add them to the milk mixture and mix well. Add the sugar at this stage if you wish.
Sprinkle the chopped almonds and garnish the kheer.
Refrigerate it or serve at room temperature.
Recipe Tips
Apple Kheer for babies is easy to make, but there are a few tips to remember while preparing them:
Use whole or full-fat milk to enhance the taste of the kheer.
Chop the raisins and almonds finely into very tiny pieces as it will help your baby to chew with their baby teeth.
The kheer tastes good when chilled so you can make it a couple of hours before serving.
Cook the apples well.
Do not add the milk to the grated cooked apples while they are hot as the milk will curdle.
You can use store-bought cardamom if you do not have fresh cardamom pieces at home.
If you are using almonds, make sure you soak them in advance and then chop them finely. You could also blend the soaked almonds in the blender before using it to garnish.
Skip the sugar if you do not want your kid to have any added sugar in their diet.
Nutrition Information (Per 100 Grams)
| | |
| --- | --- |
| Nutrient | Value |
| Energy | 39 kcal |
| Protein | 12.7 g |
| Carbohydrates | 88.4 g |
| Fibre | 5.4 g |
| Fat | 7.1 g |
| Cholesterol | 25 mg |
Health Benefits
Apple Kheer has a lot of health benefits for your toddler. Read on to find out more about it:
Apples are full of vitamins and minerals for the healthy growth of the body.
Apples are rich in Vitamin A, Vitamin C and Vitamin K.
Apple kheer is good for digestion as apples are fibre-rich fruits.
Apples are also rich in antioxidants that maintain the balance of oxygen levels in the body.
Apples are also good for stronger teeth and gums, and your growing baby will benefit from it.
Apples help to protect bones and enhance brain power.
Buying Guide
Apples are seasonal fruits that are available in winter. It is best to buy them fresh and make it during the season.
Apples sold in the market today are coated in wax. Make sure you wash the apples well before using them. Although you peel the apple, some of the wax may still be retained.
Use only whole or full-fat milk for this recipe. Your baby does not need to be fed low-fat milk as they need the fat for healthy development.
Try and buy organic raisins if you are adding raisins to the kheer.
Buy almonds with the peel. There are almonds sold in the market without the peel.
Apple Kheer is a tasty and delicious meal that you can add to your toddler's diet. It is packed with nutrients for your child's healthy growth.