Multigrain Cheela Recipe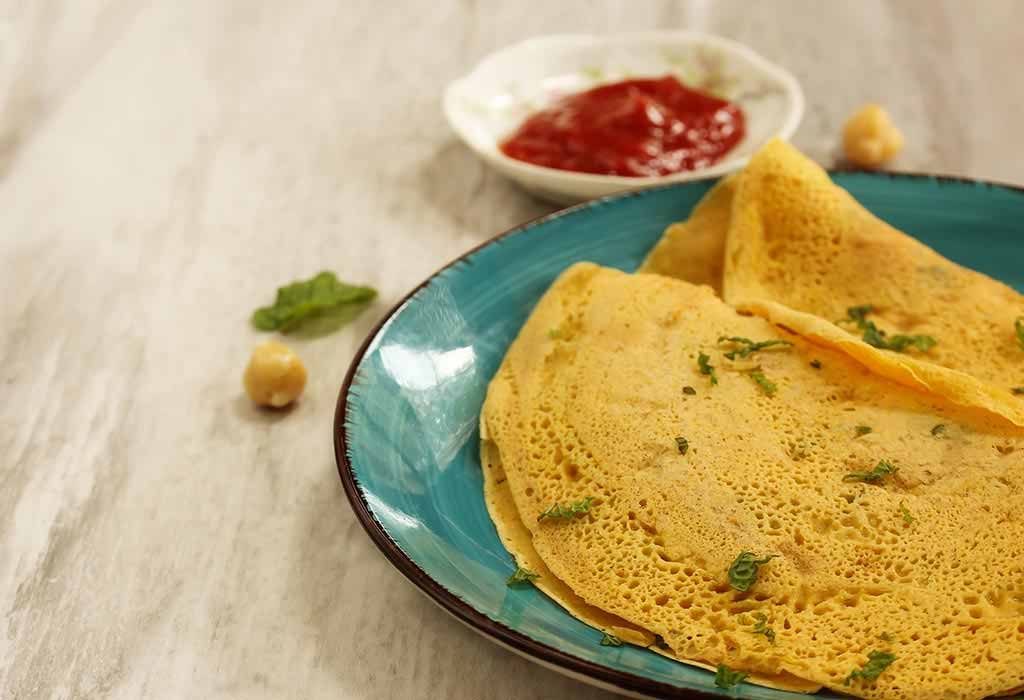 In this Article
Multigrain cheela for babies/toddlers is a nutrient-rich food which is a great snack and can be given to babies for breakfast or as an evening snack. The vegetables that go in this dish add more flavour, texture, and taste to it. Not just for small babies, it can be eaten by children of any age group or even adults. It is a healthy and tasty recipe, and it can be prepared in a jiffy. Let us learn how to make multigrain cheela in a few easy and simple steps.
Cooking Time
| | |
| --- | --- |
| Type | Time (hh:mm:ss) |
| Preparation Time | 00:10:00 |
| Cook Time | 00:10:00 |
| Total Time | 00:20:00 |
Cooking Method
Gas Stove
Type of Meal
Vegetarian
Suitable For
Babies of age 9 months and above
Meal Schedule
Breakfast/ Evening Snack
Recipe Type
Main Dish
Ingredients
Listed below are the ingredients to prepare homemade multigrain chilla baby food recipe.
| | |
| --- | --- |
| Ingredients | Quantity and Volume |
| Wheat Flour (Gehu ka Aata) | 1 Tbsp |
| Gram Flour (Besan) | 1 Tbsp |
| Finger Millet Flour (Ragi powder) | 1 Tbsp |
| Semolina (Suji) | 1 Tbsp |
| Pearl Millet Flour (Bajre ka atta) | 1 Tbsp |
| Asafoetida | Just a pinch |
| Turmeric powder | Just a pinch |
| Onion (finely chopped) | 2 Tbsp |
| Carrot (Grated) | 2 Tbsp |
| Tomato (finely chopped) | 2 Tbsp |
| Capsicum (finely chopped) | 2 Tbsp |
| Salt | As per taste |
Instructions
Step-by-step multigrain chilla recipe instructions:
Peel the onion and chop it finely.
Peel the carrot, wash it, and grate.
Wash and cut the tomato, scoop out the seeds, and chop it finely.
After washing the capsicum, scoop out the inside of the capsicum, and chop it into small fine cubes.
After all the vegetables have been washed and chopped, collect it in a bowl and add all the other ingredients together.
Add water to it and blend it in a blender making a smooth paste.
Heat a non-stick tawa; take a scoop of the paste to pour it into the hot tawa and lower the flame to medium-low.
Once cooked, you may make pieces of the cheela, and serve it to your baby.
Recipe Tips
It is necessary to wash hands well before one starts cooking since babies have less immunity, and any bacteria in the hands can get into the food, and make the baby sick. Therefore, following proper hygiene is a must before you start preparing the dish.

Make sure that the food cools down properly before giving it to your baby to eat.

The vegetables used in the cheela should be properly cleaned.

Cut the vegetables in small pieces so that it gets cooked fast and is also easy for your baby to swallow.

To ensure that the vegetables are cooked properly, you may even grill them before adding them to the cheela mixture.

Try feeding this easy/simple multigrain cheela recipe along with some plain curd or yogurt so that it becomes even more nutritious.
Nutrition Information (Per 100 Grams)
| | |
| --- | --- |
| Nutrient | Value |
| Calories | 17.9 Kcal |
| Total Fat | 1.4 g |
| Total Carbohydrate | 23.3 g |
| Dietary Fibre | 4.3 g |
| Protein | 5.62 g |
| Sodium | 7.7 mg |
| Potassium | 32 mg |
| Calcium | 7.9 mg |
| Iron | 0.9 mg |
| Magnesium | 2.8% |
| Vitamin B6 | 2% |
Health Benefits
The multigrain increases the nutritional value of the cheela, and makes it healthy and tasty.

The recipe being rich in carbohydrates helps in keeping the baby energetic and agile. Moreover, since it has complex carbohydrates, they take time to break down and, as such, keeps babies energetic for a long time.

The proteins present in the multigrain cheela produces antibodies that ward off sickness and infection in babies. It keeps the body immune from all types of diseases.

The calcium present aids dental growth and strong bones in babies.

Babies usually suffer from constipation and have an unhealthy digestive system. The presence of fibre in multigrain cheela helps in good digestion and also aids proper bowel movement in babies.

The presence of magnesium in this recipe keeps the baby away from mental stress, anxiety and sleep disorders.

The iron present in this cheela helps in building blood cells in the body. This makes it a great food to keep babies away from getting anaemic.
Buying Guide
Make sure you buy fresh vegetables. Using stale vegetables in your baby's food can contaminate the food and make your baby fall sick.

If possible, buy organic ingredients that have no added preservatives or are grown using pesticides/fertilizers. This will keep the baby from consuming things which may produce toxins in her body and as a result, may make her fall sick.

Before you buy any ingredient or vegetable from the market, check the expiry date. Do not buy anything which has expired and is not fresh.