Aloo Paratha Recipe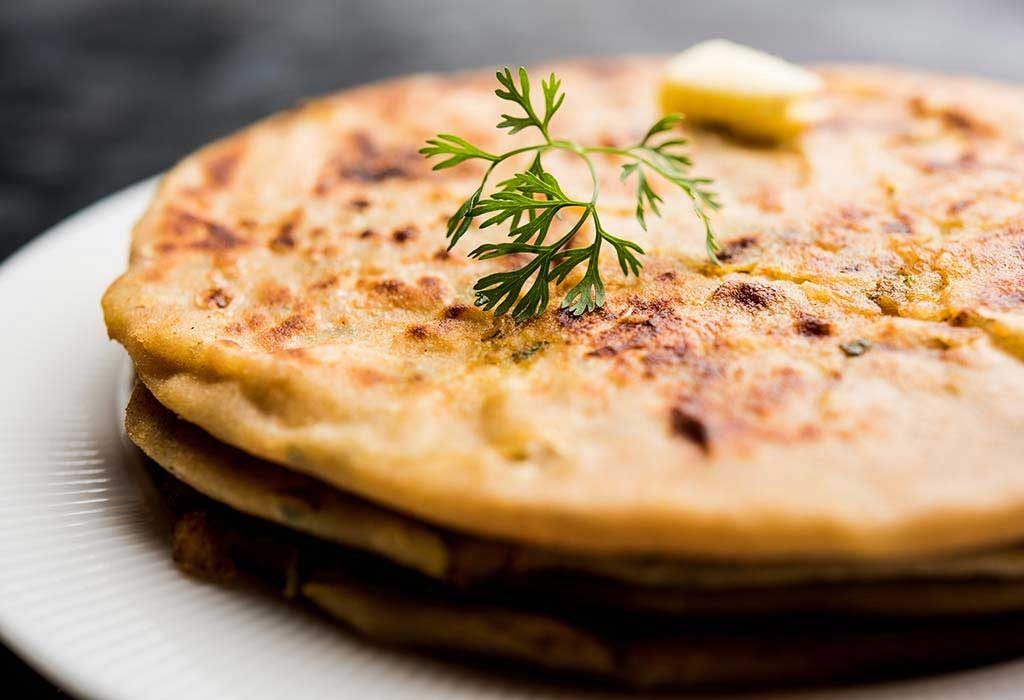 In this Article
Who doesn't love piping-hot and crisp aloo parathas for breakfast! Originating from Punjab, these unleavened soft flatbreads are mostly popular throughout northern, western and central regions of India. It comes packed with nutrition from carbohydrates, fats, vitamins and proteins. Potato (Aloo) parathas are made from whole-wheat, stuffed with spiced potatoes and cooked with oil or ghee.
They taste yummy and can be torn into small pieces. You can dip them in curd and can be given as finger food for toddlers. Since most children don't eat vegetables easily, aloo parathas can be a delicious way to include them during their meal times or between breaks from play. Aloo parathas for babies is a traditional food with soothing flavours derived from the spices used.
Cooking Time
| | |
| --- | --- |
| Type | Time (hh:mm:ss) |
| Preparation Time | 00:10:00 |
| Cook Time | 00:15:00 |
| Total Time | 00:25:00 |
Cooking Method
Gas Stove
Type of Meal
Vegetarian
Suitable For
Any baby above 11 months of age
Meal Schedule
Breakfast or playtime
Recipe Type
Main Dish
Ingredients
| | |
| --- | --- |
| Ingredients | Quantity and Volume |
| Wheat Flour | ½ cup |
| Potato(mashed) | 2 medium-sized boiled |
| Pepper | A pinch |
| Ghee/ Oil | 3 Tsp |
| Turmeric Powder | A pinch |
| Roasted Cumin (Jeera) Powder | 0.65gm |
| Coriander (Dhania) Powder | 0.65gm |
| Onion | ½ cup |
| Salt | A Pinch |
| Coriander Leaves | A fistful |
| Water | As needed |
Instructions
Here is the way how to make aloo paratha! This dish is not just easy to make but has a chewable texture that most toddlers will enjoy. Listed below are the step by step directions of how to prepare the delicious aloo parathas.
To make the dough, take whole wheat flour in a deep bowl.
Add a pinch of salt.
Mix it well. Knead it into a soft dough using water and a tablespoon of oil. Cover and let it rest for 10 minutes.
Divide the dough into equal balls.
Take boiled potatoes that are peeled and mashed for the stuffing. Add a little salt, roasted jeera powder, dhania powder, pepper and finely chopped onion and coriander leaves to it.
Heat the ghee or oil in a non-stick pan.
Take each dough ball and roll it into 4-5 inches (diameter) round circles of equal size.
Place the potato stuffing in the centre and gently place another circle on the top. Press and seal the edges while dusting the flour with some flour.
Now roll it into a thick paratha and put it on a tawa to cook from both sides applying oil or ghee as required.
A well-roasted aloo paratha will puff up. Once done, tear it into small pieces and serve it to your baby along with butter or fresh curd.
Recipe Tips
Here are some important tips to make sure that you're preparing the simplest Aloo Paratha recipe for your baby.
You can make the dough soft by kneading it with hot water.
Mash the potatoes well so that there are no tiny bits of unmashed potatoes left.
Use only purified water for kneading the dough.
Parathas should be cooked on a hot and heavy tawa keeping the flame between medium to high.
Use spatula or spoon to press the edges of the parathas so that they are not left uncooked.
Nutrition Information (Per paratha)
| | |
| --- | --- |
| Nutrient | Value |
| Energy | 154 kcal |
| Protein | 3.3 g |
| Carbohydrates | 22.6 g |
| Fibre | 3.3 g |
| Fat | 6 g |
| Cholesterol | 0 mg |
| Sodium | 7.5mg |
| Potassium | 390mg |
| Carbohydrate | 28g |
| Fibre | 4 g |
| Protein | 5 g |
| Vitamin A | 300IU |
| Calcium | 30 mg |
| Iron | 3.3 mg |
| Vitamin C | 8.7 mg |
| Phosphorus | 146.2 mg |
| Sodium | 5.8 mg |
Health Benefits
Here are the health benefits of home-made aloo parathas baby food recipe.
Rich in fibre, vitamins, minerals and antioxidants, wheat has all the goodness that supports healthy digestion and reduces constipation. Its carbohydrate helps to maintain high energy levels for babies.
Vitamin A induces good bone health and supports a good immune system.
Phosphorous repairs tissues, cells and works closely with calcium for building the bones of babies.
Ghee is rich in fat-soluble vitamins, while the anti-oxidants present in them helps in maintaining skin health.
Giving Aloo paratha for snacks not only fulfils your child's hunger pangs but also appeals to their developing taste buds.
Adding butter or ghee to the aloo parathas help to accentuate the taste and is an excellent source of vitamins for babies.
Buying Guide
Buy whole wheat flour from a reputed store.
Shopping from an organic store ensures that only food-grade quality spices are being used in making Aloo paratha.
Make sure only fresh coriander and crunchy onions are used for achieving optimum taste of the parathas.
Check the expiry date of the wheat flour and oil before buying it.
Growing babies and toddlers need the best nutritious food for all-round physical and mental development. Instead of canned food, home-made aloo parathas prepared with love and care offer the best solution as a meal option.