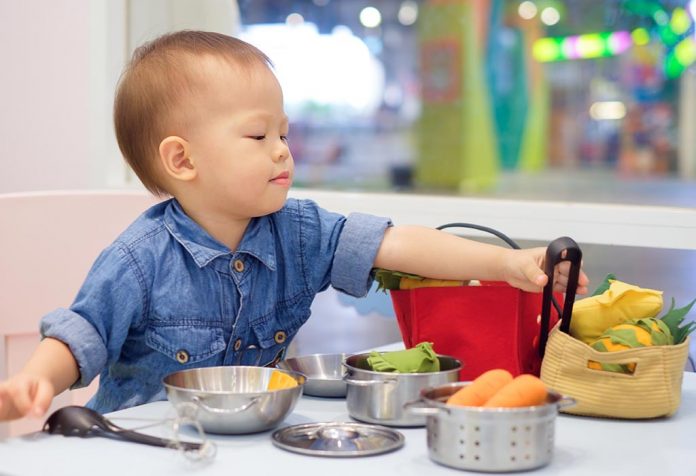 Last Updated on
If you thought crayons could only grab your toddler's attention, you're wrong. Food in different colors will have the same effect if you introduce different colored foods in manageable portions. When food is visually appealing, it'll appeal to your little one.
Colourful food in different shapes will have your toddler hooked. Unfortunately, most parents tend to plate food in boring, uninteresting ways. Listed below are some fun ideas to ensure your toddler identifies colours and shapes at an early age.
5 Colourful and Kid-friendly Food Ideas
1. Blazing Red and Orange
If you want to really make your toddler's plate pop, red and orange should be your choice. They are among the brightest colours in the spectrum. Carrots, pumpkin and squash will introduce your toddler to the colour orange while tomatoes and watermelon can introduce him to red. Starting off with some of the bright coloured food toddlers eat, will ensure that your toddler enjoys his meal.
2. Fruitsicle Fun
If you want to expose your toddler to a host of bright, vibrant colors, make a fruitsicle. Puree some colourful fruits like melons, bananas, peaches etc, and add fresh juice to the mix and freeze them. Your little one will love the colours and taste of the frozen fruitsicles. While sucking on them, you can teach him to identify the various colours. The activity will be fun, colourful and tasty.
3. Green
Your toddler needs his daily intake of leafy, green vegetables. Introduce him to green vegetables like cucumber, basil, broccoli, and spinach. Not only will these colourful and kid friendly food ideas add colour to the plate, but they will also ensure your little one gets a nutrient boost. Your toddler stands to get his daily fix of vitamins A, C and E.
4. Tropical Bonanza
If you really want your toddler to enjoy his meal while exposing him to colours, make a fruit salad. For this to be a colourful tropical success, add as many fruits as you can. From mango, orange, grapefruit and grapes – the end product should be a burst of colour. This is a great way for your toddler to learn about the primary colours and identify colours by picking the fruit associated with it. Plus, these are some of the coloured food toddlers eat with joy.
5. Shapes
Food colouring for a 17-months-old-child is not as hard as it seems. You can always choose differently shaped cookie cutter to shape fruits. The end result- various fruits in different shapes and colours. Not only will this exercise help your toddler identify different colours, but he'll also be able to identify fruits.
Find innovative ways to make food interesting for your little one. Not only will food time become fun time, you'll not have to deal with tantrums. You could always teach your little one colours and shapes in the process. It will also give you time to bond with your kid.