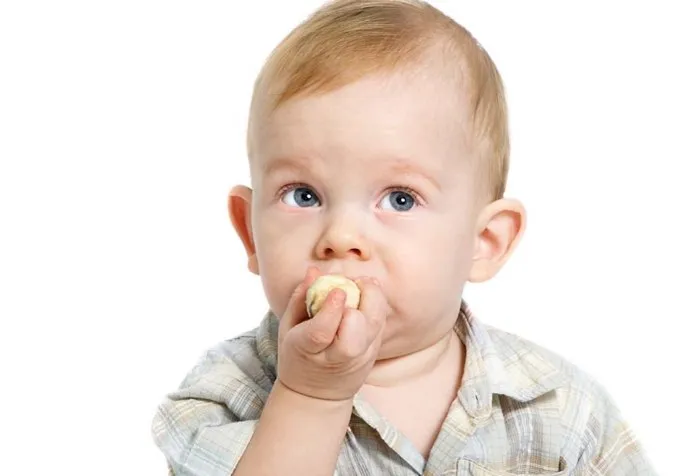 Wow! Your little bundle of joy is already 14 months old! It's an absolute delight to watch your baby take little baby steps around the house. We're sure you agree that at this age a baby may be quite a handful with his increasing urge to explore everything around him. Well, that's not a surprise because your baby is mastering new skills and is also growing rapidly, which means extra care may be required for his nutrition and diet. If you are wondering what your baby should be eating at this stage, we have this and more information on the topic right here for you! Read on!
What to Feed a 14-Month-Old
A couple of months after your baby's first birthday, he may still be making up his mind about what he likes or dislikes regarding food. However, as parents, you should keep introducing a variety of food items to your baby. Here are some 14 month old baby food ideas that you can try for your baby:
1. Fruits/Vegetables
Here are some fruits and vegetables that you can feed your 14-month-old baby:
Melon
Apple
Berries
Squash
Green beans
Celery, etc are some healthy choices for your little one.
2. Non-Vegetarian
Here are some non-vegetarian food options for your 14-month-old baby:
3. Other Food Items
Some other food items that can be included in your baby's diet include some of the following options:
How Much Should a 14-Month-Old Eat?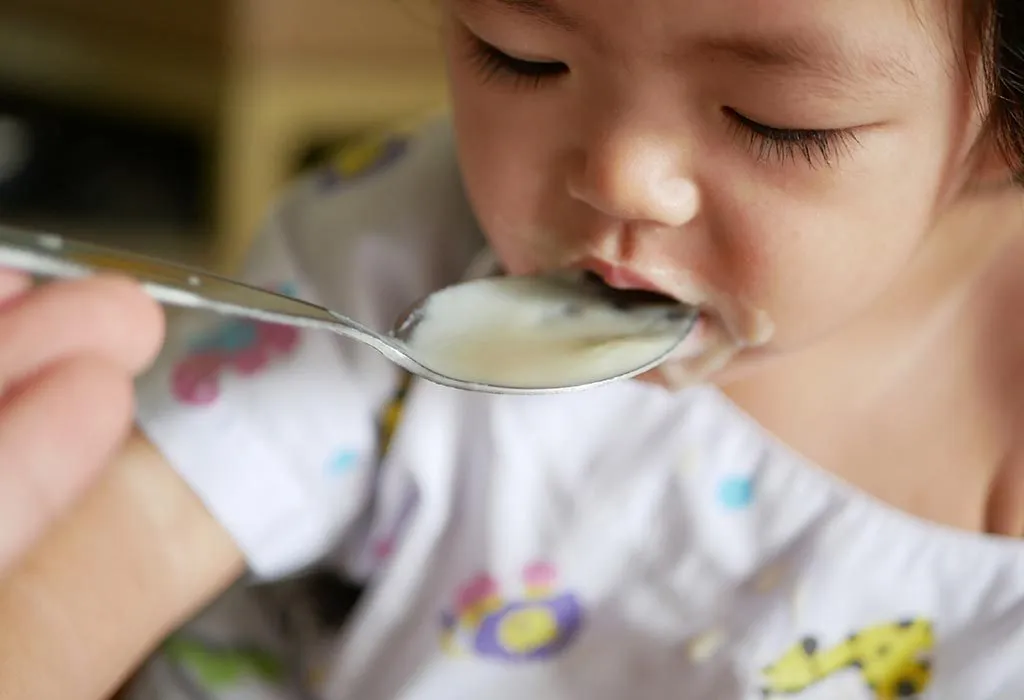 At 14 months of age, your baby should consume approximately three main meals and two snacks in a day. On average, some 40 calories per inch of your baby's height is an average amount of calories that your baby should be consuming. The calories should come from fresh fruits, vegetables, dairy and protein for optimal growth and development. Calcium is one of the essential nutrients for your baby and, thus, milk should be an important part of the baby's diet. Choose whole milk for your baby and if you are wondering how much whole milk should be given in a day, well, do not feed more than 16 to 24 ounces of whole milk to avoid any kind of iron deficiencies.
14-Month-Old Feeding Schedule
Here is a sample 14-month-old food chart for your baby:
Meal Time
Food Name
Breakfast

Waffle with applesauce
Nut butter
Milk

Mid-morning snack
Lunch

Pasta with Peas and spinach
Apple, butternut and squash soup
Milk

Evening snack
Dinner

Tacos with bean, corn, and shredded chicken filling
Broccoli
Milk
The above food menu or diet plan is for reference purposes only. You can make changes as per your baby's preference.
Foods to Avoid Feeding Fourteen Month Old Child
Your toddler needs a variety of nutrients at this age for his overall growth and development. However, be watchful about any food allergies. Therefore, certain foods still may not be a good idea for your baby. Here are some foods that you should avoid feeding your fourteen-month-old baby:
Sticky food items such as marshmallows or peanut butter should be avoided as they may lead to choking babies and toddlers.
Hard food items that may become difficult to swallow by a baby such as popcorn, hard candies, nuts, seeds, etc. should not be fed to babies.
Also, refrain from giving hard vegetables such as raw carrot and fruits such as whole grapes as they may lead to choking in babies. Make sure vegetables are properly cooked and fruits are cut into bite-sized pieces.
Refrain from feeding chunkier or larger pieces of chicken, fish, and meat to babies.
Be careful about food allergies, especially you have a family history of food allergies. Be careful when feeding foods that may cause allergic reactions such as eggs, milk, peanuts, etc.
Food Recipes for a 14-Month-Old Baby
Here are some main meal and snacks recipes that you can try for your 14-month-old baby:
1. Veggie Pasta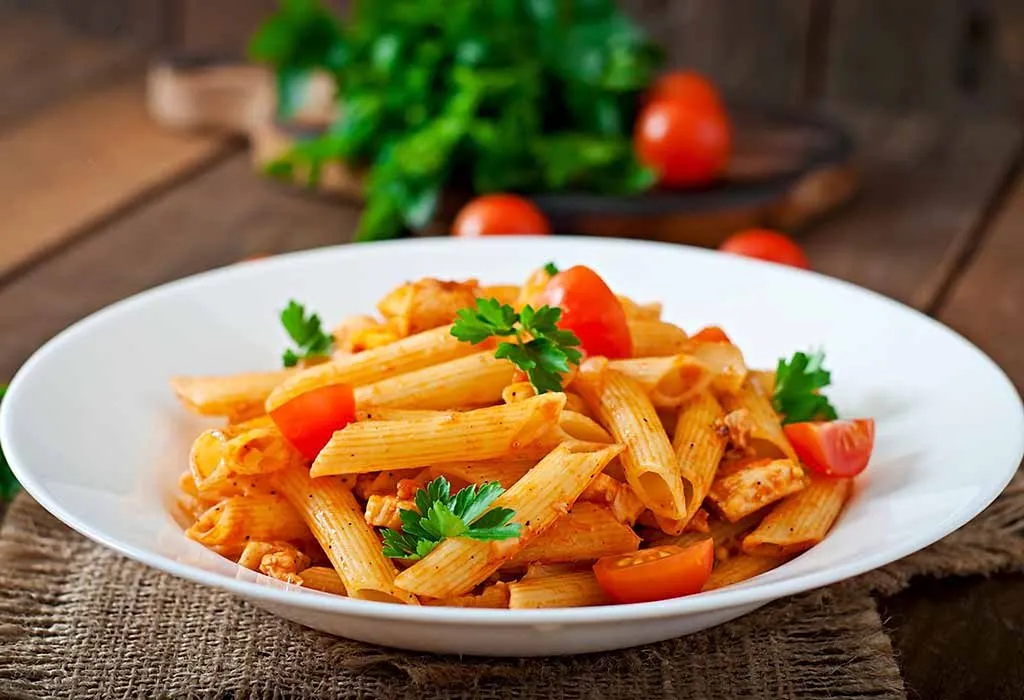 A wholesome meal with loads of green vegetables, this yummy pasta can be served both as a lunch or dinner option.
Ingredients
1 cup Penne pasta, boiled
1 tablespoon carrot, finely chopped
1 tablespoon peas
1 tablespoon green beans, finely chopped
½ tablespoon onions, chopped
2-3 tablespoons tomatoes, chopped
1 tablespoon olive oil
¼ teaspoon black pepper
¼ cup tomato ketchup
¼ cup cheddar cheese
Salt to taste
How to Prepare
Heat oil in a pan. Add onions and cook until they turn pink.
Throw in tomatoes and cook until they turn mushy.
Add all the vegetables, salt, and pepper. Cook on medium flame until tender. Do not cover.
Add tomato sauce and cook for a minute or two.
Add boiled pasta and cook for a few minutes.
Finally, add cheddar cheese and cook on low flame for a minute or two.
Serve yummy veggie pasta at room temperature!
2. Apple Cinnamon Pancake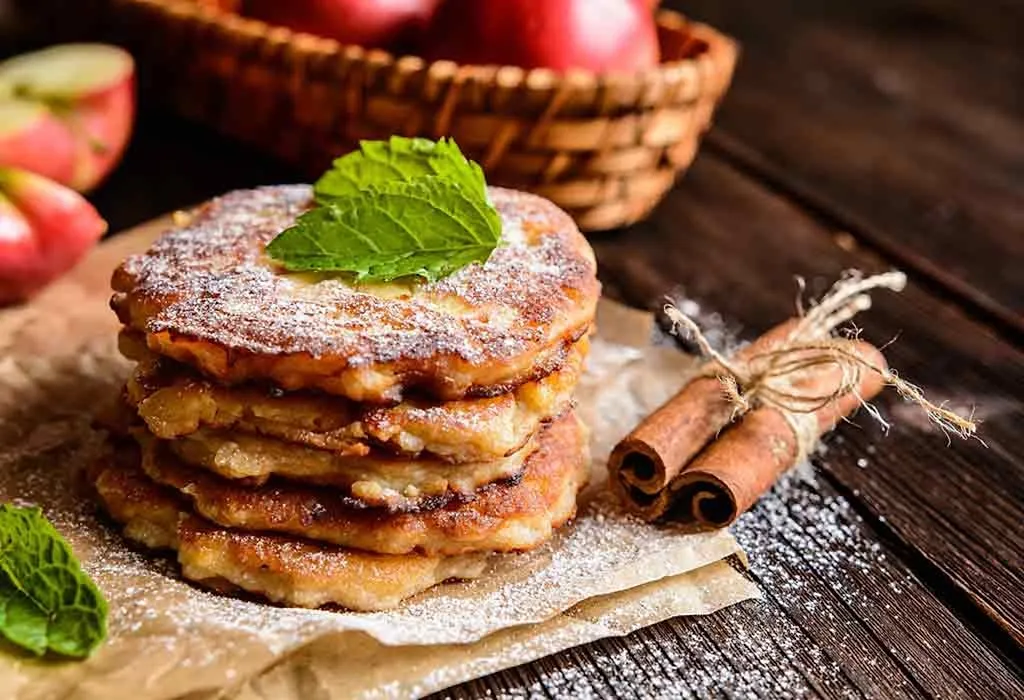 A perfect breakfast recipe, see your baby polish off the entire serving in no time!
Ingredients
¾ cup flour
1 medium-sized egg
2 to 3 tablespoons grated apple
½ teaspoon cinnamon
2 tablespoon palm sugar (you can use brown sugar or other healthy alternatives too)
½ teaspoon baking powder (optional)
1 tablespoon cream (optional)
Butter, for cooking
How to Prepare
Sieve flour and baking powder together and keep aside.
Beat egg and sugar together until fluffy.
Add flour into the egg and sugar mixture as you keep beating the mixture. Make sure no lumps are formed.
Add grated apples and cinnamon powder to the egg and flour mixture. If the mixture is not of the required consistency, you may add cream to adjust the consistency.
Heat butter in a non-stick pan.
Pour the pancake mix on the pan. Cook well from both sides.
Serve warm pancakes with apple sauce or any other homemade syrup!
3. Corn And Spinach Fritters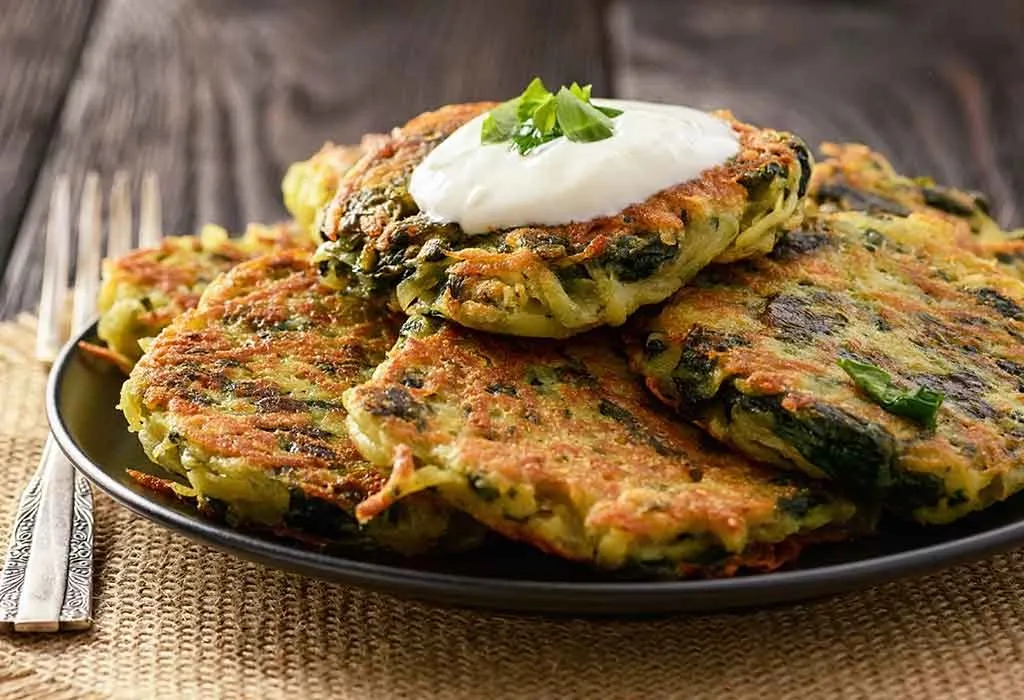 This is a yummy snack recipe that is loaded with the goodness of sweet corn and spinach.
Ingredients
1 cup sweet corn
½ cup baby spinach leaves
½ onion, finely chopped
2 cloves of garlic, finely chopped
1 medium-sized egg
¼ cup milk
¼ cup flour
½ teaspoon baking powder
Salt to taste
1 to 2 teaspoon Olive oil for cooking
How to Prepare
Put sweet corn, baby spinach, egg, and milk a blender jar. Blend until you get a coarse paste.
Add onions, garlic, and salt and mix well.
Add baking powder and flour to the mixture and give a thorough mix.
Heat oil in a flat pan.
Scoop out small amounts and pour the mixture on the pan (do not cook more than 4 to 5 fritters at a time), flatten the fritters using a spatula. Cook until the fritters turn brown on both sides.
Serve these yummy fritters with a homemade sauce or dip!
These are some easy to make and nutritious recipes for your baby that you can make any time. If you wish to make a few changes to these recipes, you can do that too!
Tips for Parents to Feed a Picky Toddler
Babies experiment with tastes, flavours, and textures in food at this age, which is very normal at this stage. If you are dealing with a picky or fussy then it can be a daunting task for the parents. In case your 14 month old refusing to eat, here are some tips that you can try to lure him to eat:
Refrain from force-feeding your baby. If your baby refuses to eat a certain food, never urge him to eat. Try to introduce the same food after a few days. It is often seen that babies may try food a few times before developing a liking or disliking for the same.
Do not confuse your baby when it comes to food. This means that you should offer plain and simple food to your baby, which is easily recognizable. Complex meals such as casseroles may sometimes end about confusing babies and babies may refuse to eat.
Make mealtimes fun times, which means do not feed your kid when he is whiny or cranky. Get the entire family to eat together and make the meal times more pleasurable and enjoyable for your little one. You can put on some soothing music too.
Offer meals at the same time every day. This helps the baby to know about meal times and thus he may be more prepared to eat.
If your baby wishes to eat his food using his hands, let him do that. Babies love to touch and feel food. Soon he will master eating with a spoon or fork, so don't bother at all!
Your baby is a big copycat, which means that he would like to copy what you do! So, if you want him to finish his broccoli, make sure you eat that too. Be an example and see your baby just follow you!
As your baby grows and hops from one milestone to another, the need for nutrition increases and therefore it becomes important to introduce different types and varieties of food to your baby. Breast milk or formula may still be an important aspect of your baby's diet but at this juncture, solid foods hold great importance to meet for the added nutritional needs of your little one.
Also Read:
Tips For Freezing Baby Food
Dinner Foods For Infant To Help Him Sleep Peacefully
Tricks To Make Babies Enjoy Their Food