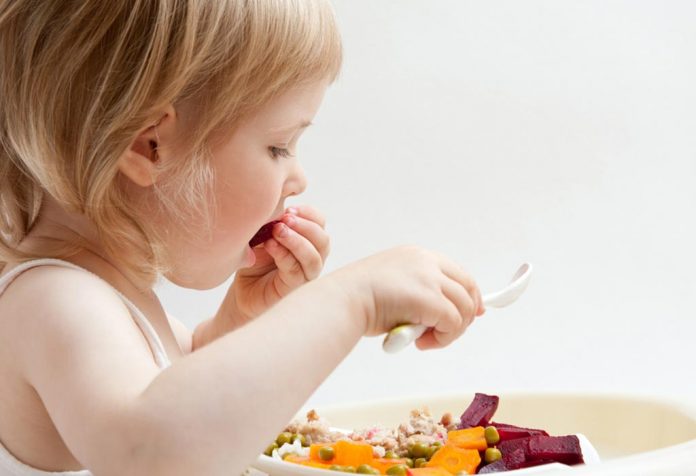 Food habits change rapidly as your infant grows. Within the first two years, your baby will have begun teething, moved on to solid foods and more or less integrated with family mealtimes.
How Does Your Toddler's Meal Time Change?
Your child will have begun eating solid foods as they teethed. They are impatient and even flighty around mealtimes.
At one and a half years (18 months) toddlers usually manage to handle a spoon to feed themselves.
By 24 months you child will have joined the grown-ups table as a regular!
Some Useful Steps to form Good Eating Habits in Your Child
For a toddler, their eating habits and tastes are only being established as they first start eating solid foods. It is a time to build a healthy eating habit.
Delay their introduction to fast food and sweetened soda drinks and help build a preference for fresh, wholesome food.
Stick to strict meal timings. Establishing a routine will lead to your child developing a fixed mealtime, by growing hungry at the right timings.
Do not feed your child heavy snacks or lots of liquid rights before mealtime.
Each meal should last for 20 minutes and no more.
Food for 2 Year Old Baby
While a balanced diet is essential for us, children need a boost of nourishment that helps them grow up.
1. Dairy Products
Milk, yoghurt and paneer are all rich in calcium. Calcium helps build strong bones. In case your child is lactose intolerant, they may need to take calcium supplements to make up for a gap in calcium intake.
2. Chicken
Chicken and other non-vegetarian food contain good quantities of easily absorbable iron. Iron helps power haemoglobin in blood and prevents anaemia. Iron found in vegetarian food is harder for the body to absorb and hence your child will need to consume at least twice as much to get the required amount.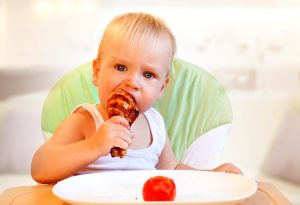 3. Fish
Fish is a good source of Essential Fatty Acids (EFA's). EFA's help builds good immunity and strengthens the cardiovascular system. Vegetarians will need proper substitution of EFA sources, as it is not produced in the body and only gained from outside.
4. Healthy Oils
Flaxseeds, walnuts, soybeans and other nuts and their oil contain good amounts of EFA's.
5. Carrots
Carrots are famous as a good source of vitamin A. Spinach, kale, and other vegetables also contain high levels of Vitamin A. It helps in bone growth.
6. Citrus Fruits
Lemons and oranges are renowned for their vitamin C content. Deficiency of vitamin C can lead to serious diseases like scurvy. Vitamin C helps in strengthening gums and blood vessels and recovering from bruises. Guavas, mangos, bananas, tomatoes and spinach also help Vitamin C.
7. Sunshine
Although this isn't a "food" technically, it is something the body "absorbs" and so, we decided to include it in this list, considering the important role it plays in growth. The element we gain from it is Vitamin D. Vitamin D is essential for a child to achieve its maximum growth potential. Foods that contain Vitamin D is fish and dairy.
8. Bananas
Magnesium and Potassium, both elements essential for regular heartbeat and muscle condition are both found in every banana. Incorporate this crazily beneficial fruit into cereals and other foods to make it a staple.
Food Chart/Schedule for 2 Year Old Baby
| | | | | | |
| --- | --- | --- | --- | --- | --- |
| | Breakfast | Mid Morning | Lunch | Afternoon | Dinner |
| Sunday | Cereal with fresh fruit | Cup of milk | Curry made with any pulses of Rice and Dahi | Paneer cutlet with milk | Aloo mutter with Missi roti |
| Monday | Dosa with Moong Dal Chilla | Seasonal Fruits | Mixed vegetables curry with chapatti | Fruit milkshake | Chappatti with soya chunks fried |
| Tuesday | Hard boiled egg with toast | Vegetable soup | Veg biriyani with cucumber sticks | Milk and biscuits | Vegetable kichdi |
| Wednesday | Idli and sambar | 2 idlis with chutney | Aloo parantha with dahi | Fruits | Boiled chicken with rice |
| Thursday | Ragi porridge with chopped nuts | Fruit | Chana Dal Kichdi | Upma | Vegetable soup with 2 cutlets (veg or non-veg) |
| Friday | Oats cooked in milk | Paneer Bhurji | Chole curry with chapattis | Oats kichdi | Sambar with rice |
| Saturday | Vegetable parantha | Milk and biscuits | Paneer Pulao | Samosa | Vegetable pulao with dahi |
Homemade Food Recipes for 2 Year Old Baby
Here are some select recipes from the food chart that may not be too familiar to you.
1. Moong Dal Chilla
A power packed start to your day!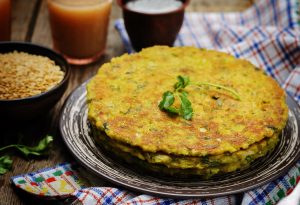 Ingredients
1 cup Moong Dal
Spices: ¼ teaspoon turmeric and red chilli powder,

½ teaspoon roasted cumin and 1 teaspoon salt

Seasoning: ¼ cup chopped onions

1 teaspoon grated ginger
Fine chopped green chillis

Hing
Butter
How to Prepare
Leave moong dal in water for one night
Drain water and grind with adequate water to form a thick paste – similar to dosa batter.
Add spices to the batter and mix well
Add seasoning and a pinch of him and mix again.
Allow the batter to rest for fifteen to twenty minutes
Heat butter in a non-stick pan and cook the batter like you would a dosa.
2. Coconut Chutney
The traditional accompaniment to dosas and idlis!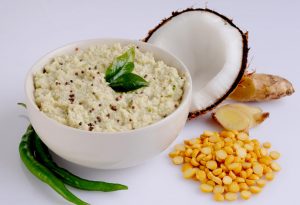 Ingredients
½ Cup fresh grated coconut
2 tablespoons fried gram
½ teaspoon cumin
2 green chillis
1 garlic clove
Seasoning: ¼ teaspoon mustard

1 dried red chilli
¾ teaspoon urad dal
Hing
Curry leaves
How to Prepare
Blend all the ingredients other than 'seasoning' together.
Add water and salt (to taste) while blending
In a few drops of oil heated in a pan, add the seasonings and sauté
Add the blended chutney to seasoning and turn off heat.
3. Chana Dal Kichdi
A simple recipe that uses very light seasoning and embraces the natural flavour of chana.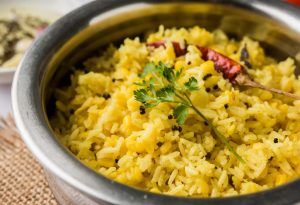 Ingredients
Seasoning: 1/2 teaspoon of red chilli powder
½ cup rice (can also use basmati)
½ cup chana dal
Oil, water, salt
How to Prepare
Soak the rice for 30 minutes prior to preparation.
The chana dal should be soaked for 4-5 hours prior to preparation. (If time does not permit, you may soak it in hot water for about 30 minutes)
Heat 1 tablespoon oil in a pressure cooker and add the 'seasoning' items.
Add the rinsed chana dal with salt to taste and stir.
Add 1 cup water and cook under pressure for 6 minutes or 2 whistles.
After it has cooled down, add the rice and cook for 1 or 2 whistles.
4. Paneer Cutlet
Paneer provides a boost of protein and calcium to the common vegetable cutlet and gives a uniquely soft texture to the cutlet too.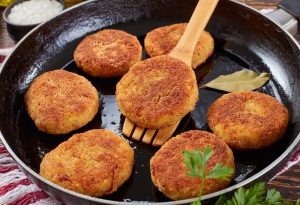 Ingredients
Seasoning: 2 pinches of turmeric powder

¼ teaspoon red chilli powder
½ teaspoon coriander powder
½ teaspoon cumin powder
¼ teaspoon garam masala

200gms paneer
150gms potato
100gms carrot
1/3 cups peas
Paste: 1 green chilli

2 cloves of garlic
1-inch ginger

3 tablespoons Rice flour
3 tablespoons rava
3 tablespoons oil
How to Prepare
Cut the green chilli, garlic and ginger and grind to a paste.
Peel and cut the vegetables and cook for up to 4 whistles in a pressure cooker, with 2 cups of water.
Drain water when cooled and transfer the cooked vegetables to a mixing bowl.
Mash the vegetables and add the paste and seasoning and mix well.
Add the paneer. (Paneer should be crumbled or grated)
Add 3 tablespoons of rice flour and salt to taste, and mix again.
Take small portions of the mixture and shape into patties.
Coat with rava and fry in a shallow pan until both sides are golden-brown.
5. Soya Chunks Fry
A healthy and tasty dish that is simple to make. It goes great with both chapattis and rice!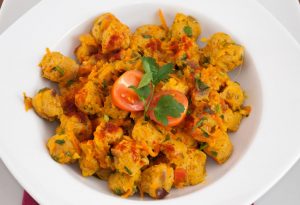 Ingredients
1/2 Cup Soya Chunks
2 Onion, Shredded
2 Green Chilli, Slit
1 Big Piece Ginger cut into thin strips
4 Garlic, Sliced
Seasoning: 1/2 Tsp Garam Masala

1/2 Tsp Chat Masala
½ tsp red chilli powder

2 Tomato, Finely Chopped
Coriander Leaves
2 tablespoons oil
How to Prepare
Immerse the soya in hot water for about 20 minutes.
In a pan, saute the onions in oil.
Once the onions are golden-brown, add the garlic and ginger.
Add the green chillis and then the tomatoes.
As it cooks, add the seasoning and mix well. Turn off the flame.
Now, drain the soya chunks. (You may need to squeeze them with the help of a sieve to drain them well)
Add the soya chunks and begin cooking again.
Add salt to taste and mix the contents of the pan thoroughly so that the soya chunks are well coated with the masala. (You can also add a bit of lemon juice to this, for a hint of tanginess)
Cook in a pan till soya chunks are browned.
Turn off the flame and garnish with plenty of finely chopped coriander leaves.
Feeding Tips
While providing healthy food for 2 year old baby do not fixate on amounts eaten. This will change from child to child and between different days and mealtimes.
2 years toddler food requirement does not have to include artificial supplements.
Indian baby food recipes for 2 year old can be spicy. If your child is fussy about this, you can experiment with lessening the amounts of seasoning, especially red chilli powder.
Give your child notice before every meal-time. This gets them thinking about food and builds up an appetite.
Have the food ready and plated for mealtime, when your child arrives.
Eating nutritious food that is fresh and doesn't contain preservatives is seen by many as something that takes too much effort, but with the right motivation, it can be a habit and not a chore!
Previous Year: 1 Year Old Baby Food Chart