10 Healthy and Delicious Broccoli Recipes for Toddlers and Kids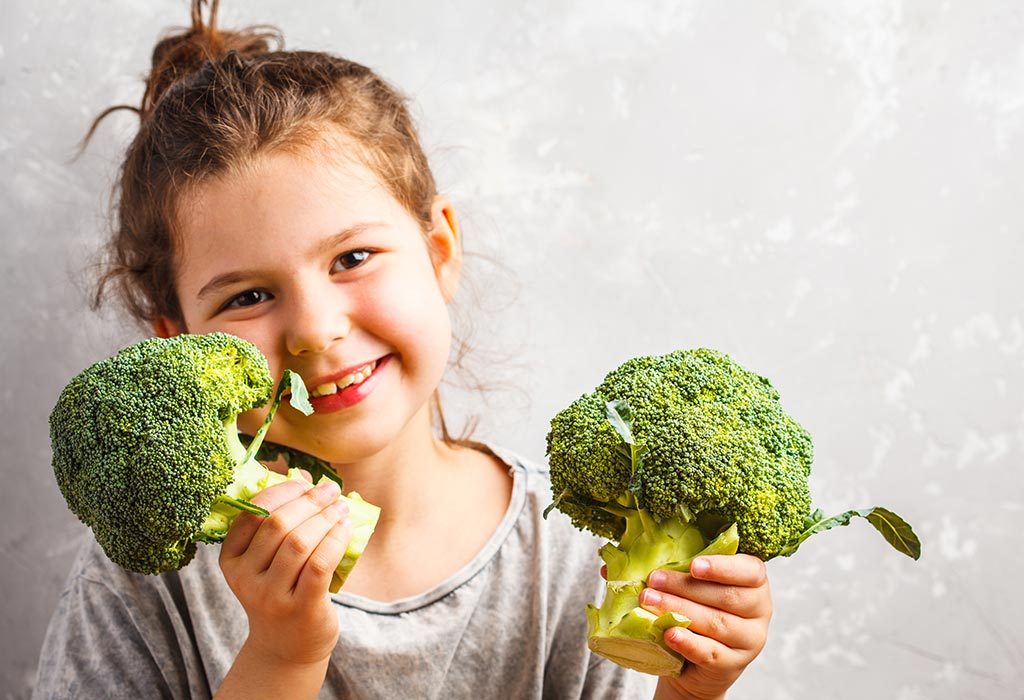 Broccoli is packed with essential nutrients and eating it will ensure your children remain strong and healthy. So, if you want to know how to cook broccoli for kids, keep reading.
How Beneficial is Broccoli for Children?
Broccoli contains beta-carotene, vitamin A, phosphorous and other vitamins like vitamin B complex, vitamins C and E. It is known to be helpful in reduction of allergic reactions and inflammation, bone and heart health and it is a great detoxifier. It also helps the skin and eyes and is a very powerful antioxidant. Therefore, it is beneficial to cook broccoli for kids.
Tasty Broccoli Recipes for Toddlers and Kids
Here are some tasty kid-friendly broccoli recipes that you can try:
1. Broccoli Soup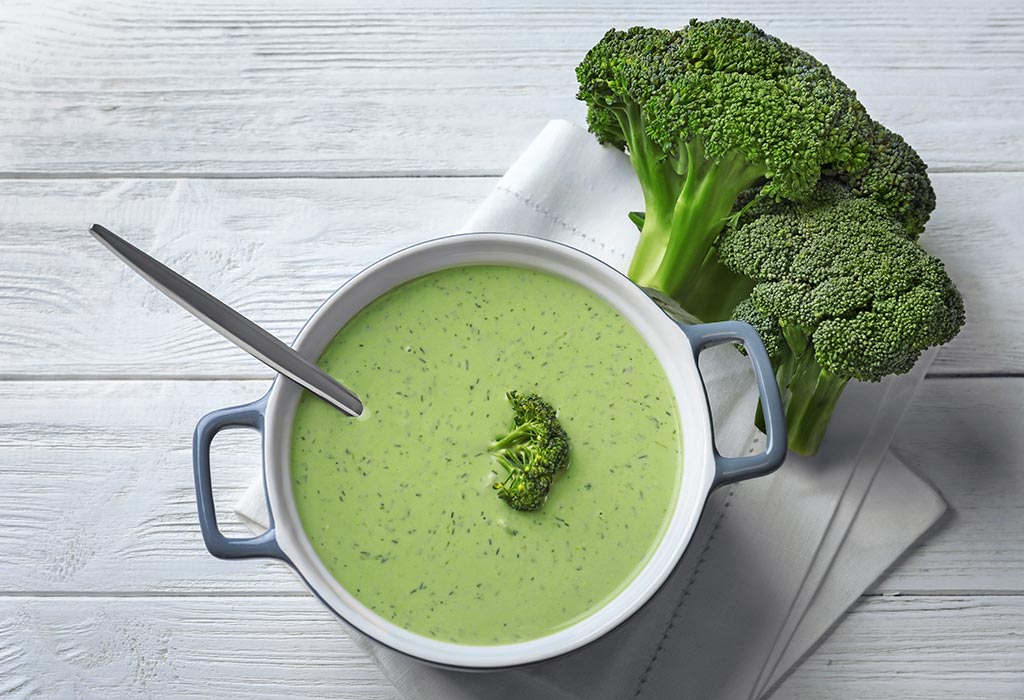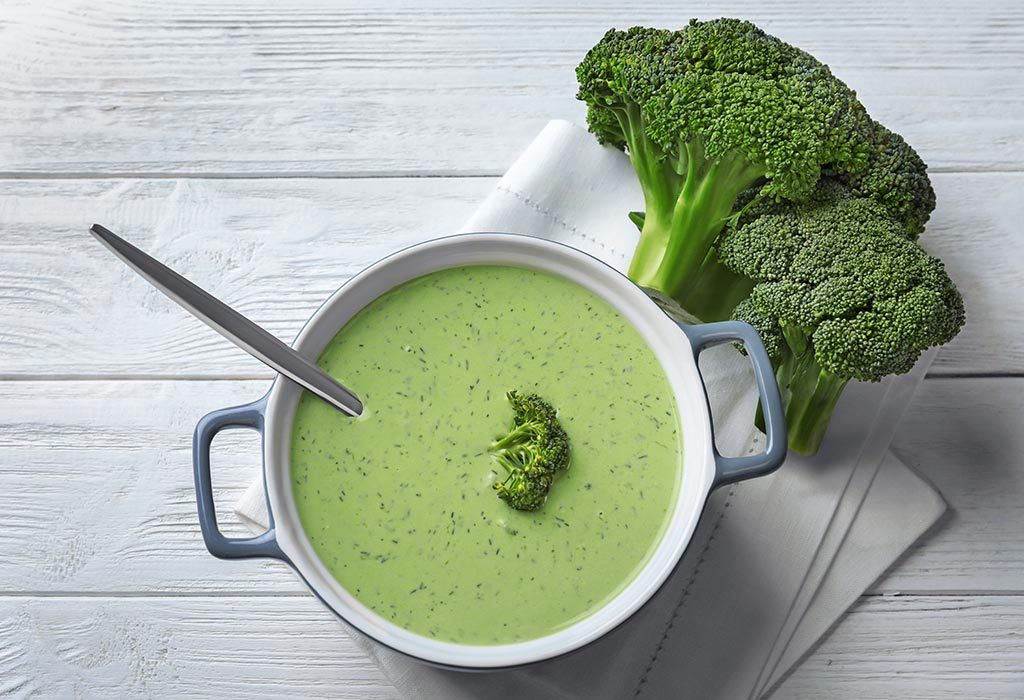 Here is a broccoli soup for toddlers.
Ingredients
10 Florets of Broccoli
One medium potato peeled and cubed
One small onion finely chopped
Four cloves garlic finely chopped
A pinch of salt
One teaspoon ghee
Quarter teaspoon pepper powder
Quarter cup milk
One teaspoon fresh cream
Directions
Use a pressure cooker to heat some ghee. Add the garlic and sauté into the mix.
Add the onions and fry until golden brown.
Stir in the broccoli and potatoes.
Add a cup of water and then pressure cook everything for three whistles.
Once the pressure has been released, remove everything from the pressure cooker and wait for it to cool. Then blend it into a smooth paste.
Heat the soup and add the milk, salt, pepper and the fresh cream.
2. Broccoli Khichdi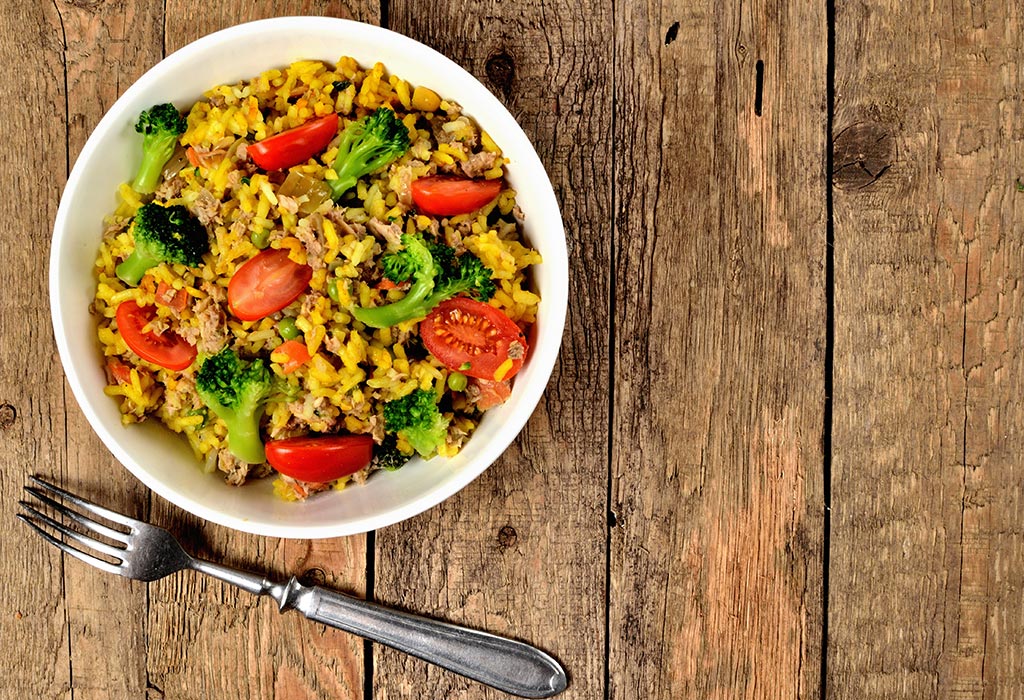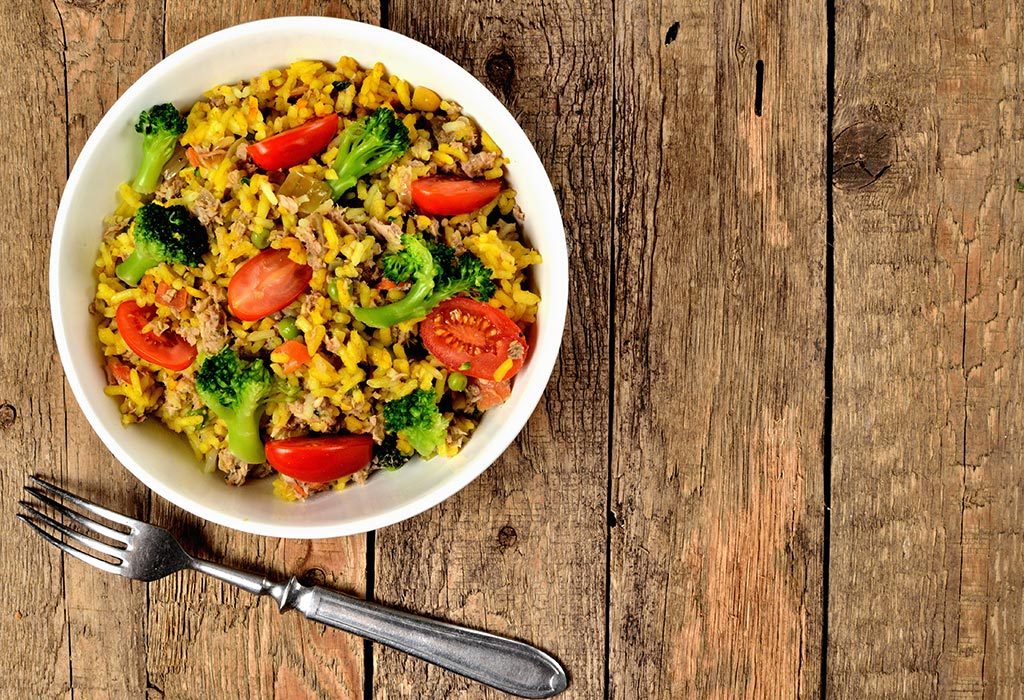 A nutritious meal made with softened rice for your toddler.
Ingredients
Half a cup rice
Half a cup moong daal
One medium onion
One medium tomato
Four cloves garlic
One cup broccoli floret
One teaspoon turmeric powder
One medium potato
3 ½ cups of water
Salt to taste
Ghee
Cumin seeds
Asafoetida
Directions
Wash the rice and daal and leave to soak for about ten minutes.
Drain the water and add potatoes, turmeric, salt and water to the rice and daal in a pressure cooker and let it cook for four whistles.
Heat some ghee and temper the cumin seeds and asafoetida.
Add the garlic and the onions and fry until golden brown.
Add the tomatoes and cook them until they are soft.
Blend the broccoli, but do not grind it into a smooth paste.
Add the broccoli to the onion-tomato mix and add some salt. Mix everything well and once cooked, add it to the rice and daal.
3. Broccoli Mac N Cheese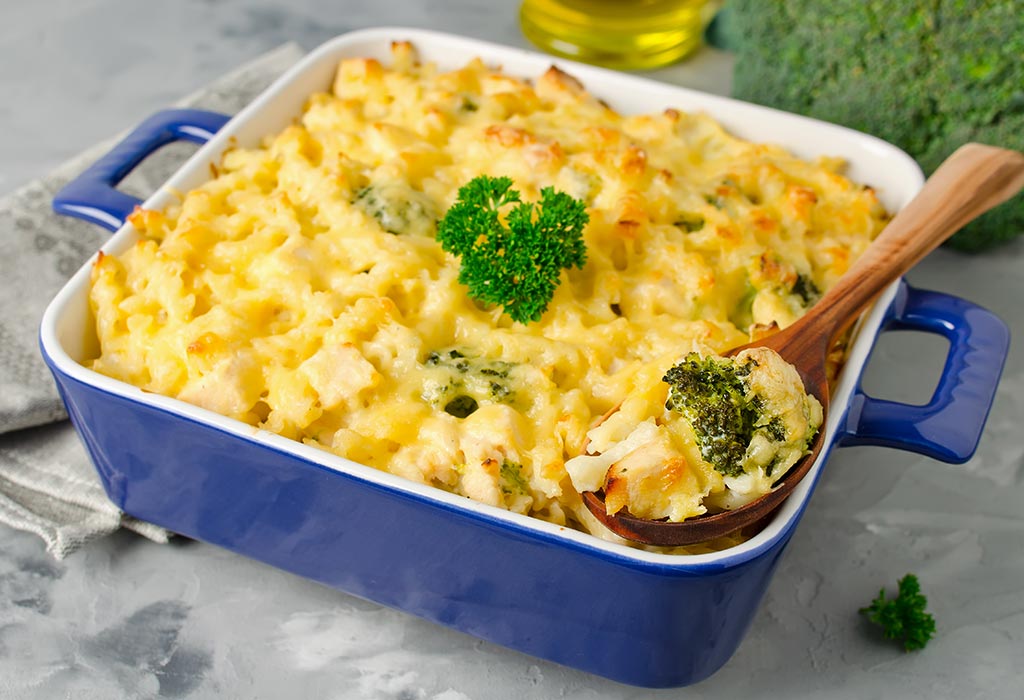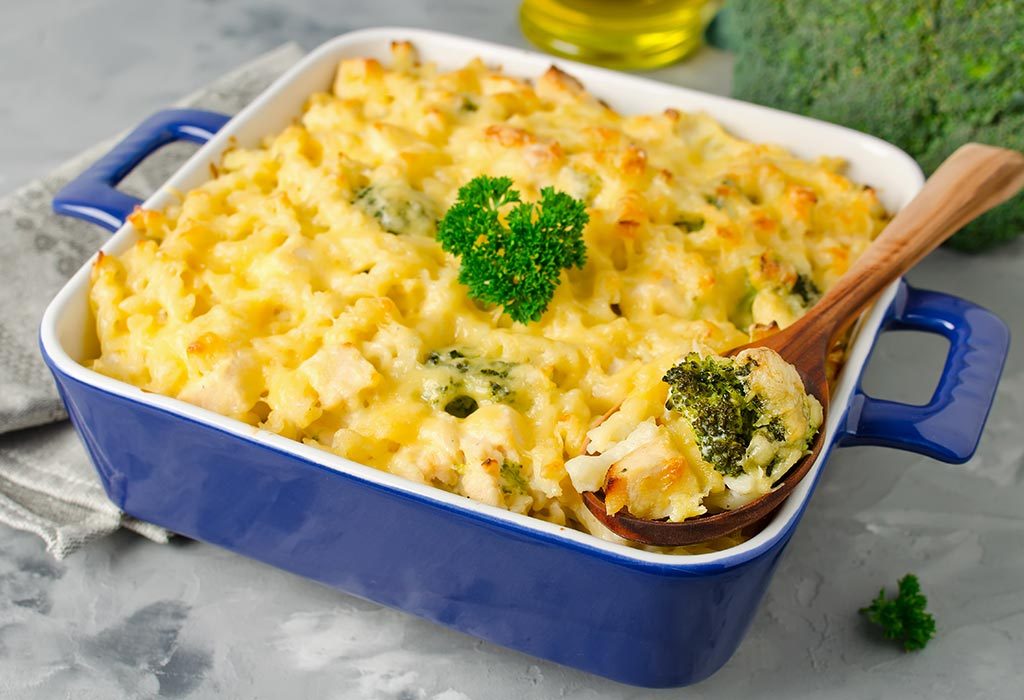 Your toddler absolutely love these flavours. Mac n cheese can never go wrong!
Ingredients
250gms macaroni
300 gms broccoli
Two tablespoons butter
One egg yolk
One cup milk
250gms shredded cheese
Two teaspoons mustard
Salt and pepper
Directions
Add salt to the water (which is to be boiled in a large pot).
Cook the pasta until soft.
Steam the broccoli until soft and fine chop.
Once cooked, drain and mix the pasta with the egg yolk and butter and stir well.
Add the milk, cheese and mustard. Stir until the cream melts.
Add the broccoli, salt and pepper and mix well.
4. Cheesy Broccoli Bites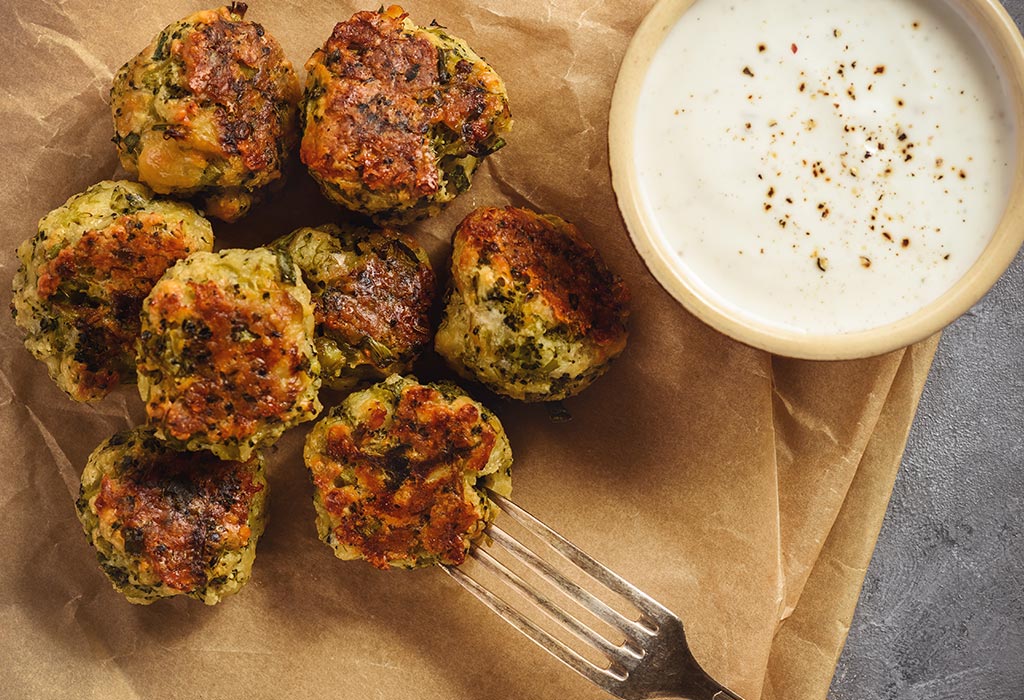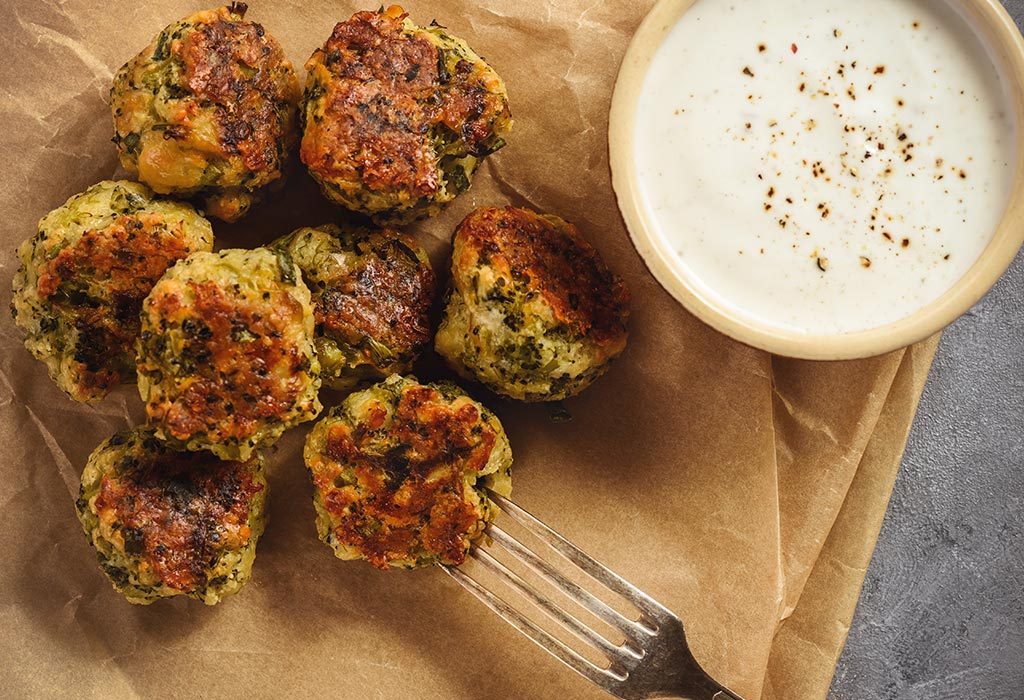 Easy to make and very delicious.
Ingredients
Two cups broccoli florets
Two large eggs
Half a teaspoon salt
Half a cup breadcrumbs
Two-ounces grated cheese
Two tablespoons olive oil
Directions
Steam the broccoli until tender.
Add the broccoli, egg, bread crumbs, salt and cheese to a mixer and blend until finely minced.
Use a tablespoon to make small balls out of the mixture.
Fry the balls until they are crispy and serve hot.
5. Broccoli Burji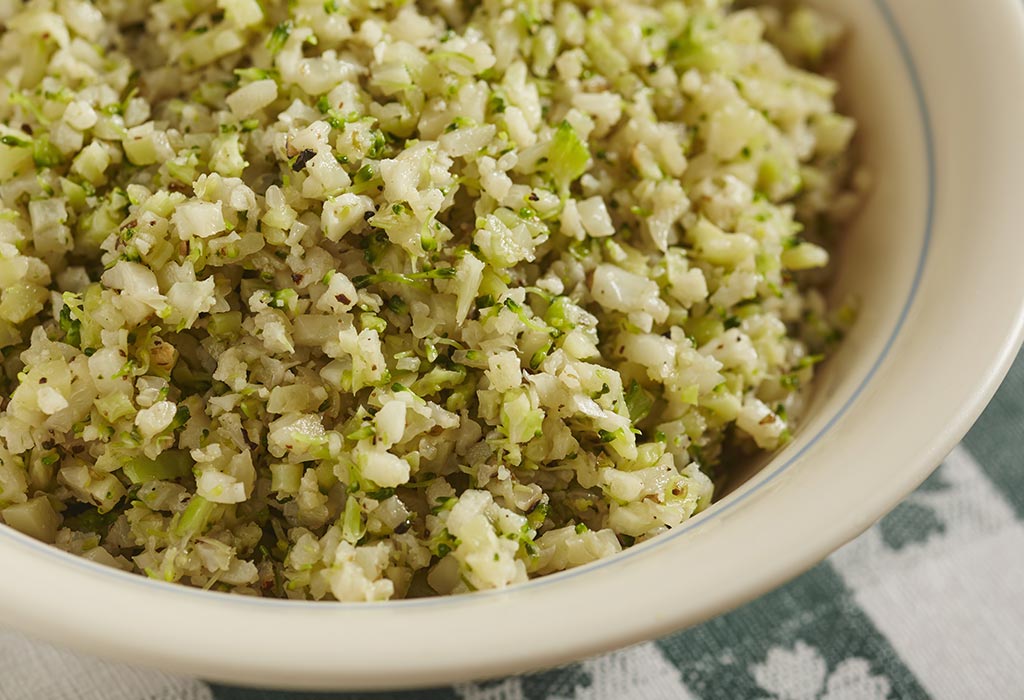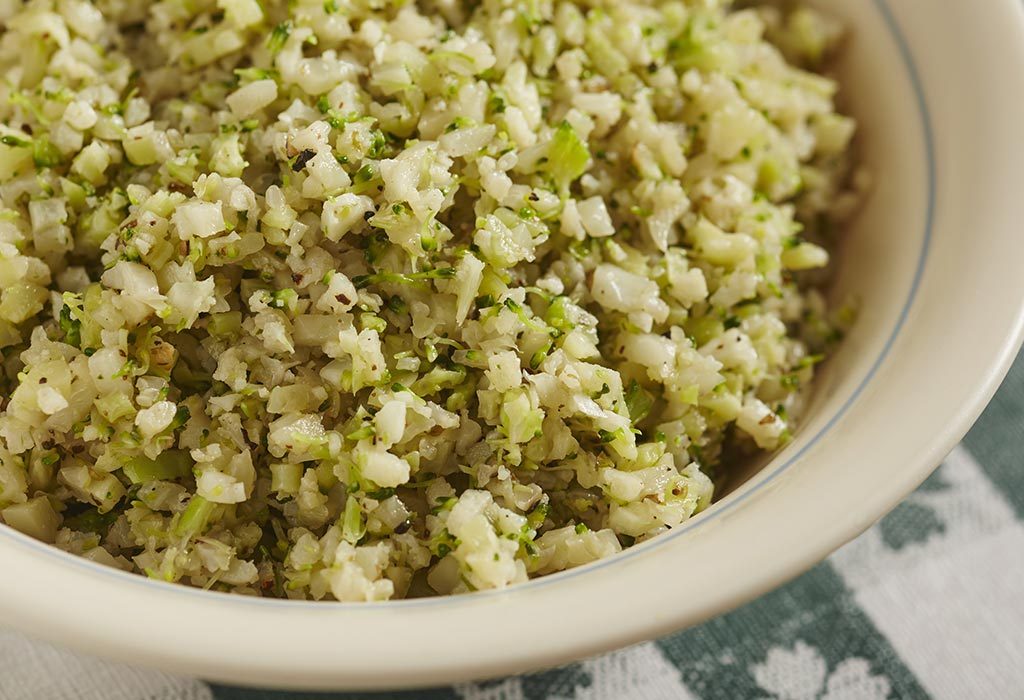 An easy and nutritious meal.
Ingredients
One finely chopped broccoli
Three beaten eggs
One chopped onion
Salt and pepper to taste
Two tablespoons oil
One teaspoon of mustard seeds, urad daal and cumin seeds each
One sprig curry leaves
Directions
Heat oil in a dish and temper the mustard seeds, cumin seeds, urad daal and curry leaves.
Sauté the onions until golden brown.
Add broccoli and salt and let it cook for a few minutes.
Beat some eggs and then add it to the broccoli along with some pepper.
Let it sit for a while and then start tossing the mix until the egg is cooked.
6. Broccoli Pizza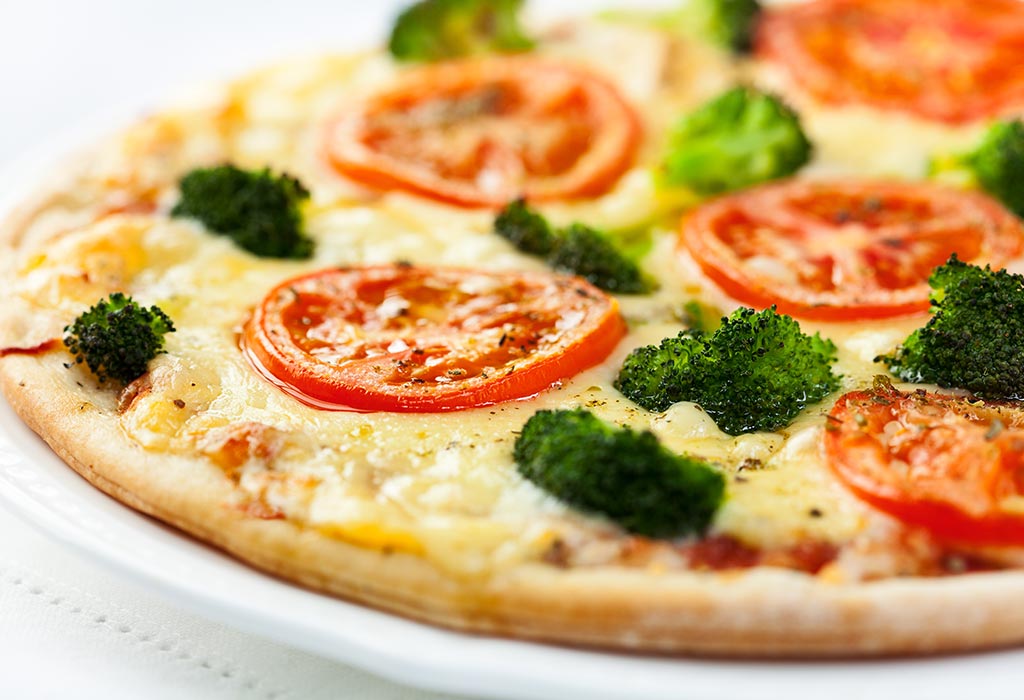 A simple and delicious meal.
Ingredients
One cup broccoli, cherry tomatoes and broccoli each
Pita Bread
Pizza Sauce
180 gms mozzarella cheese
Directions
Preheat the oven to 204 degrees Celsius.
Once you arrange the pizzas, place them on a baking tray and bake for ten minutes.
7. Broccoli and Cheese Quiche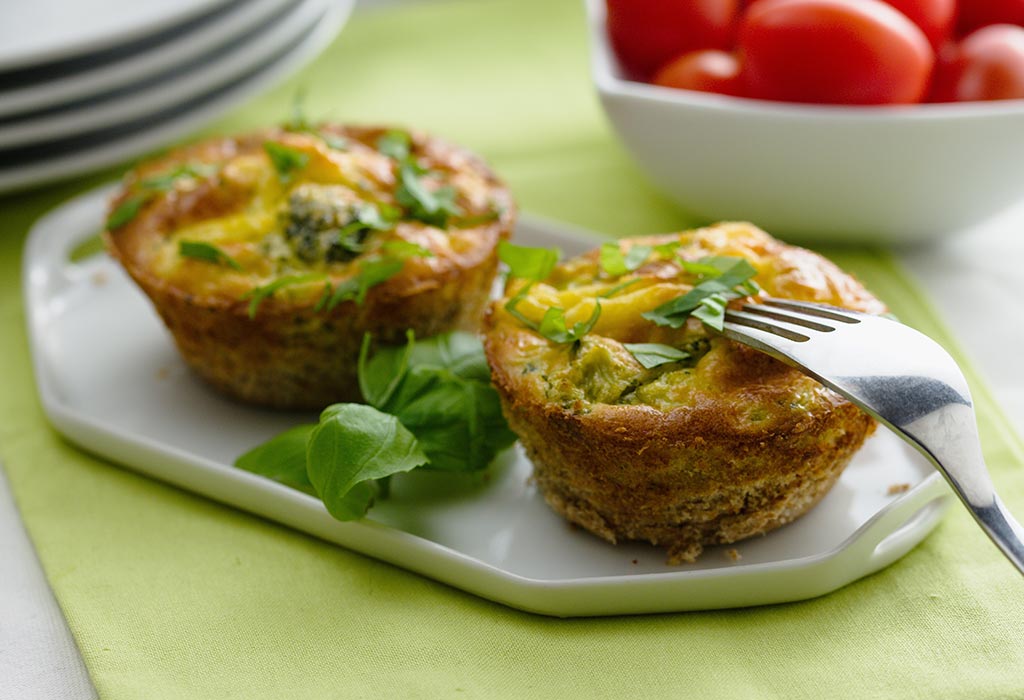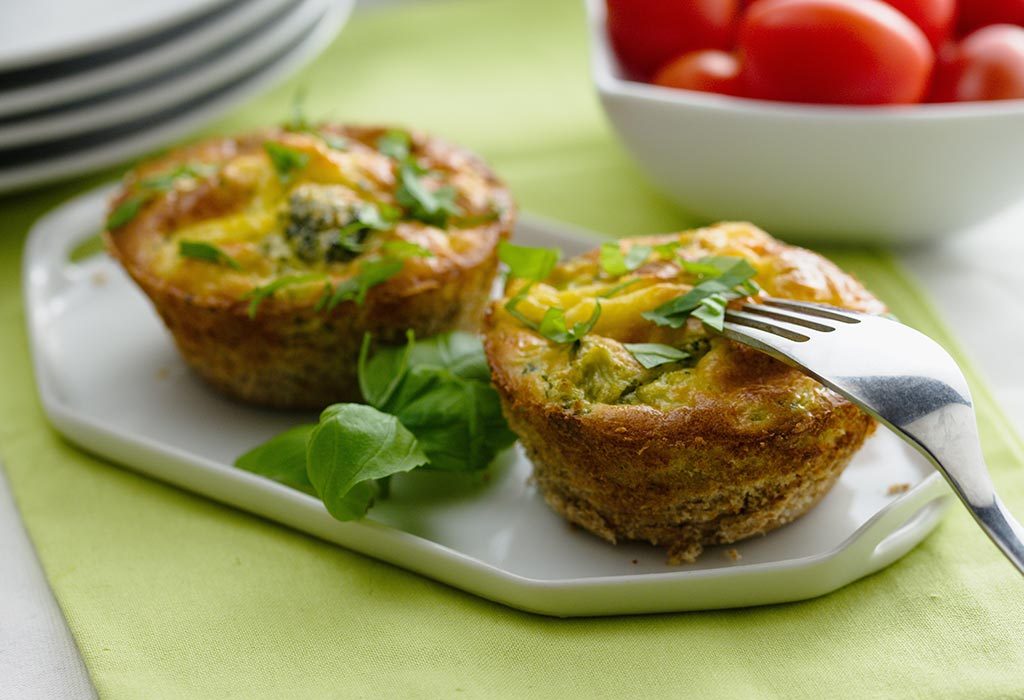 Cheesy goodness in small bites
Ingredients
Two cups of broccoli florets
One cup of milk
One cup of heavy cream
Two large eggs
Two large egg yolks
One cup grated cheese
Half teaspoon salt and pepper each
Quarter teaspoon ground nutmeg
Directions
Preheat oven to 175 degrees Celsius.
Grease eight muffin cups and set aside.
Steam the broccoli and then fine chop.
Whisk the eggs and the extra yolks together and then add the cheese, milk and cream.
Add the spices and cheese and then mix in the broccoli.
Ladle the mixture into the muffin cups and bake for about 25 minutes.
Let cool before removing and serving.
8. Broccoli Bread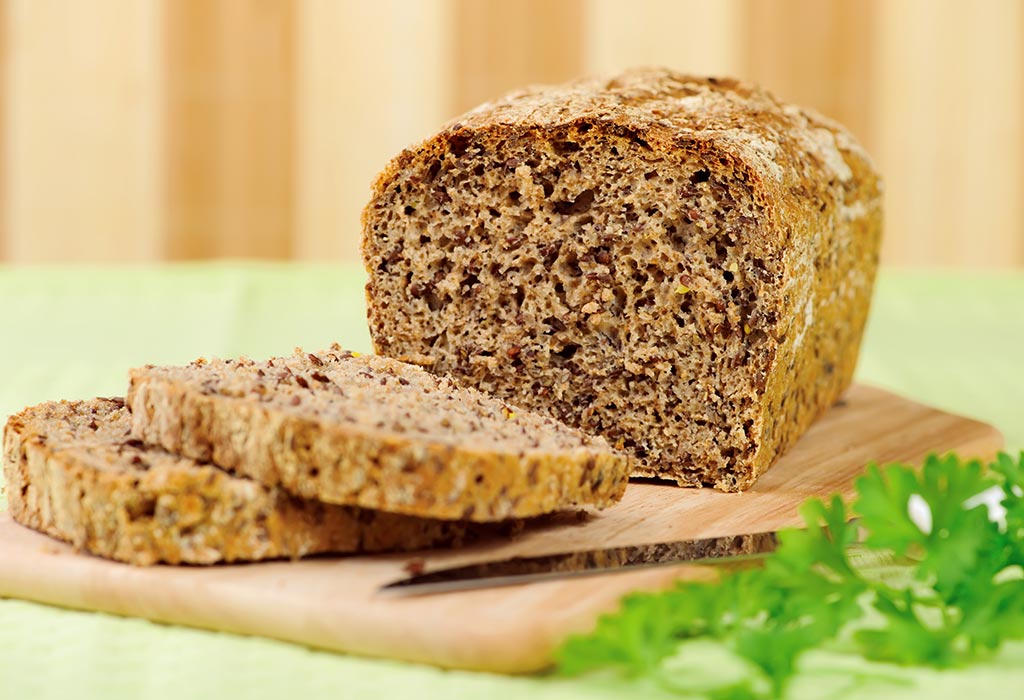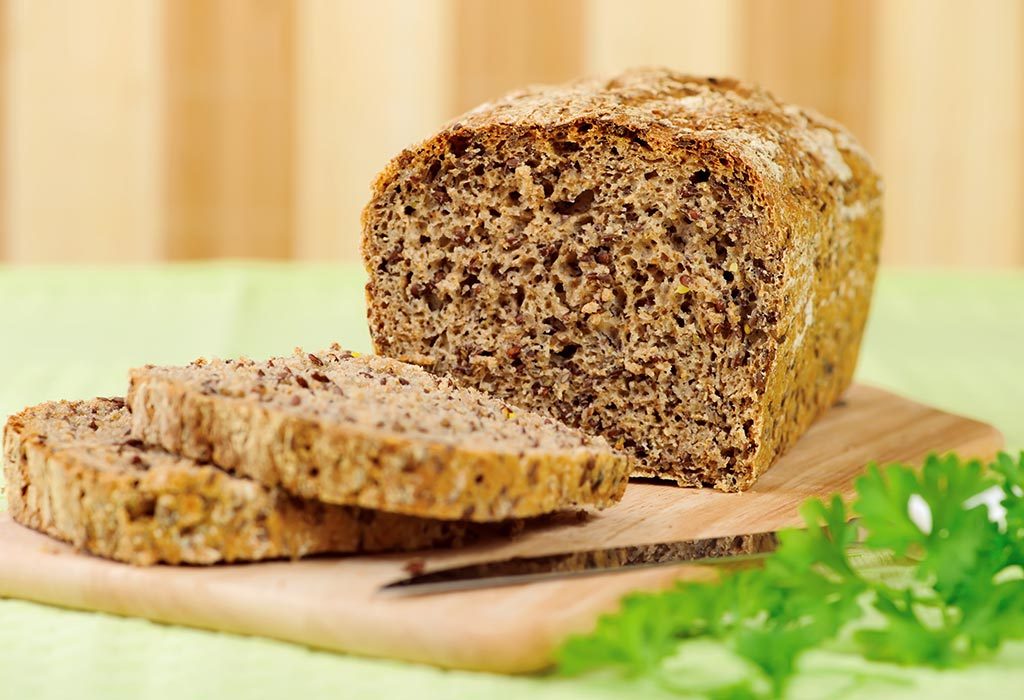 This savoury bread offers a touch of sweetness
Ingredients
Four eggs
¾ cup paneer
½ cup sour cream
Two tablespoons of melted butter
¾ teaspoon salt
1 ½ cups finely chopped onions
285 gms chopped broccoli
230gms corn muffin mix
Cooking spray
Directions
205 degrees Celsius.
Coat a baking tray that is 13X9 inches with the cooking spray.
Combine the eggs, paneer, sour cream, melted butter and salt.
Stir in the broccoli, corn mix and onions.
Bake for 25 minutes or until set.
9. Broccoli Dosai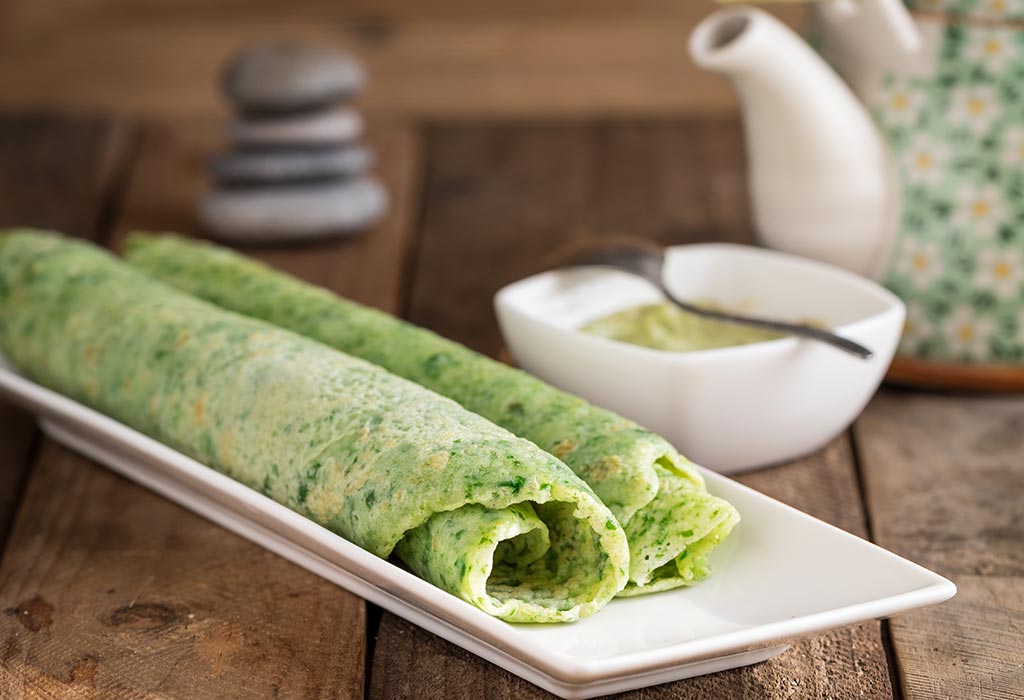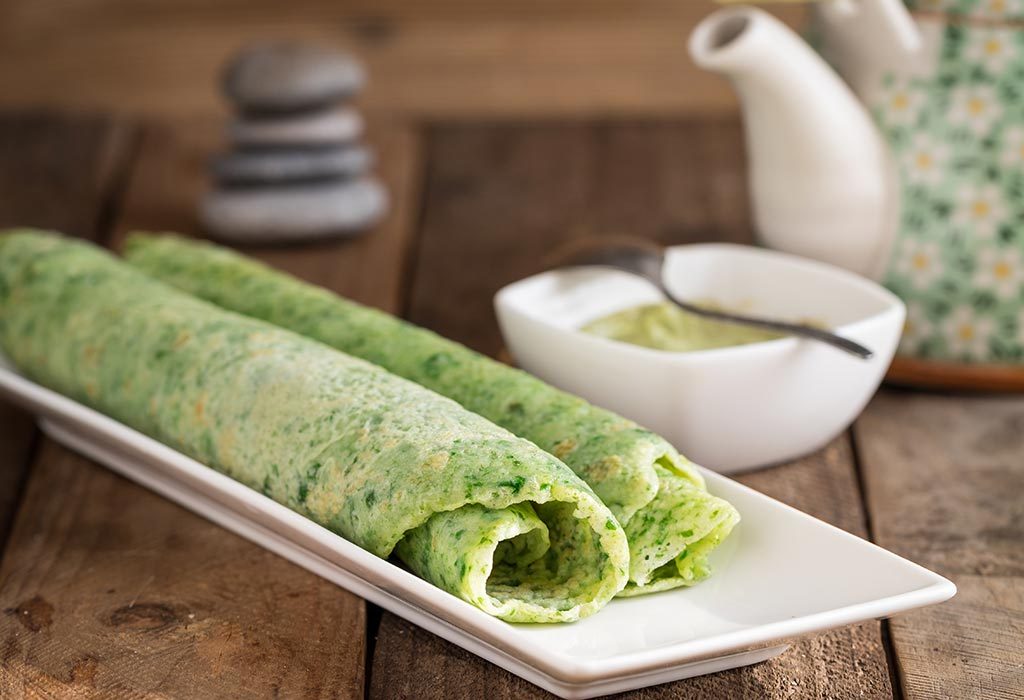 Your kids will enjoy this delightful green dosa
Ingredients
Dosa Batter
One broccoli finely chopped
Quarter teaspoon turmeric powder, garam masala each
One pinch Asafoetida
Half tablespoon chilli powder
Half tablespoon lemon juice
One tablespoon curd
One tablespoon ginger garlic paste
Directions
Marinate the broccoli in the spices for ten minutes.
Blend it with the dosa batter to get a green batter.
Fry the dosa with some ghee or oil and serve with curd.
10. Broccoli And Cauliflower Saute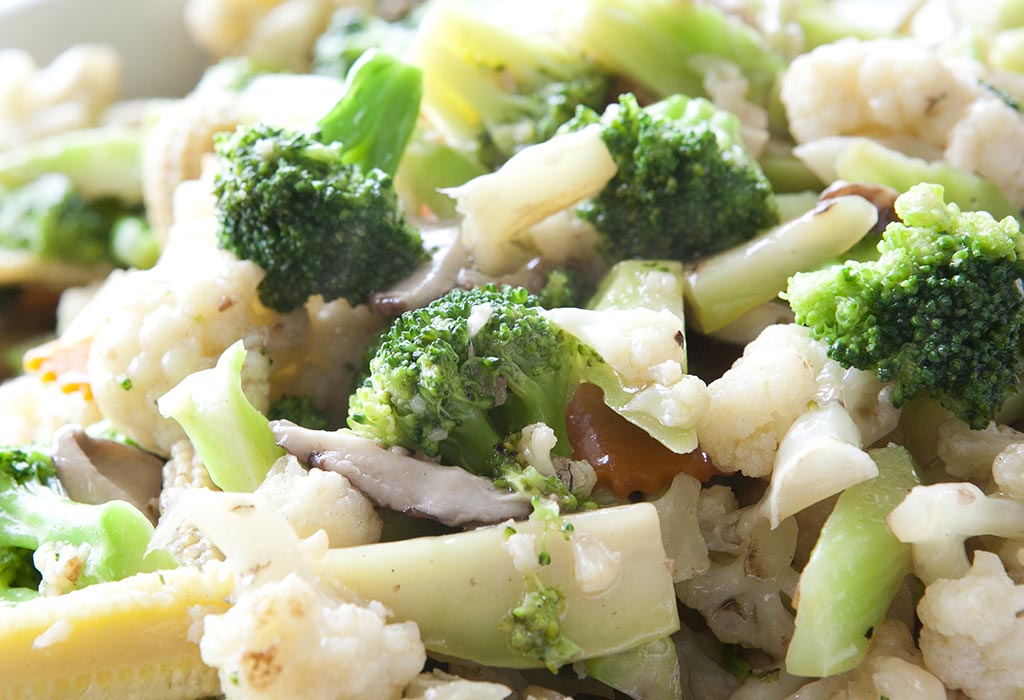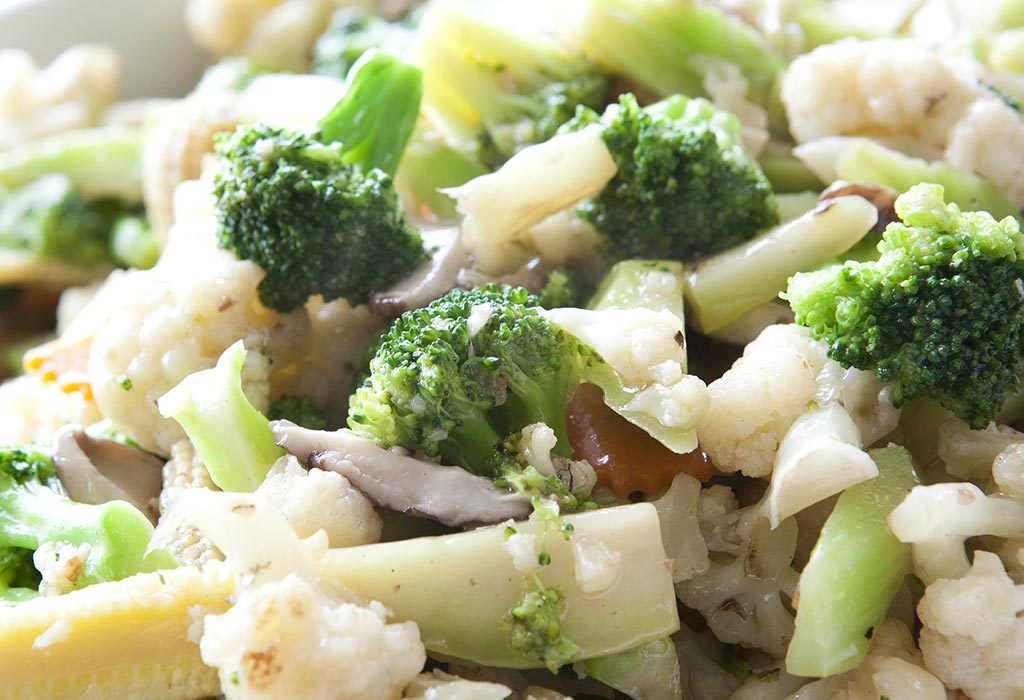 A flavourful dish for the family.
Ingredients
One cup each of broccoli floret and cauliflower floret
One glove thinly sliced garlic
Quarter cup chicken/vegetable broth
Three tablespoons water
1/3 teaspoon ground pepper
Directions
Heat some oil in medium flame and add the garlic and stir for a few seconds.
Add the Broccoli and cauliflower and cook for two minutes, occasionally stirring the mix.
Add the water, broth, salt and pepper.
Cover and cook on low heat until the vegetables are tender.
Very few kids enjoy broccoli, but if cooked well, they will grow fond of it. Use these recipes for when you are cooking for the kids.
Also Read: