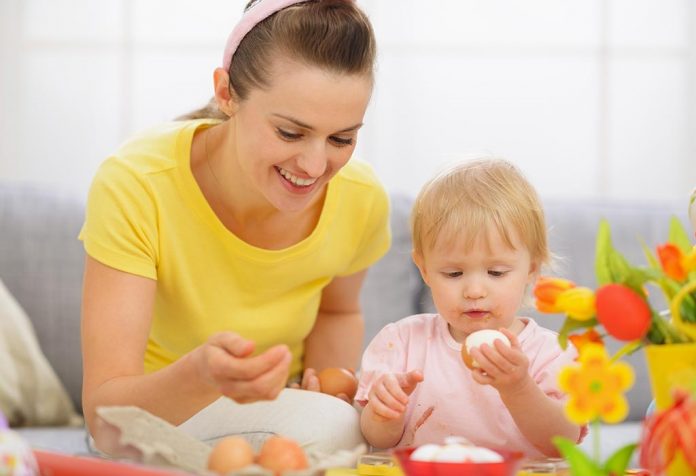 Last Updated on
Your kids are growing at a massive pace, and good food acts as fuel for the body. Eggs contain 6 grams of protein per serving; this protein helps in ensuring the healthy growth of your child. In addition, they are easy to digest making it ideal for babies whose digestive system is still developing.
Yummy and Quick Egg Recipes for your Baby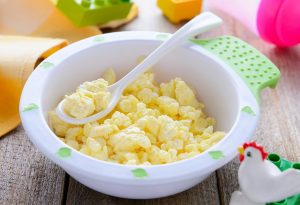 These are some egg yolk recipes that would be ideal for infants in the age group of 8-12 months
1. Hard Boiled Egg Yolk Mash
This delicious treat can be combined with yoghurt which contains probiotics and is good for digestion.
Ingredients Needed
Boiled egg
Yoghurt
Peas or pears or apple or sweet potato for flavour
How to Make
Cut the boiled egg into smaller pieces
Pop out the yolk and mash well.
Mix it yoghurt to make an egg puree.
2. Scrambled Eggs
Loaded with cheese, scrambled eggs are a good source of calcium which prevents your baby from developing brittle bones.
Ingredients Need
1 egg (separate the yolk)
¼ cup breast milk or formula
1tsp butter or oil
Grated cheese
How to Make
Heat a little butter in a pan
Pour the egg in a pan
Stir the mixture gently and add a little salt (optional) to the egg
Transfer it to a plate when the egg is set, but soft
Add some grated cheese on top
3. Egg Dosa
Dosa is rich in iron and reduces the chances of your baby getting anaemic.
Ingredients Needed
Eggs
Dosa Batter
Salt
1 tbsp. oil or butter
How to Make
Crack an egg onto the dosa after spreading the batter
Flip it and cook both sides of the dosa
Season it with some salt
Ensure the egg is cooked and break it into long pieces before serving it to you baby
4. Ghee Rice and Boiled Egg Yolk
For those babies who may be allergic to dairy, ghee is a good option as it is devoid of casein and lactose.
Ingredients Needed
½ cup rice (cooked)
1 tbsp. ghee or clarified butter
Salt for taste
Pepper (pinch)
1 egg yolk (boiled)
How to Make
Add the rice in a bowl
You can add the requisite amount of ghee, pepper, and salt.
Mix and mash it well. Serve with egg yolk.
5. Steamed Egg
Devoid of oil, steamed eggs retain the most amount of nutrients and are easy on the stomach.
Ingredients Needed
2 eggs
6 halved egg shells of boiled water
soy sauce and sesame oil for taste
How to Make
Add beaten eggs and add boiled water in the ratio of 1:1.5
Mix them up and run it through a sieve into a dish that is steam-proof.
Set up a rack with water in a wok and bring it to a boil.
Put the dish with beaten eggs on the rack. Cover the lid.
Lower the flame and steam for 15 minutes. Take out the steamed eggs and top with a dash of soy sauce and sesame oil.
6. Banana Pancakes with Eggs
Bananas are good sources of potassium and help in reducing the chances of premature diabetes.
Ingredients Needed
Banana – 1 big sized or 2 small ones
Eggs – 2 small ones
Oil/butter – for making pancakes
Optional Ingredients
Grated coconut – 1 tbsp.
Sugar – 1 tbsp.
Chopped nuts – 2 Tsp
How to Make
Take the bananas and mash them well with your hand or fork.
Add the eggs and beat it thoroughly with bananas using a whisk to a smooth mixture. Keep it ready
Heat a pan or a tawa and add a small ladle of the pancake mix to it and spread it to form a thin circle. Don't spread it too much. Sprinkle a little oil or butter.
Cook until brown on one side for 5 minutes and flip the pancake
Cook for a minute and remove from tawa.
Serve with slices of bananas on top with grated coconut as a topping
7. Egg Potato Scramble
Rich in fibre, potatoes help in easy digestion.
Ingredients Needed
Eggs
Potatoes
Onions
Capsicum/ bell pepper (optional
¼ tsp Cumin Seeds
¼ tsp salt as needed
¼ tsp turmeric powder
oil/butter
How to Make
Beat the eggs well and sprinkle some turmeric powder
Grate potatoes and add finely chopped onions and set aside
Heat a tsp of oil/butter in a pan and add cumin seeds. Let it splutter. Then add the chopped onions along with grated potatoes and fry them until potatoes are fully cooked
Switch off the flame once you mix everything. Add everything to the beaten eggs and mix well
Now heat a pan and spread the egg-potato mix to it. Keep stirring until the eggs are well cooked
Serve hot
8. Veggie Egg Rice
Vegetables like carrots are rich in Vitamin A which helps in improving vision.
Ingredients Needed
1 Egg (hard boiled)
1 cup cooked brown rice
¼ cup soft cooked veggies like carrot, peas, potatoes, broccoli
How to Make
Mash the eggs into small pieces and mix them well with the rice and vegetables
Do it in such as way that the texture suits your babies preferences.
9. Cheese Omelette
This yummy and quick egg recipe for your baby can be served for breakfast for the whole family as well
Ingredients Needed
Eggs – 2
Shredded cheese – ½ cup
Pepper powder – ⅛ tsp (optional)
Butter – 1 Tsp
How to Make
Keep all the ingredients ready and then crack open the eggs.
Beat the eggs well till they are frothy and fluffy with a fork or a hand whisk
Heat a pan or tawa with butter and pour the egg mixture into it.
Cook it on low-medium flame for 3-4 minutes
Once the omelette is cooked on one side, spread the shredded cheese over. Reduce the cheese quantity if you want to keep it light
Cook it further till the cheese melts completely. Switch if off once done and serve it hot
10. Egg Custard
If your baby has a sweet tooth but is averse to eating eggs, try this recipe!
Ingredients Needed
2 cup milk or formula
1 tsp vanilla extract
1 tsp corn flour
4 egg yolks
5 tbsp. sugar (optional)
How to Make
Take a saucepan, turn on the flame, pour in the milk and vanilla extract. Cook below the boiling point
To another bowl, add egg yolks ,corn flour, and sugar.
Once this is done, whisk the mixture well.
Slowly transfer the mixture into the egg yolks by whisking constantly
Cook the mixture in the saucepan on the low-medium flame. Keep stirring to make sure that the custard does not stick to the bottom.
Turn off as the custard thickens
Serve piping hot or refrigerate
Delicious Egg Recipes for Children
Here are some yummy recipes for which is bound to turn your child into an egg lover
1. Egg Oatmeal Scramble
Oats are rich in beta-glucan, a type of fibre which can help digestion and discourages overeating.
Ingredients Needed
1 cup of cooked oatmeal
2 egg yolks
¼ soft cooked veggies or fruits
1 teaspoon olive oil
How to Make
Use a frying pan to heat the olive oil
Whisk the 2 egg yolks well in a bowl
Add the oatmeal and fruits or veggies to a warmed frying pan and then add the whisked egg yolk on top
Gently scramble the eggs and fry till the yolk cooks completely
Serve hot
2. Egg Pizza
Contrary to popular perception, pizza is a healthy snack provided you forgo all the refined meats and avoid large amounts of salt.
Ingredients Needed
Pizza dough
Pizza sauce
Cheese
Eggs
How to Make
Knead the pizza dough thoroughly and spread over a baking pan
Apply pizza sauce and any other topping of your choice
Grate cheese and pop it in the oven to bake for 10-15 minutes
Take it out and with a spoon make an indentation in the pizza not close to the base
Then crack an egg into the indentation
Again bake for 6-7 minutes
Serve hot
3. Egg Burrito
A Mexican delicious egg recipe for children of all ages to enjoy
Ingredients Needed
Scrambled eggs with lots of veggies
Tortilla
Salsa sauce
How to Make
Prepare your scrambled eggs first (cook it well) and add lots of vegetables like tomato, spinach, carrot and broccoli to it
In another pan, heat the tortilla(this can be store bought and is available in most supermarkets)
Stuff the tortilla with your scrambled eggs with vegetable mix and secure it tightly
Heat the wraps, wait until the colour of the tortilla turns golden brown
Serve with salsa sauce
4. Egg Sandwich
A simple basic scrambled egg breakfast recipe for children
Ingredients Needed
2-4 eggs
Veggies – onions, tomatoes, bell peppers
Brown Bread
Cheese
How to Make
You have to first scramble the eggs in a pan and put them aside
Warm the sandwich maker or tawa
Take two pieces of brown bread and apply butter
Add veggies like onions, tomatoes, bell pepper and then the scrambled eggs and some grated cheese on top
Heat the sandwiches for 5 minutes till they are golden brown
5. Yummy Eggs with Berry Yogurt
This is a meal that can be prepared within minutes and is a blessing for working moms.
Ingredients Needed
Eggs
Milk
Bread
Yoghurt
Butter
How to Make
Take a piece of bread and cut a circular potion in the middle with the help of a cookie cutter
Cook the bread piece by applying bread to it and then pour the egg yolk into it
Cook the egg yolk and bread well till it turns golden brown
You can now serve this with 'Berry Yogurt' or any other flavoured yoghurt
6. Egg Paratha
Does your child have a tendency to eat only the egg and parantha minus her veggies? Use this cool recipe to trick them into devouring carrots and capsicum with gusto!
Ingredients Needed
3-4 Eggs
Veggies (Carrots, capsicum, onion, tomato, coriander, green chilly)
Wheat flour
How to Make
Beat 3-4 eggs in a bowl and then add your veggies
Take approximately two bowls of wheat flour and knead the dough after pouring the egg mixture in it.
Make parathas (chapattis) and serve with chutney or yoghurt
7. Egg Tacos
Another Mexican snack, these will be perfect for an evening snack
Ingredients Needed
4 large eggs
1 tbsp. unsalted butter
Freshly ground pepper
½ avocado thinly sliced
Tortilla chips
Canned corn or beans
¼ cup salsa
¼ cup of shredded cheese
Add some fresh cilantro or coriander
How to Make
Beat the eggs and add ¼ teaspoon of salt in a bowl
In a tawa or a pan, heat butter over medium flame to cook the eggs until soft
Tip in the eggs into the tortilla chips and top with avocado, salsa, cheese and cilantro
8. Egg And Macaroni
Being high in fibre and gluten-free, it helps prevent issues like constipation in children.
Ingredients Needed
lb elbow macaroni
-10 eggs (use only 2 whole, the rest only whites)
2 small onions (finely chopped)
½ teaspoon butter
1 teaspoon mustard
1 teaspoon Black Gram
1 teaspoon Bengal gram
3 green chillies
½ teaspoon garlic ginger paste
½ teaspoon turmeric powder
4 -6 quarts water
2 ½ teaspoons salt
teaspoons olive oil
How to Make
Boil your macaroni in a large pot until it is soft
Drain the macaroni, add butter and set it aside
In another pan, heat remaining oil, add mustard when it's hot, followed by black gram and Bengal gram
Once the grams are brown, add onions and sauté until translucent.
Add seasoning and then make scrambled eggs and serve it with the pasta
9. Sweet French Toast
Bread being high in carbohydrates is a great way to energise your kids for the day ahead.
Ingredients Needed
Bread – 4 slices
Eggs – 2
Brown sugar – 2 tbsp.
Milk – ⅛ cup
Ghee/ Butter – as needed to toast
Vanilla essence – 1 tsp
How to Make
Beat the eggs with milk until it becomes visibly fluffy.
Transfer to a bowl and add sugar and vanilla extract.
Now again mix everything well and whisk till it is frothy. Now dip the bread well on both sides
Immediately transfer it to a hot pan and toast well on both sides
10. Egg Pudding
A great dessert dish, it can work as a great starter dish to introduce your kids to eggs.
Ingredients Needed
1 egg
1/2 cup milk
2 drops vanilla essence
A pinch of cinnamon
How to Make
Add milk and eggs in a bowl and whisk it thoroughly
Add cinnamon, vanilla and mix well
Transfer it to a heatproof bowl and steam
Finally, put it in a pressure cooker for up to two whistles with enough water
The goodness of egg yolks and whole eggs will win your family over. Healthy habits of hearty breakfasts can be inculcated in every child through a nutritious meal which contains eggs. Try some of these recipes today!