How to Give Pomegranate to Your Baby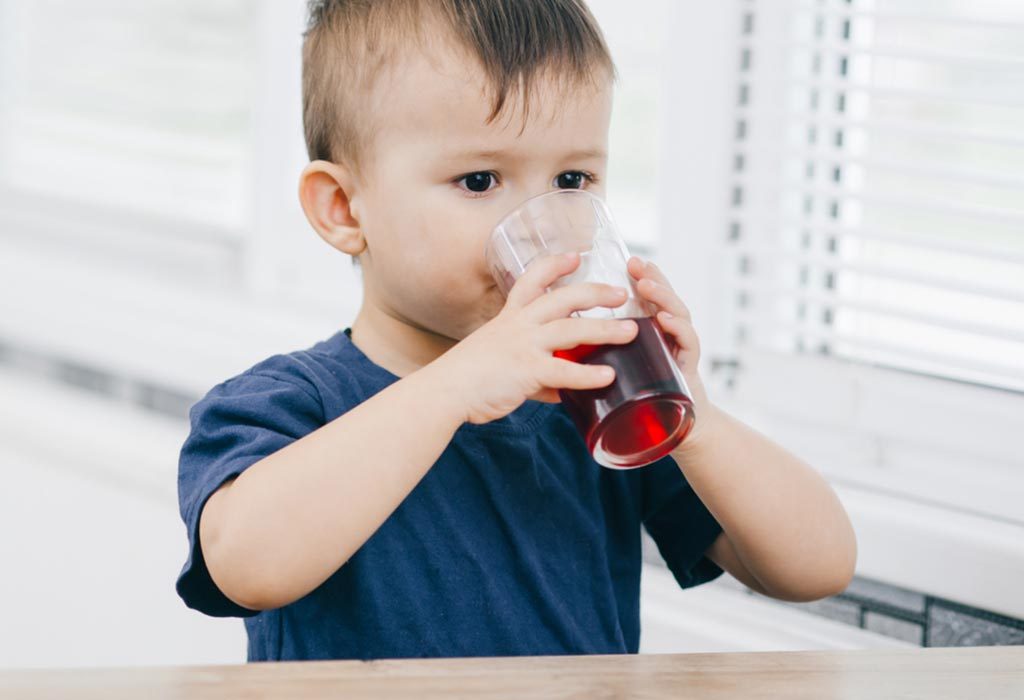 When your baby turns six months old, you can introduce him to solid food. As you start making a list of foods that can be given to your baby, go ahead and add in pomegranate. Pomegranate is a semi-tropical superfruit that originates from Persia, known for its antioxidant properties. It is an absolutely magical fruit for babies that offers a variety of health benefits. Read on to find out how to make it baby-friendly.
Can You Give Pomegranate to Your Baby?
Yes, you can offer the seeded fruit to your baby after six months of age but only in the form of juice. Once he is a little older, this fruit can be introduced as a pulp without seeds. Rich in nutrients and medicinal properties, pomegranate is an ideal food to add a dose of Vitamin A and E, potassium, iron, fibre, folic acid, and minerals. Make sure you include it in your child's diet regularly to ensure he gets the right balance of nutrition.
Nutritional Facts of Pomegranate
Red in colour, pomegranate is a seeded fruit with smooth and silky skin. The hundreds of reddish seeds inside are the edible parts. Packed with Vitamin C, A, and E, the fruit is high in antioxidant properties that keep free radicals at bay. The fruit also contains necessary amounts of potassium, fibre, iron, folic acid, minerals, and water-soluble Vitamin B complex. The numerous health benefits that the fruit offers make it a superfood for your baby. Make sure you serve it as a juice until he is ready to eat the pulp. Ideally, babies should be ready to eat the pulp after nine months of age. Below is a table that enlists the nutritional value of pomegranate:
| | | | |
| --- | --- | --- | --- |
| Nutrition Component | Value per 100 g | Nutrition Component | Value per 100 gms |
| Water | 77.93 gms | Energy | 83kcal |
| Protein | 1.67 g | Total Lipid | 1.17 g |
| Carbohydrate | 18.70 g | Fibre | 4 g |
| Sugars | 13.67 g | Calcium | 10 mg |
| Iron | 0.30 mg | Magnesium | 12 mg |
| Phosphorus | 36 mg | Potassium | 236 mg |
| Sodium | 3 mg | Zinc | 0.35 mg |
| Vitamin C | 10.2 mg | Thiamin | 0.067 mg |
| Riboflavin | 0.053 mg | Niacin | 0.293 mg |
| Vitamin B-6 | 0.075 mg | Folate | 38 ug |
| Vitamin E | 0.60 mg | Vitamin K | 16.4 ug |
Amazing Health Benefits of Pomegranate for Babies
Pomegranate has immense nutritional health benefits that will help your child. Here are some essential health benefits.
1. Helps build immunity
Is your baby prone to cold and cough? Rich in Vitamin C, pomegranate is sure to help your child develop immunity and fight infections. Regular intake helps keep common cold and cough at bay.
2. Fights bacterial infections
Pomegranate contains biochemical enzymes that help reduce inflammation by destroying bacterial infections.
3. Aids digestion
Pomegranate is high in fibre and aids in constipation.It is one of the best ways to include fibre in your diet.
4. Eliminates intestinal worms
Intestinal worms or parasites reside either in the small or large intestine and multiply by feeding on the nutrients. Pomegranate juice is a great antidote to kill these worms.
5. Stabilises fever
Pomegranate juice not only controls fever but supplies the body with nutrients that reduce it.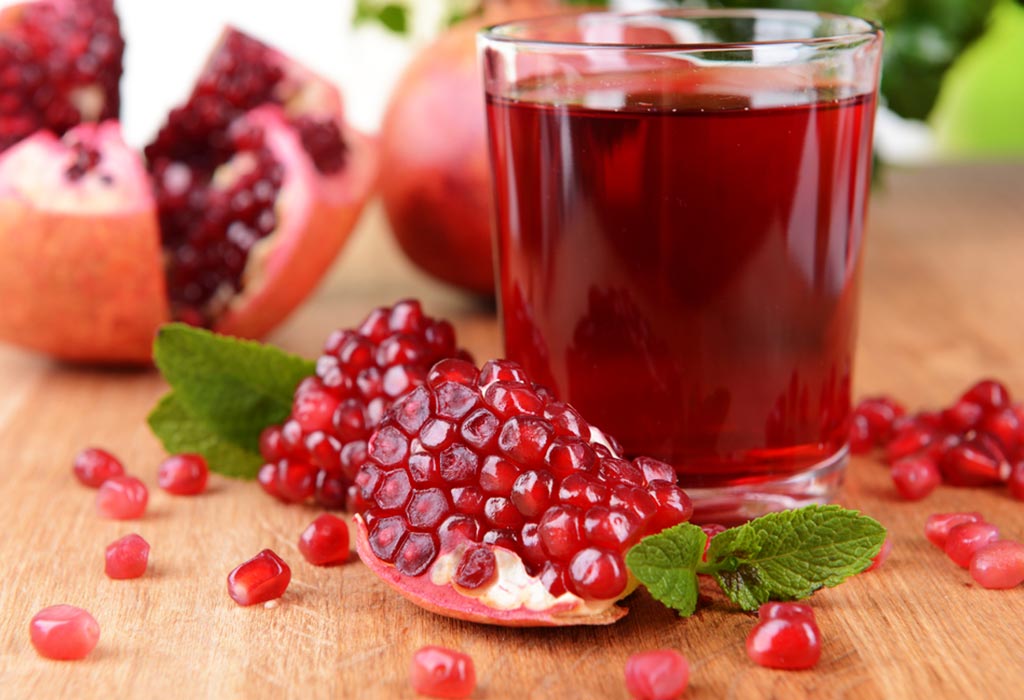 Precautions to Take While Giving Pomegranate to an Infant
Here are some precautions you can take before feeding your little one pomegranate juice or pulp.
No seeds – ensure you do not feed the seeds to your baby.
Do not include the white skin in the juice as it will make the juice sour.
Consuming pomegranate before sleeping could lead to dental problems.
Restrict the intake to just about 4-6 oz a day as excess consumption may cause diarrhoea.
Do not mix pomegranate with any other food. Monitor your child's body reaction and response after being fed with the juice or pulp.
Guidelines to Making Pomegranate Juice for Babies
The best way to make pomegranate juice for babies is to deseed the fruit and blend the pulp in a mixer or blender. Strain the juice and collect it. Do not add sugar. Feed the fruit in small quantities to your baby during late morning, afternoon, or evening. Ensure that you give sufficient time when you introduce a new food or vegetable to your baby to check for allergies or to get your baby used to the taste.
Pomegranate is a wonder food for babies with all the essential nutrients and minerals packed into it. It is one of the healthiest fruits you can include in your baby's diet once in a while to break the monotony and expand your baby's food preferences.
Also read: Ragi For Babies – Amazing Health Benefits & Recipes