Non-fried and Safe Snacks for 9 Months+ Babies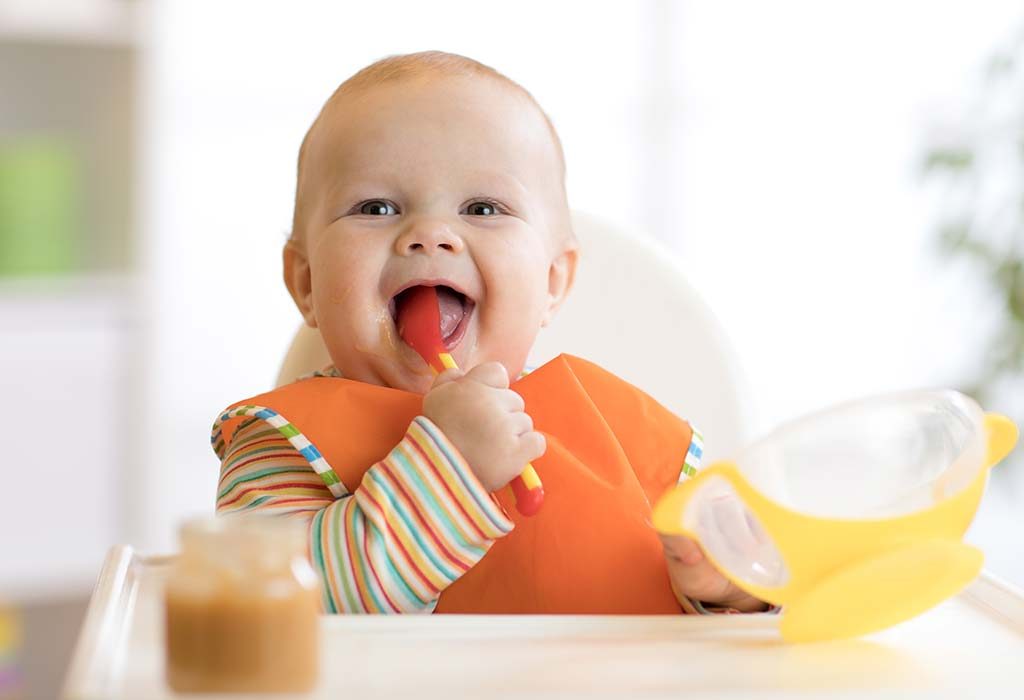 In this Article
Your baby has recently discovered the glorious world of food and now wants to try everything on your plate! During tea-time, he watches you munching on your favourite snacks and wants to taste them, too. As a parent, saying no to your cute little munchkin is difficult, but junk foods like salted chips, fried fast food, candy, etc. don't provide the right kind of nutrition and aren't age-appropriate for your baby.
Keep him away from these snacks and try our healthy, no-oil and no-choking-hazard ideas to build healthy habits while he is still young.
Healthy Snack Ideas for Your Baby
The best way to prepare snacks for your nine months+ baby is to either boil or cook ingredients. This process makes the food soft and easily dissolvable, and thus safe for your little one. The options we've provided below require low/no use of salt, comprise age-appropriate ingredients and are natural.
1. Oatmeal With Pureed Apples
As oats are high in fibre, they make digestion easier and bowel movements smoother. As a wholesome meal, oatmeal will keep your little one satiated for longer.
Ingredients:
Oats (powdered) – 1/4 cup
Water – 1 cup
Apple (medium size) – 1
Breast milk or formula – 1/4 cup
Method:
Powder the oats in a blender.
Wash and peel the apple. Then, dice and blend it to make a puree.
Take a thick-bottomed pan and add the oats powder and water to it.
Cook on a low flame and keep stirring to avoid lumps.
As the porridge starts thickening, add the pureed apple to it.
Let the mixture cook for 7-8 minutes on a low flame.
Take it off the stove and allow the oatmeal snack to cool down.
Add a little breast milk or formula milk to this mixture and feed it to your little one.
2. Cheesy Pasta With Steamed Veggies
Pasta is filled with the goodness of carbohydrates, and its fun shapes make it appealing to babies. Whole-wheat pasta is rich in fibre, folic acid, iron, and B-vitamins, which provide your baby with his daily requirement of energy.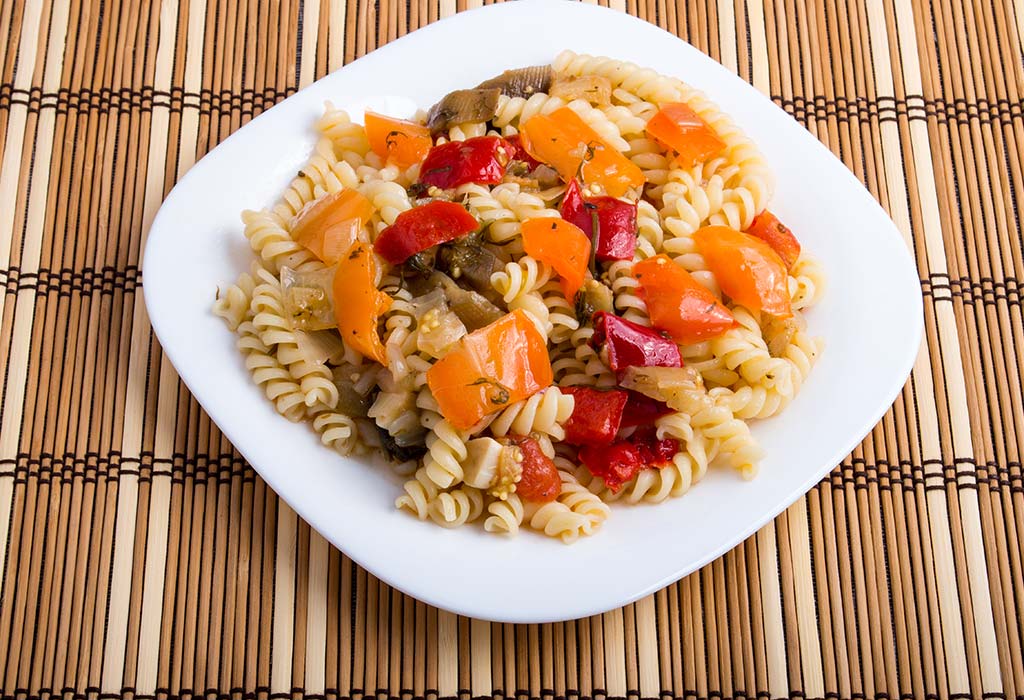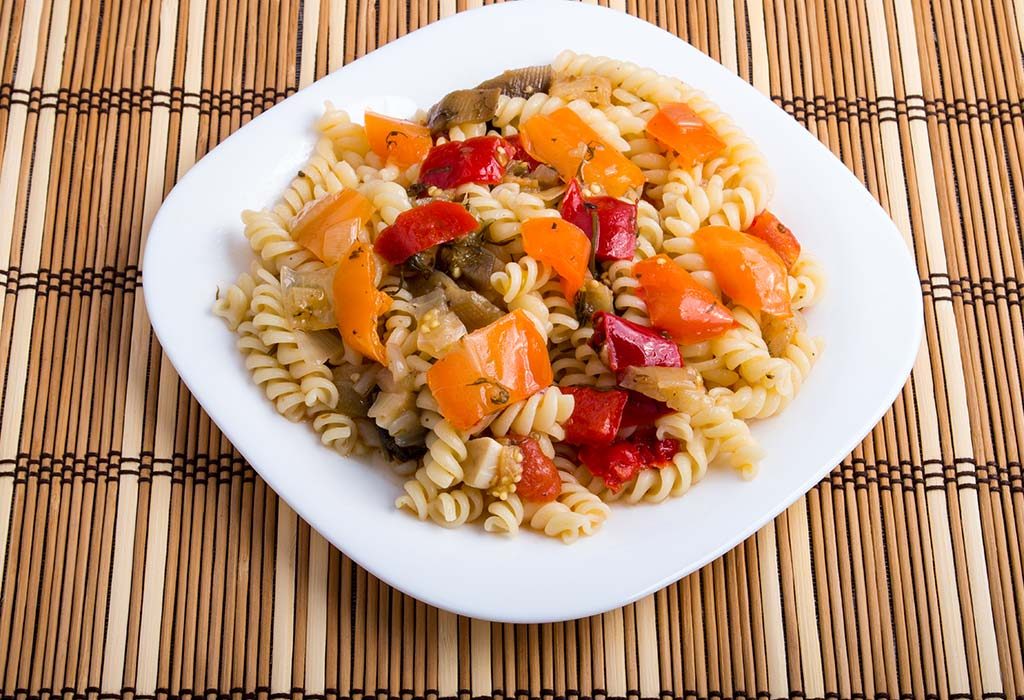 Ingredients:
Pasta – 1 cup
Carrot – 1
Tomatoes (peeled) – 2
Grated Cheese
Butter
Method:
Boil the pasta to make it soft and tender.
Wash and dice the carrots into small pieces. Steam them for 15-20 minutes so that they become soft.
In a flat-bottomed pan, add butter and tomatoes. Saute until the tomato pieces turn mushy.
Add the boiled pasta and the steamed carrot pieces, and stir well.
You can also sprinkle cheese if your baby likes it.
Let it cook for a few minutes.
Take off the stove and let it cool.
Serve your baby this yummy pasta snack.
3. Whole Grain Puffs
Few people are aware of the availability of whole grain baby snacks in the market. If you're the kind that likes to recreate healthier versions of snacks at home, then whole grains are always a great way to go. You can experiment with whole grain cereal alternatives, use whole grains to replace maida in cakes and cookies, the options are endless!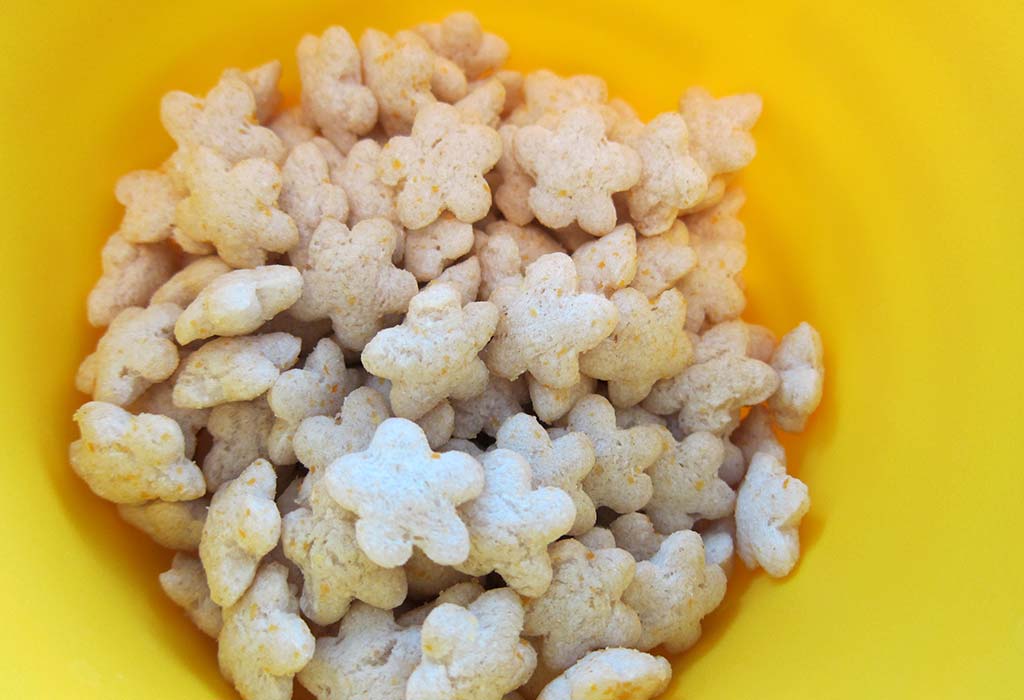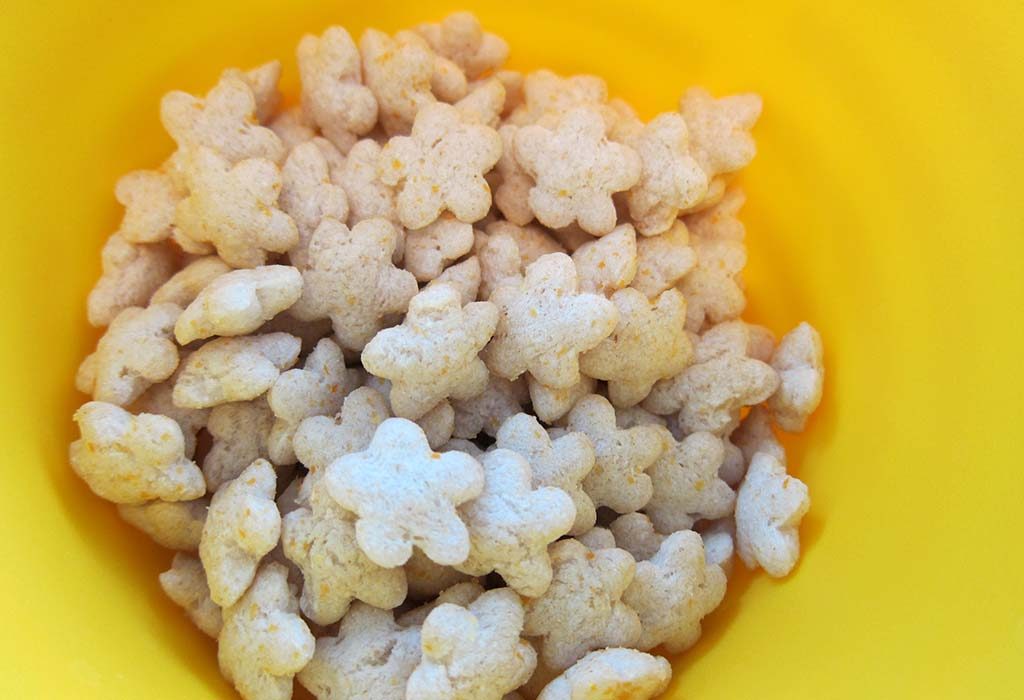 If you don't think homemade versions of snacks are your cup of tea, Timios Melts are a perfect evening snack your baby can safely munch on. As these snacks contain fibre, they aid digestion in your little one. So, on the days you feel too tired to whip up something special, these whole grain puffs are an easy way to ensure that your little one is eating healthy!
4. Scrambled Eggs With Grated Tofu
Eggs contain proteins that help babies grow bigger and stronger! It's Omega 3 helps early brain development and lutein and Zeaxanthin promote sharp eyesight.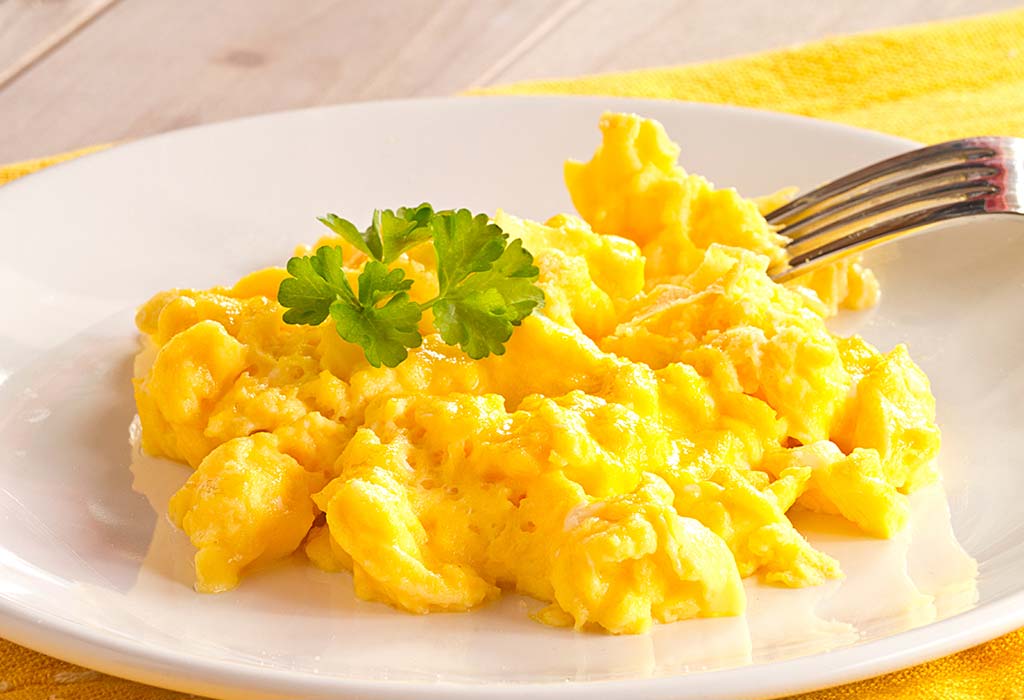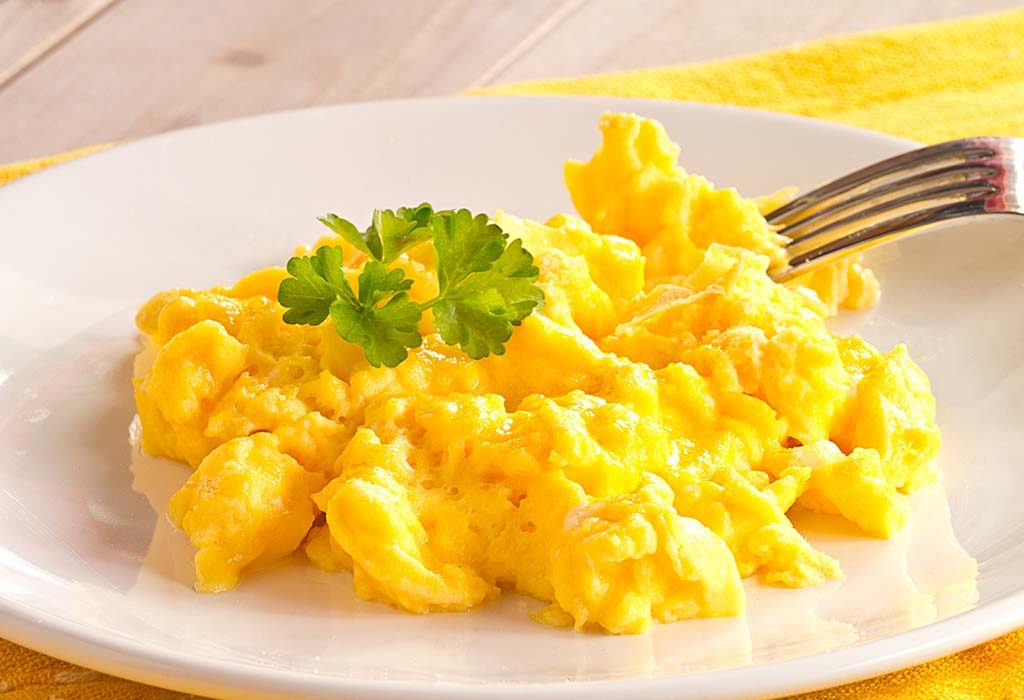 Ingredients:
Egg – 1
Formula milk– 1/4 cup
Grated tofu – 1 tsp
Unsalted butter – 1 tsp
Method:
Beat a whole egg with milk in a mixing bowl.
Heat a pan and add a dollop of butter.
Pour the egg mixture and let it cook for a few seconds.
Add the grated tofu and keep stirring the contents in the pan.
Once cooked, the mixture will become dry and fluffy.
Switch off the flame and let the egg snack cool down.
Serve.
5. Banana Yoghurt
Yoghurt is full of active culture and very beneficial for your little one's gut health. It boosts immunity, improves digestion and helps to prevent diarrhoea.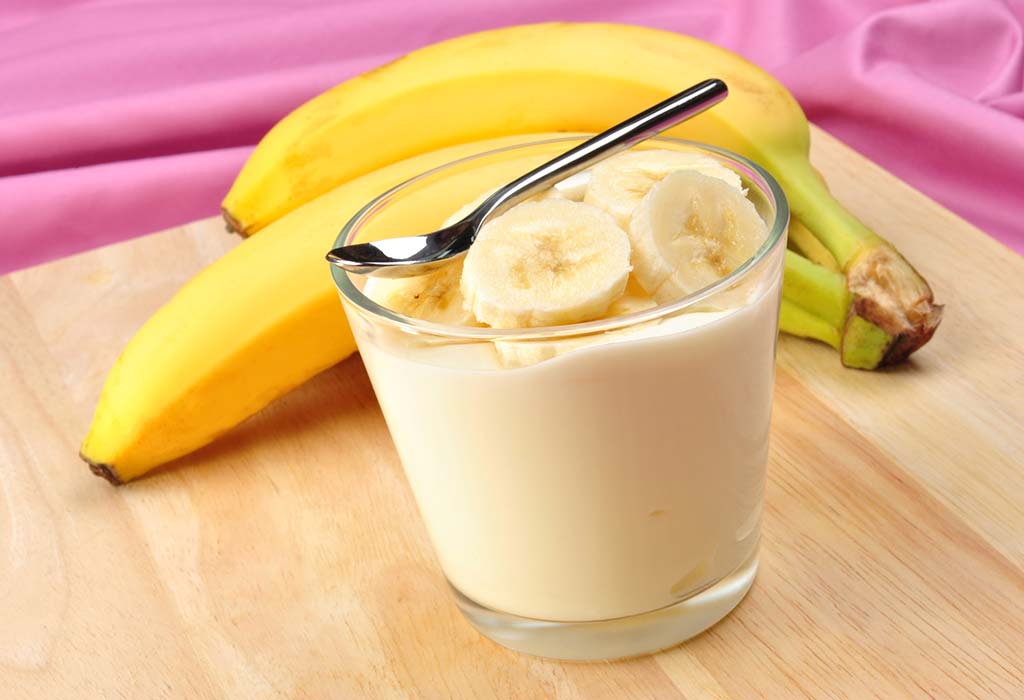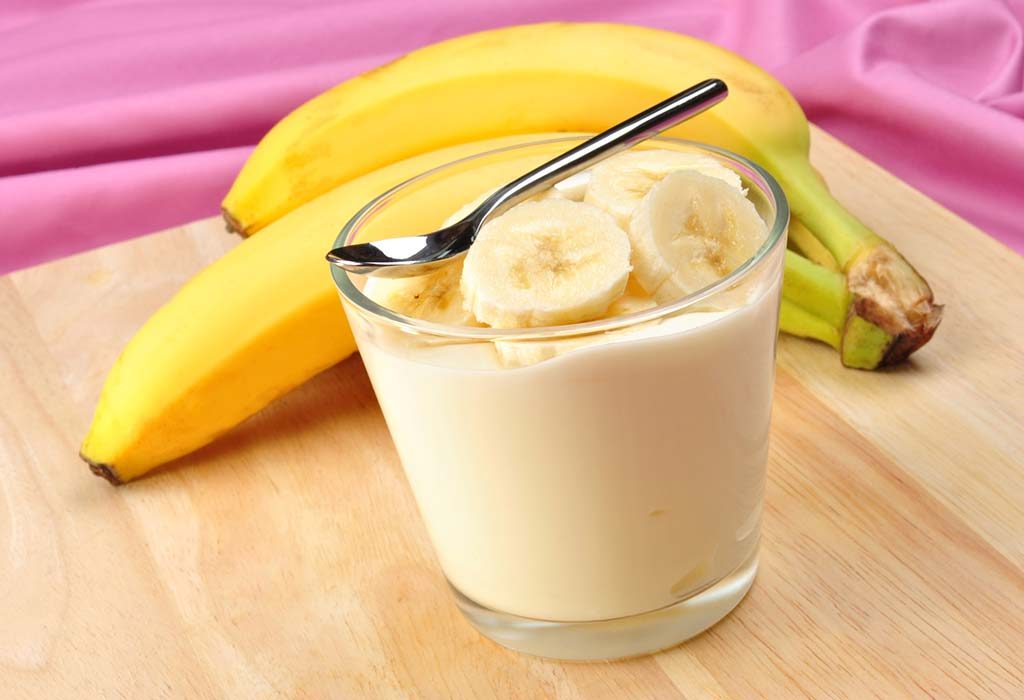 Ingredients:
Home-made yoghurt – 1/4 cup
Banana – 1
How To Make Yoghurt at Home:
If you don't know how to make yoghurt at home, this recipe will help. You will need whole milk and good quality packaged yoghurt.
In a heavy-bottomed pan, pour milk and bring to a boil on low heat.
When the milk starts to boil, take it off the flame and let it sit for an hour or until it cools down.
Dip a clean finger into the milk to check if it's lukewarm.
Pour the milk into the container you want to set the yoghurt in. Add four tablespoons of store-bought yoghurt and mix well.
Cover the container and leave it to settle overnight in a dark and warm place.
The next morning, you should see a yellowish liquid (whey) floating on top. This means that the yoghurt is ready. You can drain the fluid or leave it as it is.
Method:
Peel the banana and puree it in a blender.
Now, mix the fruit puree along with the yoghurt.
Feed your baby this fruit-flavoured yoghurt snack.
6. Suji Halwa With Dates
Suji (semolina) is both delicious and has numerous health benefits for growing infants. A nutritious choice, it keeps the heart healthy and does not cause constipation problems. Here, we give you two baby snack recipes that use semolina.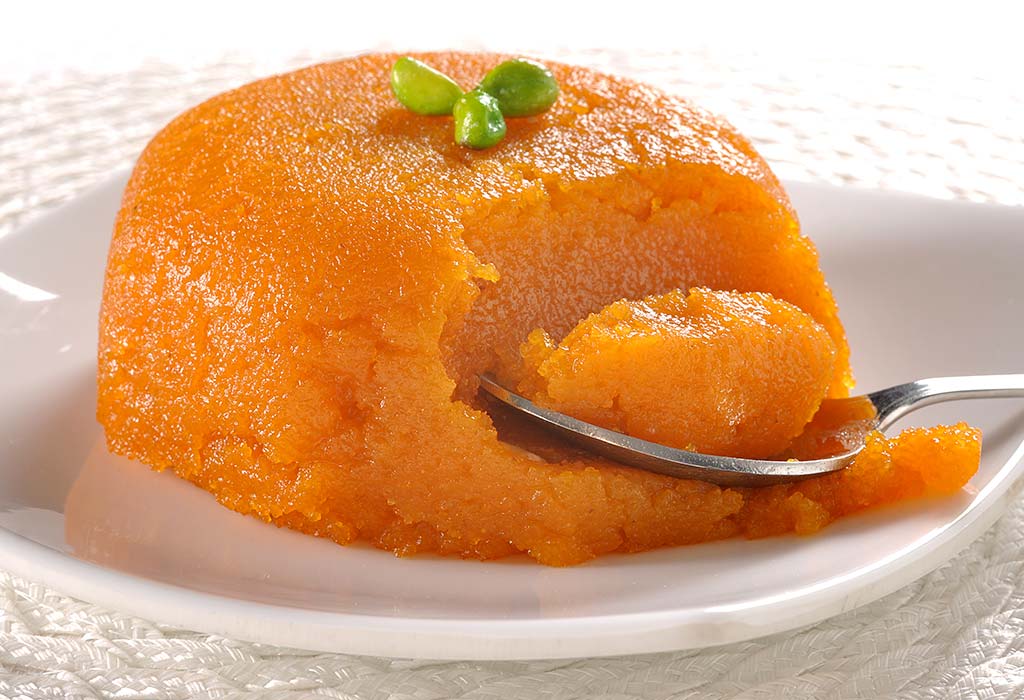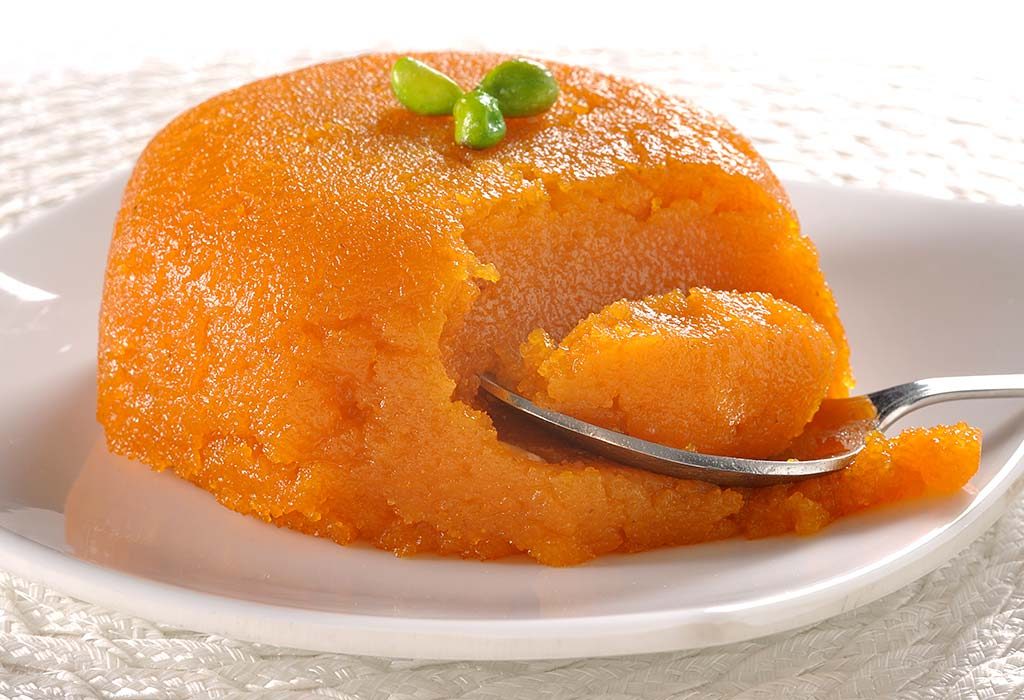 Ingredients:
Suji – 1/4 cup
Ghee – 1/2 tsp
Dates (deseeded and pureed) – 1/2 cup
Lukewarm water – 3/4 cup
Cardamom powder – a pinch
Method:
Remove the seeds from the dates. Puree the deseeded dates in a blender with warm water.
In a thick-bottomed pan, heat ghee and add suji to it.
Roast on a low flame until the suji turns brown.
Add water, pureed dates and a pinch of cardamom to the pan. Keep stirring to prevent lumps.
Cook on a high flame for a few minutes. Once all the water has been absorbed, switch off the flame.
Let the suji snack cool down. Then, feed it to your little one.
7. Veggie Idlis
Semolina can be used to prepare a host of delicious and nutritious evening snacks for your baby. Your little munchkin will surely relish these fluffy, white discs!
Instructions:
Suji – 1 cup
Curd – 1/2 cup
Carrot (grated) – 1
Beans (diced) – 1/2 cup
Water as required
Method:
Take a mixing bowl and add the suji, grated carrot, diced beans and curd. Mix well.
Add water to bring the mixture to a dosa batter-like consistency.
Cover the bowl with a lid and let it sit for 20 minutes.
Pour the batter into greased idli moulds and steam for 12-15 minutes.
Switch off the flame and remove the idlis from the moulds.
Your baby's evening snack is ready.
8. Moong Dal Khichdi
One of the essential lentils for babies, moong dal contains iron, protein, phosphorous, sodium, vitamins and Riboflavin. These nutrients improve immunity and enhance liver functioning.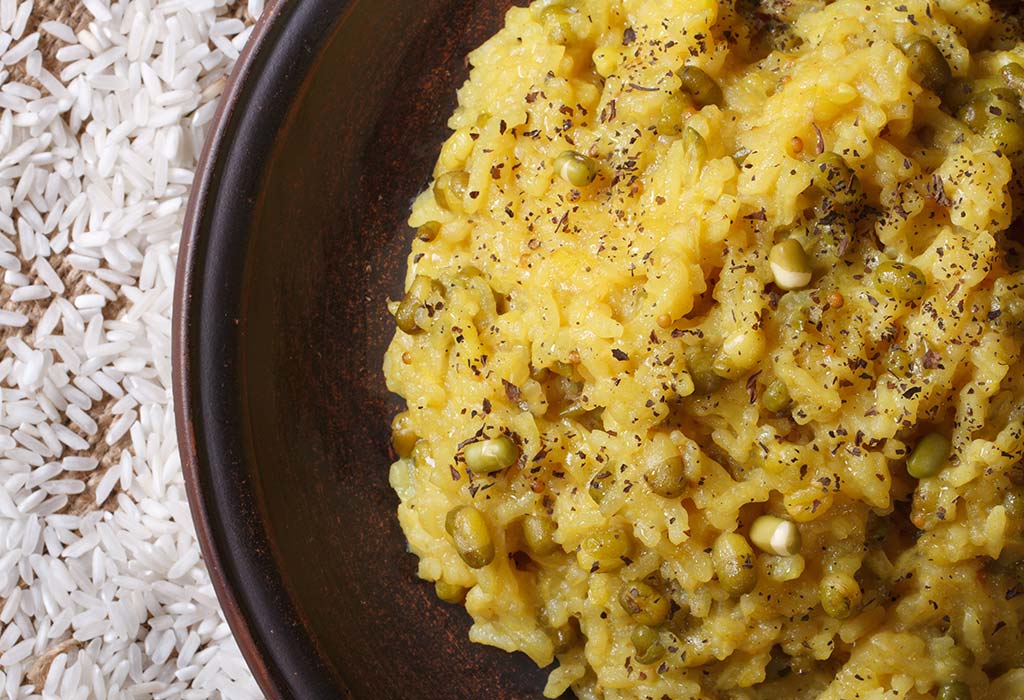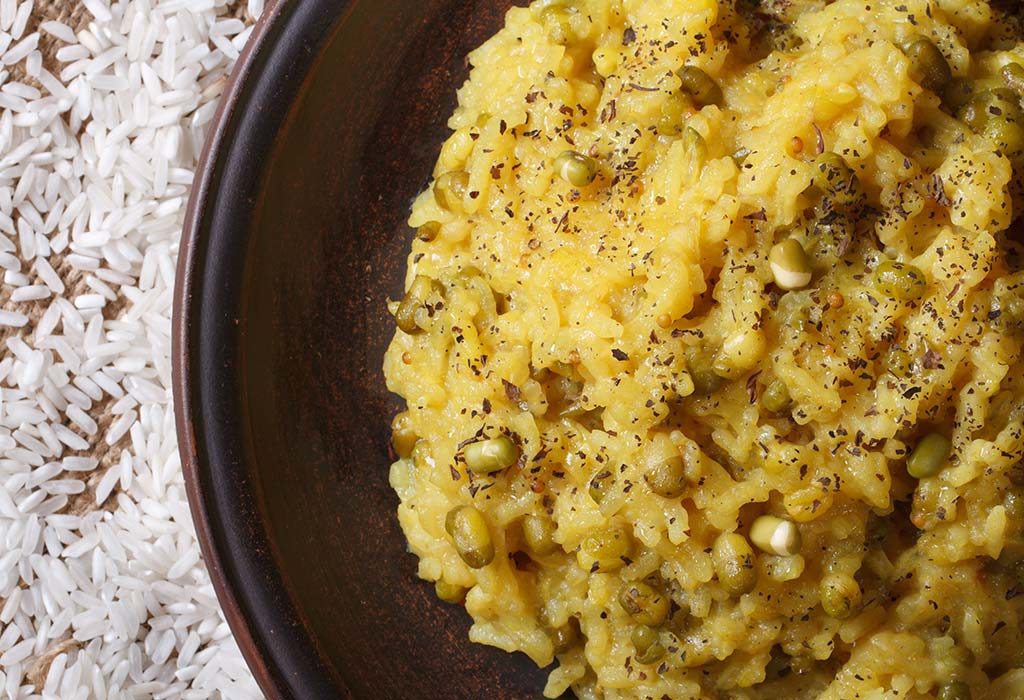 Ingredients:
Moong dal – 2 tbsp
Rice – 1 tbsp
Turmeric – a pinch
Ghee – 1/2 tsp
Water – 1 cup
Method:
Before you start preparing the khichdi, wash and soak the moong dal in water for 15 minutes.
Take a pressure cooker and add all the ingredients to it, except ghee.
After four whistles, turn off the flame.
When the steam has been released, open the cooker and mash the contents with the back of a spoon or masher.
Add ghee to make a yummy evening snack for your baby.
9. Corn and Cauliflower Puree
Corn is an excellent snack, especially for underweight infants. It is rich in iron, potassium, magnesium and fibre which work together to promote brain development, improve the nervous system and resolve constipation in babies.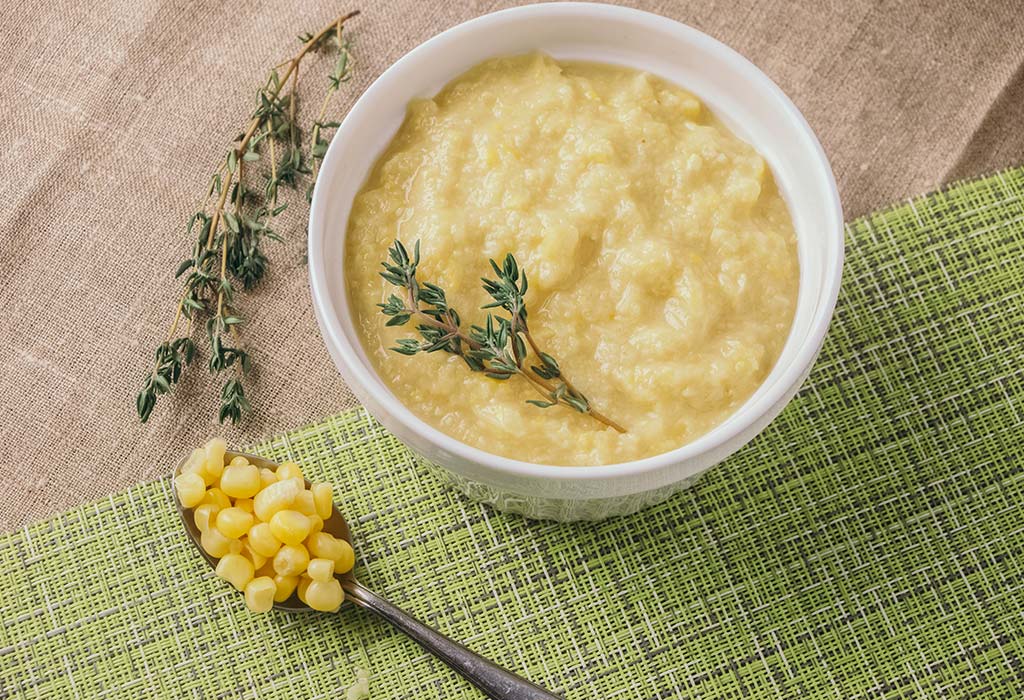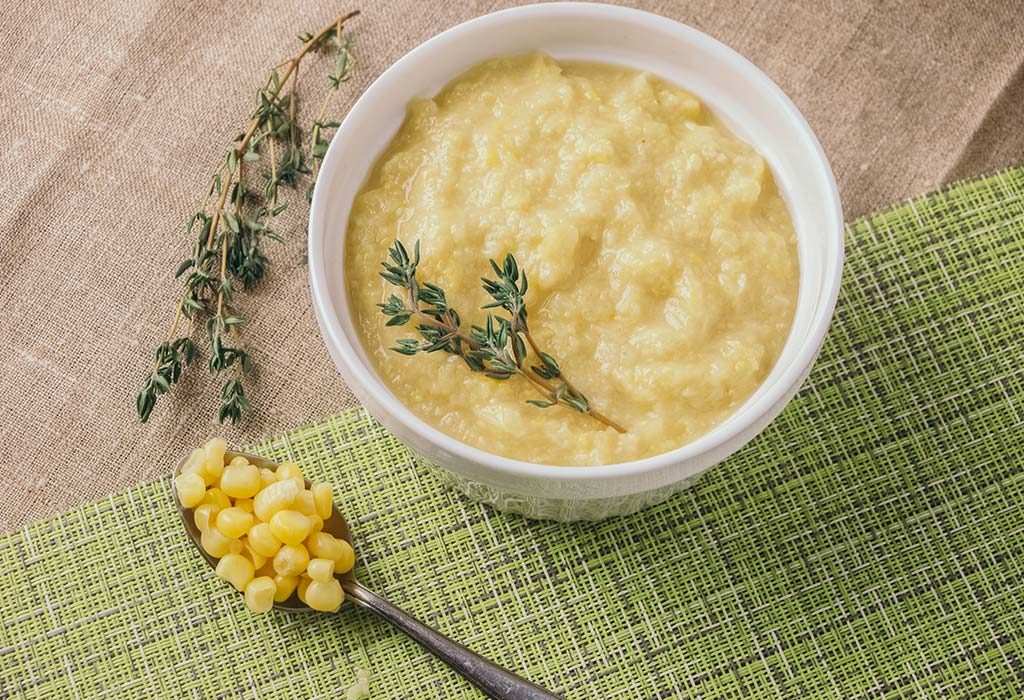 Ingredients:
Corn kernels – 2 cups
Cauliflower (diced) – 1 cup
Home-made yoghurt – 1 cup
Method:
Cook the corn kernels and steam the cauliflower.
Put them in a blender and bring to a puree-like consistency.
Add yoghurt and serve.
If your baby is 12 months+ and you want to feed corn in a different form, Timios Zookers is the right choice. It not only comes in exciting flavours but also gives your child the double benefit of cornflour and whole grains, thus supporting overall growth and development.
10. Cooked and Minced Chicken
Chicken is considered a superfood for babies. It has proteins that promote healthy muscle growth, iron and potassium that improve the circulatory system, and calcium that develops strong bones and teeth in infants.
Ingredients:
Boneless Chicken – 3 cups
Water – 1 cup
Method:
Cook the chicken in a pressure cooker.
Once it is fully cooked, blend to a coarse paste.
If your baby doesn't like dry chicken, add a cup of water and blend for a second time to achieve a creamier paste.
A tasty evening snack made from chicken is ready.
While introducing your baby to new foods and snacks, it's best to avoid fried, large and sticky foodstuffs that can pose harm to your baby's health. The above recipes are filled with the goodness of fruits, vegetables, whole grains, and lentils. Give them a try and tell us how your baby liked it. If you're planning to give store-bought snacks a try, ensure they don't contain preservatives and can easily dissolve in your child's mouth. Happy snacking!
Also Read:
Food Ideas for 10 Month Old Baby
Food Ideas for 11 Month Old Baby
Food Ideas for 12 Month Old Baby