Food Ideas for 1 Year Old Babies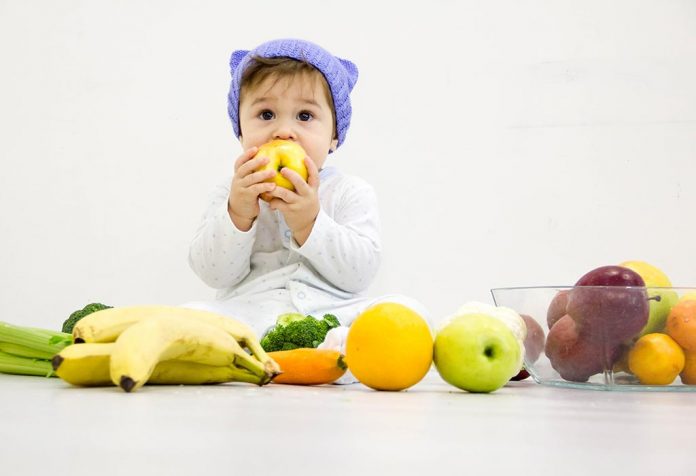 The average age for teething in children is between six to twelve months. With teeth comes the ability to crunch and chomp down new, solid foods. But what exactly can you feed your baby? There is a plethora of colourful and nutritious solid food for your baby that is not just pleasing to the eyes but also beneficial in physical and cognitive growth. Now meal preparation and feeding will be fun because now you are not limited to mashed or gravy food but to a host of chewable, baked, cooked, boiled and steamed food. To help unburden you, we are here with 1 year baby food ideas and meal plans that you can easily include in your baby's diet and ensure a healthy future without any hassle.
Video: Food Ideas for 1 Year Old Baby
Also Read: Sample Meal Plan for 1 Year Old Baby
Foods for your Twelve Month Old Baby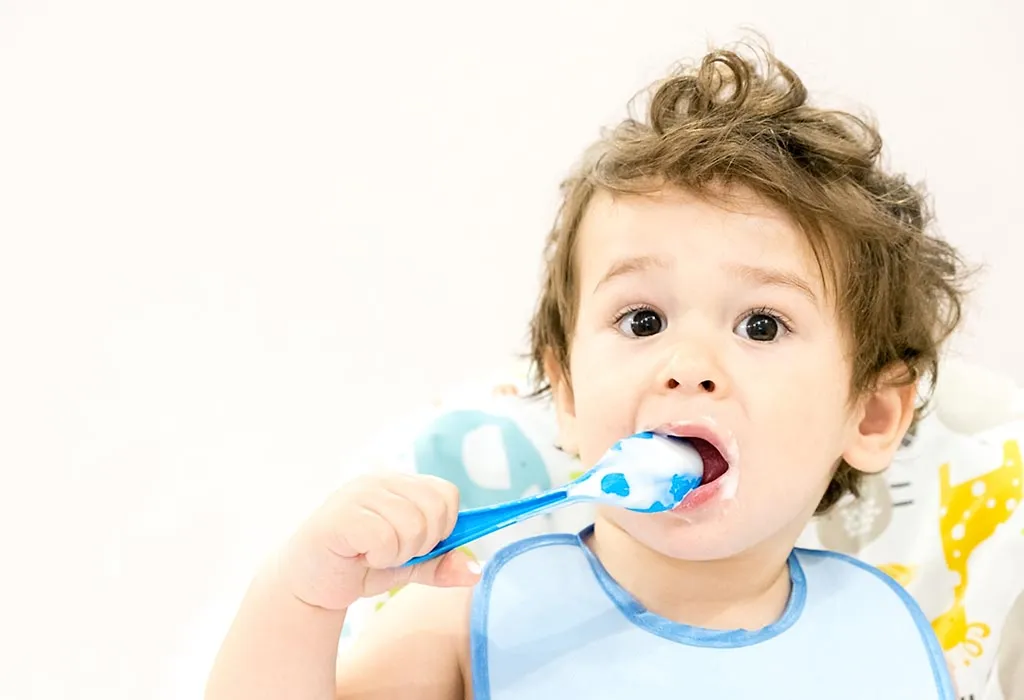 There is no need to stress about preparing special food for your one-year-old. Whatever the rest of your family eats can be eaten by them too. You only need to take care to avoid as much salt in the food as possible. Of course, this does rule out most takeaway and restaurant food, as they usually contain a lot of salt.
1. Cereal
All-time classic! Cereals like flaked corn soften with milk and are easy to digest. Try to get whole grain cereal as much as possible.
2. Cucumber
Cut-up cucumbers are a rejuvenating snack any time of the day. For your baby's ease, the best way to cut them is lengthwise, making "cucumber sticks" shaped like French fries. If it's a hot summer day, a few cucumbers can easily prevent dehydration.
3. Dal
Dal is packed with protein, which helps in muscle development. Dal curry can be eaten with rice or chapatti, and it doesn't have a strong flavour. Be sure to cut up the chapatti into little nibble size pieces.
4. Vegetable Soup
This is easy to feed your one-year-old, and it contains the goodness of all the vegetables you add to it. For instance, carrot soup would be good for the eyes, and potatoes contain fibre.
5. Soya
Soya granules are quickly becoming a standard substitute source of protein for pure vegetarians. The soft texture it becomes after cooking makes it an ideal food choice for babies.
6. Paranthas
A regular food for the family that can easily be eaten by the baby, too. The stuffing of vegetables or paneer makes it a balanced meal.
7. Chicken
Be careful to buy organic chicken or one that is certified to be free of hormonal treatments. Overcooking the chicken to make it softer is a good idea for your toddler. Also, avoid strongly spicy flavourings, and tear the cooked meat into tiny bits, removing the bones before your feed it to your child.
8. Fish
When preparing fish, always remember that frying it makes it lose a lot of its nutritional value, as opposed to using it in a curry. Like chicken, and indeed, more so, be very careful to tear off the meat and make sure no bones remain before you feed it to your child. Even the fine bones found in sea fish can get stuck in a toddler's throat.
9. Eggs
Eggs are a powerhouse of proteins and should be included in the food menu for 1 year old. Eggs are rich sources of proteins and other healthy nutrients that are needed for the healthy development of a baby. You can scramble, mash, or cut hard-boiled eggs into bite-sized pieces to serve them to your child. Eggs can also be allergic to some babies, so do consult your doctor before beginning with eggs.
10. Whole Grains
Whole grain items like pasta, pancakes, chapati, etc., are packed with the necessary fibre and nutrients.
11. Steamed Vegetables
Steamed vegetables are one of the most important part of 1 year old baby food ideas as this is the right time to introduce them to a variety of vegetables without changing their appearance by mashing or pureeing. Carrots, broccoli, peas, potatoes, sweet potatoes, etc., are some colourful vegetables you can start with.
Also Read: Delicious Indian Food Recipes for 1 Year Old Baby
Foods to Avoid for 1 Year Old Baby
Here are some foods that you should avoid giving to your baby in their first year.
1. Dense Foods That Change Shape
Food items like liquid or squeezy cheese and peanut butter are very dense and can block the airway. Be mindful and avoid giving these to your child in large globs on a spoon. You can always make it thin by mixing water to them.
2. Small, Round Foods
Small-sized foods, like grapes, cherries, and blueberries, and dense fruits like canteloupe or melon can severely choke a baby. It is very important to cut them into miniature sizes so your baby can swallow them easily. For instance, cut a large grape into eight pieces before giving it to your little one.
3. Peanuts
Peanuts are infamous for their allergy characteristics. Parents should not give peanuts to their babies in their early stages as it poses risks of peanut allergy. Once they are a little bit older, you can test them with peanut butter and wait for 24-48 for any allergic symptoms to make a final decision.
4. Other Choking Foods Items With No Nutritional Value
Popular snack options, like tortilla, popcorn, and chips, have a high risk of choking and should not be given to babies.
Foods for a 1 Year Old Baby When Ill
If your baby is sick and having diarrhoea and vomiting, then you can stick to bland foods for a few days until your little one recovers. However, there is no need to switch their diet altogether when they are sick. It is okay to continue with their usual meals.
However, when sick, many children lose their appetite. If your little one is still being breastfed, you can continue with breast milk as it has plenty of nutrients. Those on solids can be fed pureed or mashed food that requires less energy to eat.
Video: Diet Plan for 1 Year Old Baby
1 Year Old Baby Food Chart/Feeding Schedule
When planning your 12 month baby food schedule you do not have to go out of the way from your usual foods. If your weekly eating pattern has turned monotonous, this may be a good time to add a bit of colour to it, as your baby and you, both, need a well rounded, balanced diet. Here is a sample baby food chart:
Diet for a 12 Month-Old – Week 1, Day 1
Diet for a 12 Month-Old – Week 1, Day 1
Diet for a 12 Month-Old – Week 1, Day 2
Diet for a 12 Month-Old – Week 1, Day 3
Diet for a 12 Month-Old – Week 1, Day 4
Diet for a 12 Month-Old – Week 1, Day 5
Diet for a 12 Month-Old – Week 1, Day 6
Diet for a 12 Month-Old – Week 1, Day 7
Diet for a 12 Month-Old – Week 2, Day 1
Diet for a 12 Month-Old – Week 2, Day 2
Diet for a 12 Month-Old – Week 2, Day 3
Diet for a 12 Month-Old – Week 2, Day 4
Diet for a 12 Month-Old – Week 2, Day 5
Diet for a 12 Month-Old – Week 2, Day 6
Diet for a 12 Month-Old – Week 2, Day 7
Diet for a 12 Month-Old – Week 3, Day 1
Diet for a 12 Month-Old – Week 3, Day 2
Diet for a 12 Month-Old – Week 3, Day 3
Diet for a 12 Month-Old – Week 3, Day 4
Diet for a 12 Month-Old – Week 3, Day 5
Diet for a 12 Month-Old – Week 3, Day 6
Diet for a 12 Month-Old – Week 3, Day 7
| | |
| --- | --- |
| Breakfast | Thalipeeth + milk |
| Mid-morning | Rajgira (amaranth) ladoo |
| Lunch | Jowar (sorghum) -wheat roti + lauki (bottle gourd) sabzi + chana dal + a few cherry tomatoes |
| Evening | |
| Dinner | Roti + dal + a sabzi of choice + a few slices of cucumber |
Diet for a 12 Month-Old – Week 4, Day 1
Diet for a 12 Month-Old – Week 4, Day 2
Diet for a 12 Month-Old – Week 4, Day 3
Diet for a 12 Month-Old – Week 4, Day 4
Diet for a 12 Month-Old – Week 4, Day 5
Diet for a 12 Month-Old – Week 4, Day 6
Diet for a 12 Month-Old – Week 4, Day 7
Video: 1 Year Old Baby Food Recipes
Best Baby Food Recipes for 1 Year Old
Make sure you get the chance to prepare the following dishes for your young one :
1. Fried Apple Rings
A quick, sweet snack!
Ingredients:
1 Apple
1/4 cup flour
1/2 teaspoon sugar
Pinch of cinnamon
1/2 beaten egg
1/4 cup buttermilk
A pinch of salt
How to Prepare:
Mix flour, sugar, salt, cinnamon and set aside.
Mix egg and buttermilk in a separate bowl.
Slice the apple into 1/4 inch thick slices discarding the core.
Mix the 2 bowls and dip the apple rings in them and deep fry them.
You can also coat the fried pieces with powdered sugar for older kids!
2. Besan Parantha
The high protein content in besan a.k.a chickpeas and the carbohydrates in paranthas make this a balanced way to start the day!
Ingredients:
Whole wheat dough
2 tbsp besan
1/2 chopped onion
Salt to taste
1 tsp coriander powder
1 tbsp chopped coriander
1 tsp garam masala
1 tsp carrom seeds
3-4 tsp oil
How to Prepare:
Mix besan, onion, coriander powder, chopped coriander, carom seeds and garam masala.
Knead this mixture into a dough wth a bit of oil. (Do not add water!)
Use the wheat dough to make a chapatti and use the besan dough as filling.
Cook on a tawa with ghee.
Serve with butter or curd.
3. Ragi Laddu
Ragi is rich in iron and can help prevent anaemia by improving haemoglobin levels.
Ingredients
1 kg –Ragi Powder
1/2 kg – Powdered sugar
1/2 kg – Pure ghee
Few Almond + cashew finely chopped
2 cardamom powdered
How to Prepare:
Heat 250gms ghee in a pan and add the ragi powder to it.
Keep roasting on low flame for almost 45 mins till it becomes darker brown.
Add rest of ghee, chopped dry fruits and cardamom powder.
Fry for more 10 mins on low flame .
After it has cooled down, add powdered sugar and mix well.
Shape into balls to form ragi laddoo!
4. Plain Khichdi
Khichdi is easy to make and can be made with many different bases, such as tomato khichdi, carrot khichdi, spinach khichdi, etc. Khichdi is traditionally known to be one of the first solid foods eaten by babies.
Ingredients:
2/3 cup rice
1/3 cup moong or toor dal
Garlic – 2 optional
Hing – optional
How to Prepare:
Wash and soak the rice and dal in water for half an hour.
Drain the water.
Cook all the ingredients in a pressure cooker with 3 cups of water.
Serve with ghee
5. French Toast
A quickly readied snack suited for mornings and afternoons. Did you know that in most European languages other than English, the name for French toast, translates, literally, to "Poor Knights"?
Ingredients:
2 slices brown bread
1 egg
1 small pureed banana
½ cup milk
Oil
How to Prepare:
Mix together milk, pureed banana and egg.
Beat the mixture well to a runny consistency.
Heat the oil in a pan.
Dip bread piece into mixture and fry.
6. Barley Porridge With Banana
This semi-solid recipe is filling and yummy, and your little one is sure to enjoy this and, ask for seconds.
Ingredients:
1 cup barley
1 banana
3 cups water
How to Prepare:
Add the water and barley in a vessel and pressure cook for 5 whistles.
Release the pressure and check the softness of the barley. If it isn't soft enough, let it simmer, until perfect.
Let this cool down completely and blend until smooth.
Chop the banana into bite sized pieces, add to the porridge, and simmer for 2 minutes.
Serve warm.
Feeding Tips
When using homemade baby food recipes for one year olds, do not be afraid to go for variety! Some doctors believe that staying with the same food for long can lead to them to become fussy eaters.
The "drawback" of going for a large variety of foods, is the increase in the possibility of your child ingesting some food that they may be allergic to. In most developed countries, allergy tests are a part of due medical process for babies. We would suggest you look into the options for the same!
Do not jump from liquid to solid food. Take it slow. Move from softer textures to semi-solid foods before going on to solid foods.
The best time of day to feed your baby solid foods is when they have just woken up in the morning or from a nap and are high on energy!
Do not disregard the advantage of having a high chair to feed a baby. Not only is your baby safe and secure, but it is ergonomically easier on your back too – much needed after 9 months of pregnancy and a year of picking up after your infant!
Its never too late to create a taste for healthy food for your one year old baby. It can take up to 15 tries before a child tries a new food. So, if they didn't eat their carrots on Monday, don't hold back from trying on Wednesday, and even next week!
Don't force feed anything to your child. It's possible that they may not be hungry or just not enjoy a particular food. If they continue to refuse any particular food over a period of time, its okay. Just like you like and dislike certain foods, kids do as well.
Eating healthy isn't a chore; it's a habit. And there's no better time to start eating healthy, than when you literally start eating.
FAQs
1. How Do You Know If Your 1 Year Old Has Eaten Enough?
If your baby has eaten enough and is full, then they will simply stop eating, turn way their head, spit the food out or push the food away. That is your cue to stop feeding them.
2. Is Boiled Egg Good for 1 Year Old?
Yes, a hard-boiled egg is absolutely nutritious for a one-year-old baby. You can cut it into pieces that are small enough to not choke your baby.
Eating healthy isn't a chore; it's a habit. And there's no better time to start eating healthy, than when you literally start eating.
Disclaimer:
Each child is different and so use these meal plans as a trusted guide as per your

discretion. You

can modify the meals according to your child's preferences / requirements.

Never force-feed a child.
While preparing formula, please follow the instructions on the box and use the measuring spoon provided with it.

While introducing solid food to a baby, initially, one needs to

prepare

watery gruels/soups. As a child gets older, the caretaker/ mother has to increase the thickness of the liquids slowly according to the child's capacity to swallow. Foods that are too thick can cause stomach upset/ unnecessary load; while excessively watery food might cause the child to remain hungry.

Some kids may eat less on some days and that is absolutely alright. However, if a child eats less for more than 3-4 consecutive days, please visit a doctor to guide further.

A child may eat less during the teething phase or if he/she may not be feeling well. You could increase

breast milk

/formula feeds on those days. Re-introduce the foods once the child is back to normal.

Don't stop feeding if the child is suffering from diarrhoea.

You can alter the taste of the food by adding some natural flavours like cinnamon, jeera powder, lemon juice, curry leaves etc. if the child doesn't accept the food initially.

If your child suffers from an allergy to nuts, gluten or eggs, please consult your doctor before feeding him/her any foods that may contain them.
Also Read:
Foods to Avoid Feeding Your Baby
First Foods for Baby – What Foods You Should Introduce?
Finger Foods for Infants: When & How to Introduce?
Baby Not Eating – Reasons and Feeding Tips