Peas and Potato Subji Recipe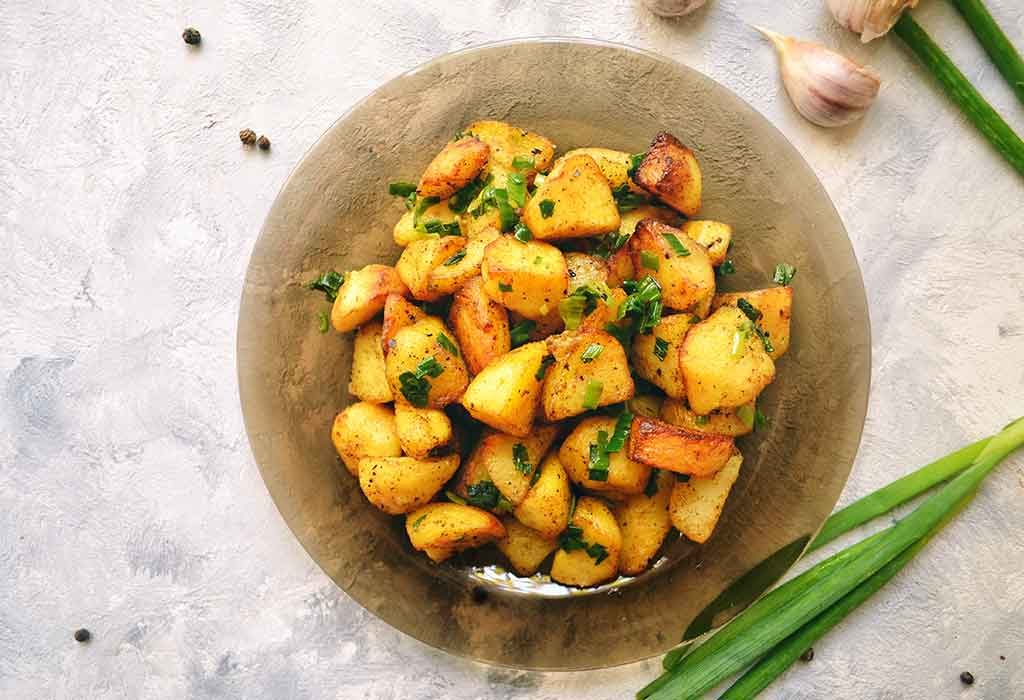 In this Article
We all love to eat potato and peas subji. It tastes delicious and can be cooked in no time. If your little one loves this subji and you want to make it for him, then find out how you can make it healthy and nutritious! You and your child can enjoy it with roti and dal and rice.
Cooking Time
| | |
| --- | --- |
| Type | Time (hh:mm:ss) |
| Preparation Time | 00:10:00 |
| Cook Time | 00:20:00 |
| Total Time | 00:30:00 |
Cooking Method
Gas
Type of Meal
Vegetarian
Suitable For
Weaning babies older than 11 months of age
Meal Schedule
Lunch or Dinner
Recipe Type
Main Dish
Ingredients
| | |
| --- | --- |
| Type | Quantity |
| Potatoes ( chopped roughly) | 2 |
| Green peas ( boiled) | 1 cup |
| Onions finely chopped | 1 |
| Tomatoes finely chopped | ½ cup |
| Red chilli powder (optional) | 1/2 teaspoon |
| Garam masala | 1 teaspoon |
| Black pepper powder (optional) | 1 teaspoon |
| Ginger and garlic grated | 2 teaspoon |
| Green chillies ( slit vertically) | 2 |
| Oil or ghee | 1 tablespoon |
| A pinch of salt | |
Instructions
You can follow this step-by-step guide to learn how to make peas and potato subji:
Boil the roughly chopped potatoes and peas and place them separately in a bowl.
Heat oil or ghee in a pan then add in the ginger, garlic and green chillies (optional). Sauté for 2 minutes.
Next, add the onions and sauté for another 2 minutes or until the onions turn translucent.
Add in the tomatoes, chilli powder (optional), garam masala and mix well. Cover with a lid and cook until the tomatoes turn mushy. Wait until the oil leaves the sides of the pan.
Add in the boiled potatoes and peas and some water. Give the subji a nice stir and mash it well, if feeding it to your baby.
Add a pinch of salt, if needed and mix again.
Let it cook for some time then serve it to your baby.
Recipe Tips
This homemade pea and potato subji baby food recipe will taste even better if you follow the tips given below while making it:
Chop the potatoes to medium-sized pieces so that they cook well and your toddler can chew them.
Make sure you add salt when you cook the peas and potatoes.
Nutrition Information (Per 100 Grams)
| | |
| --- | --- |
| Type | Value |
| Calories | 220 kCal |
| Carbohydrates | 28.5 gms |
| Protein | 4.4 gms |
| Fat | 10.9 gm |
| Fibre | 5.7 gms |
| Sodium | 22.8 mg |
| Potassium | 717.7 mg |
Health Benefits
Check the health benefits of peas and potato subji for toddlers:
Peas are a rich source of Vitamin C and fibre. Hence, eating peas can build your toddler's immunity and improve his digestion level.
Peas are an excellent source of Vitamin K, folate, potassium, iron and niacin. These are essential nutrients that are needed by the body for an extraordinary dietary proportion. Peas can also help improve the bone health of your child.
Potatoes being a rich source of carbohydrates can fuel your baby's brain.
Potatoes contain Vitamin B that puts the carbohydrates to work, which can thus provide energy to your baby.
Potatoes contain Vitamin C that is needed for healthy skin, bones and hair.
The folate in potatoes helps in building healthy red blood cells.
Buying Guide
Remember these things while buying the ingredients for peas and potato subji:
While buying potatoes, make sure they are firm. Buy organic potatoes as they are free from chemicals and pesticides. Refrain from buying sprouted potatoes.
You can choose to use frozen peas. But if you are using fresh peas then make sure that you wash them properly.
Buy fresh and firm onions.
Buy ripe tomatoes as they will cook faster.
Buy sealed packets of chilli powder and garam masala and check the expiry date on the packaging before buying.
A unique combination of carbohydrates and essential vitamins, this subji is a perfect food to feed your baby once you wean him. Your little one will enjoy it with dal and rice. You can mash the subji and serve it in a bowl. He will relish the taste and ask for more in his own language!