Rajgira Puff Porridge Recipe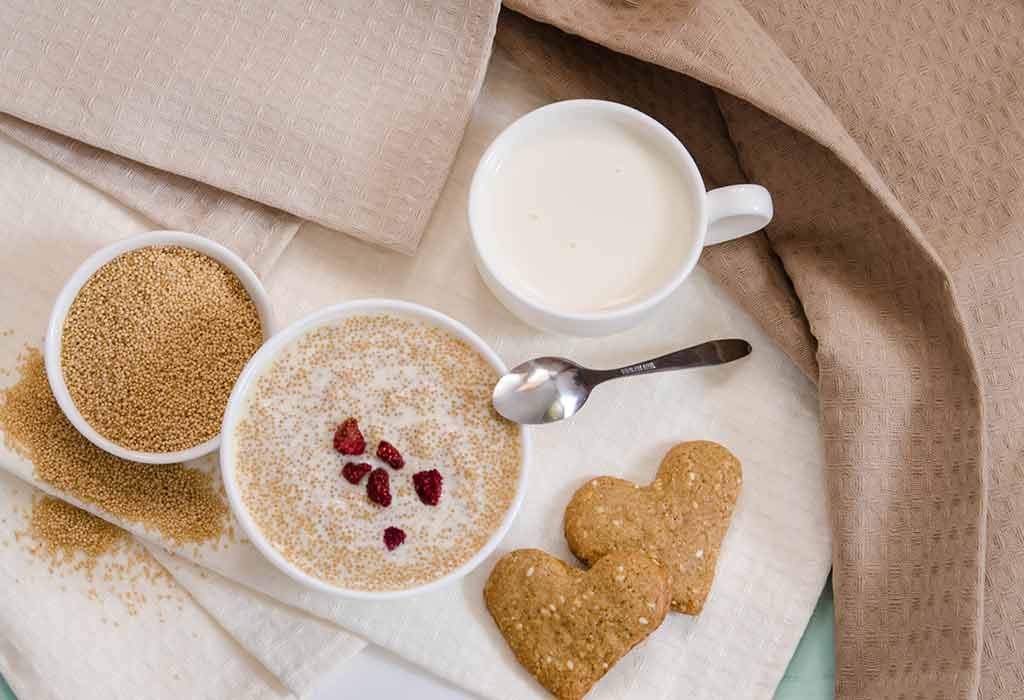 In this Article
Rajgira, also known as Ramdana are highly nutritious seeds that are widely consumed in the Indian subcontinent. These seeds are one of the best meal options for your growing baby. If you do not know how to add these highly nutritious seeds in your baby's diet, well, we have a very easy and quick recipe that you can make in absolutely very little time. Browse this post and learn the Rajgira puff porridge recipe!
Cooking Time
| | |
| --- | --- |
| Type | Time |
| Preparation Time | 00:10:00 |
| Cook Time | 00:05:00 |
| Total Time | 00:15:00 |
Cooking Method
Gas Stove
Type of Meal
Vegetarian
Suitable For
Toddlers above 14 months of age
Meal Schedule
Breakfast
Recipe Type
Main Dish
Ingredients
Here is the list of ingredients that go into making Rajgira puff porridge for babies:
| | |
| --- | --- |
| Type | Quantity/ Volume |
| Rajgira or popped amaranth seeds | ½ cup |
| Milk | ½ cup |
| Almond powder (optional) | 1 tbsp |
| Ghee (optional) | 1 tsp |
| Jaggery | 1 tbsp |
Instructions
Follow these simple step by step directions to make this easy recipe:
Wash the popped seeds under running water. Drain and keep them aside.
Take milk in a heavy-bottomed pan and bring it to boil.
Add washed rajgira seeds in the boiled milk and cook covered for a few minutes. Keep stirring in between.
Once the seeds are cooked, add ghee and powdered jaggery and mix well.
Add almond powder and give a thorough mix.
Remove the porridge from heat.
Let it come to room temperature before serving it to your baby.
Recipe Tips
These are some tips that can come handy when making homemade Rajgira puff porridge baby food recipe:
If your baby is less than six months of age, you can skip adding any sweeteners and nut powder.
For older babies or babies over one year of age, you can add finely chopped nuts such as almonds, cashew nuts, etc to add more texture and taste.
Honey, date syrup, brown sugar, etc are some other alternatives that you can use in place of jaggery.
Buy popped seeds from the market to make this porridge, however, if you are popping the seeds at home then make sure your pop them well or the porridge may not turn out creamier.
You can also add chopped fruits such as apple, banana, strawberry to add natural sweetness and flavor to the porridge.
When feeding this porridge to a sick baby, do not add nuts or ghee as both these ingredients may make the porridge a bit difficult to digest.
Nutrition Information (Per 100 Grams)
After mastering the correct way of how to make Rajgira puff porridge, learn what all nutrition this recipe will provide to your kid!
| | |
| --- | --- |
| Type | Value |
| Energy | 300 Cal |
| Carbohydrates | 65 grams |
| Protein | 15 grams |
| Dietary fiber | 9 grams |
| Sodium | 10 milligrams |
| Fats | 6.5 milligrams |
The table indicates tentative nutritional content present in 100 grams of rajgira or amaranth cereal. The actual content may slightly vary.
Health Benefits
Here are some health benefits that your child can derive from this simple Rajgira puff porridge recipe:
A storehouse of nutrients such as folate, iron, selenium, etc, rajgira is beneficial in maintaining the overall health of growing babies. Consuming it on a regular basis can bring a healthy glow on your kid's skin and hair.
Iron is essential for your baby's growth and development. Feeding rajgira porridge on a regular basis can help in preventing any chances of iron deficiencies such as anemia in babies.
Loaded with protein, amaranth seeds are great for optimal growth and development of organs in young kids.
Being a rich source of fiber, rajgira helps in regulating bowel movements and keeps digestive issues at bay.
For babies who suffer from gluten sensitivity, rajgira is a great food option as it does not contain any gluten.
Buying Guide
You need to exercise great caution whenever it comes to buying food products for your baby. Here are some things that you should keep in mind:
Always buy branded and premium quality seeds, nuts, pulses, and other edible products for your baby.
Make sure that you check the date of packing on the packet to avoid buying stale products.
As far as possible, pick up organic products for your baby. Many gourmet or supermarkets keep organic products for sale. You can also order organic seeds from an online store too.