Vegetable Khichdi Recipe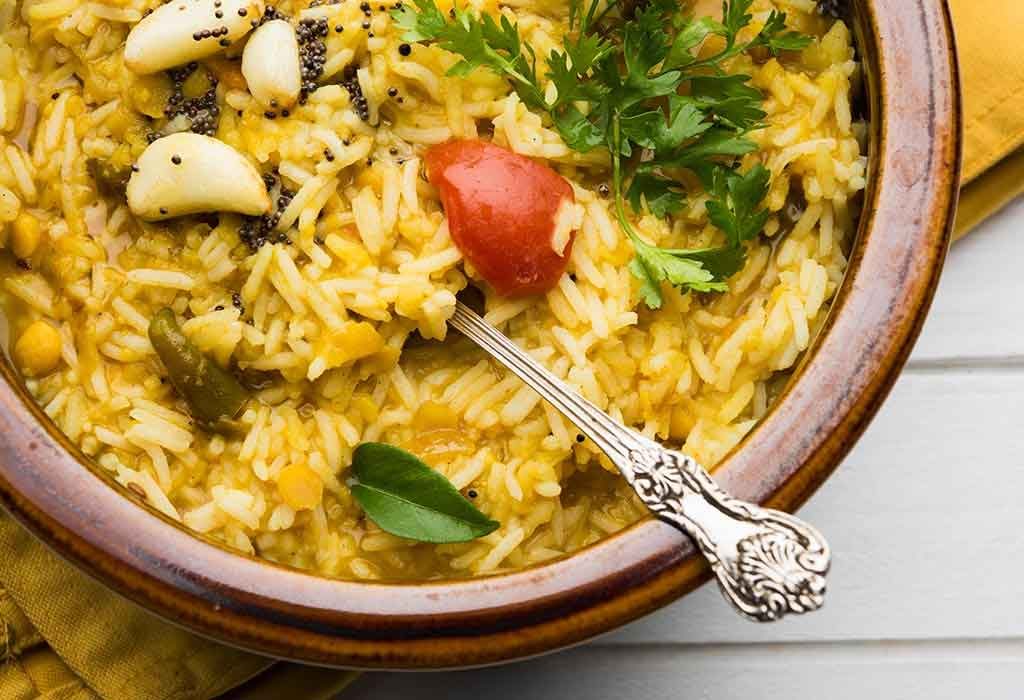 In this Article
Khichdi is one of the best meal options for growing babies and toddlers. This comforting food is not only smooth and soft in texture, but this gooey delicacy is also ideal for your baby's tummy as it provides ample energy and nutrition to your munchkin. If you are wondering how to make khichdi for your little one, well, you can browse this post and learn easy and simple homemade vegetable khichdi baby food recipe that can be made with ingredients that are easily available in your kitchen.
Cooking Time:
| | |
| --- | --- |
| Type | Time (hh:mm:ss) |
| Preparation Time | 00:20:00 |
| Cook Time | 00:35:00 |
| Total Time | 00:55:00 |
Cooking Method: Gas or microwave
Type of Meal: Vegetarian
Suitable For: For babies over one year of age or older
Meal Schedule: Lunch or Dinner
Recipe Type: Main Dish
Ingredients:
| | |
| --- | --- |
| Type | Quantity |
| Rice | 2 to 3 tablespoons |
| Moong dal | 1 tablespoon |
| Carrots (grated) | 1 tablespoon |
| Pumpkin (finely chopped) | 1 tablespoon |
| Green peas | 1 tablespoon |
| Onion (finely chopped) | 1 teaspoon |
| Tomato (finely chopped) | 1 teaspoon |
| Garlic (finely chopped) | ½ teaspoon |
| Curry leaves | 4 to 5 |
| Turmeric powder | ¼ teaspoon |
| Cumin powder | ¼ teaspoon |
| Ghee | 1 teaspoon |
| Salt | As required |
| Water | 1 cup |
Instructions:
Here are step by step directions for making delicious and nutritious khichdi for your little one:
Take rice and dal and wash them nicely under running water. Soak rice and dal in water for 10 to 15 minutes or more.
Drain out excess water and transfer rice and dal mixture into a pressure cooker. Add water, salt, turmeric and cook on a medium flame for 5 to 7 minutes.
Open the pressure cooker and add all the vegetables and cook on low flame for another 8 to 10 minutes, add more water if required.
In a pan, heat ghee and add curry leaves to it. Once the leaves start to splutter, add cumin powder and turn off the heat.
Open the pressure cooker and add the tempering into it and mix it well.
Serve warm khichdi to your munchkin with curd.
Recipe Tips:
You can mash the khichdi with a spatula or give a quick churn in the blender if you find it a bit lumpy.
Add more water to settle the consistency as per your baby's liking. However, make sure you give a nice boil to the khichdi after adding more water.
More ghee can be added to enhance the flavour.
For older babies (more than 18 months), you may add black pepper powder too.
Nutrition Information (Serving per 100 Grams):
Here's all the nutrition your munchkin will derive from this simple vegetable khichdi recipe:
| | |
| --- | --- |
| Type | Value |
| Calories | 80 |
| Carbohydrates | 14 g |
| Protein | 2 g |
| Fats | 1 g |
| Sodium | 20 mg |
| Potassium | 52 mg |
| Fibre | 1 g |
| Vitamin A | 150 iu |
| Vitamin C | 3.4 mg |
| Iron | 0.4 mg |
Health Benefits:
Now that you know how to make vegetable khichdi, let us now get you acquainted with the many health benefits that your munchkin can derive from it:
Rice and dal combination helps get your baby ample dose of carbohydrates and protein from a single dish.
Khichdi is a gluten-free meal option, thus an ideal food option for babies or toddlers with gluten sensitivity.
Clarified butter or ghee is great for lubricating joints and connective tissues. Ghee is also a natural laxative that aids digestion and keeps the digestive system in place.
Lentils used for making khichdi are great for maintaining blood sugar levels.
Turmeric not only contains anti-inflammatory properties, but it also improves brain function by increasing the antioxidant capacity.
Cumin powder helps in aiding the digestion by enhancing the activity of digestive enzymes.
Buying Guide:
Here are certain things that you should keep in mind while picking up ingredients for vegetable khichdi for babies:
Make sure you buy vegetables that are fresh and have no bruises, cuts or stains on them.
Buying organic vegetables is highly recommended as inorganic fruits and vegetables may sometimes contain traces of harmful chemical pesticides and insecticides that may harm your baby.
Also, buy organic rice and dal to make khichdi for your little munchkin to avoid contact with any harmful chemicals.
You can make this delicious and super nutritious vegetable khichdi for your baby and let your baby enjoy the numerous health benefits of this nutritious meal!