6 Healthy and Delicious Beetroot Recipes for Toddlers and Kids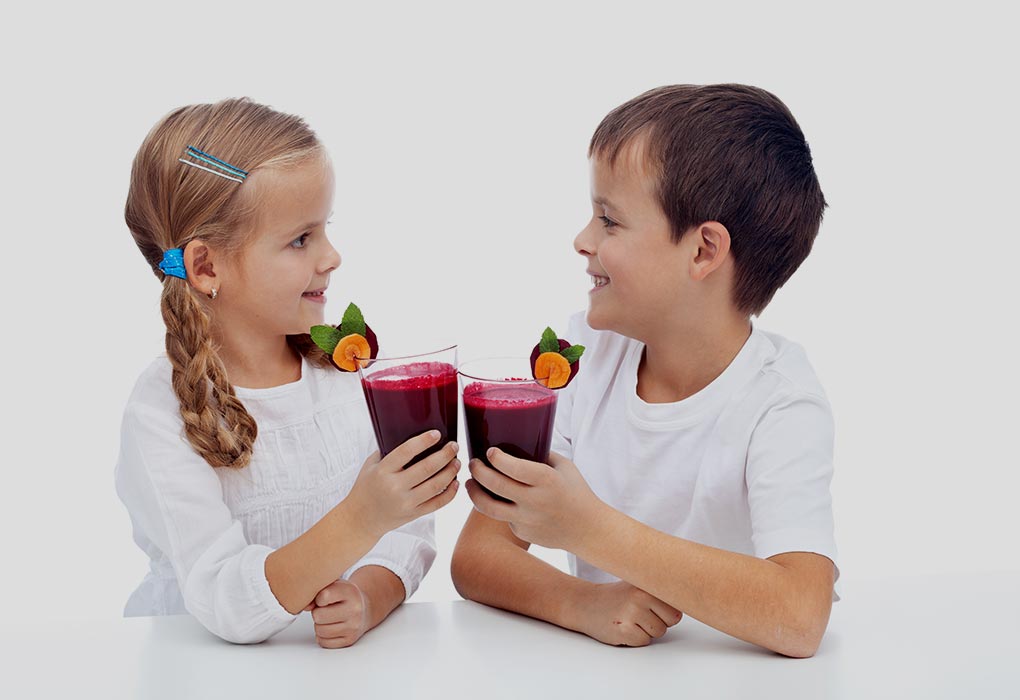 Getting kids to eat healthy food can be quite challenging. One nutrient-rich super food for kids is beetroot. It is rich in vitamins and minerals and has low-fat content. Beetroot also contains antioxidants that protect our body's cells from damage by free radicals and prevent cancer. But if you show beetroot to your child, he will probably wrinkle his nose, so here are some recipes that you can make to sneak in beetroot in his plate.
Simple and Savoury Beetroot Recipes for Your Child to Eat and Relish
Here are some simple and savoury beetroot recipes for children that they will enjoy:
1. Beetroot and Carrot Soup
This is a simple, yet delicious beetroot recipe for toddlers. It is full of nutrients and toddlers will love the taste.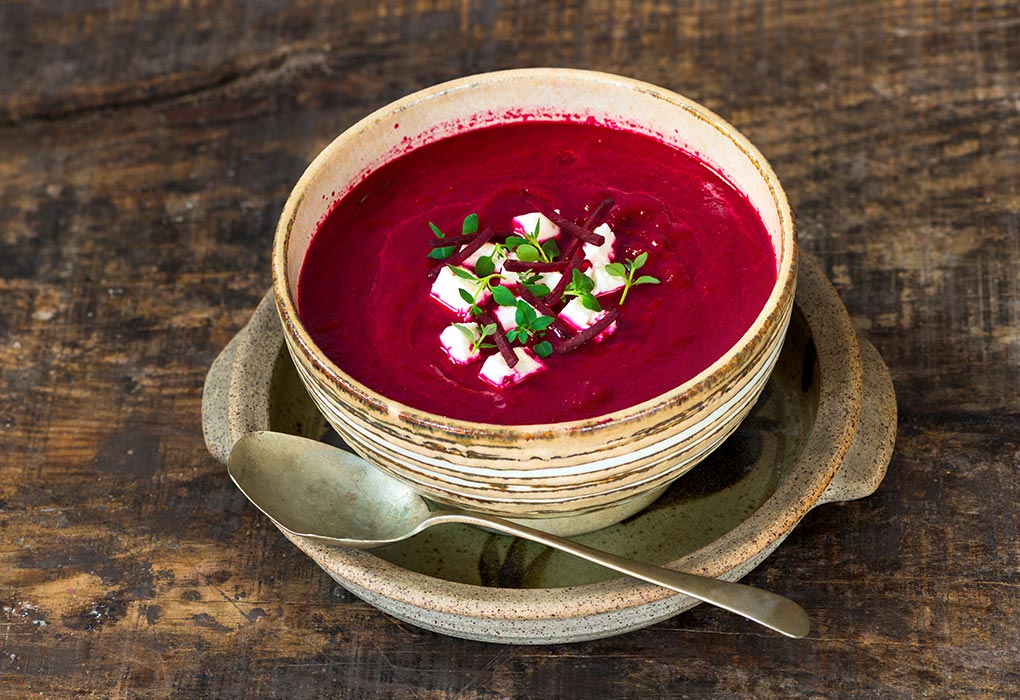 Ingredients
1 medium-sized carrot, 1 small-sized beetroot (washed and peeled), finely chopped garlic, a pinch of pepper powder, salt to taste, ¼ teaspoon cumin seeds, water as required, and 1 teaspoon butter.
How to Prepare
Dice carrot and beetroot into small-sized cubes. Pressure cook them on a medium flame for 2 to 3 whistles by adding water and salt. Once it is cooked, blend it to make a fine paste. Now, melt butter in a pan on a low flame, add cumin seeds and chopped garlic and sauté for a minute. Add carrot-beetroot paste along with salt and pepper. You can add more water and bring it to a boil if it is too thick. Turn off the flame once done.
2. Beetroot Puris
Beetroot puris are made by many moms to sneak in nutrition and are a popular Indian beetroot recipe for toddlers. Your little one will enjoy eating pink and purple puris.
Ingredients
2 cups whole wheat flour, 180 grams of peeled and chopped beetroot, water as required, oil for deep frying, ½ teaspoon of grated ginger, 2 tablespoons semolina, ½ teaspoon fennel seeds, and salt to taste.
How to Prepare
Put chopped beetroot, ginger, and fennel in a blender and grind to get a smooth puree without using water. Mix wheat flour, semolina, and 1 teaspoon of salt in a bowl and add beetroot puree to it. Using very less water, knead all the ingredients to make a dough. Set aside for ½ an hour. Next, roll little balls of dough into puris, and deep fry them in hot oil to get delicious beetroot puris. Place the hot puris on kitchen paper towels to remove excess oil. Serve warm with potato gravy.
3. Beetroot Parathas
This is one of the scrumptious beet recipes for kids that your little one will surely relish!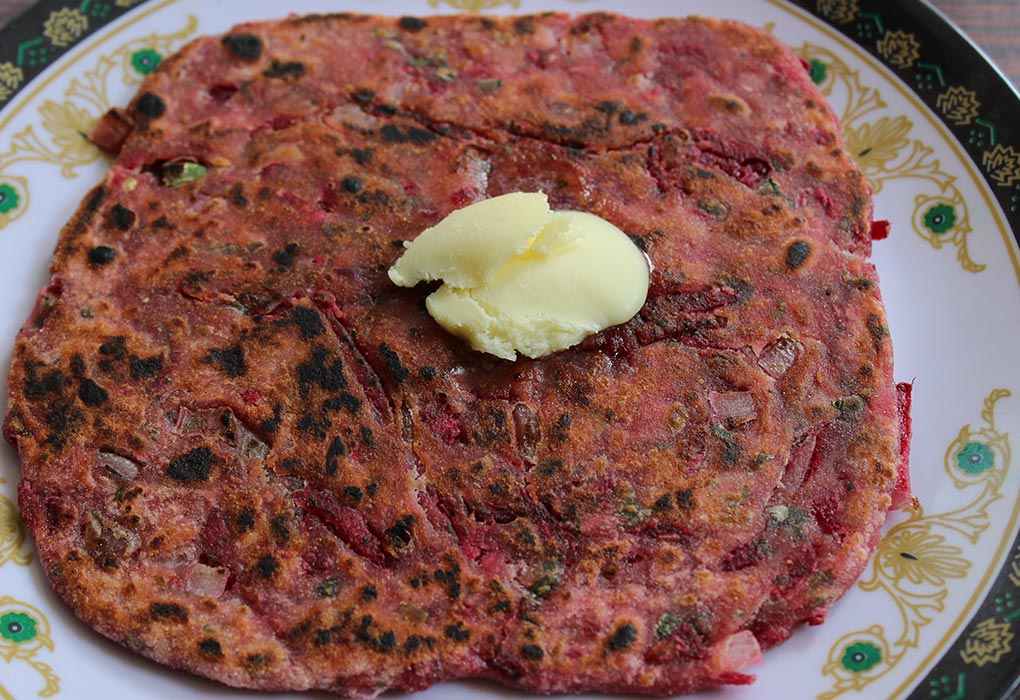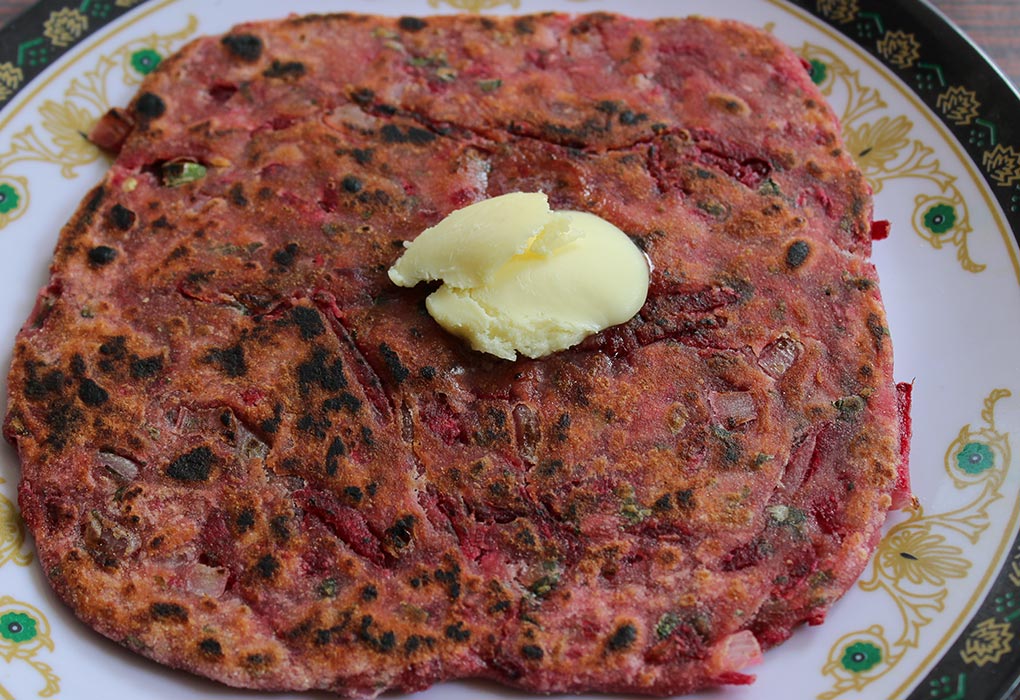 Ingredients
2 cups whole wheat flour, oil, salt to taste, water as required, 300 g beetroot (grated), 1 teaspoon dry mango powder, ½ teaspoon garam masala powder.
How to Prepare
Knead the wheat flour into roti dough with salt, water and a teaspoon of oil. Add oil to a heated pan and sauté the grated beetroot for 5 minutes. Add dry mango and garam masala powder. Take a medium-sized ball of dough and roll it into a flat roti. Make a small-sized ball of the beetroot filling and place in the middle of the roti. Fold the sides of the roti over this ball, pleat the edges together and flatten it. Roll this stuffed dough ball into a circular paratha. Put this on a heated pan, add a few drops of oil around the edges and cook both sides of the paratha well. Serve warm with raita or gravy.
4. Beetroot Dosas
Beetroot for kids as breakfast food is a great idea as the nutritious vegetable will provide your little toddler with enough energy to keep him active all day.
Ingredients
2 to 3 cups of dosa batter, 1 medium-sized beetroot (grated), 4-5 cloves of garlic, salt to taste, and water as required.
How to Prepare
Put the grated beetroot, garlic cloves and a pinch of salt into a blender to get a smooth puree without using much water. Add this beetroot paste to the dosa batter and mix well. Allow this to rest for 10 minutes. Spread a teaspoon of oil on a heated pan. Using a ladle take the batter and spread it into a circular shape on the pan. Add 2-3 drops of oil around the edges of the dosa so that the dosa cooks well. Turn the dosa around and cook the other side for a few seconds. Remove from the pan and serve dosa warm with tomato or mint chutney.
5. Beetroot Pulao
Beetroot rice for kids is nutritious as well as delicious. Kids will love the attractive pink colour of the dish, too.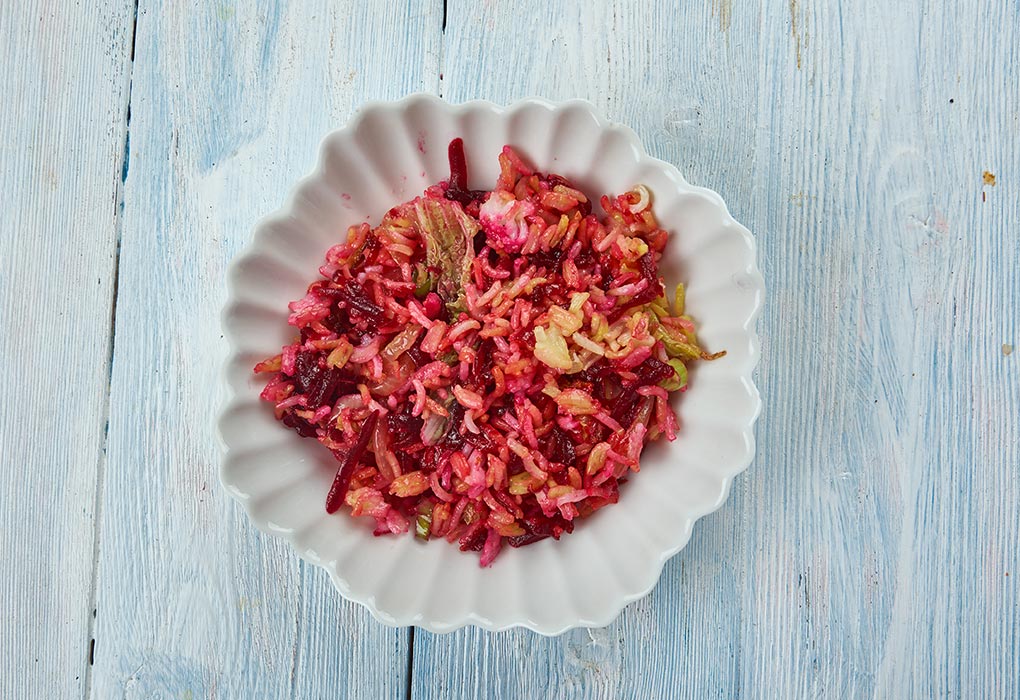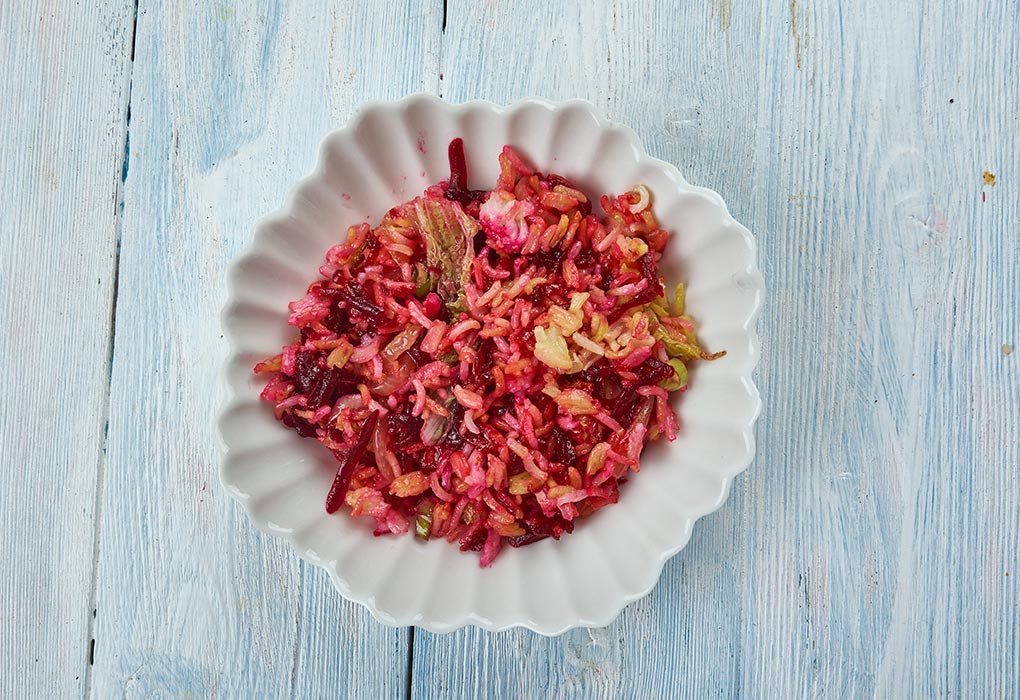 Ingredients
1 cup Basmati rice (soaked for 20 minutes), ¾ cup finely chopped beetroot, 3 tablespoons green peas, 1 teaspoon ginger-garlic paste, 1 small onion (chopped), coriander leaves to garnish, a handful of mint leaves, water, salt to taste, oil, ¼ inch cinnamon, 1 cardamom, 2 cloves, 1 bay leaf.
How to Prepare
Heat oil in a pressure cooker and add the spices and bay leaf. Sauté for a minute and add onions and cook for another minute. Add ginger garlic paste and mint leaves. Sauté for another 2 minutes. Add the rice to this and fry for a minute. Add 2 cups of water and salt to taste and bring it to a boil. Close the cooker with its lid and cook it for 2 whistles. Turn off the heat, open after some time and mix well with a fork. Serve the beetroot pulao rice warm.
6. Beetroot Carrot Raita
This raita recipe containing beetroot is mouth-watering and your kid will never say no to beetroot carrot raita again.
Ingredients
2 cups thick yoghurt, 1 medium beetroot (grated), 1 medium-sized carrot (grated), 1 dry-roasted teaspoon cumin powder, 1 teaspoon black salt, chopped coriander to garnish.
How to Prepare
Add grated carrot and beetroot to the yoghurt along with black salt and cumin powder. Mix well until it turns pink. Garnish with chopped coriander and serve the raita chilled.
Beetroot is a healthy and nutritious food for toddlers and kids. Your kid will not like eating it raw, but if you try these delicious recipes, you never know these dishes might become your little one's favourites.
Also Read: Tempting & Healthy Salad Recipes for Kids