6 Healthy and Delicious Fish Recipes for Kids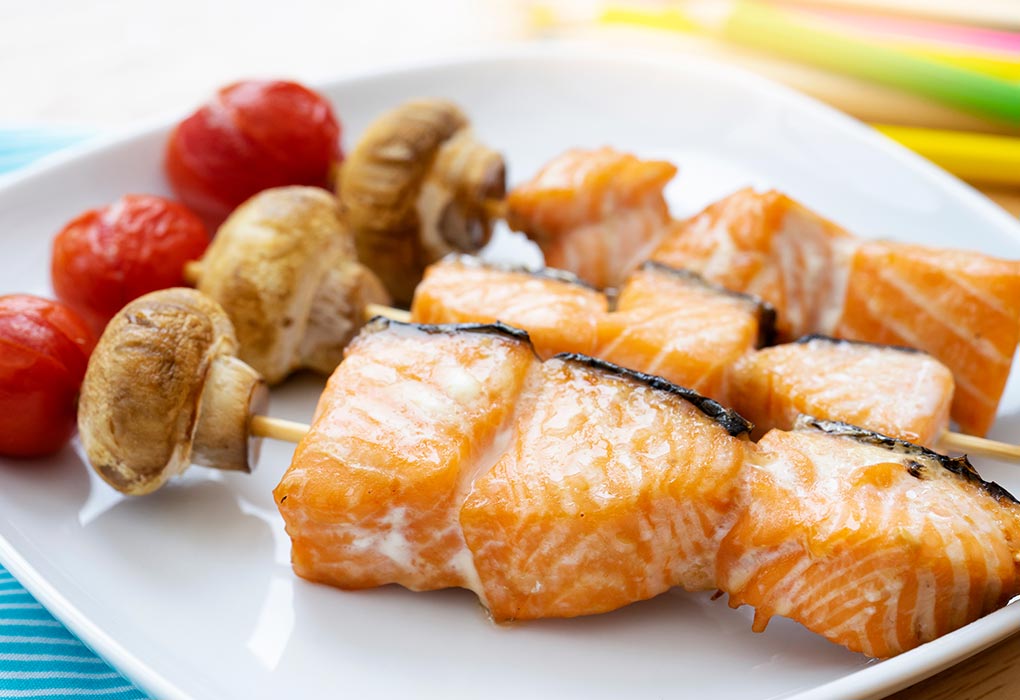 Most parents incorporate fish into their child's diet for the numerous health benefits it offers. Fish contains omega-3 fatty acids that promote the growth and development of a child's nervous system and brain. Omega-3 also has anti-inflammatory properties which can promote a child's heart health and immunity.
Video : 5 Healthy and Tasty Kid-Friendly Fish Recipes
Easy Fish Recipes that Your Child Will Love to Eat
You can choose from a variety of fish like fresh tuna, trout, salmon, mackerel and sardines to prepare tasty and exciting fish recipes for your kid. Some easy fish recipes are listed below.
1. Tuna Patties
Tuna patties are easy to make and are a treat for toddlers. You can serve these delectable patties with your child's favourite dip or stuff them in sandwiches as well.
Ingredients
How To Make
Whisk the eggs in a bowl.
Add lemon juice, grated cheese and breadcrumbs to the bowl and combine them well to form a paste.
Add the diced onion.
Fold in the tuna and sprinkle some pepper.
Shape the tuna mixture to form round patties.
Heat oil over medium flame in a frying pan.
Fry the patties till they turn golden brown on both sides (around 5 minutes each side) and serve hot.

2. Salmon Fish Recipe
This salmon fish recipe combines the goodness of veggies to make an absolutely healthy dish for your child.
Ingredients
500 grams mashed potato
2 tablespoons plain flour
225 grams salmon
Shredded cabbage (boiled)
Few peas (crushed)
Fresh parsley (chopped)
Oil
Grated zest of one lemon
Salt
Pepper
How To Make
Transfer the mashed potato in a big bowl.
Add the salmon, crushed peas, boiled cabbage, parsley leaves, lemon zest, pepper and salt. Mix them properly.
Shape the mixture into small cakes. Dust them in plain flour. You can chill the fish cakes for an hour at this stage if you wish to.
Heat oil and make sure the flame is on medium. Place the fish cakes and cook them for 4-5 min on both sides.
Serve with fresh green salad.
3. Fish Curry
This delicious Indian fish recipe will surely be relished by your child.
Ingredients
For marination
500 grams fish
¼ tsp turmeric powder
½ tsp red chilli powder
One Tsp ginger garlic paste
Salt
Other Ingredients
Two onions (diced)
Two tomatoes
½ tsp fennel seeds
One tsp red chilli powder
½ tsp cumin
One tsp ginger garlic paste
One green chilli
Oil
Few curry leaves
1 ½ cup water
How To Make
Marinate the fish with all the ingredients stated below marination and set it aside.
Heat some oil on medium flame. Add diced onion to it and fry till lightly golden.
Add tomatoes and cook till they turn soft and mushy.
Add red chilli powder and fennel.
Let this mixture cool down and then blend it into a smooth paste.
Take some oil in another pan. Add the cumin seeds and allow them to splutter.
Add green chilli, curry leaves and ginger garlic paste and cook for some time.
Add the blended mixture and sauté for 5 minutes.
Pour the water and let it boil for a few minutes or till the gravy thickens.
Gently drop in the fish pieces and cover the pan.
Allow the mixture to simmer for a while. Flip the fish pieces occasionally so that both sides get cooked well.
Garnish with coriander leaves before serving.

4. Fish Nuggets
Fish nuggets are easy to prepare and super delicious that will leave your kid asking for more.
Ingredients
450 grams of fillet
3 tablespoons milk
An egg
Lemon juice
2 tablespoons yoghurt
Salt
Pepper
Breadcrumbs
How To Make
Preheat the oven to 200 degrees C.
Chop the fish fillet into small nugget-sized pieces.
Add some lemon juice and salt.
In a bowl, whisk egg, milk, pepper and salt as desired.
Dip the fish pieces in the whisked mixture and roll them in breadcrumbs.
Bake for 10 minutes or until they turn golden brown.
Serve with mustard sauce or dip.
5. Fish Fingers
Fish fingers can be offered as a healthy snack to tackle the sudden hunger pangs of kids.
Ingredients
An egg
400 grams fish (sliced into 2 cm thick strips)
¼ cup milk
½ cup plain flour
Breadcrumbs
Olive oil
How To Make
Preheat the oven to 200 degrees.
Whisk milk and egg together.
Roll the fish strips in flour, then dip them in the egg and milk mixture.
Coat them with breadcrumbs and place them on a baking tray.
Drizzle some oil on them.
Bake for 10 minutes or till they become golden brown.

6. Grilled Salmon
This easy-to-make grilled salmon is a dish that your child will find hard to resist.
Ingredients
225 grams salmon fillets
1/3 cup soy sauce
1/3 cup brown sugar
1/3 cup water
Lemon juice
Pepper
Salt
Garlic powder as desired
Oil
How To Make
Sprinkle pepper, salt, lemon juice and garlic powder on the salmon fillets.
In a bowl, combine brown sugar, soy sauce, oil & water.
Dip the salmon fillets in the mixture of soy sauce and refrigerate for minimum 2 hours.
Place the marinated salmon pieces on the preheated grill.
Cook the salmon on each side for about 5 to 6
These appetizing fish recipes are super easy to make you will soon see these dishes turning into your family's favourite meals.
Also Read:
Delicious Chicken Recipes for Children
Egg Recipes for Children
Cheese Recipes for Kids