Healthy and Tasty Cold Lunch Ideas for Kids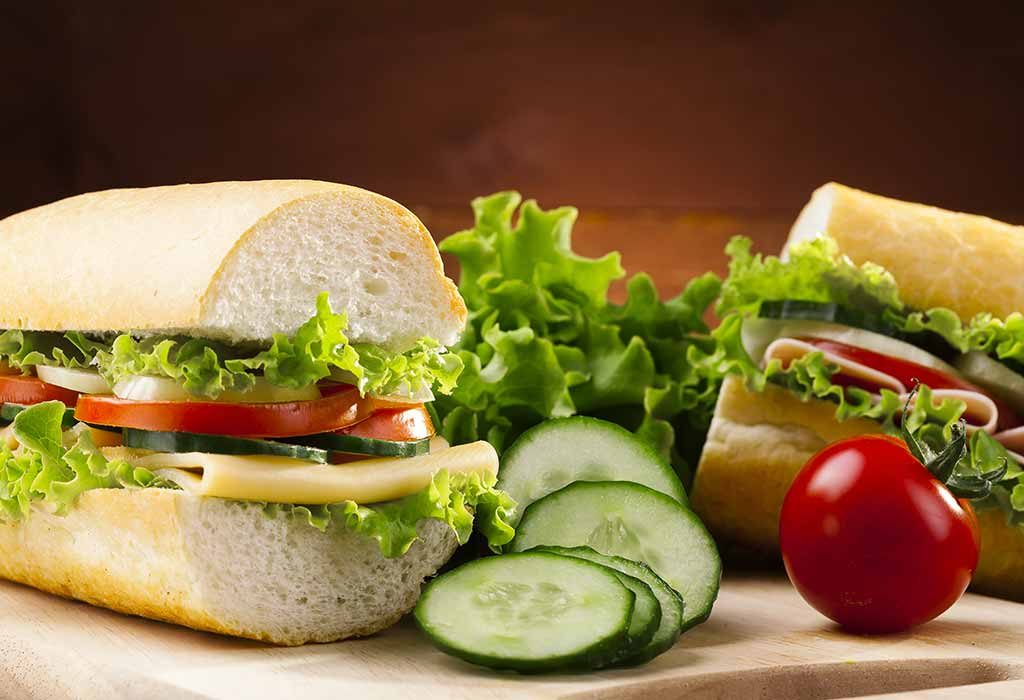 Most children tend to be picky eaters. If you have a child, getting him to eat what's served on his plate must be a challenging task. Children develop an instant liking and disliking for certain foods and they are not shy to express it. Hence, it becomes difficult for parents to get them to eat a hearty and nutritious meal while keeping their likes and dislikes in mind. Between taking care of them during those early years and other chores around the house, it is difficult to always serve a hot meal. How about you try cold lunch ideas for your child? There are many cold lunch recipes to choose from, and they are delicious and healthy!
Cold Lunches With Yoghurt and Fruits for Kids
Here are eight easy cold lunch ideas for kids that you can effortlessly prepare. Packed with fruits and fresh veggies, these preschool cold lunch ideas will ease your worries about a wholesome and filling meal for your children.
1. Strawberry Yoghurt Smoothie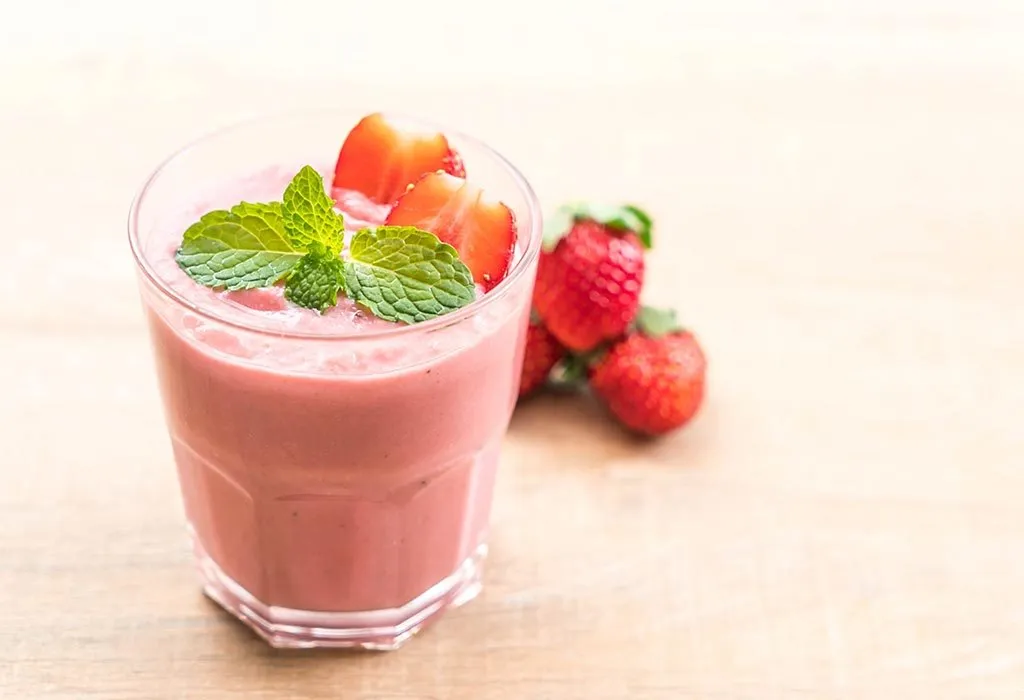 Ingredients
1 cup of vanilla (plain yoghurt or curd or milk)
1 cup of frozen or fresh strawberries or a combination
2 tsp of sugar or banana or dates for sweetness
Serving
1-2 glass of smoothies
Cooking Time
7 minutes
Instructions
Take strawberries in a blender, making sure that you remove the strawberry stems. You can use a strawberry huller to make sure no stems end up in the blender.
Add a cup of yoghurt to the blender. You can use Greek yoghurt as well if your children prefer that.
Add 2 tsp of sugar or banana or dates that you find healthier for your child.
Add in more strawberries. Blend the contents of the blender before putting the ice.
Blend it well and your strawberry yoghurt smoothie will be ready in no time.
2. Mango and Crunchy Bran
Ingredients
Serving
1 serving
Cooking Time
10 minutes
Instructions
Among the cold lunch ideas for kids, this one is the least time-consuming. Place the chopped mango pieces in a mason jar.
Pour a layer of yoghurt on top.
Sprinkle cereal and mixed seeds on top of the yoghurt.
Drizzle 1 tsp. of honey on it and voila, your mango and crunchy bran pot will be ready in no time.
Cold Lunch Recipes With Boiled Eggs for Your Child
1. Egg Salad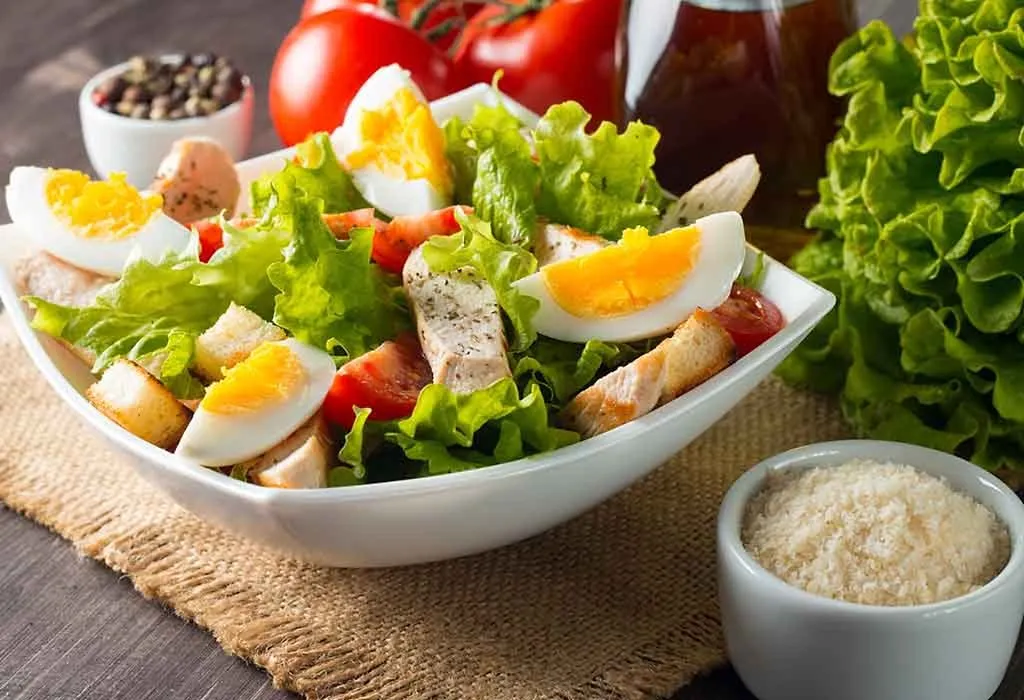 Ingredients
6 hard-boiled eggs
1 tbsp freshly chopped dill
1/8 tsp Cayenne pepper
Salt and pepper
Serving
6 servings
Cooking Time
8 minutes
Instructions
Slice and dice the eggs in a bowl. You can mash them as finely as you like. Make sure they don't turn mushy.
Add the freshly chopped dill, followed by salt and pepper.
Refrigerate the mix. You can use it as a filling for a sandwich or give it as is. You can also add a piece of ham if you are making an egg salad sandwich for your child.
2. Deviled Eggs – Taco Style
Ingredients
6 hard-boiled eggs
1/4 cup of sour cream
1/2 tsp lime juice
Salt and freshly ground pepper
1/8 tsp of ground cumin
Chopped cilantro for garnishing
Serving
3 servings
Cooking Time
6 minutes
Instructions
Peel all six eggs and cut them in half. Scoop out the yolks from the egg whites. And mash them in a bowl.
Traditionally the yolk is mixed with mayonnaise and mustard; however, you can bring a twist to your taco-style deviled eggs. Add 1/4 cup sour cream and 1/2 tsp lime juice to the yolk. Mix it well.
Add the ground cumin, salt, and pepper (optional) and mix again. Fill the egg whites with the mashed and seasoned yolk. Sprinkle some cilantro on top for garnishing.
There are various other kinds of deviled eggs that you could come up with if you're looking to make some creative cold lunches for kids. You could add parmesan or barbeque sauce or a piece of smoked salmon. You could make a whole platter of different flavored deviled eggs.
Best Cold Lunch Salads for Children
1. Bow Tie Pasta Salad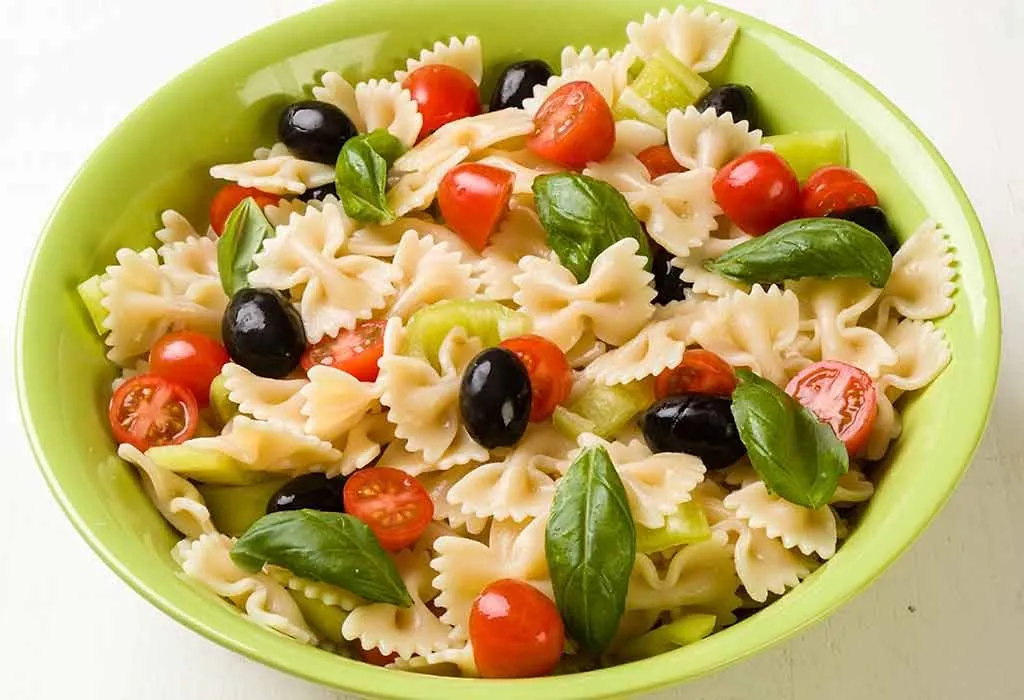 Ingredients
4 cups of bow tie pasta
3 cups of rotisserie chicken
1/3 cup of Parmesan cheese
1 cup pesto sauce
1 cup of cherry tomatoes
1/2 tsp of salt
1/2 tsp of ground pepper
Serving
1 serving
Cooking Time
15 minutes
Instructions
Boil water for the pasta. Make sure you add salt and a teaspoon of cooking oil to the water before it comes to boil. Add the pasta to the boiling water. Check for the cooking time on the pack to get it right.
Strain the pasta. Wash it with cold water. Make sure the water is drained properly. Keep it aside. The pasta shouldn't stick to each other.
Slice the tomatoes in half. Shred the chicken into smaller pieces and put them in a bowl. Mix it with the tomatoes. Season the mix with salt and pepper.
Refrigerate the pasta for 5 minutes after it comes down to room temperature. Transfer the chicken mix to a medium bowl and add the pasta to it. Add the pesto, cherry tomatoes, and shredded Parmesan to the bowl. Your bow tie pasta salad will be ready!
2. Mustard Potato Salad
Ingredients
6 medium-sized red potatoes
5 hard-boiled eggs
½ onion, diced
2 celery stalks, diced
8 cherry tomatoes
Sweet paprika and parsley
1 tsp of celery seeds
¼ cup of sweet relish
¼ cup of mustard sauce
1 tsp of vinegar
1 tsp of kosher salt
½ tsp freshly ground pepper
Serving
8 to 10 Servings
Cooking Time
30 minutes
Instructions
Boil the potatoes and let them cool. Then peel their skin and cut them into cubes.
Slice two hard-boiled eggs and cut the rest in halves.
In a large bowl, place the potato cubes then add the chopped onion, diced celery, sliced eggs, celery seeds, pickle, and season with salt and pepper. Give it a toss and make sure you do not break the cubes while tossing.
In a small bowl, put mustard sauce, and vinegar. Whisk them together. Pour the dressing in the other bowl, and fold the salad gently to coat potatoes with the dressing.
Place the egg halves on one side of the bowl. Garnish with tomatoes and parsley. Sprinkle the sweet paprika over the salad.
Refrigerate the salad for at least 4 hours before serving.
Some Cold Lunches for School
1. Lettuce Wrap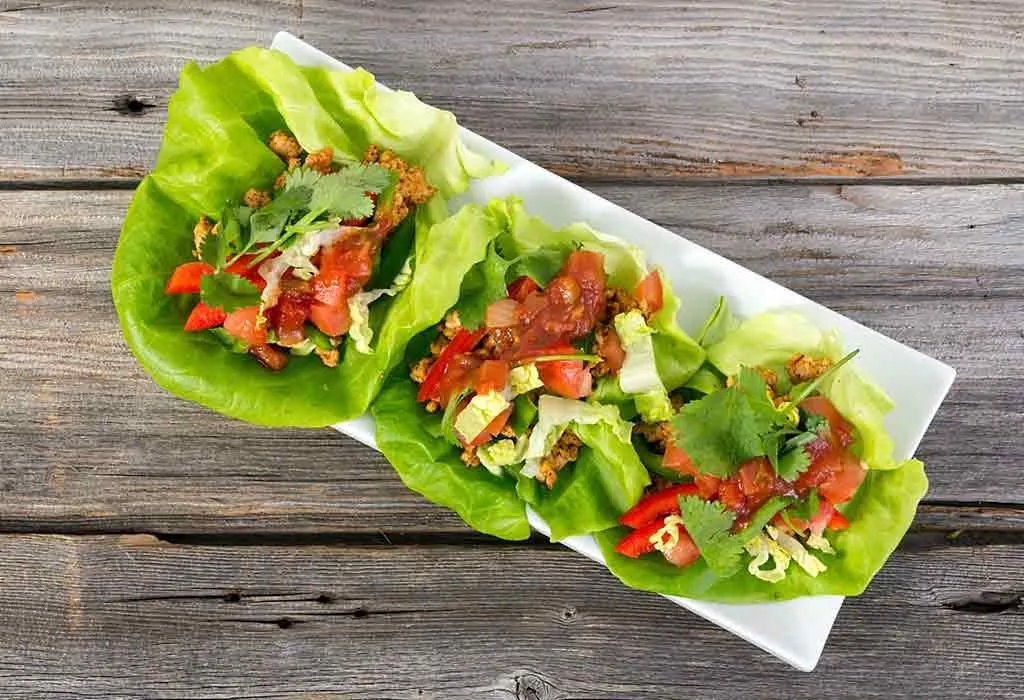 Ingredients
1 medium-sized red tomato
12 leaves of Romaine lettuce
1 medium-sized avocado
1 medium-sized green bell pepper
1 1/2 cup of canned black beans
1 cup of canned black-eyed peas
1 cup of canned corn
2 tbsp of low-fat ranch dressing
¼ tsp of ground cumin
¼ garlic powder
1/8 tsp of salt
Serving
1 Serving
Cooking Time
10 minutes
Instructions
Chop the tomato, bell pepper, and avocado into small pieces and transfer them to a bowl. Drain the canned black beans and rinse well.
Mix ground cumin, garlic powder and salt in the ranch dressing. Add the black-eyed peas and corn to the bowl with vegetables and beans. Pour the dressing in the bowl with the cut veggies. Toss the contents well.
Fill the lettuce cups with the contents of the bowl. Roll up the lettuce leaf and seal with toothpicks.
2. Oven-Baked Peanut Butter and Jelly Crescents
Ingredients
8 crescent rolls
8 tsp of peanut butter
8 tsp of jam
Serving
8 Servings
Cooking Time
12 minutes
Instructions
Peanut butter and jelly sandwiches have been one of the oldest kindergarten cold lunch ideas but this twisted version of that old classic will surprise your child.
Preheat the oven to 375 degrees F.
Place the crescent triangles in a dish and place a teaspoon of peanut butter on each crescent and spread it out in the centre.
Leave about 1/4 inch on each side of the triangles so that the butter and the jelly do not spill out while folding.
Place a teaspoon of jam on top of the peanut butter and spread it out in the same manner.
Lift the wide end of the triangle, roll it forward and make sure you tuck in the edge and roll evenly toward the tip.
Bake for about 12 minutes or until the crescents turn golden brown. Let the crescents cool down before packing them up.
Tips to Keep a Cold Lunch Cold
If you are packing a cold lunch dish for your child for school, you can place it in a thermos which will keep it cold.
Use an insulated lunch bag and place ice packs in the lunch bag to maintain the temperature until your little one opens the box.
The advantage of cold lunches is that you can pack them the night prior and refrigerate them. Preferably pack them in stainless steel containers so that they retain the temperature longer.
These tasty cold lunch ideas for kids will certainly come in handy when you're wondering what to pack for their lunch the next time. Your children are sure to relish these delicious cold lunches!
Also Read:
Healthy Protein Breakfast Ideas for Children
Amazing Lunch Box Ideas for Children
Easy Dinner Recipes for Your Children