Natural Sunscreen for Babies – Why to Use and How to Make
Basking in the sun can be pleasurable, especially during cold weather. However, it can be harmful to your little one, as a baby's skin is extremely sensitive. This is why it is essential to use sunscreen to protect your baby's skin from the harmful rays of the sun. While there are many types of sunscreens available in the market, it is always best to opt for the natural ones.
Why Use Natural Sunscreens for Babies?
Parents need to be cautious while using over-the-counter sunscreens for their baby, as these products are often filled with chemicals, such as retinyl palmitate and oxybenzone, which are harmful to the skin. Though it is being used in products that aim to protect the skin from the sun, oxybenzone gets soaked into the skin and can cause skin allergies and disrupt the hormones. Thus, it is always best to use natural sunscreen for babies under 6 months.
Also Read: How to Take Care of Newborn in Summer
Know the SPF Content of Natural Ingredients Used in Homemade Sunscreen
Sun Protection Factor (SPF) measures how well sunscreens are able to protect the skin from the harmful UV rays of the sun. The UV rays are said to be what causes sunburns, skin cancer, and skin damage.
When it comes to the natural ingredients, we can estimate the SPF content quite easily.
1. Carrot Seed Oil
Though the SPF content of 35 – 40 in carrot seed oil is a little high for babies, it makes for an amazing ingredient to add to your homemade batch.
2. Red Raspberry Seed Oil
It has an SPF content ranging between 25 and 50.
3. Coconut Oil
Coconut oil has SPF ranging from 4 to 6 but it is the most affordable SPF oil.
4. Almond Oil
Almond oil is used as an ingredient in many baby products and is the most preferred oil for massages. This oil has an SPF of about 5 and is a good option, as it will let the skin absorb enough sunlight to synthesize Vitamin D.
5. Shea Butter
With an SPF of 4 to 6, this provides the perfect amount to shield your precious baby from the harmful rays of the sun.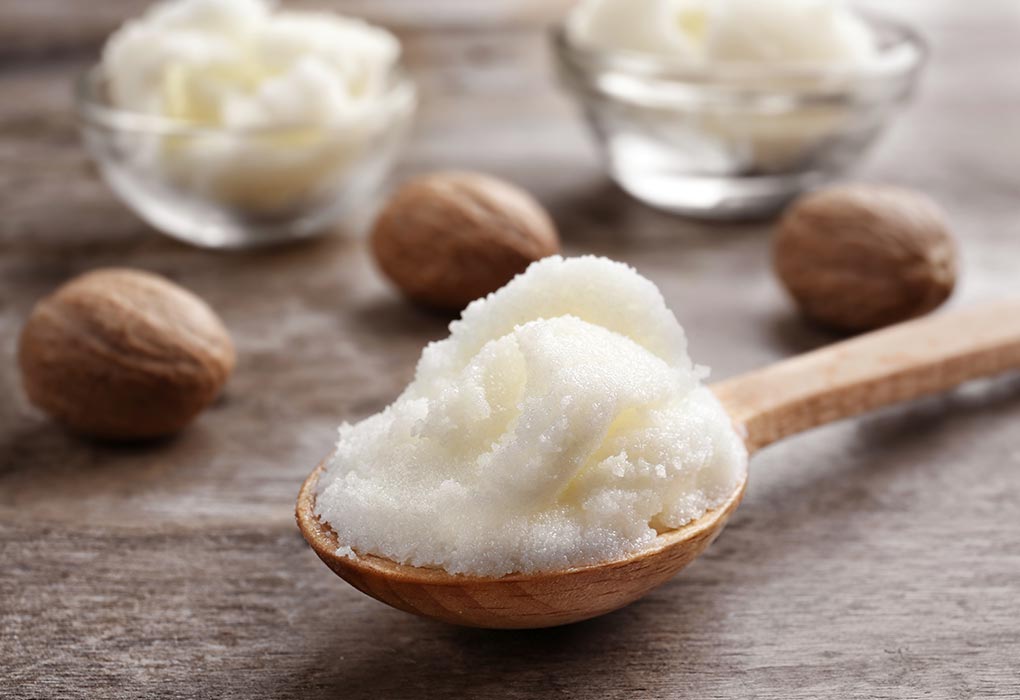 Natural Sun Lotion Recipe for Infants
After looking at the best natural SPF ingredients, let's move on to how to make a natural and homemade sunscreen.
1. Things Needed to Prepare Homemade Sunscreen
Grab yourself a glass bowl, a small saucepan and a whisk, and get started. Don't forget to keep some glass jars with lids ready to hold the prepared sunscreen lotion.
One ounce of your preferred oil. The best to use is almond oil, but you can always mix almond oil and coconut oil in equal amounts for a pocket-friendly version.
1 ounce of sesame, sunflower, or jojoba oil. For more sensitive skin, opt for jojoba oil.
Opt for the non-nano size zinc oxide, as this is non-toxic and does not irritate the skin, while, at the same time, providing a broader spectrum of sun protection from the harmful rays of the sun. 5% zinc oxide has an SPF between 2 to 5.
Take 8 ounces of shea butter.
Two tablespoons of this will add some waterproof properties to the sun lotion.
2. Steps for Preparing Homemade Sunscreen
Place the SPF oil, shea butter, jojoba oil (or one of the other oils of your choice) and beeswax in the glass bowl.
Place the glass bowl into the saucepan filled with one or two cups of boiling water.
Heat the mixture until everything melts. The beeswax will melt in the end and, when it is done, mix everything well.
Cover your face with a medical mask or anything else you may have, as breathing in the zinc oxide particles can be harmful.
Mix the required amount thoroughly.
Pour it into a darkened glass container and keep it in the fridge when you are not using it.
Tips for Using Sunscreen on Baby Skin
Here are some important tips when using homemade sunscreen on baby's skin:
Reapply the sunscreen every few hours.
If your baby sweats a lot, increase the frequency.
Storing it in the fridge increases its shelf life to six months.
When it comes to babies, applying homemade skincare products can prove to be safer for their skin. Other than using homemade sunscreen, you can also use fresh fruit peels, such as banana, to massage your baby's skin.
Also Read: Is It Safe to Use Baby Lotions on Newborns?