5 Types of Kitchen and Pantry Must-Haves for Your Baby This Winter!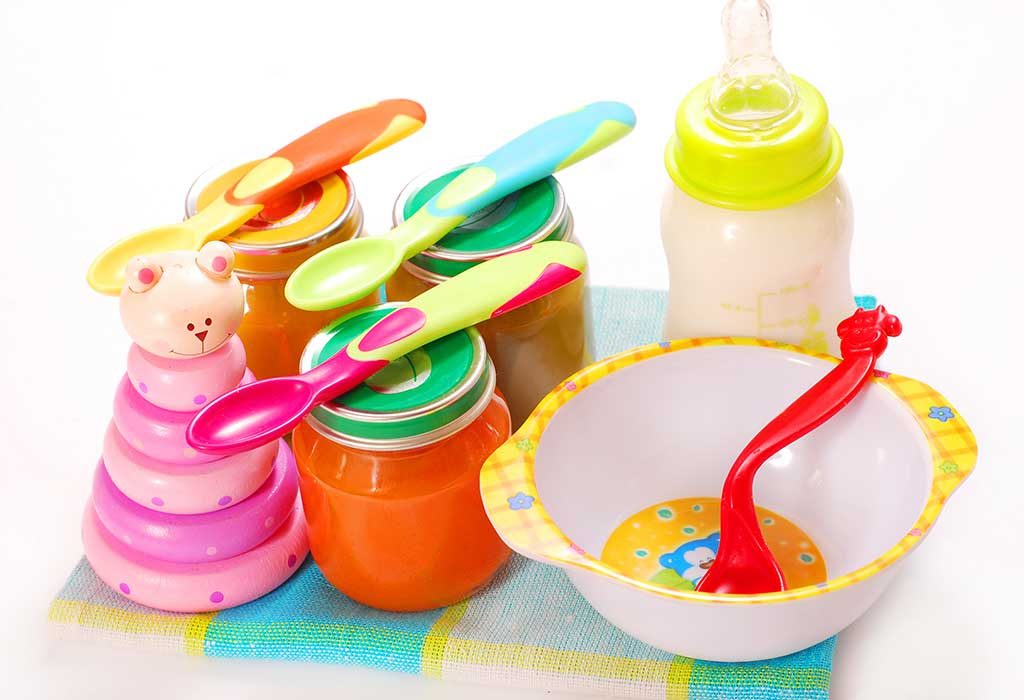 Winter is coming! We're all waiting for it, aren't we? 'Tis the season of joy, hot cocoa, and glittery, tree-filled holidays! And, if you're living in a tropical country, that slight dip in temperature is solace after all the warmer months.
Winter is also the time for staying indoors, cosied up with warm soup and baby cuddles. So, here's a thought – why not take one big grocery trip for those essentials that you will need for your little one this winter, so that your pantry and kitchen are well-stocked! This will be particularly helpful for expecting couples, so that when the baby comes, all that the new parents will need to focus on is food, poop, clean, and sleep – and repeat!
There are a few types of kitchen and pantry essentials that all parents of newborns and toddlers need for long term use, such as storage bottles, baby-friendly utensils and cutlery, and breast pumps. Now, we're not saying that you don't have them at home… But who can say no to a sweet little shopping opportunity, right? (wink wink)
Let's gear up for a wonderfully wintry season!
1. Milk Storage Bottles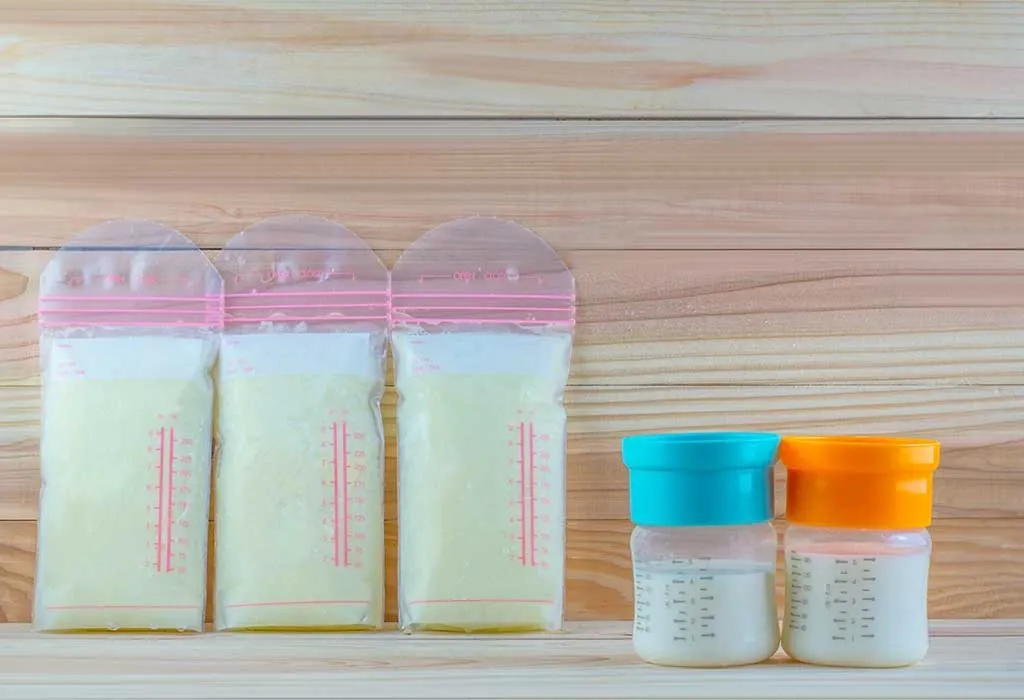 To answer your question, yes, these are different from feeding bottles! Milk storage bottles are meant exclusively for storing milk.
Storage bottles come in either glassware or food-grade, heat-able plastic, which makes for easy storage and warming. Be sure to choose BPA-free plastic bottles! And, don't worry, baby milk storage bottles are built to withstand the temperature range from freezing cold to nourishing warmth, so go ahead and invest in a set, of which you can make the most for a long time to come.
Check out these adorable (and aptly-named!) storage bottles, and this sturdy and classic bottle set.
2. Bottle Warmers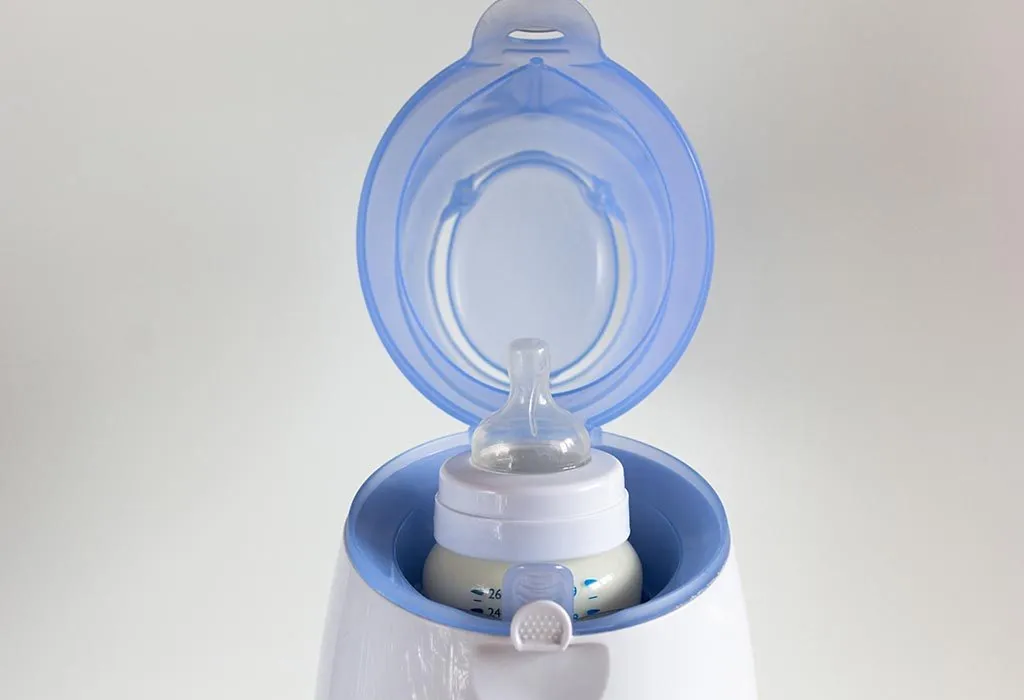 Bottle warmers are an easy and convenient alternative to heating up cold-stored baby milk. They are usually electric, and come in a variety of forms. Some are quite simple, and pack only a heating element and a temperature gauge. Some others come with timers, cooling sections, and additional compartments for baby food jars or containers. You can get a portable one, a solid and sturdy one, or a compact, travel-friendly one (What? Yes!).
Bottle warmers are great for new parents who haven't gotten the hang of using traditional milk-warming methods, working parents, and stay-at-home parents who'd like 15 minutes to themselves. Pick a machine within a comfortable price range for you, and say goodbye to worries about getting to that perfect milk temperature for your hungry little one!
Get this Babyhug bottle warmer that also acts as a steriliser, either of 1-bottle capacity or 6-bottle capacity. Get a baby milk plus food warmer, or a compact little bottle warmer that's designed for tight spaces and plenty of travel!
3. Breast Pumps
This little piece of equipment has been a game-changer for moms who want the breast milk diet for their babies, but are unable to directly breastfeed. This can be due to various reasons, such as nipple issues, latching problems, lack of privacy or space, the need to go back to work after maternity leave ends, and so on.
A breast pump can be manually operated, battery powered, or electric. It can also be a single (used for one breast) or a double (for both breasts). Breast pump flanges or shields (the part that fits over your nipple and areola to create a vacuum) come in a few general sizes, but it's important to understand what size will best fit your nipple, to maximise efficiency and minimise pain or stress.
You can start with Babyhug's classic manual breast pump, or its dual-function, manual-cum-electric pump If you want to avoid manual pumping completely, go for its super-cool electric breast pump. Most electric pumps have at least two modes – stimulation and expression. That's awesome, right? So, make sure to choose one that has plenty of functionality!
We can go on and on about breast pumps and their usefulness. But, we'll leave you with this: find a good breast pump that works best for you, and you'll suddenly feel ready to take on the world!
4. Baby Cutlery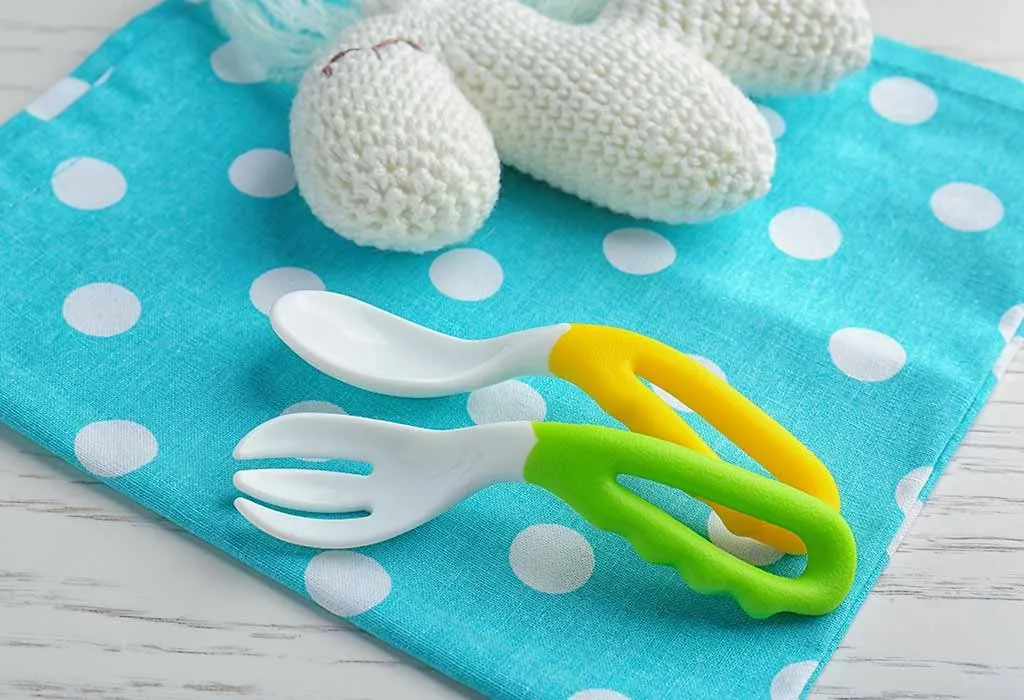 Baby cutlery is the cutest. Little spoons and forks made for tiny hands, and in so many shapes, colours, and themes – why do adults have to use such boring silverware?
Cutlery for babies usually comes in safe plastic, and stainless steel. Plastic spoons and forks are also usually heat-proof. But, the best part? Baby cutlery is specific to age and developmental stage! If your little one is just starting to use his little hands for grasping, then these training spoons will be perfect. For classic utility and faster feeding times, these Babyhug dual-scoop spoons will serve you well.
If your little one love colours and animated characters, try this adorable cutlery set, and this quintessential set of colourful baby spoons (you can never have too many!), both from the sweet world of Babyhug.
5. Baby Feeding Bowls
Just like cutlery, baby utensils are one of the most adorable items that our tiny tots use! They, too, come in a myriad of shapes and themes. (Wow. Babies are so lucky.)
Feeding bowls and plates are available widely. Always choose food-grade and BPA-free plastic, melamine, or steel. Try not to go for glassware, as babies are full of energy and movement, and you wouldn't want to keep cleaning harmful glass shards off the floor.
Check out this engaging honeybee plate and bowl set that is sure to make mealtimes fun! For classic yet colourful bowls, this is a must-have set from Babyhug. And, who can leave out a novelty Disney Mickey Mouse bowl from essential baby feeding equipment!
Schedule that shopping trip soon, and let the goodies come pouring into your home! Did someone say Santa Claus is coming to town?
You May Also Like:
Best Baby Food Feeders
Best Disinfectant Cleansers for Baby Bottles
Best Baby Feeding Spoons and Cutlery Sets
Best Straw Sippers for Babies & Toddlers
Also Read:
How to Keep Baby Warm in Winter
Tips to Take Care of Your Baby in Winter
How To Make Your Baby Sleep Soundly in Winters