10 Healthy and Delicious Fruit Salad Recipes for Kids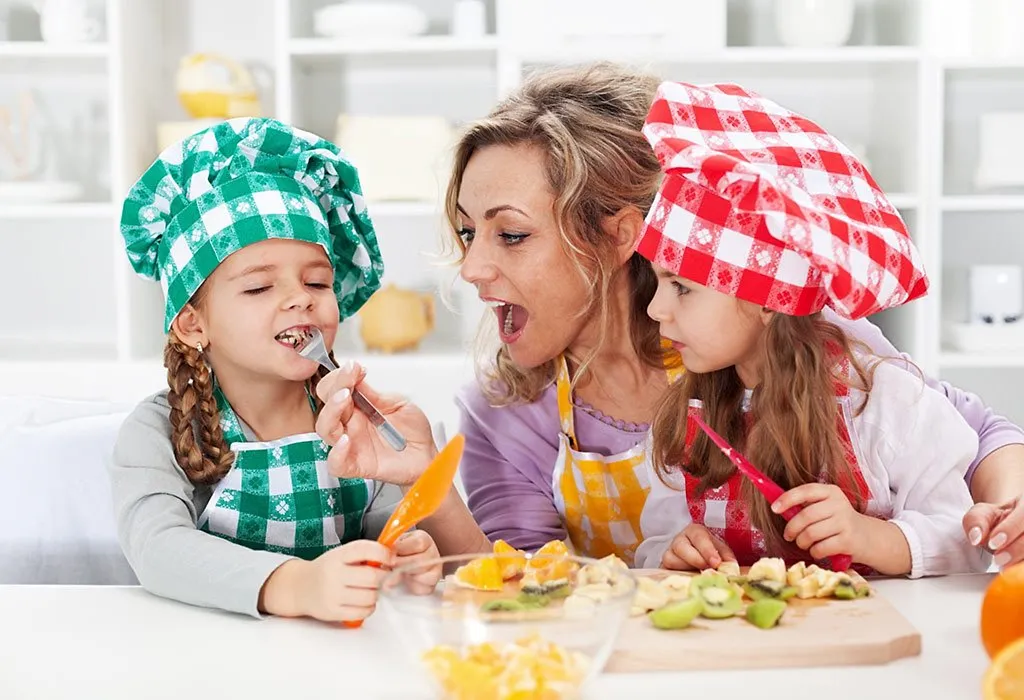 A good balance of nutrients including proteins, carbohydrates, fats, vitamins and minerals is essential for kids as they grow up. But they don't make it easy for you, as some kids can be quite fussy and pretty much run away from the table the moment they see any fruits or vegetables. Not all of them can be stimulating to the taste buds and this would lead to avoidance of fruits & vegetables that are disliked. This may further cause micronutrient deficiencies. You can now ensure they have them all by opting for some cool kid-friendly fruit salad recipes we've put together.
Video: 5 Healthy and Delicious Fruit Salad Recipes for Kids
Easy Fruit Salad Recipes for Children
Here are some simple recipes of fruit salad that your kids would love.
1. Wintry Fruit Salad
Best enjoyed when the weather is cold and you want to rustle up something quick to eat.
What You Will Need
Mayonnaise
Lemon juice
Honey
Ground ginger
Pear
Spinach
Sliced almonds roasted in honey
Bacon slices
Dried cranberries
Salt
How To Make
Start by preparing the dressing. Take mayonnaise, lemon juice, honey, ginger, and salt in a bowl. Whisk it together properly.
Take another bowl and add mayonnaise to it. Follow it up with chopped apples and pears.
Take a large plate and arrange the spinach on it. Pour the fruit and mayonnaise mixture over it. Top it up with some almonds, bacon and cranberries and cover it with the dressing.
2. Juicy and Pleasant Fruit Salad
This one can be had by the kids, accompanied by a nice dip or even without it.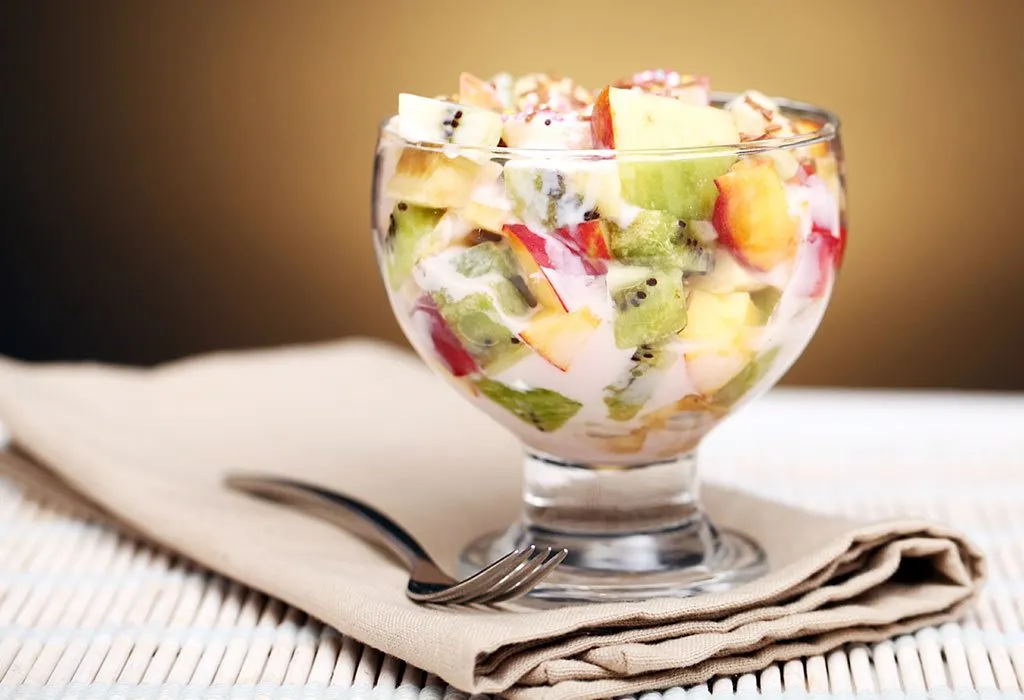 What You Will Need
Papaya
Mango
Kiwi
Orange
Pineapple
Fresh cream
How To Make
Take a large salad bowl. Add chopped pieces of papayas, mangoes, kiwis, oranges, and pineapples. These are best if they are chopped into cubes.
Top the salad in the bowl with the fresh cream generously so that it covers all the pieces properly.
3. The Weekend Special Salad
After a week full of typical food choices, surprise your kids for the weekend with this special salad recipe.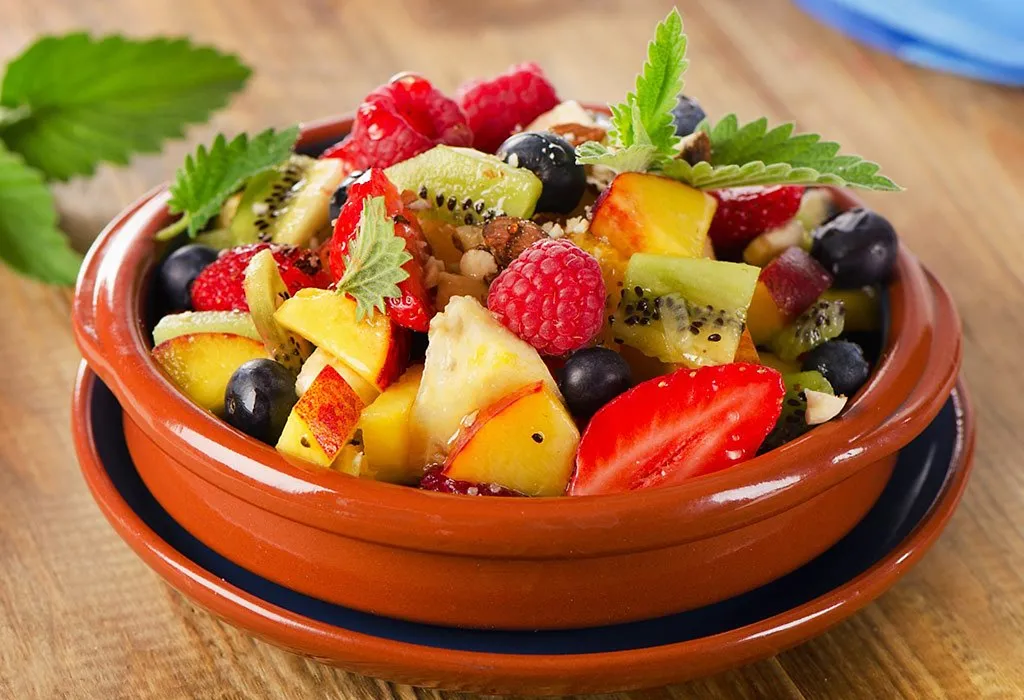 What You Will Need
Apple
Pineapple
Kiwi
Banana
1/2 scoop vanilla ice cream
Strawberries
Pineapple juice
How To Make
Take a bowl and add pineapple juice to it. Add in chopped apples to it and let them soak in it.
In another large bowl, put together pineapple pieces with the vanilla ice cream. Then, add the soaked pieces of apple to it.
In the previous bowl with the pineapple juice, add chopped bananas and let them soak for about ten minutes.
Take some strawberries, slice them in half, and add them to the bowl. Follow it up with kiwi pieces and then finally add the soaked banana pieces to the bowl as well.
Toss the salad together so that all the pieces mix up properly. Use a few more strawberries and kiwis to decorate the upper area before serving.
4. The Supreme Cherry Salad
If your kid is a fan of cherries, use that to your advantage by mixing them up with other food items.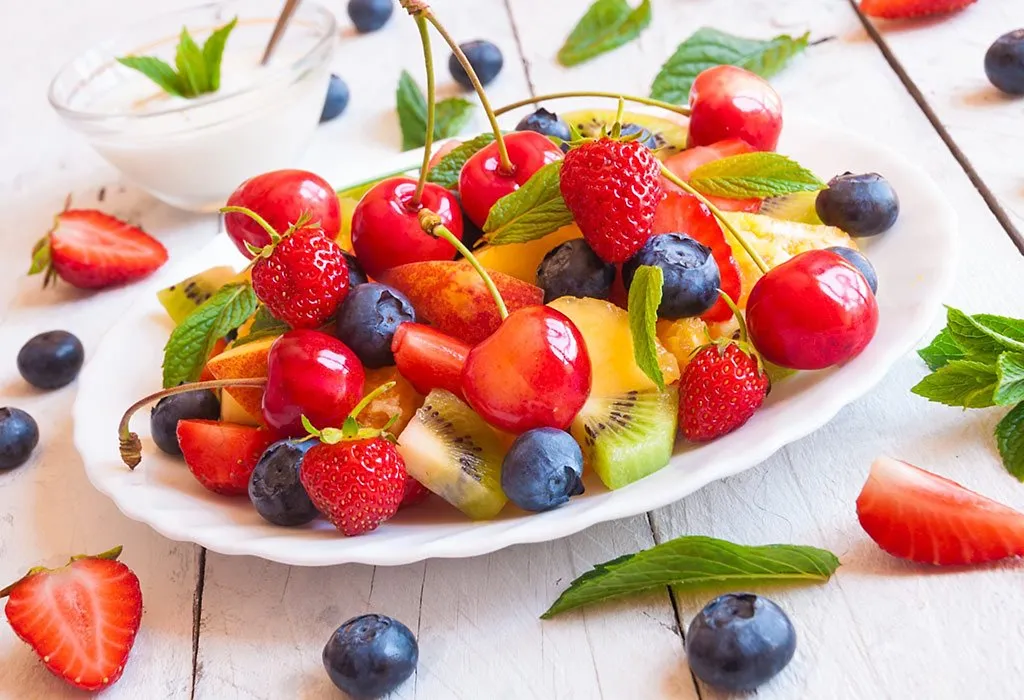 What You Will Need
Cherries
Pineapples, crushed
Fruit juice
Walnuts
Packed cherries
Strawberry jelly
Black cherry jelly
How To Make
Pour the fruit juice into a bowl and let it boil. Pour that juice on the jellies and stir them together until it all dissolves.
Let the entire mixture cool down but prevent them from solidifying again.
Add the pineapple pieces and cherries to that mixture.
Add this mixture to a tray and let it sit in the fridge until it chills and solidifies. This can be best enjoyed with some whipped cream on the side.
5. Delicious Watermelon Salad
Not only is this salad delicious, but it brings a whole new meaning to the definition of refreshment.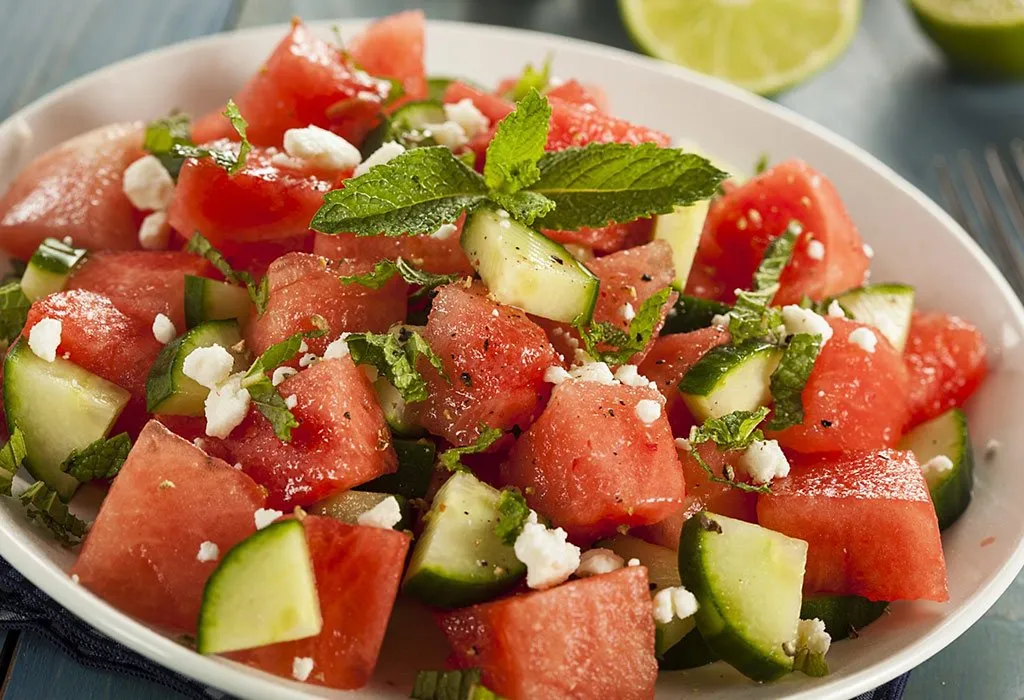 What You Will Need
Watermelon
Red onions, chopped
Coriander
Olives (pitted)
Mint
Fruit juice
Feta cheese, crumbled
How To Make
Take a normal bowl and add fruit juice and onion to it. Let them stay for about ten minutes or so.
Add watermelon pieces, followed by olives, mint, and coriander to it and place them in the fridge for about 60 minutes.
Once chilled, add some cheese as a topping and serve it.
6. Yoghurt-based Fruit Salad
The sweetness and tanginess of the fruits are greatly complemented by the taste of yoghurt.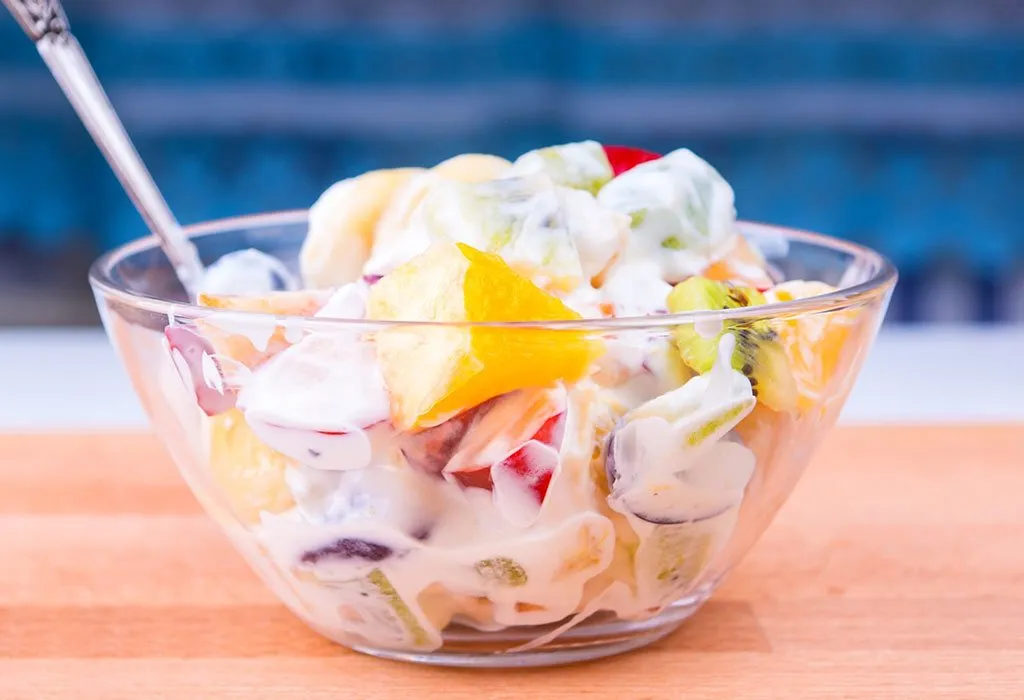 What You Will Need
Pineapple pieces
Strawberries
Mangoes
Grapes, green
Raspberries
Honey
Brown sugar, dark
Yoghurt
How To Make
Take a bowl and add yoghurt to it. Top it up with some brown sugar and honey. This is your dressing.
Take another bowl and mix together all the fruits in it. Prior to serving the salad, top the fruits with a generous topping of the dressing and watch the flavours come alive.
7. Salad Using Frozen Fruits
The changed texture and the cool temperatures make the flavours of the fruits to pop out even better.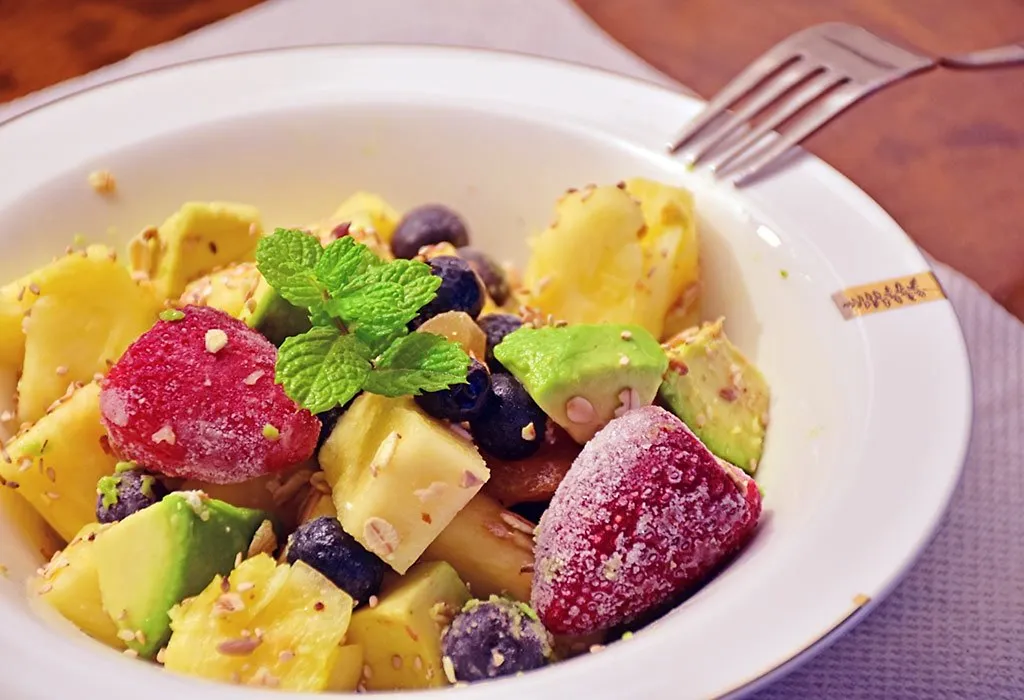 What You Will Need
Condensed milk
Oranges
Cherry filling
Pineapple, crushed
Frozen whipped cream
Walnuts
Lettuce
How To Make
Take a large bowl and add the cherry filling to it. Add some condensed milk and mix it well together. Follow it up with the walnuts, oranges, and crushed pineapple.
Add some frozen whipped cream to it. Now spread this mixture on a tray and place it in the freezer of your fridge. Let it stay.
Prior to serving, remove it about 15 minutes earlier and let it gently return to room temperature. Cut out chunks of the mixture and use lettuce leaves as serving layers.
8. Orange Cream Fruit Salad
Like orange? Yes. Like cream? Yes. So bring them both together and create a fantastic salad for your children.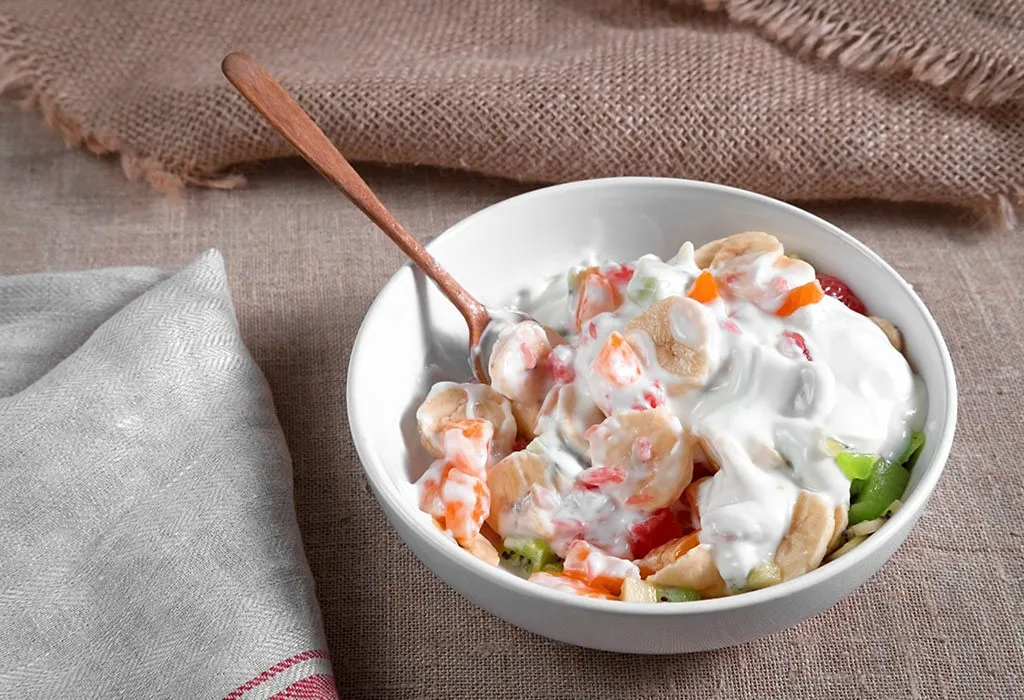 What You Will Need
Milk
Orange juice, frozen
Peaches
Sour cream
Bananas
Instant vanilla pudding
Oranges
Apples
How To Make
Take a large bowl and add milk to it. Mix it properly with the vanilla pudding and frozen juice. Use a hand blender, if needed, to make sure the pudding mixes properly.
While mixing this, add sour cream to it and beat it further.
Take another bowl and mix together all fruit pieces in it. Then gradually pour the dressing to cover all the fruits.
Place this arrangement in the fridge for a couple of hours and it will be ready to serve.
9. Salad With Carrots and Apples
If your kid is one of those who hates carrots, slyly introduce them in this salad and watch him gobble them up unnoticed.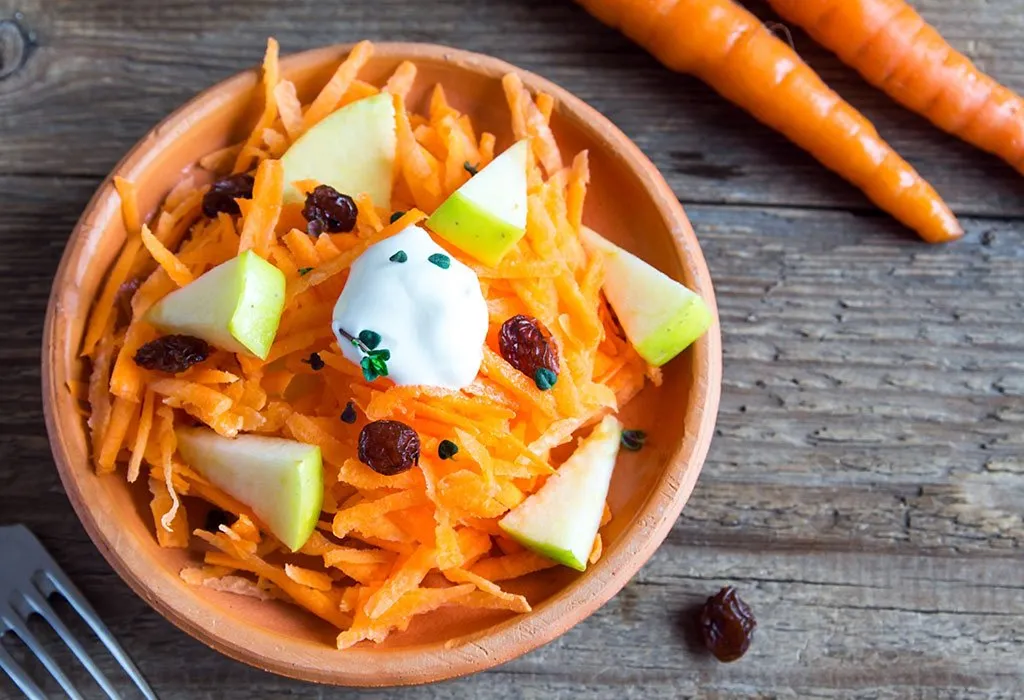 What You Will Need
Carrots, grated
Apples
Walnuts
Raisins
Lemon juice
Olive oil
Mayonnaise
Pepper
Salt
How To Make
Just put all the ingredients together in a large bowl and mix them all properly so that it becomes as homogenously flavoured as possible.
Place it in the refrigerator for some time so that it is cool while eating it.
10. Mango Fruit Salad
The perfect season for the king of fruits can be made better with this salad option.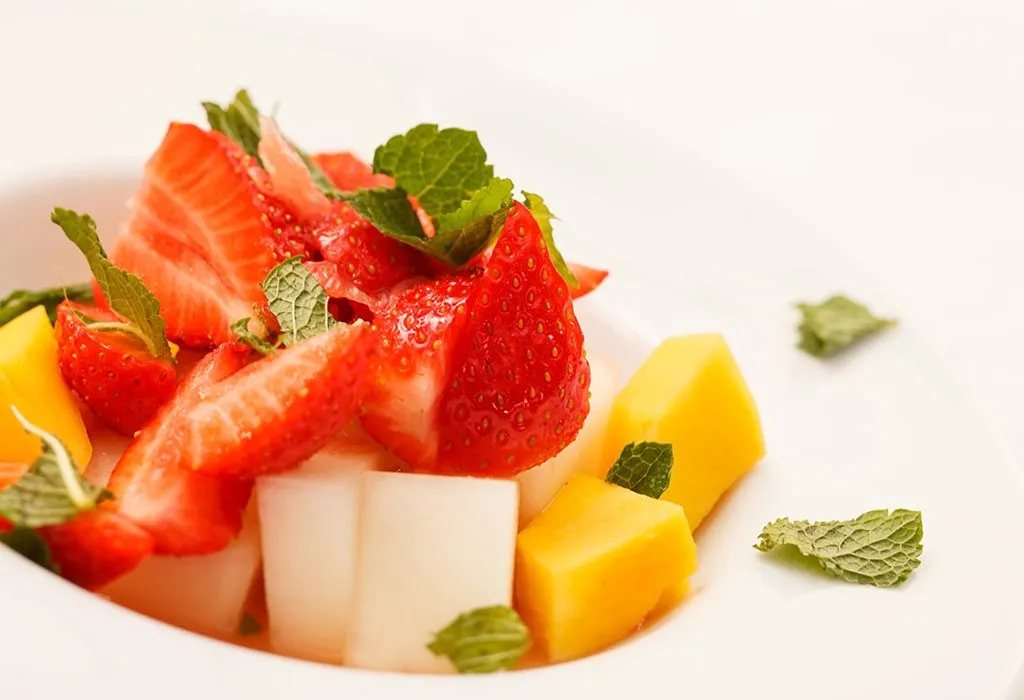 What You Will Need
Mangoes
Lemon juice
Pineapple
Strawberries
Orange juice
How To Make
Chop the pineapple and mangoes into cube-shaped pieces.
Put together lemon juice and orange juice in a blender and mix it well. Pour this mixture onto the chopped fruits.
Use a lettuce leaf to serve them if needed, and garnish it with strawberries.
Salads are one of the most delicious preparations possible with fruits and vegetables. To make sure they taste their best, always opt for getting fresh fruits that are free of any blemishes or decays. The fresher they are, the better their flavour will be, and your child will be interested in having more of them frequently.
Also Read:
Breakfast Recipes for Kids
Healthy Drinks for Kids
Smoothies for Kids
Soup Recipes for Kids
?>