8 Healthy Poha Recipes for Babies and Kids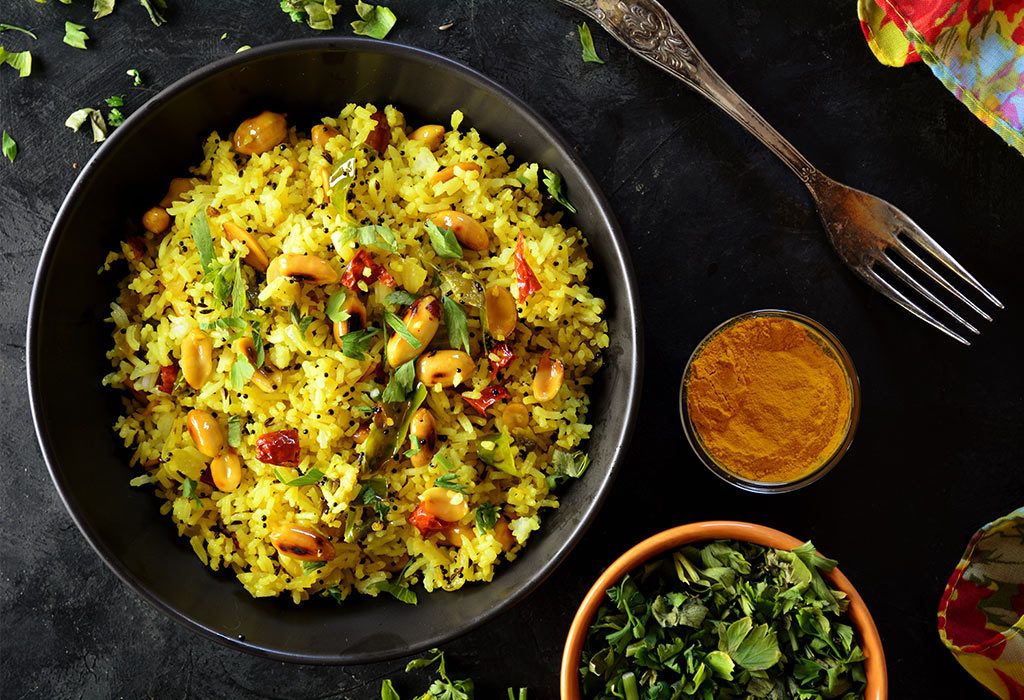 Wouldn't it be wonderful to create some quick and delicious recipes for your child whether you are at home or on a vacation? Poha or flattened rice provides an easy option to do so in real quick time as there are many poha recipes for children that one can use.
Health Benefits of Poha for a Child
Poha is packed with loads of nutrients, making it a healthy and tasty snack for babies, toddlers and growing children. These rice flakes for children are light on the stomach and when served in small quantities, it can provide the following health benefits:
1. Poha is Easily Digestible
One of the best benefits of giving poha to your child is that it can be easily digested by their little tummies. Quick and easy digestion means that your baby doesn't get a bloated feeling and remains energetic too.
2. Poha is Iron-Rich
Poha is full of iron and when given to your baby regularly, it can keep iron deficiency or anaemia at bay. It helps in maintaining the right haemoglobin levels in the body too.
3. Poha is Rich in Carbohydrates
You can make poha your child's primary source of carbohydrates by including it in your child's diet. It proves to be a tasty and healthier snack option than others and is fibre-rich too. Mothers can depend on it as a wholesome meal option for babies.
4. Poha is Nutrient-Rich
While poha has many nutrients in it, when it is garnished with peanuts and sprouts, it becomes a tasty snack your child will relish. It can be a great breakfast or after-school snack.
5. Poha is Low on Gluten
Since poha has low quantities of gluten, your child is less likely to develop any kind of food allergy.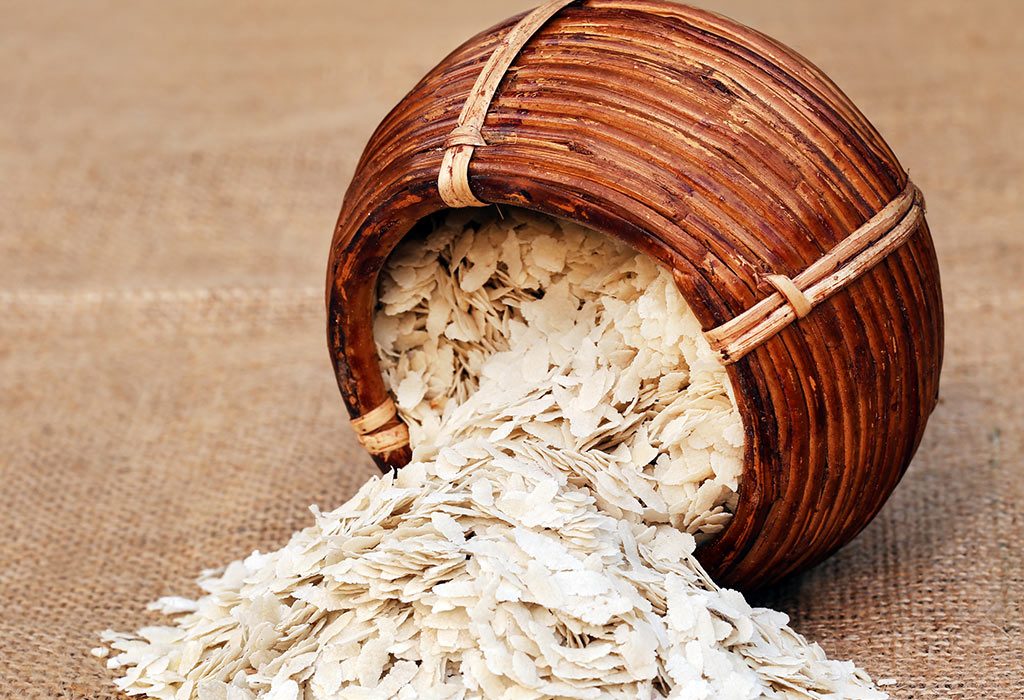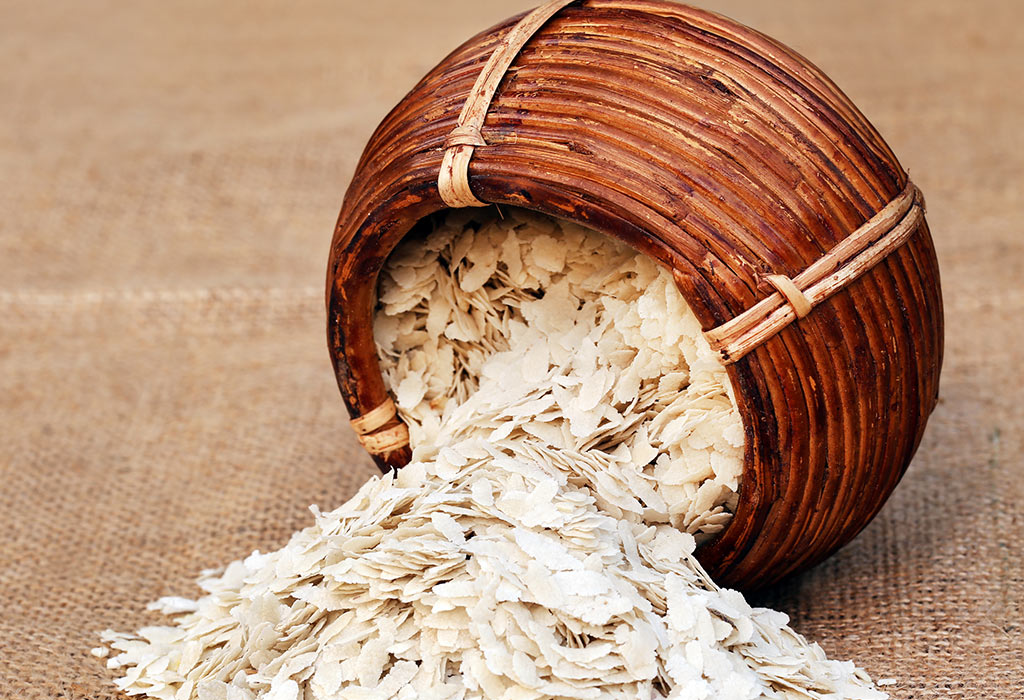 Poha Recipes for Infants
If you are looking for a quick and tasty poha recipe for 1-year baby, then read ahead to serve this delicacy to your little one:
1. Spinach Poha
This healthy and nutrition-rich snack is great for babies and is extremely travel-friendly too.
What You Need
10 -15 Spinach leaves
2 tbsp thin Poha
1 tsp Ghee
a pinch of Cumin seeds
a pinch of Turmeric
Little Asafoetida
How to Make
Wash poha and soak it in water to soften it.
Heat a non-stick pan and add 1 tsp ghee to it.
As the pan starts heating up, sprinkle a pinch of cumin seeds, mix it and then add chopped and washed spinach leaves.
Let the mix cook well and then add a pinch of turmeric and asafoetida.
Now add poha to this and let it cook with the lid closed.
Stir well and serve while it is warm.
2. Poha Kheer
This nutritious and tasty poha kheer for babies kheer is an ideal food for your infant. Treat your baby to this sweet delicacy and watch it gurgle for more.
What You Need
2 tbsp thin Poha (beaten rice)
2 seedless Dates
½ cup milk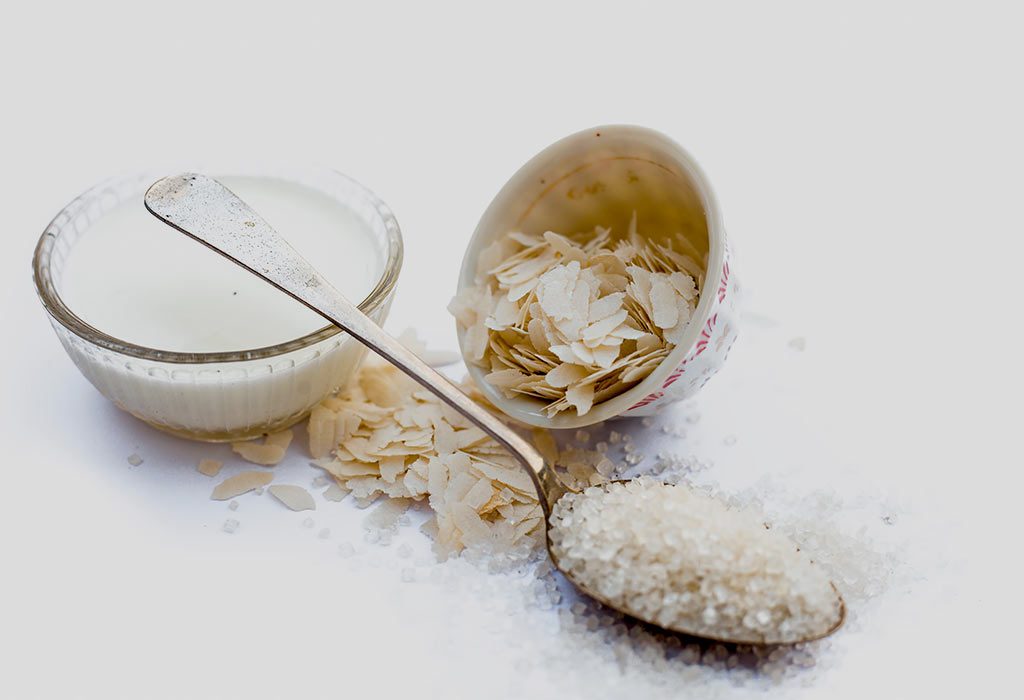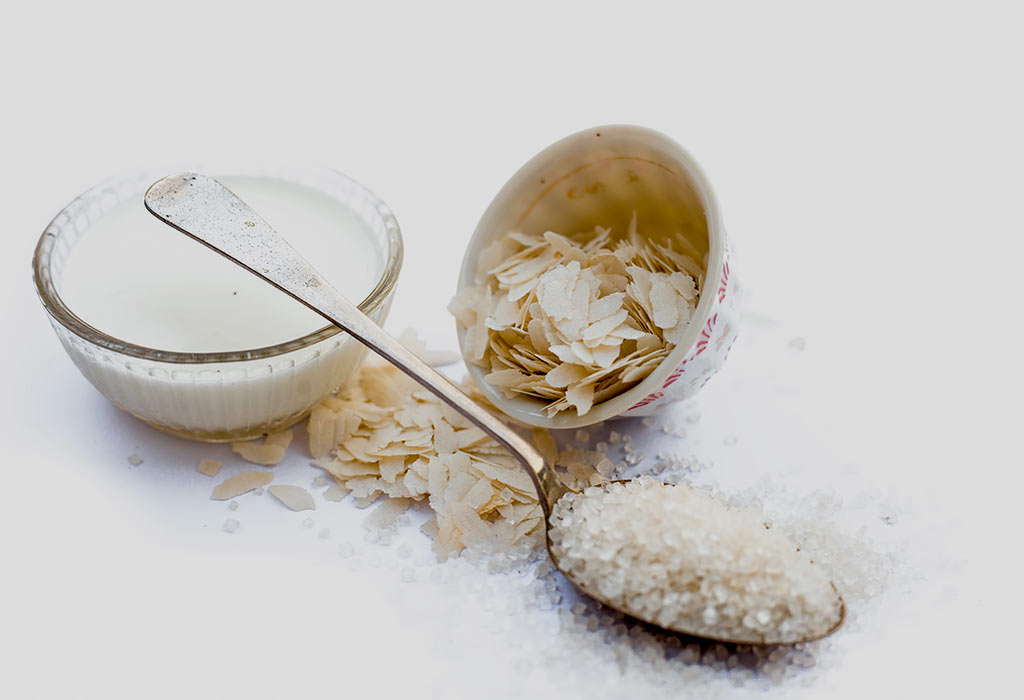 How to Make
Wash the poha, drain the water and let it soak in the residual water.
Chop the dates into fine shreds.
Add ½ cup of water to a heated pan and mix the shredded dates to it.
Stir it till the dates blend with the water.
Add poha to it and mix it well.
Pour ½ cup of milk to the mix and turn off the gas.
Mix it well, cool it and then serve to your baby.
3. Poha Oats Porridge
Poha porridge for babies is an easy-to-digest snack that mothers can make. Adding oats to it makes it a healthy and filling cereal that babies will relish.
What You Need
2 tbsp of Poha Oats Cereal mix
¾ cup of water
Ghee ½ tsp
1 tbsp of Palm Jaggery Dates syrup (optional)
How to Make
Take 2 tbsp of poha oats cereal in a pan, add ¾ cup of water to it and stir well to prevent lumps.
Cook the porridge till it thickens well and then add ghee and the syrup to it for taste.
Cook this for a couple of minutes, let it cool a bit and then serve.
4. Dahi Poha
This versatile dish can be prepared in short time whenever your baby demands food. It is also known as Gopalkala or dahi chire.
What You Need
2 tbsp thin Poha
1 small bowl of Curd
Jaggery
Fruits (optional)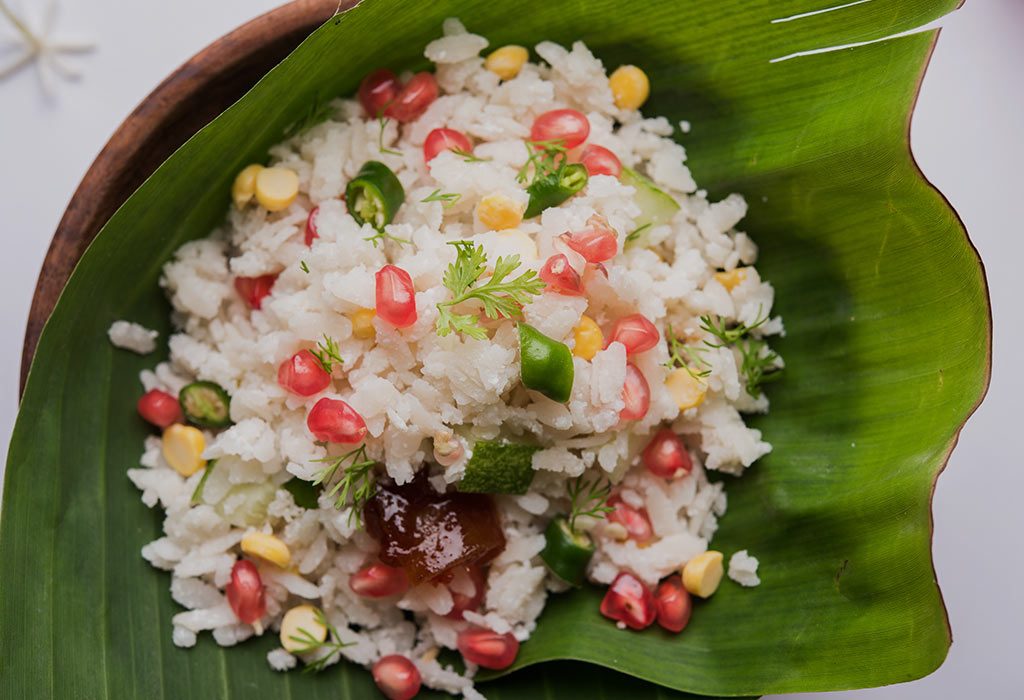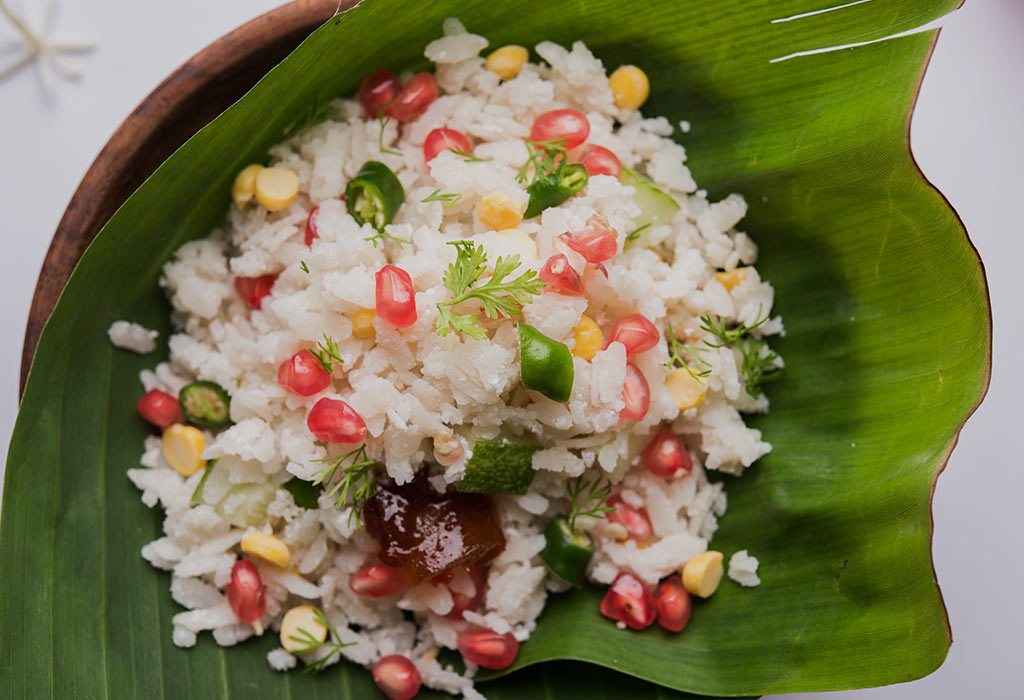 How to Make
Wash the poha well and soak it for some time.
Take a bowl of fresh curd and add 2 tbsp of poha to it.
You can also add jaggery for taste and fruits like a mashed banana will make it a nutritious item for your little one.
Poha Recipes for Toddlers and Kids
Toddlers and kids need nutritious and tasty food when they are at home or in the school. There is a lot of physical and mental exertion during this time and poha can prove to be a wonderful snack that will fill their tiny tummies. Check the following recipes to help you provide good nutrition to your child during his growing years.
1. Healthy Poha
This is the best snack to give your child as a school snack or an after-school snack too. Yummy and healthy, it makes a wonderful combination for kids.
What You Need
1 cup Poha
1 medium sized Onion chopped
1 tbsp roasted Peanuts
1 tsp Lemon juice
1 tbsp roasted Oats
Green chillies, chopped
1 tsp Turmeric & Mustard seeds
2 tbsp oil
Salt
Coriander, chopped
Curry leaves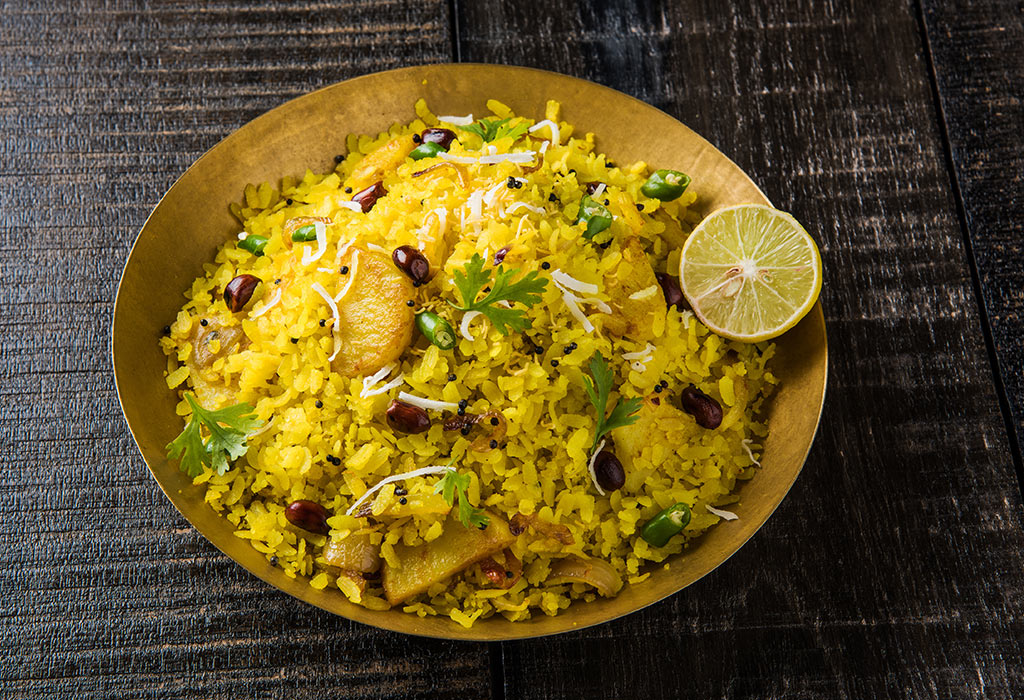 How to Make
Wash poha and let it soak.
Take a saucepan and heat it before adding oil.
Add the roasted peanuts first and keep them out.
To the heated oil, add mustard leaves, curry leaves and green chillies.
Fry some onions for a few minutes in the same pan.
Add peanuts, oats, salt, lemon juice and turmeric powder to it.
Then add poha and oats to this and mix well.
Cook it properly and serve hot.
2. Jaggery Poha
This can be served to kids as a breakfast or an early evening snack.
What You Need
½ cup Poha
½ cup Jaggery
1 tsp Ghee
Cashew
Coconut
How to Make
Soak poha in water till it becomes soft.
Make jaggery syrup in a hot pan by adding water and jaggery.
Use a strainer to strain the syrup of any impurities.
Add poha and the syrup to the pan and mix well.
Add ghee and chopped cashews/grated coconut (optional) and stir well till it mixes and then turn off the heat.
3. Poha Upma
If you want to make a different evening snack or a breakfast item for your toddler, nothing quite beats the Poha Upma.
What You Need
2 cups Poha
½ tsp Turmeric powder
2 tsp Lemon juice
2 tbsp Oil
1 tsp Mustard seeds
1 tsp Urad dal
Asafoetida
1 chopped finely Onion
Green Chillies – 2 chopped finely
Carrot
Ginger
Beans
Potato-chopped finely
Water – ¾ cup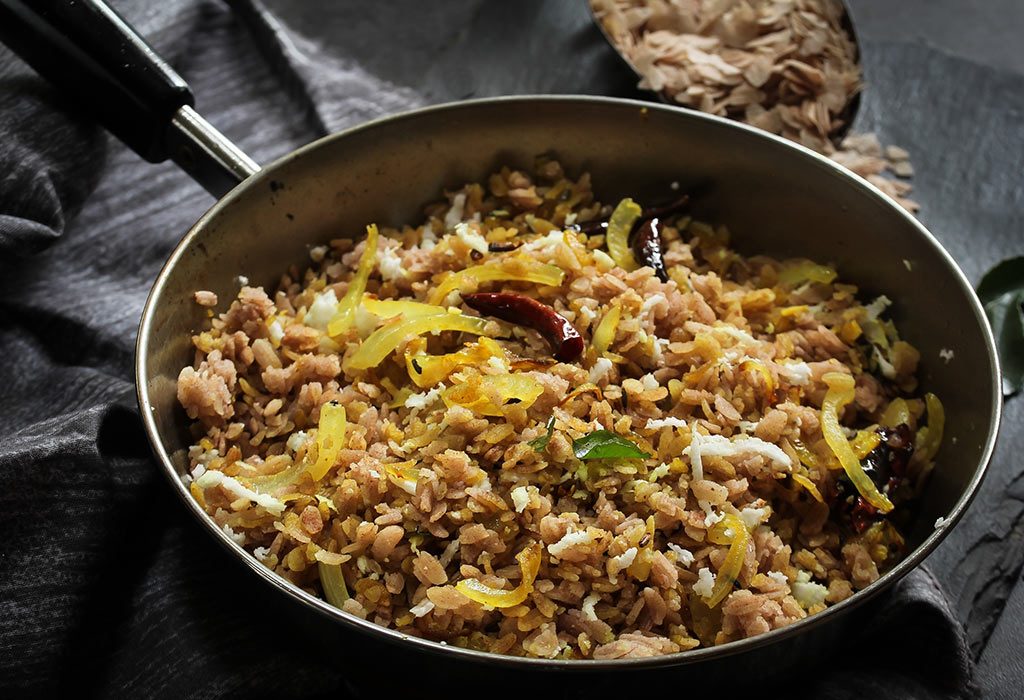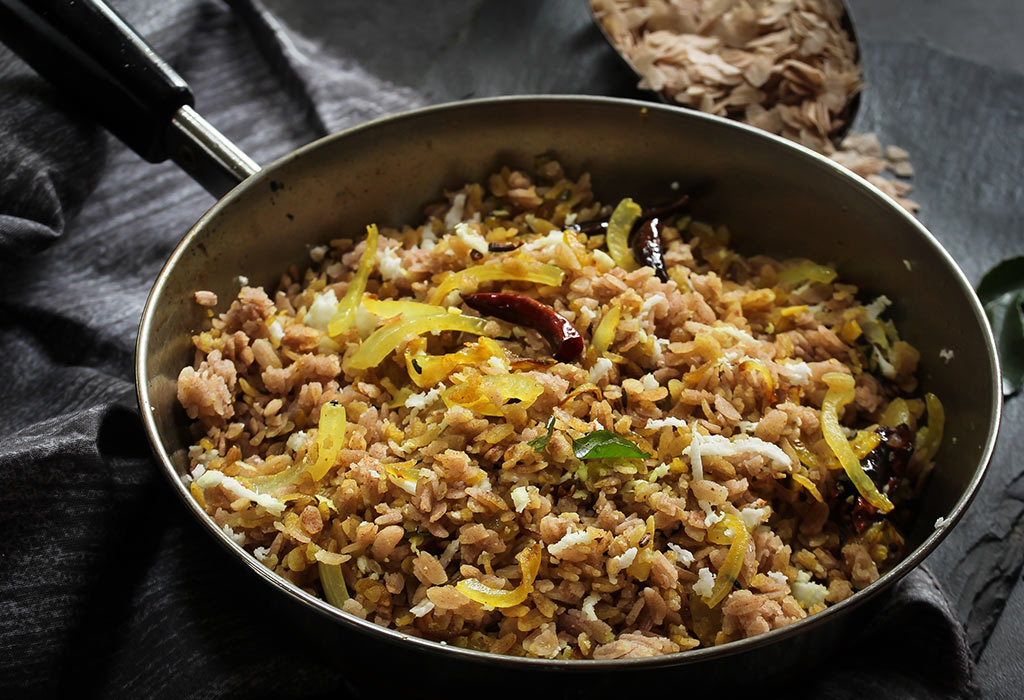 How to Make
Take poha, add water and squeeze out the water.
Heat oil or ghee in a pan, add mustard, urad dal and asafoetida.
Add ½ tsp turmeric, salt and lemon juice.
Add in onions, green chillies, ginger and saute for a min.
Add in salt and turmeric and mix well.
Add water, cover and cook.
Add poha and cook.
Serve hot.
4. Sweet Potato Poha
This healthy snack can be made in a jiffy during the morning rush to school or when your little one is hungry after school too.
What You Need
1 cup Poha
1 medium sized Sweet Potato
1 small Onion
Green chillies
Turmeric powder
Coriander leaves
1 tsp Lemon juice
Oil
Water
Salt
How to Make
Cut sweet potato into tiny cubes and chop the onion, green chillies and coriander.
Soak poha in water till soft.
Fry onions and green chillies and saute the cumin seeds in oil.
Add the sweet potato and poha, sprinkle salt over it and cook for 2-3 minutes.
Sprinkle lemon juice and serve hot.
With such an amazing range of recipes to be made from poha, you can already see your worries flying out the window, when it comes to feeding your kids. Healthy, tasty and quick poha recipes are ready to be tried out right now.