Grilled Carrot Coins Recipe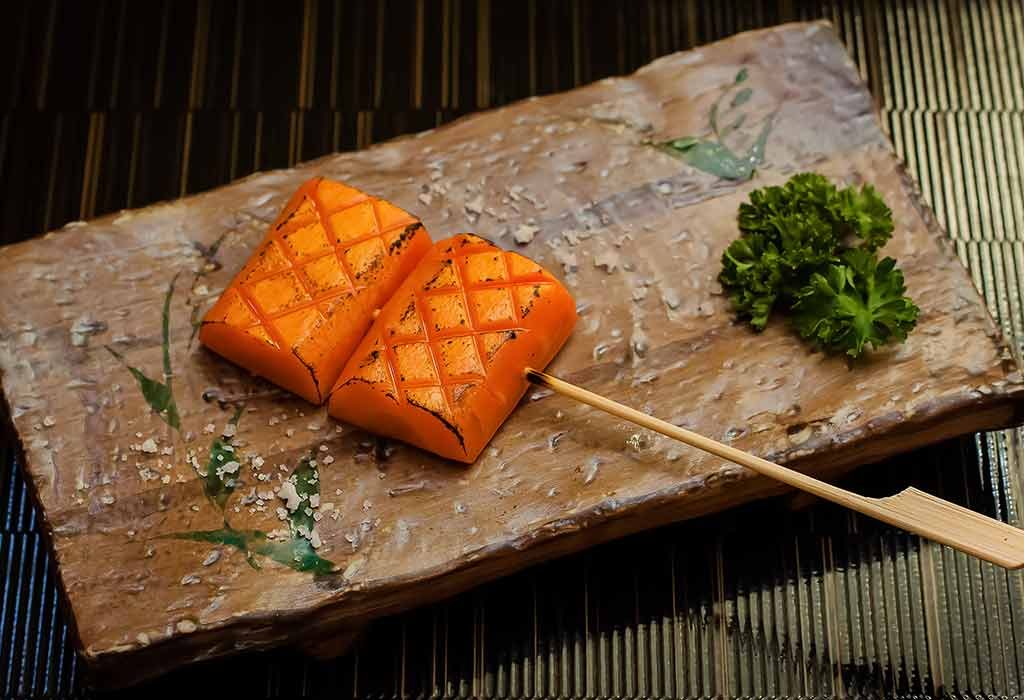 In this Article
Are you struggling to find ways to feed carrots to your munchkin? Worry no more! In this post, we have a very simple and easy to make recipe that includes carrot as the main ingredient. See your kiddo polish everything off the plate when you serve this simple Grilled Carrot Coins recipe. Browse and know how you can make this interesting recipe in no time!
Cooking Time
| | |
| --- | --- |
| Type | Time |
| Preparation Time | 00:10:00 |
| Cook Time | 00:20:00 |
| Total Time | 00:30:00 |
Cooking Method
Microwave
Type of Meal
Vegetarian and vegan
Suitable For (Optional)
Weaning babies who are more than 15 months of age
Meal Schedule
Mid Morning Snack or Evening Snack
Recipe Type
Appetizers
Ingredients
The table below mentions the main ingredients that are required to make Grilled Carrot Coins for toddlers:
| | |
| --- | --- |
| Ingredient | Quantity and volume |
| Carrots (medium-sized) | 6 to 8 |
| Salt | To taste |
| Olive oil | 1 tablespoon |
Instructions
Follow the step by step directions to make this simple yet highly nutritious recipe for your munchkin!
Wash the carrots thoroughly by scrubbing them gently to get rid of any stains of soil and dirt.
Discard both the ends and peel the carrots to get rid of the harder outer layer.
Slice the carrots into roundels.
Put the sliced carrots in a bowl, add salt and olive oil. Mix well.
Take a large baking dish and spread the carrot roundels evenly on it.
Preheat the oven at 375 degrees Fahrenheit.
Grill the carrots for 20 minutes or until they turn brown.
Serve after cooling.
Recipe Tips
Now that you know how to make Grilled Carrot Coins, you can take note of the following tips to master the recipe!
Make sure you cut the carrots coins in equal sizes. This because equally cut pieces tend to cook at the same time, which means the same taste in all the coins.
Spread the carrot coins evenly and make sure you do not stack one on top of another.
You can sprinkle some sesame seeds, cinnamon powder, cumin powder or other such kinds of seasonings when making coins for older kids.
Make sure the carrots are tossed nicely with salt and olive oil if you feel; you may add some more oil.
You can also chop the carrots lengthwise and make carrot fingers for babies.
If you have some leftovers, you can store them in a zip lock bag or an airtight container for up to 4 to 5 days.
You can serve the coins with a homemade dip or chutney.
Nutrition Information (Per 100 Grams)
The table below mentions the tentative nutritional values present in homemade Grilled Carrot Coins baby food recipe
| | |
| --- | --- |
| Nutrient | Value |
| Carbohydrates | 10 grams |
| Protein | 2 grams |
| Vitamin C | 6 grams |
| Iron | 0.5 grams |
| Sugar | 5 grams |
| Vitamin A | 750 IU |
| Calcium | 31 milligrams |
| Dietary Fibre | 3 grams |
| Sodium | 350 milligrams |
| Energy | 70 Cal |
These are the approximate values present in 100 grams of grilled carrot coins and actual values can vary.
Health Benefits
Your munchkin can benefit greatly by eating grilled carrot coins. This section talks about some of the health benefits that your little one can derive by snacking on this delectable recipe:
The crunchy and juicy carrots are loaded with ample vitamins and minerals that help in strengthening the immune system of babies.
The high fibre content is good for your baby's digestion and helps in keeping digestive issues at bay.
The presence of antioxidants such as beta-carotene, zeaxanthin, and lutein helps encourage healthy eyesight and maintain overall eye health.
Munching on these juicy and crunchy delights is great for kid's teeth too. It also helps scrape off plaque and food particles from kid's teeth.
Buying Guide
Here are some handy tips that you should keep in mind when picking up carrots for your toddler:
Buy carrots that look fresh and crunchy, refrain from picking shriveled or dried ones.
Carrots are often sold with their greens intact, check that the greens are fresh and not wilted.
As much as possible, buy organic carrots to make this recipe. Organic carrots are grown organically without the use of any harmful pesticides or insecticides.
Carrots are not only power-packed with nutrition but this yummy bright coloured vegetable can be turned into many interesting and mouth-watering recipes for your baby. Try this Grilled Carrot Coins recipe and introduce your baby to the yummy world of carrots!