Cheesy Potato Recipe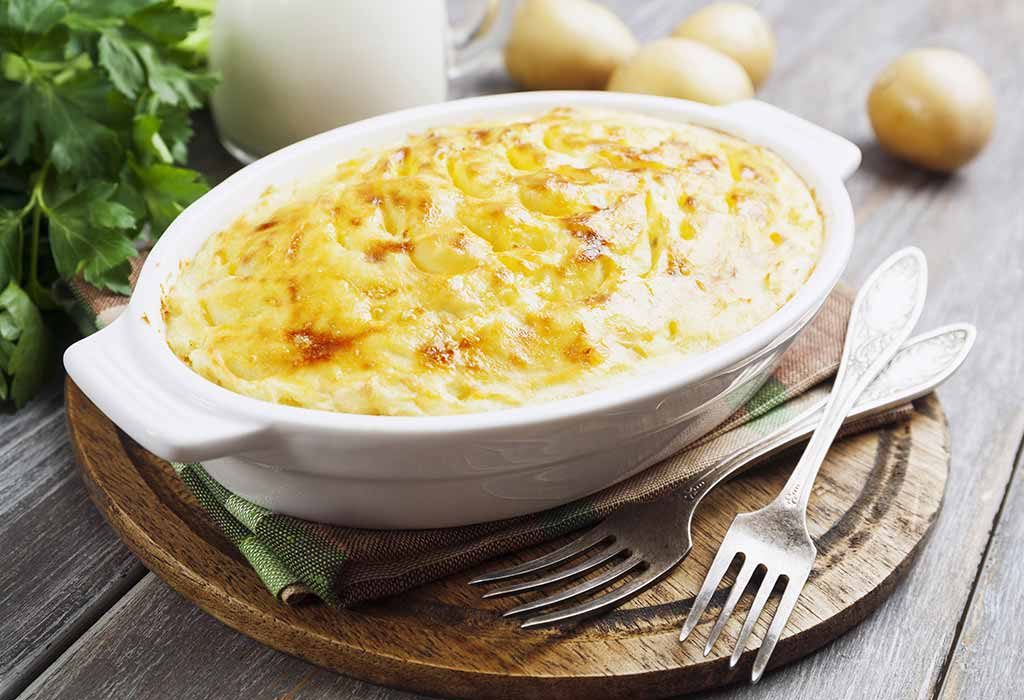 In this Article
A recipe loaded with the goodness of carbohydrates, cream, and cheddar cheese- easy Cheesy Potato recipe is sure to become one of your favourites in your kid's meal plan. The blend of mashed potatoes coupled with the richness of cheese makes it a favourite with kids as well!
Cooking Time
| | |
| --- | --- |
| Type | Time (hh:mm:ss) |
| Preparation Time | 00:15:00 |
| Cooking Time | 00:45:00 |
| Total Time | 00:60:00 |
Cooking Method
Gas Stove or Oven
Type of Meal
Vegetarian
Suitable For
Any baby older than 8 months of age
Meal Schedule
Accompaniment, Lunch or Dinner
Recipe Type
Main meal or side dish during main meal
Ingredients
| | |
| --- | --- |
| Ingredients | Quantity and Volume |
| Potato | 4 medium sized |
| Butter | ¼ cup |
| Sour Cream (optional) | ¼ cup |
| Cheddar Cheese | 2 cups |
| Salt | To taste |
Instructions
You must be wondering how to make Cheesy Potato for your baby. Well, the good news is that you can make it either on the gas stove or the oven. If you wish to serve it as a casserole dish, then bake it in the oven. If not, just cook it on the gas stove and serve hot. Follow this step by step guide and you are sure to be on the road to success with this recipe.
Wash, peel, and chop the potatoes. Bring water to a rolling boil in a heavy-bottomed pan.
Put the potatoes in the water, simmer the stove for about 12-14 minutes. Pierce a fork in the potatoes to check if they are done. The potatoes must be well-cooked.
Drain the potatoes and empty them in a vessel.
Melt the butter in a large pan, add the sour cream, boiled potatoes and blend well.
Once they are blended, add the cheese and combine until it comes together.
Turn off the heat and serve hot.
If using an oven, then grease a baking tray. Pre-heat the oven at 375 degrees for about five minutes. Once you have prepared the boiled potatoes, mash them and spread them on the baking tray. Top the dish with grated cheese and place the tray in the oven.
Cook for about 5-10 minutes until the cheese melts.
Recipe Tips
A few important things to remember when making Cheesy Potato for babies.
Wash the potatoes well as sometimes the potatoes will have mud on them.
Buy good quality cheese. Cheddar cheese is the best for this recipe. If you are not able to buy it then you can use any other kind of cheese.
Grate the cheese well so that it melts well and blends with the potatoes.
You can avoid using sour cream. You could replace sour cream with milk if you wish.
If you want the potatoes and cheese to blend well, then you can mash it with a masher.
You could try this recipe with sweet potato too. It tastes equally good.
Nutrition Information (Per 100 Grams)
| | |
| --- | --- |
| Nutrient | Value |
| Calories | 348 kCal |
| Protein | 13 g |
| Carbohydrates | 25 g |
| Fibre | 4 g |
| Fat | 23 g |
| Cholesterol | 20 mg |
| Sodium | 488 mg |
| Potassium | 795 mg |
Health Benefits
The Homemade Cheesy Potato recipe has its own share of health benefits:
Rich in carbohydrates, potatoes are a great source of energy for kids.
Potatoes are also rich sources of Vitamin A, fibre, folate, and Vitamin B6.
Potatoes are rich in antioxidants that fight cancer-causing free radicals in the body.
Incredibly filling, potatoes are good for the digestive system.
Cheese is a vital source of calcium and great for the bones and teeth.
Cheese tends to reduce the risk of cavities in children if eaten regularly.
Buying Guide
Make sure you buy good quality potatoes without any sprouts on them.
Buy cheese in packaged form and check the expiry date on the cover.
Use good quality butter with this recipe as it will enhance the taste.
Make sure you wash the potatoes in cold water and boil them in clean water. It is advisable to boil the water in which you will boil the potatoes.
The best food to introduce to your kids when they start on solids are vegetables. Safe, healthy, and nutritious, they can never go wrong. Once you have introduced them to the vegetables, you can try combining the cheese and add a little fat to their diet. It is difficult to decide the kind of food that you need to serve your toddler, especially when they are on a solid diet. This fool-proof dish is a sure hit and once served you will be serving it on the table almost every week.