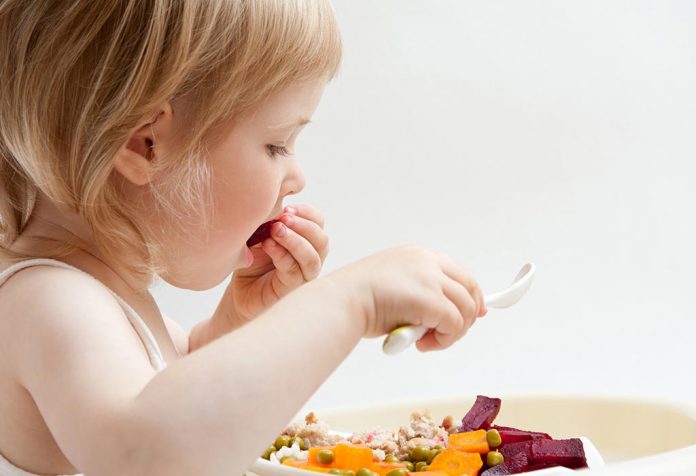 Last Updated on
If your little one is 18 months old, he won't be happy with his regular glass of milk and plain biscuits. At this age, your little tot wants more options in foods. As your little tot is growing up, his tastes and preferences will evolve too. He will be more than happy if you offer him a variety of foods. Introducing healthy snacks in his meal plan can go a long way in ensuring he meets his nutritional requirements as well as looks forward to mealtimes.
Video: Food Ideas for an 18-month-old Baby
Nutrient Requirements of an 18-month-old Baby
The nutrients your child will need at this age include the following. Make sure you make food which is rich in these nutrients.
Fats: Your little one's appetite would not be as high as it used to be earlier. Hence, it is important to ensure he gets the right amount of fat on a daily basis. A couple of servings of butter is a good way to make that happen. You can also give him ghee or butter.
Protein: Protein is an essential nutrient for a growing tot. It is important for the good health of your child's skin, hair, nails, muscles, and bones. So make sure you include protein-rich foods in your child's snacks and lunch. Some protein-rich foods that you can give to your toddler include dairy products, eggs, meat, nuts, beans, etc. Giving these foods in the right quantity will meet his protein requirements.
Calcium: Calcium is important for the development of teeth and bones. Some good sources of calcium include dairy products, broccoli, kale, etc. Milk is important for a growing child, so include milk in your child's diet. While whole cream milk is highly recommended, supplementary products such as cottage cheese or kefir can be good too.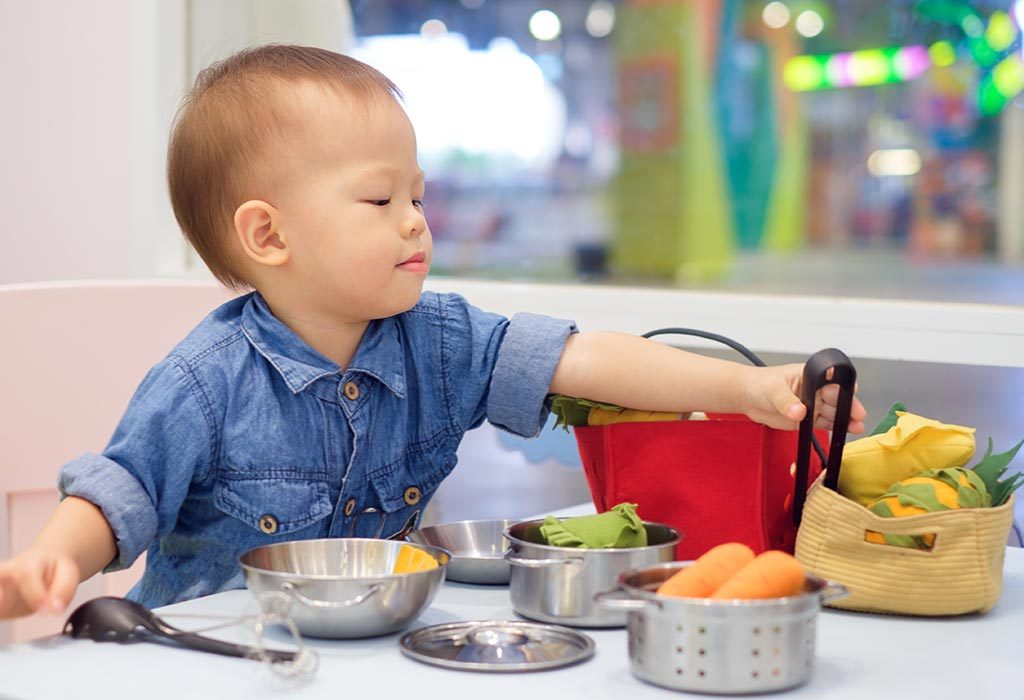 How Much Food Does Your Child Need at 18 Months of Age?
The quantity of food a toddler eats around this age is comparatively lesser than what he consumed earlier. Therefore, it is necessary to match a calorie intake of about 1.2 kilocalories than focusing on the quantity of food.
Best Foods for an Eighteen-Month-Old Baby
If you are looking for options in foods for your baby, you have come to the right place. Include the foods suggested below in your child's diet.
1. Milk
If you still breastfeed your child, then it is well and good. But once a day, you can give him cow's milk. Milk is essential for the healthy development of teeth and bones of your child, so make sure your little one drinks a cup of milk daily. He should learn to drink milk as well as water from a cup instead of a bottle now.
2. Fruits
Including fresh fruits in your child's breakfast is a great way to make sure his body gets the essential nutrients. Don't refrain from giving dry fruits as well as they are healthy too. Once in a while, you can give fruit purees, but don't give fruit purees or fruit juices on a daily basis as they are not high in fibre and won't be beneficial for your child's health. Give him cut fruits every now and then.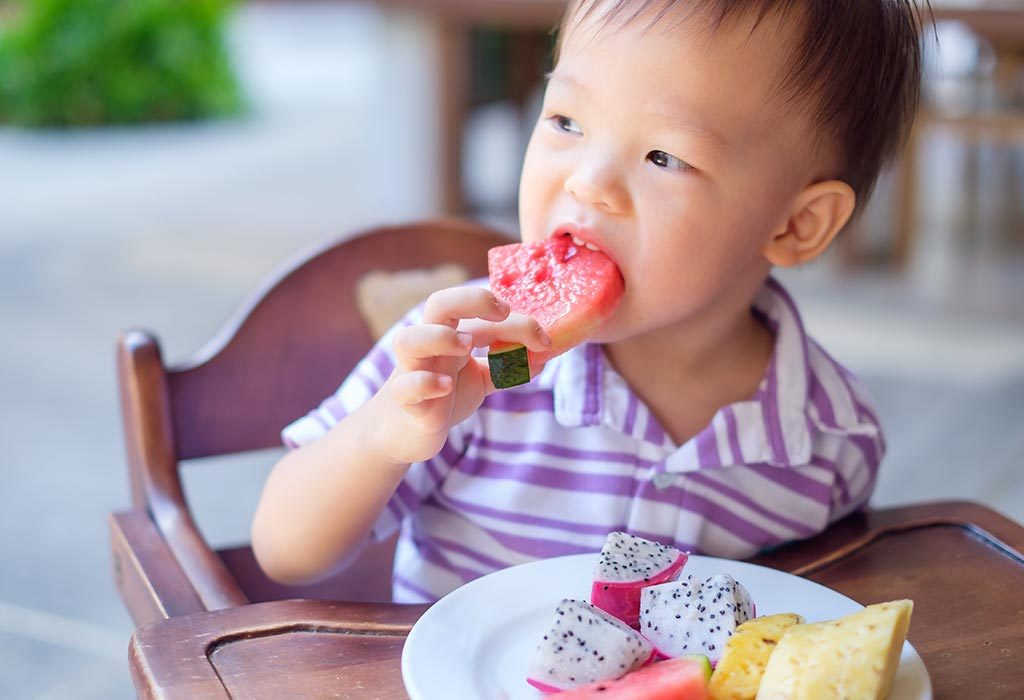 3. Vegetables
You must include veggies in your child's diet. If your child doesn't like vegetables, you can make finger food for him. You can make baked carrot sticks or mashed potatoes. Also, include leafy vegetables in his diet.
4. Meat and Nuts
While this combination might seem weird, pairing both these foods together can meet your child's protein requirements. You can give chicken or fish with soy chunks, sprouted beans, cashew nuts, and so on. You don't have to do this everyday; having this combination every alternate day of the week should benefit for your child. But if you notice any signs of food allergy in your child, stop giving these foods together.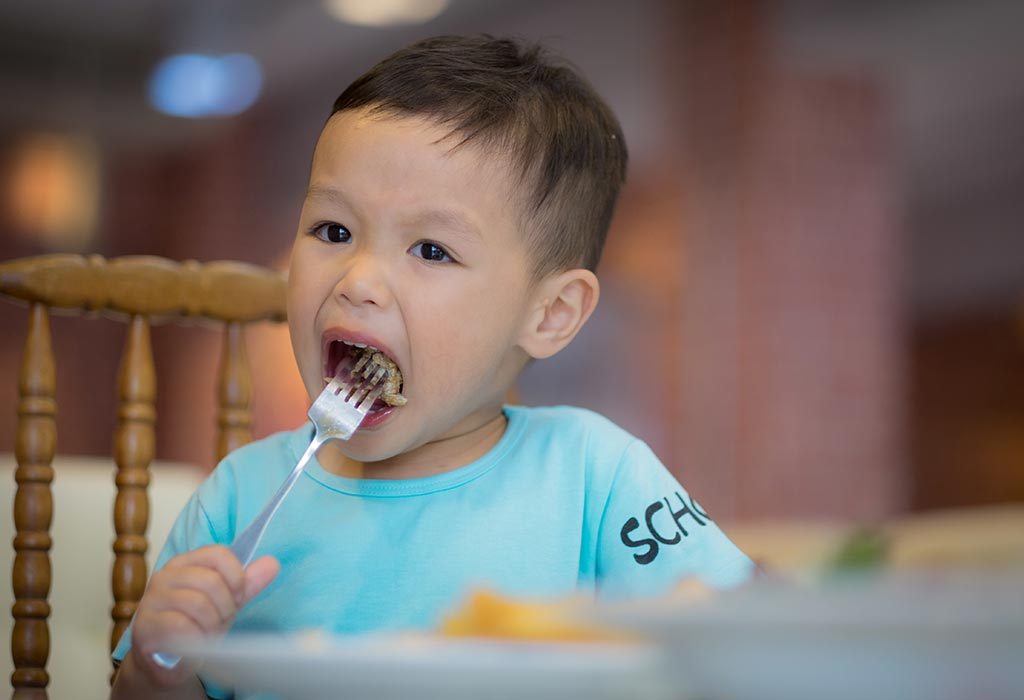 5. Bread
Avoid giving white bread to your kid as much as you can. Whole wheat bread should be your go-to option if you want to make sandwiches for him. You can also give him dry cereal or crackers instead of bread.
6. Ghee
Ghee is good for health and your child needs it in his growing years. So make sure you give him ghee daily. You can make parathas in ghee or even add it to khichdi. A dollop of ghee can be very nutritious for your child, so make it a part of his daily diet.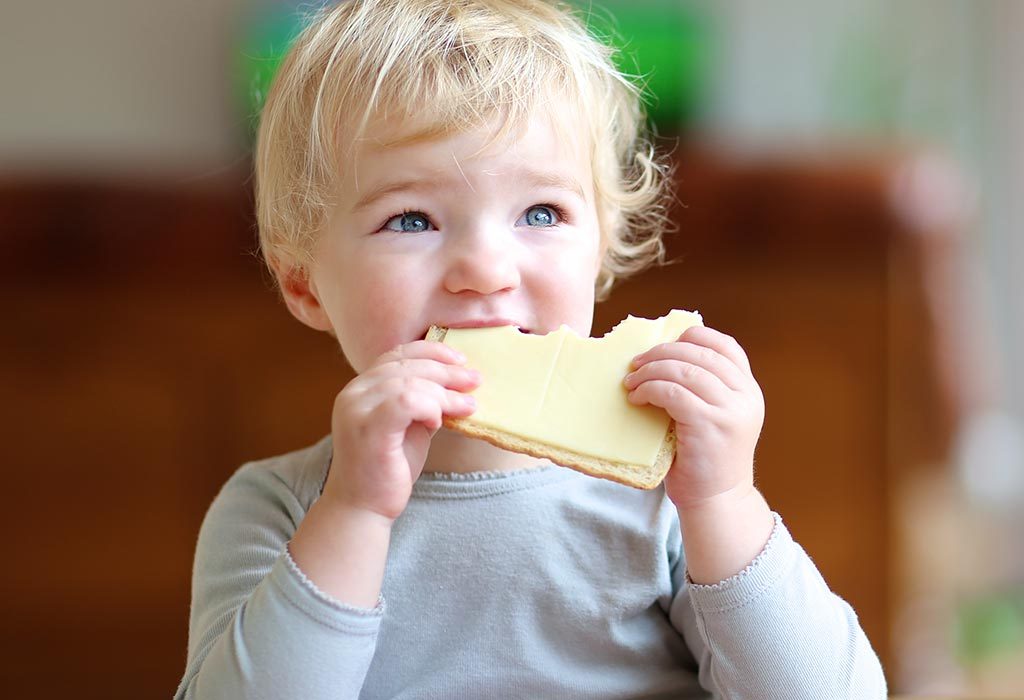 7. Jaggery
Instead of adding processed and refined sugar in your child's food, add jaggery. Jaggery is good for health and can make anything taste delicious.
8. Water
We know water is not a food, but it is important for your child. Make sure that your little one drinks enough water daily. You can also give him other fluids. There are chances of your kid suffering from digestive issues and health problems if his water intake is not enough.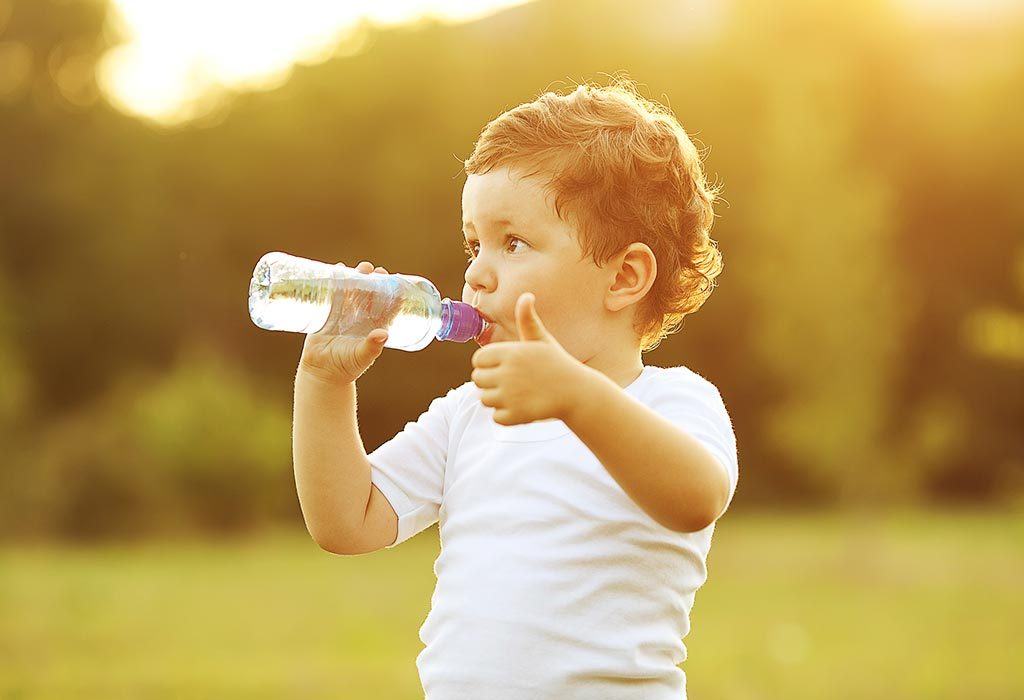 9. Cheese
Along with milk, you can also include other dairy products in his diet. Kids love to eat cheese and cottage cheese, so give these to your kiddo without worrying. Different varieties of cheese along with yoghurt provide probiotics and other nutrients that simple whole milk may not always do.
10. Whole Grains
The benefits of consuming whole-grain food items may not be visible instantly but they take place internally over time. Instead of giving him calorie-rich cereals or white bread, give him whole wheat bread or whole-grain cereals.
A Sample Food Chart for an 18-Month-Old Baby
Here is a sample chart that you can refer to for making a healthy meal plan for your eighteen-month-old toddler. However, it is recommended that you consult a doctor or an expert before giving him something new. You can make some changes in this plan and create a meal plan that suits your 18-month-old toddler.
| | | | | | |
| --- | --- | --- | --- | --- | --- |
| Day | Breakfast | Snack | Lunch | Snack | Dinner |
| Monday | Idli and chutney | Banana pieces | Vegetable khichdi and curd | A glass of milk | Paneer paratha |
| Tuesday | Upma | Orange chunks | Peas and cauliflower curry with rice | A glass of milk with almonds | Masala dosa |
| Wednesday | Peanut butter and jelly sandwich | Pieces of a guava | Khichdi with masoor dal | Smoothie | Veggie khichdi and curd |
| Thursday | Oats porridge with pieces of apple | Kiwi chunks | Roti, dal, and kheer | Soybean cutlets | Vermicelli |
| Friday | Pancakes and milkshake | Strawberry chunks | Methi paratha | Mini pizza | Roti and mutter paneer |
| Saturday | Besan cheela | Watermelon pieces | Masala bhindi, rice, and dal | Chikoo milkshake | Roti and chicken curry |
| Sunday | Egg or paneer bhurji sandwich | Papaya chunks | Spinach and moong khichdi | A glass of milk with almonds | Banana dosa |
Your little one should also have at least half a glass of milk every day.
Video: Food Recipes for an 18-month-old Baby
Food Recipes for an 18-month-old Baby
Coming up with new breakfast ideas or novel plans for dinner can be difficult when you have to do it daily. So here are some recipes of some dishes that your child will love to eat.
1. Soybean Cutlets
You might have made bread cutlets often. How about this time you try something different? Make soy cutlets – your little one will love eating them.
Ingredients
Chopped onions – 1 cup
Oil – 2 tbsp
Chopped coriander leaves – 1 cup
Pepper – 2 tbsp
Salt to taste
Chaat masala – 1 tsp
Garam masala – 1 tsp
Boiled and mashed potatoes – 4
Bread crumbs – 1 cup
Soybean dal paste – 1 cup
Method
In a large bowl, mix the soy paste, potatoes, spices, coriander, and some salt. Mix the ingredients well.
Now, make small balls of the above mixture and flatten them to make cutlets. If they are loose, keep them in the fridge for 30 minutes. Next, coat them with the crumbs.
Add some oil to a pan and shallow fry the cutlets from both the sides on a medium flame.
Serve with tomato chutney.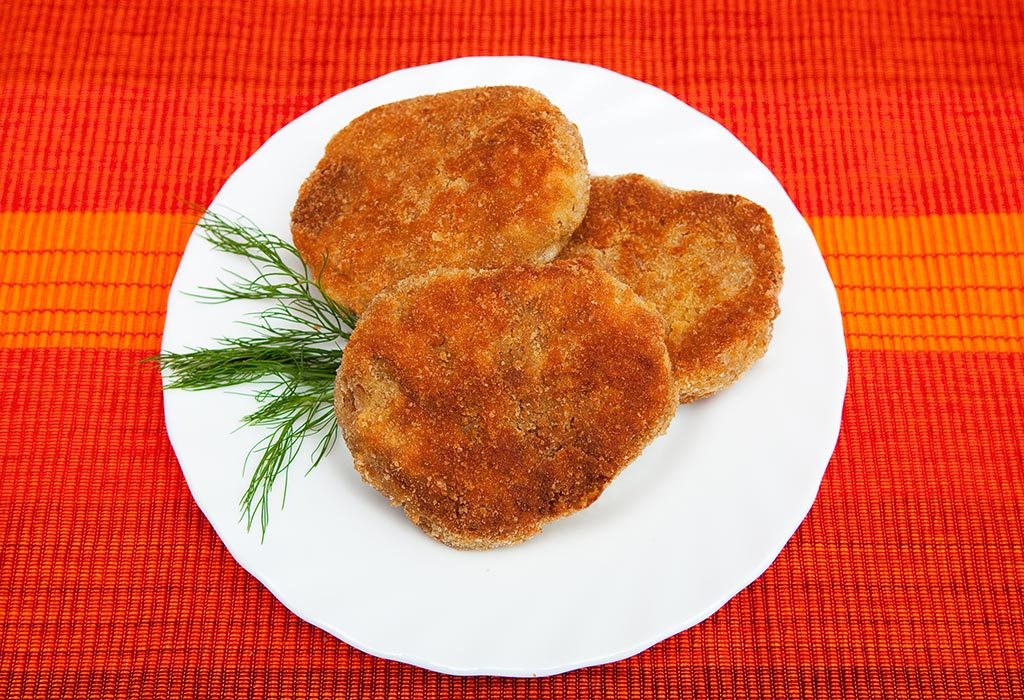 2. Besan Cheela
The versatility of this recipe is what makes it a great hit among children and adults alike.
Ingredients
Oil – 2 tbsp
Chopped coriander leaves – 1 small cup
Salt to taste
Water as required
Besan – 1 cup
Method
Take the besan and salt in a bowl. Add the coriander to it. Add water slowly and stir continuously to mix it well. Make sure no lumps are formed.
Heat some oil in a pan then pour a ladle or two of the batter on the pan – spread it evenly. Cook it well from both the sides – until it turns golden brown.
Serve with ketchup or yoghurt.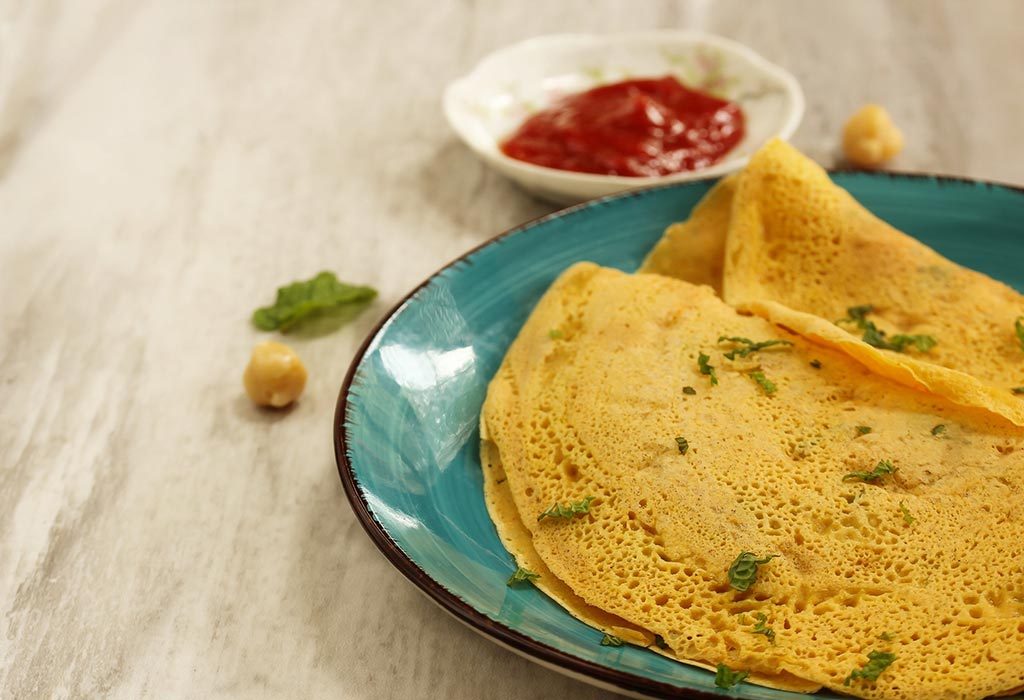 3. Banana Dosa
Banana dosa may sound strange but it tastes delicious. Here is how you can make banana dosas for your little one.
Ingredients
Ghee – 2 tbsp
Bananas – 2
Dosa batter – 5 cups
Method
Take peeled and mashed bananas in a large bowl. Add the dosa batter to this bowl and mix them well.
Heat some ghee in a pan and pour a ladle or two of the batter on to the pan, spreading it evenly to make a small circle. Add a little more ghee around the edges.
Cook the dosa on a medium flame then flip. Let it cook from both sides.
Serve with honey and let your child enjoy it.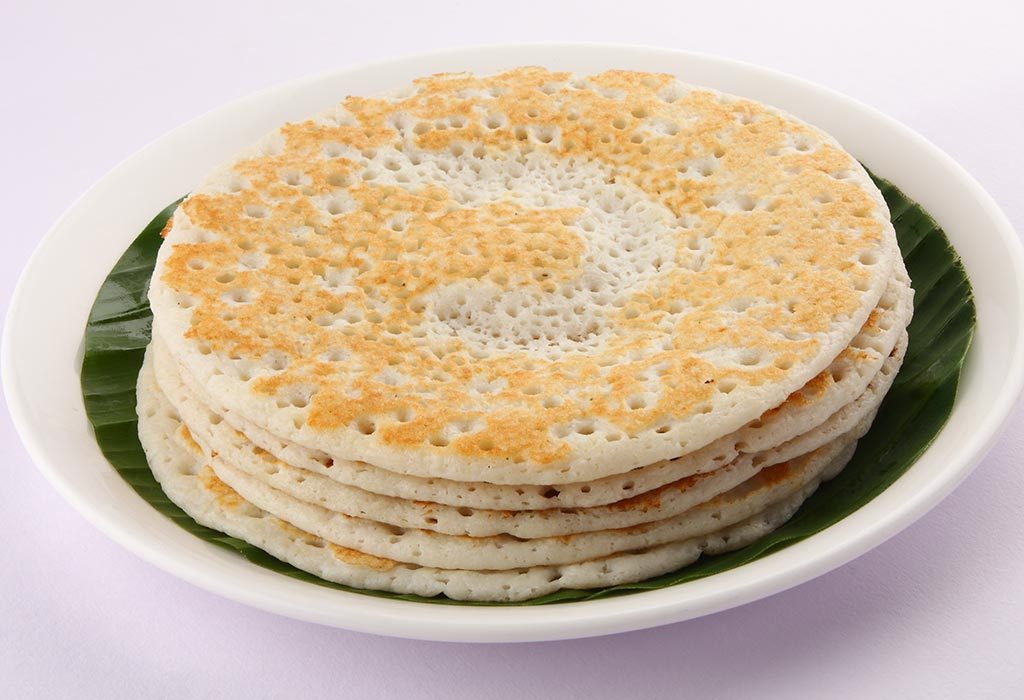 4. Oats and Apple Porridge
This breakfast recipe can be made for the entire family in a single go.
Ingredients
Jaggery or honey – 2 tbsp
Chopped apple – 1
Milk – 2 cups
Instant oats – 1 cup
Method
Cook together oats and milk in a deep pan. Stir it continuously for a few minutes.
Turn off the flame when it starts thickening. Garnish with apple pieces before serving.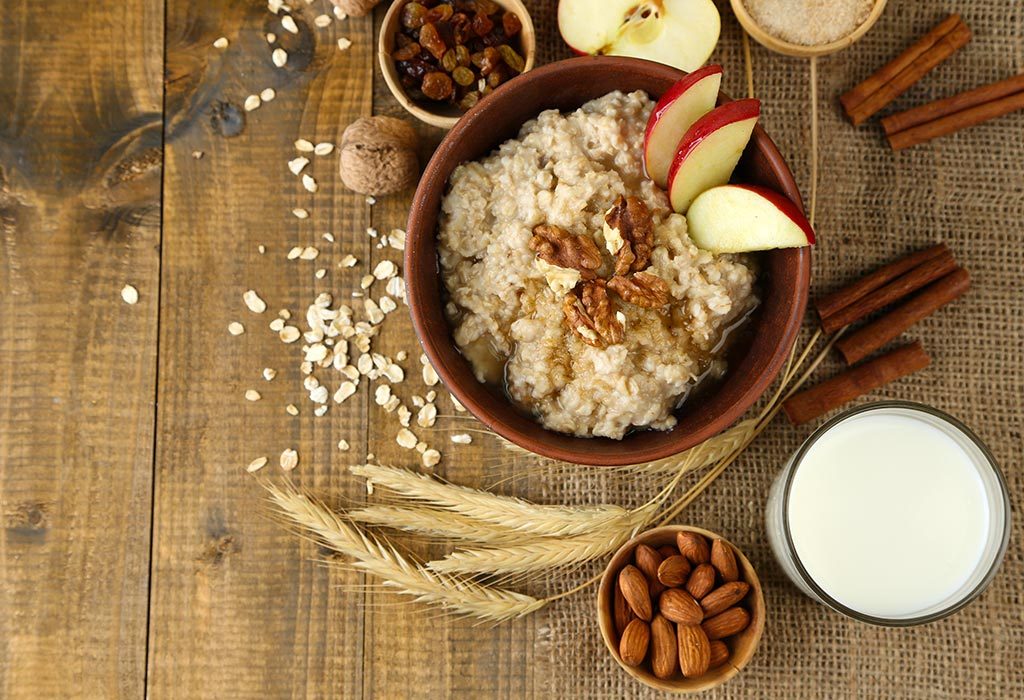 5. Spinach Moong Khichdi
Spinach moong khichdi tastes yummy and offers many nutritional benefits.
Ingredients
Ghee – 3 tbsp
Turmeric – 1 tsp
Cumin seeds – 1 tsp
Garlic (crushed) – 3-4 cloves
Spinach leaves (chopped) – 1-2 cup
Rice – 1 cup
Moong dal – 1/3 cup
Method
Wash the rice and dal in two separate bowls and strain the excess water. Keep them aside.
Heat some ghee in a cooker. Once the ghee is hot, add the cumin seeds.
Once the colour of the cumin seed changes, add in the crushed garlic and spinach. Add in turmeric and sauté.
Then add the washed and soaked dal to the cooker, followed by washed and soaked rice.
Add 2-3 cups of water and let it cook for five whistles. Mash it properly and add some ghee before serving.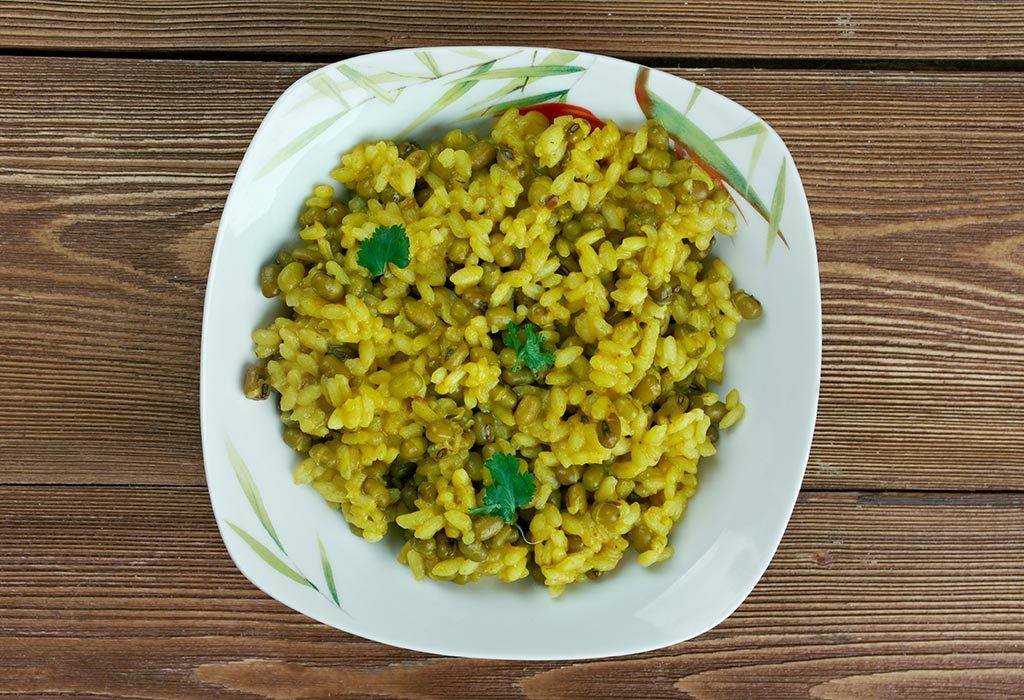 Tips to Feed Your Child
If your little one is a fussy eater and doesn't eat what's on his plate, here are some tips you can try to make him eat his food.
Lead by example – if you want your child to try a new vegetable or something else, eat it in front of him and say that it is delicious. When he sees you trying something new, he might be tempted to try that out.
Let your child play with food first. It is okay if he doesn't eat a veggie – let him play. In a few days, he will eventually put that veggie in his mouth, and you never know he might actually love its taste.
Give him small meals but frequently. If you serve too much he might not eat it.
Offer new foods every week this will evolve his taste palate.
Teach him to chew his food properly.
Use attractive cutlery and make the dishes look appealing if you want to make your child eat something new.
It is hard to make a child eat something if he is not in the mood to eat. But we hope the food mentioned in the diet chart will be liked by your kiddo. The diet chart mentioned in the article is a sample diet plan. You can tweak it as per your liking. A better option would be consulting a doctor before making your child try anything new. So talk to your doctor and find out what is best for your 18-month-old. Work out a plan with your doctor and give the best to him!
Also Read: 15 Healthy and Tempting Finger Foods for Toddlers