10 Healthy and Delicious Indian Food Recipes for Toddlers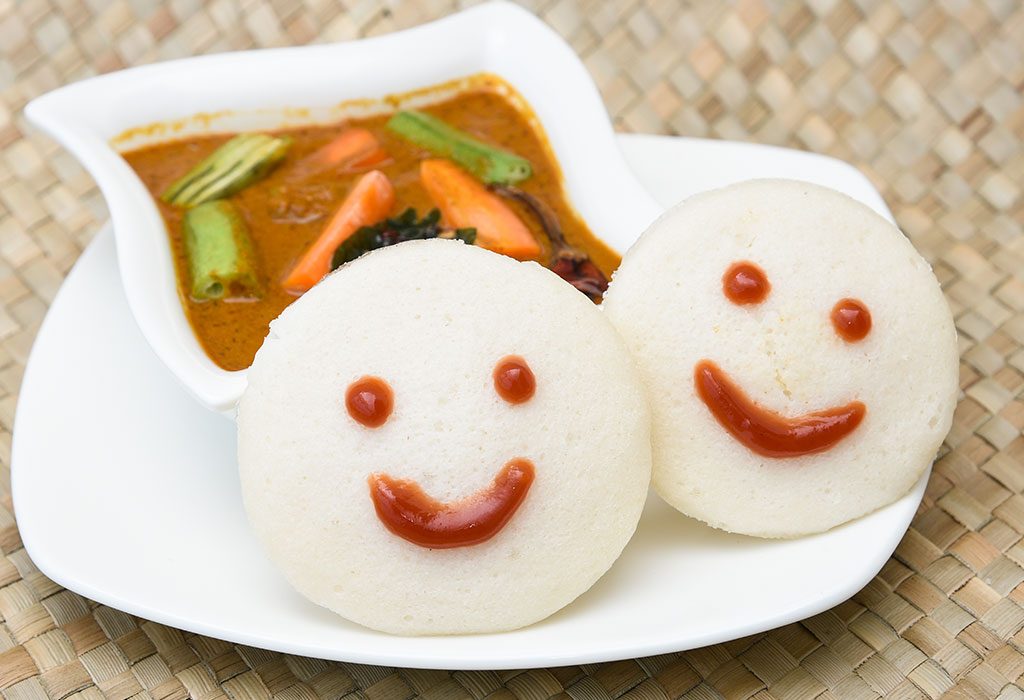 In this Article
Every parent wants their kids to develop healthy eating habits. But, toddlers can be very selective when it comes to food. Making them eat nutritious food can be challenging. Also, it takes some time to get them used to the various flavours of Indian cuisine. You may, however, start slow and introduce some recipes and slowly build his appetite for the Indian preparations. In this article, we shall share some easy yet delicious Indian recipes your little one is sure to enjoy.
10 Easy and Tasty Indian Recipes for Toddlers
These Indian recipes are easy to make and are sure to provide a tasty yet nutritious meal/ snack your munchkin is sure to love.
1. Methi Thepla
Methi thepla can be included in a meal and served with some curd or stir-fried vegetables. You can also make spread some ketchup over it and make a roll for your little one to bite on in between meals.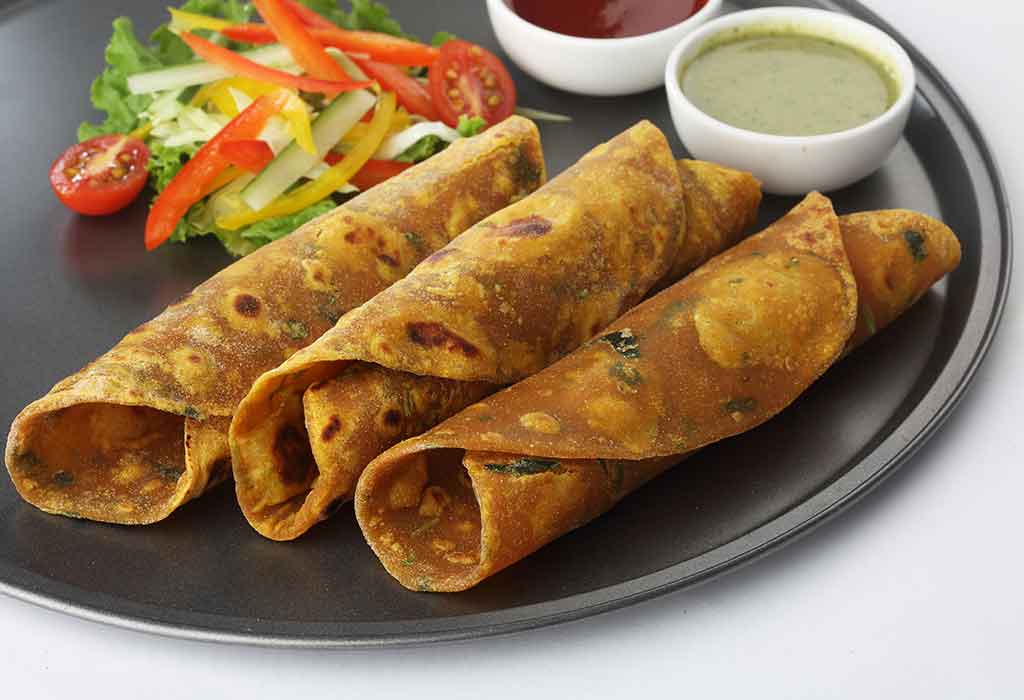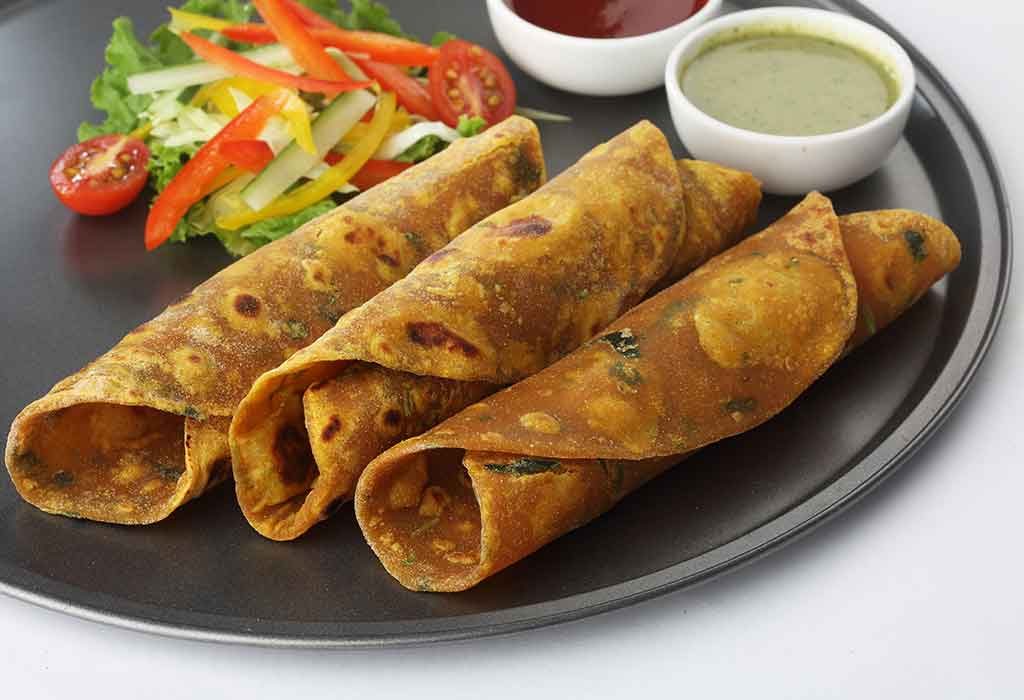 Ingredients
I cup methi (fenugreek) leaves, washed and finely chopped.
1 cup wheat flour
1/4th cup besan (gram flour)
1/4th cup bajra flour (pearl millet flour)
1/4th cup jowar flour sorghum flour (jowar flour).
1/2 tsp red chilli powder
1/2 tsp turmeric powder
1/2 tsp cumin powder
1/2 tsp coriander powder
1 tbsp oil
Salt to taste
1/2 inch ginger, crushed
1-2 green chillies, finely chopped
4 to 5 tbsp oil/ ghee
How to Prepare
Mix all the flours together.
Add the spices and mix well.
Add the methi leaves and mix again.
Add some water and knead it into a soft dough.
Roll out the theplas with a rolling pin.
Roast each thepla on a non-stick tawa on both sides till it's golden brown.
2. Sprouted Moong Dal Chilla
This recipe can be included for breakfast or as an evening snack. Moong dal chilla is a fantastic way to add some protein to your baby's diet.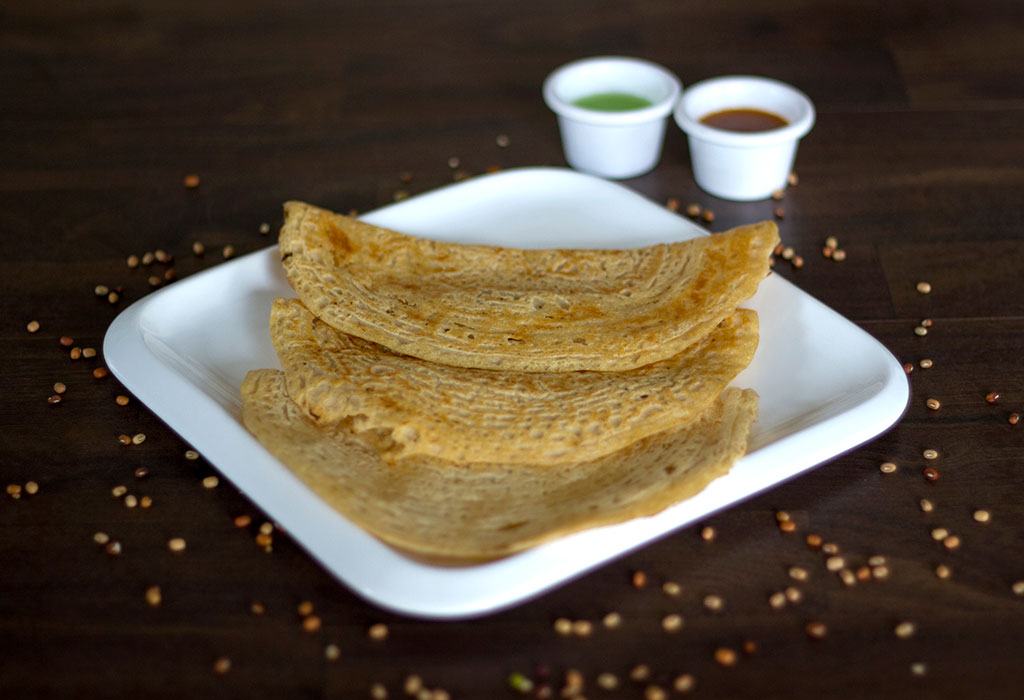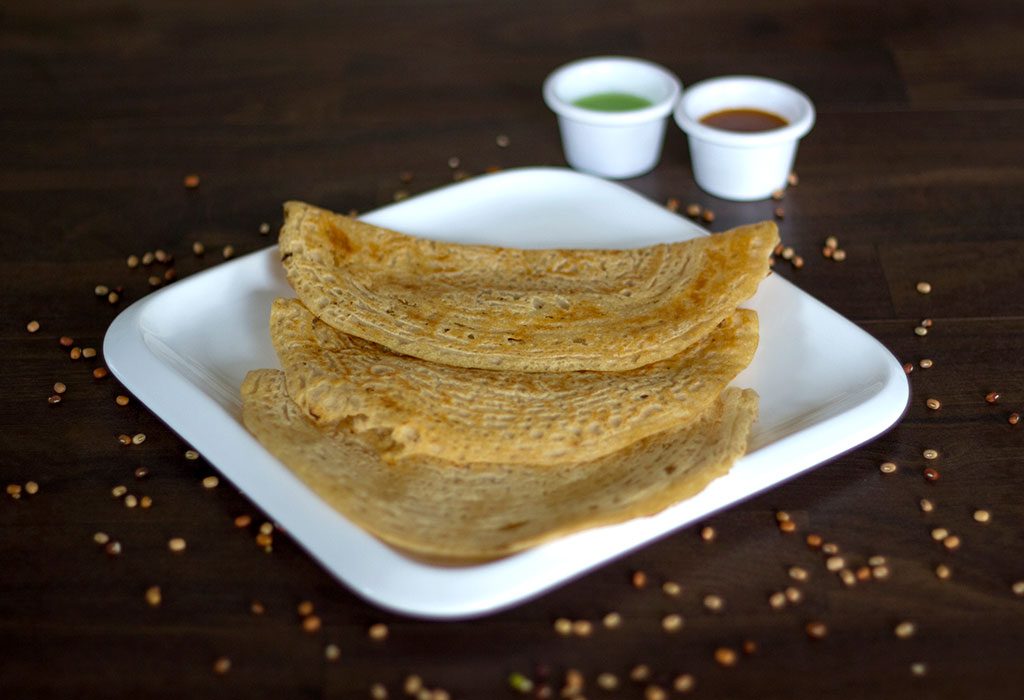 Ingredients
1 ½ cup sprouted moong dal
2 tbsp besan
2 tbsp suji powder
Coriander
Salt to taste
How to Prepare
Grind the sprouted dal and coriander. Add ½ cup of water to make a smooth paste.
Transfer the mixture to a bowl and add besan, suji and salt. Mix well.
Adjust the consistency of the mixture to resemble the consistency of dosa batter.
Take a non-stick pan, drizzle/ brush some oil all over the surface.
Place a greased cookie cutter on the pan and pour some batter into it using a spoon.
The batter will separate from the cookie-cutter as it cooks.
Remove the cookie-cutter and gently flip the chilla with a spatula. Cook the other side as well.
You may make the chilla without the cookie-cutter too.
Ensure the chilla is cooked till it's golden brown on both the sides.
3. Carrot and Beetroot Raita
This delicious raita with its bright colour can be a winner with toddlers. Add some freshness into your little one's meals with this delicious raita.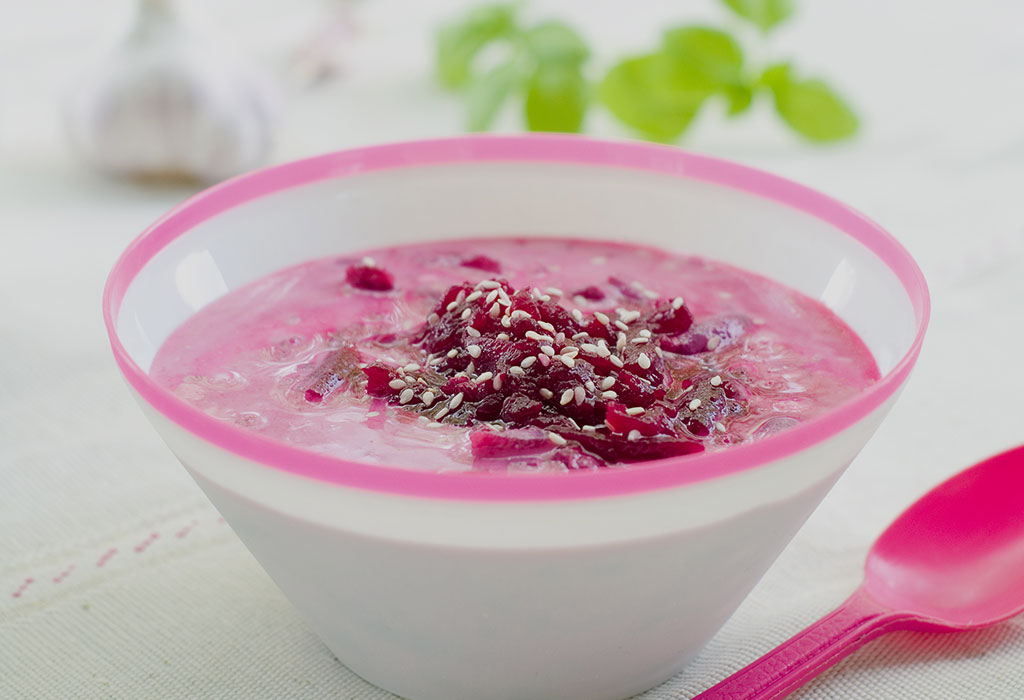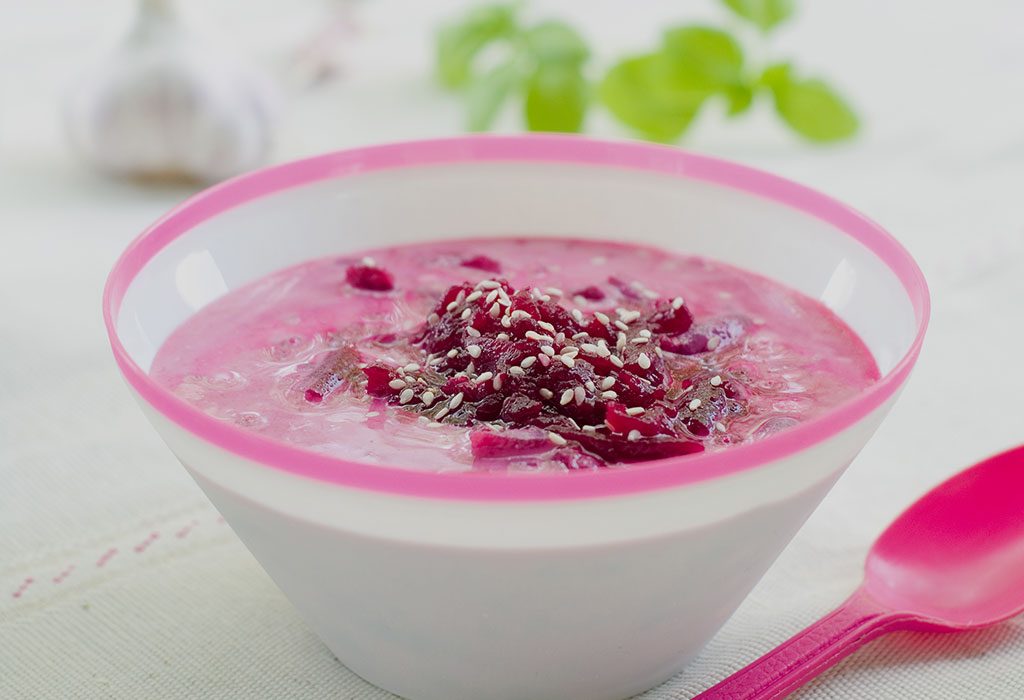 Ingredients
1 cup curd
1 small carrot, grated
1/2 beetroot, grated
1/2 tsp of roasted and powdered cumin seeds
Salt to taste
1/2 tsp sugar (optional)
How to Prepare
Whisk the curd till you get a creamy texture.
Combine all the other ingredients and mix well.
Serve the raita cold.
4. Dry Fruit Milkshake
This is a great way to provide the goodness of dry fruits. Most toddlers love milkshakes. Serve it in a fancy tall glass with some colourful garnish. YOu can also add a scoop of vanilla ice cream to make it even more irresistible for your little one.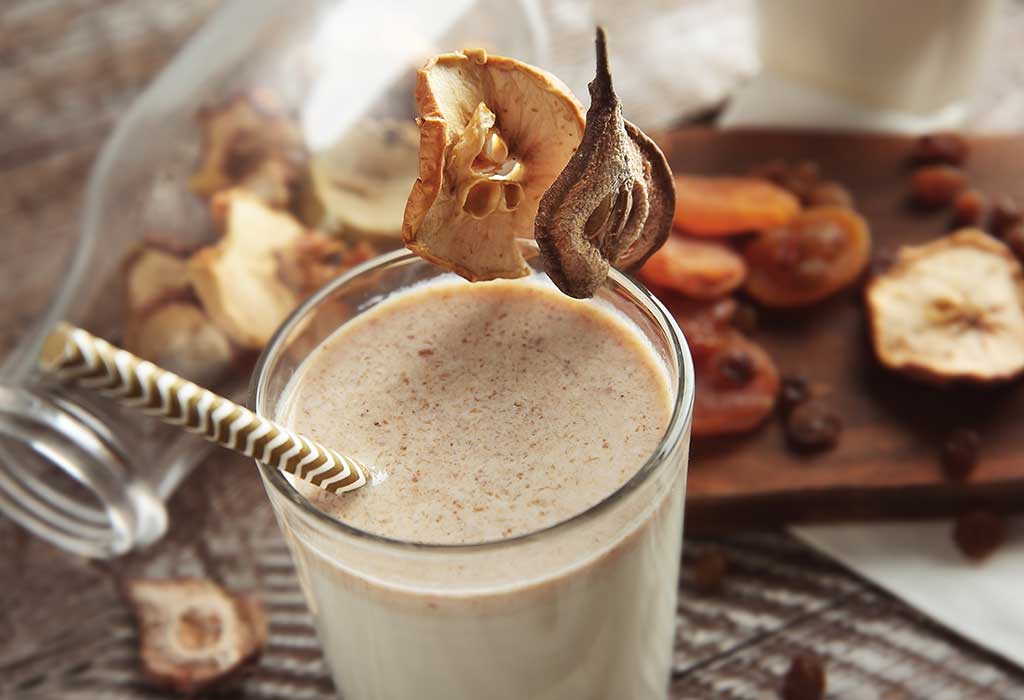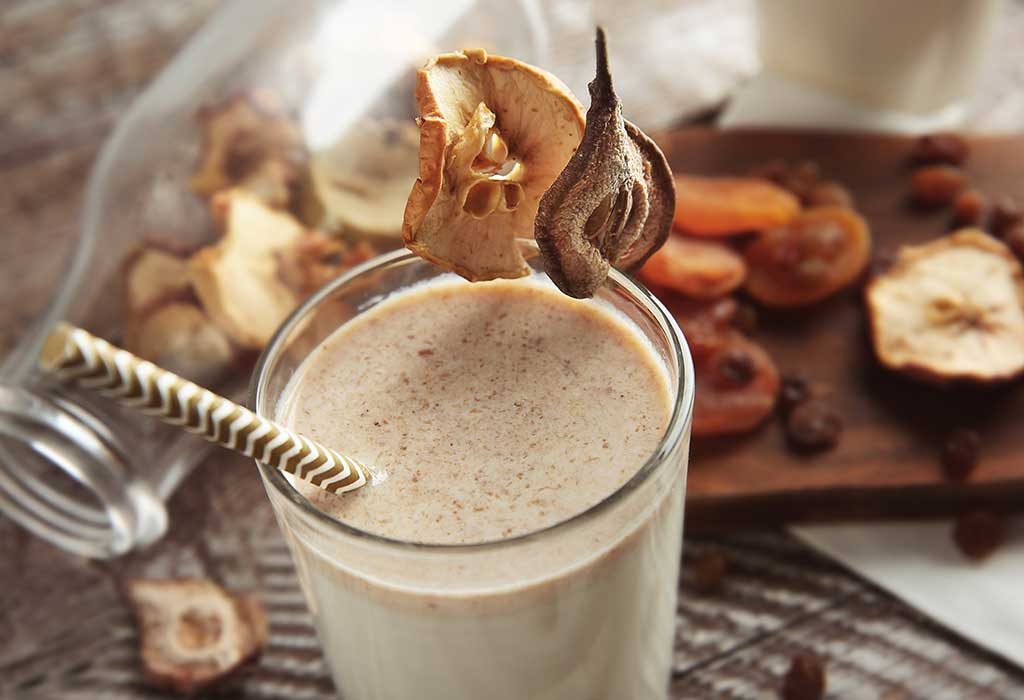 Ingredients
1-2 tbsp

almonds

1-2 tbsp

unsalted pistachios

1-2 tbsp

cashew nut

1-2 tbsp

raisins

7 to 8

dates

2 to 3

dried figs

2 to 3 threads of

saffron soaked in 1 tbsp warm milk

2.5

cups

chilled

milk/

soy milk

Sugar as per taste
How to Prepare
Soak all the dry fruits in warm water for at least 30 minutes.

Then, chop the soaked dates and the fig.

Grind all the dry fruits. Add some milk to make a fine paste.

Add the rest of the milk, some sugar if needed and blend the mixture.

Pour the milkshake in a glass and garnish with some chopped dry fruits.
5. Carrot and Spinach Puri
This puri recipe is a sure shot way to attract the picky eaters. It's natural red and green shades will make this recipe a hit among toddlers.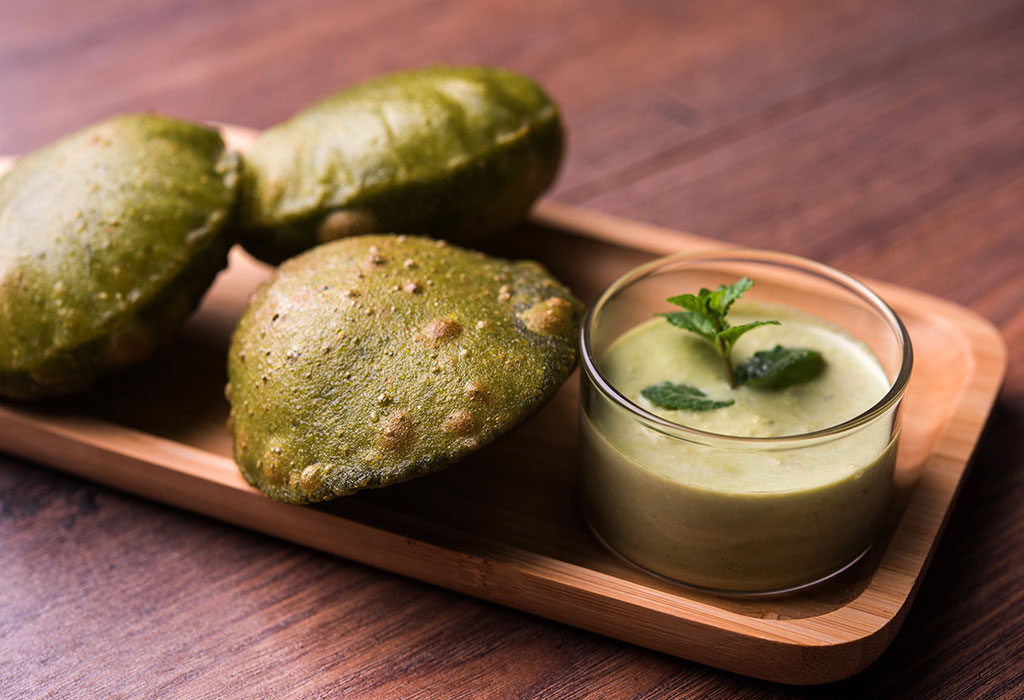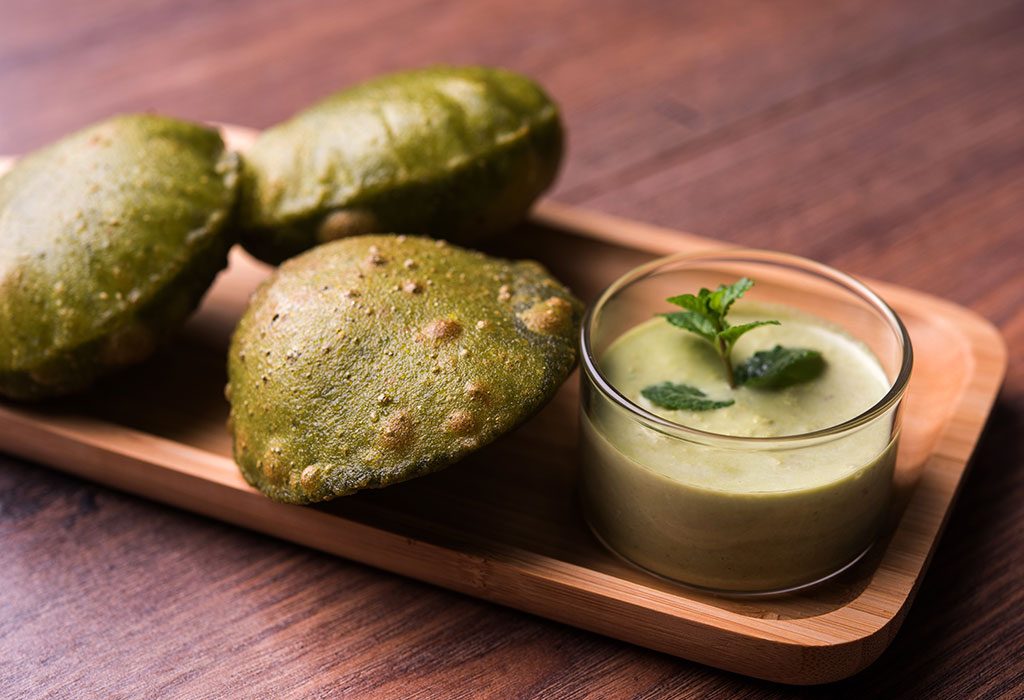 Ingredients
1/2 cup blanched and pureed spinach
1/2 cup carrot puree
A pinch of asafetida (hing)
A pinch of turmeric powder
1/2 tsp carom seeds (ajwain)
Salt to taste
1 ½ cup wheat flour
1-3 tsp oil for kneading
Oil for frying puris
How to Prepare
Add carom seeds and salt to the wheat flour and mix well.
Divide the flour into three equal portions.
Knead one portion with water into a stiff dough.
To the second portion of wheat flour, add the carrot puree and mix.
Add some water if required and knead it into a stiff dough.
Add the spinach puree to the third portion of wheat flour and make another stiff dough.
Use some oil in each dough but ensure the dough is stiff.
Take some dough from each portion and make small balls.
Roll out the three coloured balls to form thin rotis of about 5 inches in diameter.
Now, place the green roti on a flat surface, spread a little oil over it, then lay the white roti on it.
Spread some oil over the white roti and then put the orange-coloured puri on it.
Now, roll the three rotis from one end to form a tight roll.
Slice the roll into 1-inch pieces.
Take each piece and roll them out into puri.
Deep fry the puris in oil.
6. Banana Sheera
If your toddler has a sweet tooth, this recipe is perfect for him. Banana sheera is a great dish if your little one needs to gain some weight.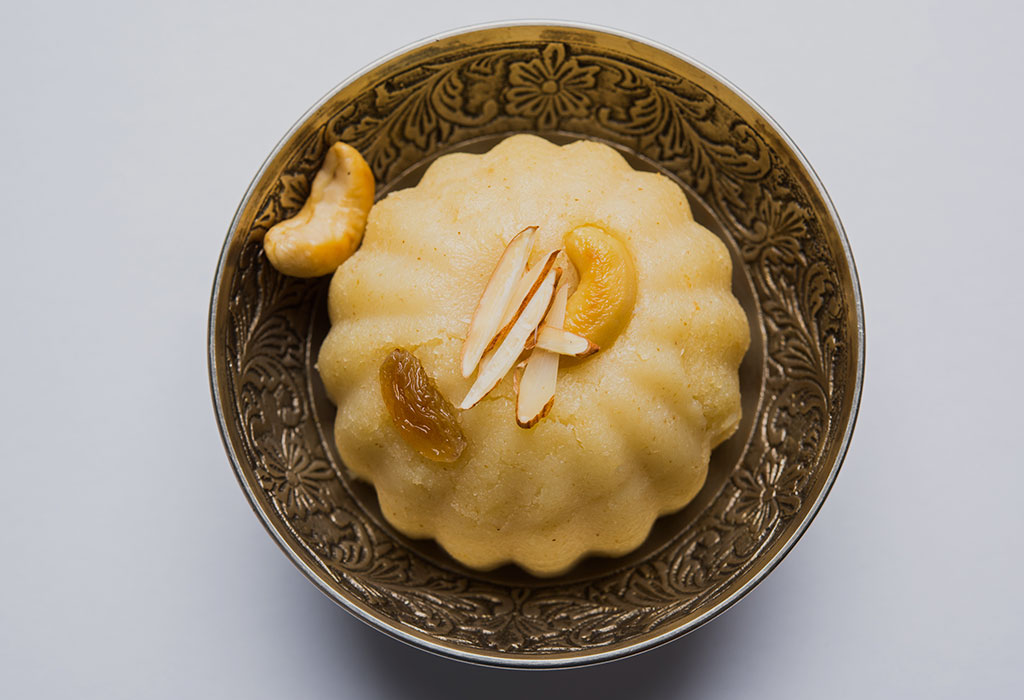 Ingredients
3 tbsp suji
Pinch of cardamom powder
½ cup milk
Bananas (3 small)
Desi Ghee
Water (if required)
How to Prepare
Add desi ghee to a pan and heat it.
Add suji and roast it till it is light brown.
Pour the milk and cook it until the mixture thickens a little.
Keep stirring the sheera as the milk could get burnt.
The mixture should have a runny consistency. Add some water/ milk if required.
Sprinkle the cardamom powder and mix well.
Turn off the heat.
Cut the banana into pieces and grind it to a smooth paste in a blender.
Combine this banana paste into the suji mixture and serve warm.
7. Mango Shrikhand
This delightful dish is sure to become your toddler's favourite. It can be eaten with puris, parathas, or just by itself. Even you wouldn't mind having a spoonful of mango shrikhand with your little one.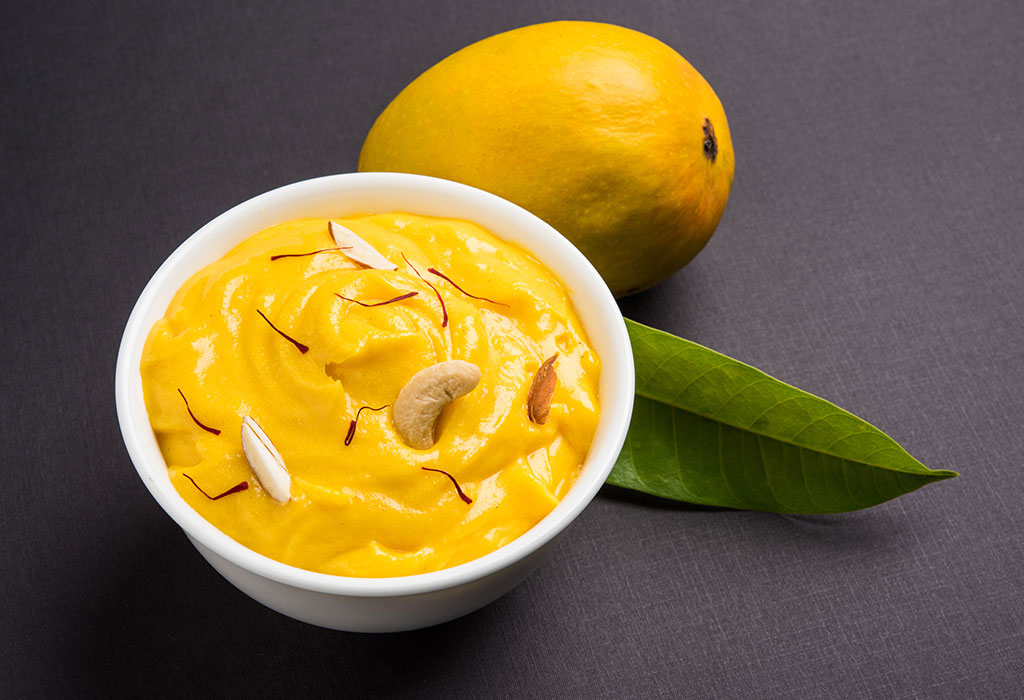 Ingredients
1 cup hung curd
1/2 cup mango pulp
1/2 tsp cardamom powder
1-2 tbsp sugar
How to Prepare
Blend the hung curd, mango pulp, cardamom powder and sugar to a smooth consistency.
Store it in the fridge in an airtight container.
Serve cold.
8. Jeera Aloo
This is a stir-fried potato recipe that is quick to make and a favourite among kids. Here's what you need to make jeera aloo.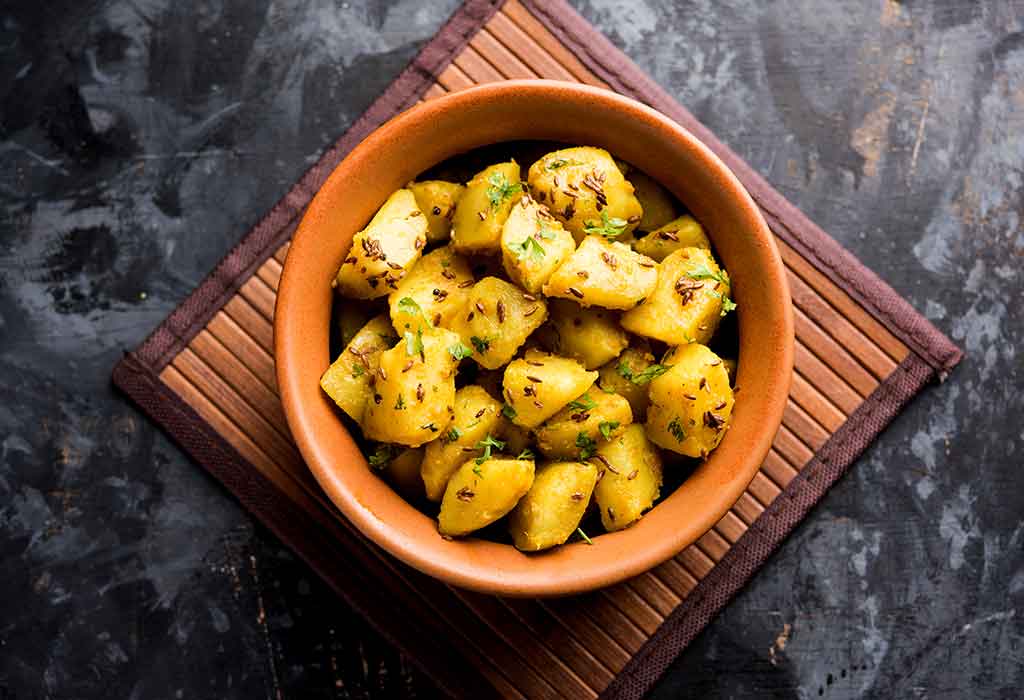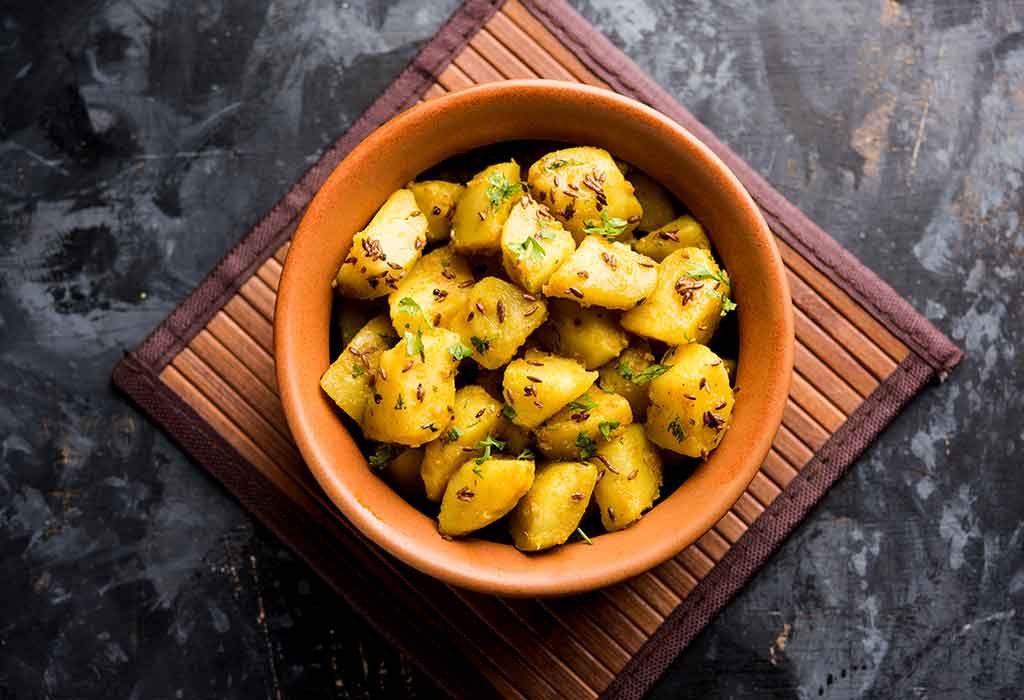 Ingredients
2 to 3 potatoes (pressure cooked for 2 to 3 whistles and chopped)
1/2 tsp cumin seeds (jeera)
1 tbsp oil
1 green chilly, finely chopped (optional)
A pinch of turmeric powder
How to Prepare
Heat the oil in a pan.
Add the cumin seeds and let them crackle.
As soon as the seeds crackle, add the chillies and stir.
Add the potatoes and mix.
Add the turmeric powder, some salt and mix again.
Cook it for another minute or so.
Serve with chapati, paratha or some puris.
9. Paneer Tikka
This recipe can be delectable finger food or a main dish your toddler can enjoy with a paratha. Let's find out what you'll need to make paneer tikka.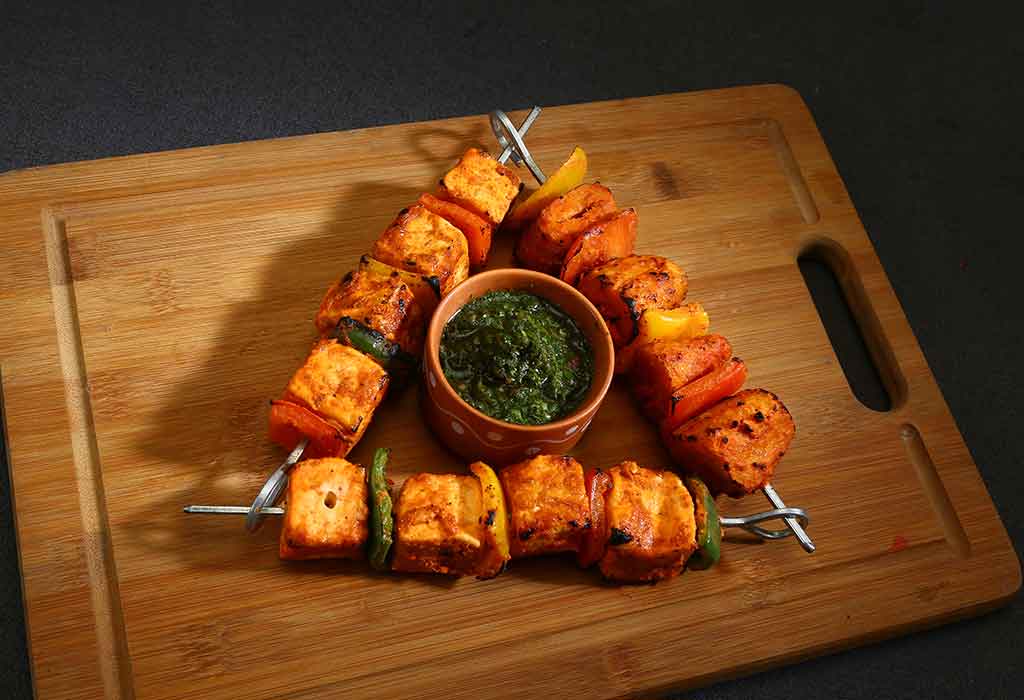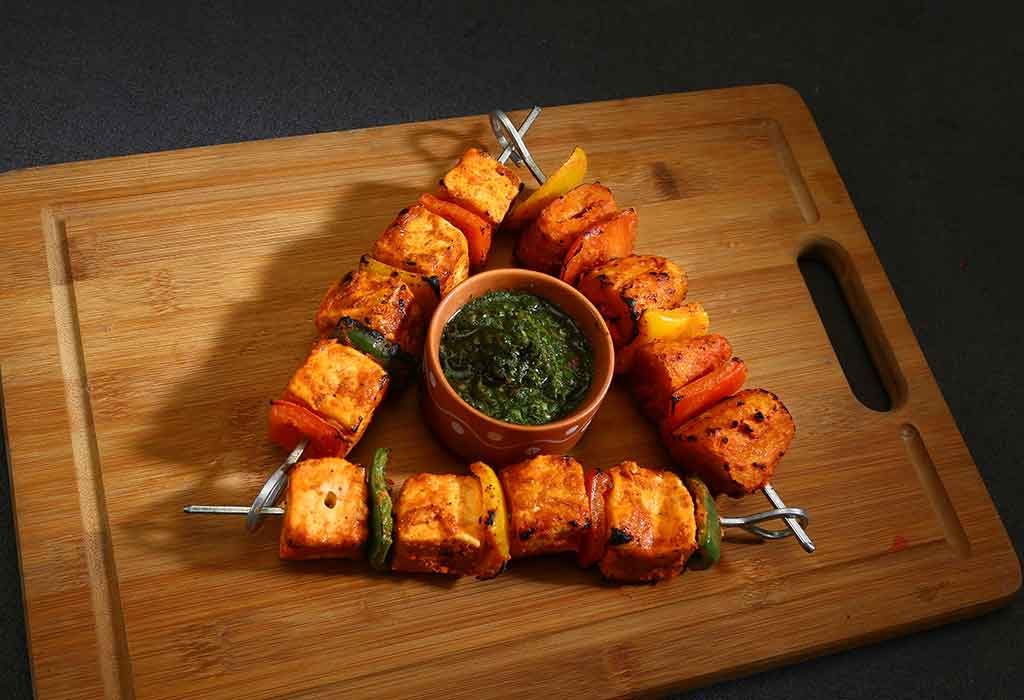 Ingredients
150 to

grams

paneer

(cottage cheese)

1-2

small capsicum (

Shimla mirch)

2 to 4 tbsp oil for shallow frying

1

tsp

ginger garlic paste

1

tbsp

besan

(gram flour)

A pinch of

turmeric powder

A pinch

red chilli powder (optional)

1/4th tsp

garam masala powder

1/4th tsp

cumin powder

(jeera powder)

1/2 tsp

coriander powder

(dhania powder)

1/2 tsp

chaat masala

1/2 tsp

carom seeds (

ajwain

), coarsely crushed

1/2 tsp

lemon juice

or as required

Salt to taste
How to Prepare
Cut the cottage cheese in cubes.
In a bowl, add all the dry spices to the cottage cheese cubes and the bell peppers and toss them.
Ensure the paneer is properly coated.
Marinate the cottage cheese for 20 to 30 minutes.
Skewer the cottage cheese cubes and alternate them with some chopped capsicum. Make several such skewers.
In a pan, heat some oil.
Gently place the skewered cottage cheese cubes in the oil.
Fry them on all sides till they turn golden brown.
Serve with some mint chutney.
10. Peanut Chikki
Peanut chikki is a crunchy and delicious snack you can give you toddler anytime he feels hungry. You can make it in bulk and store it for 8 to 10 days in an airtight container. This healthy sweet can also replace chocolates at times.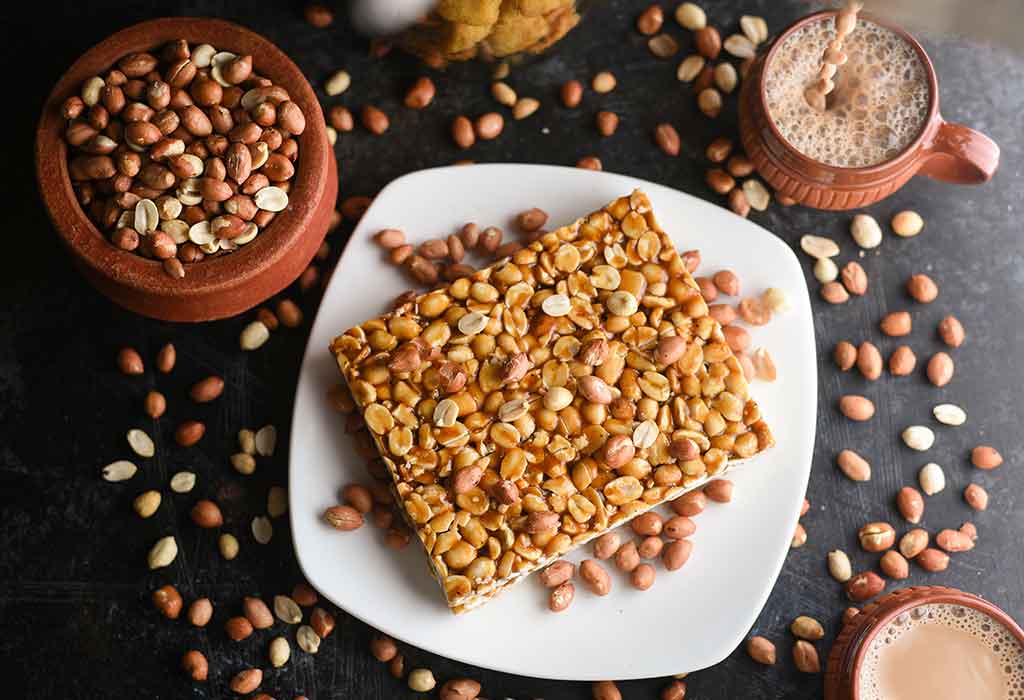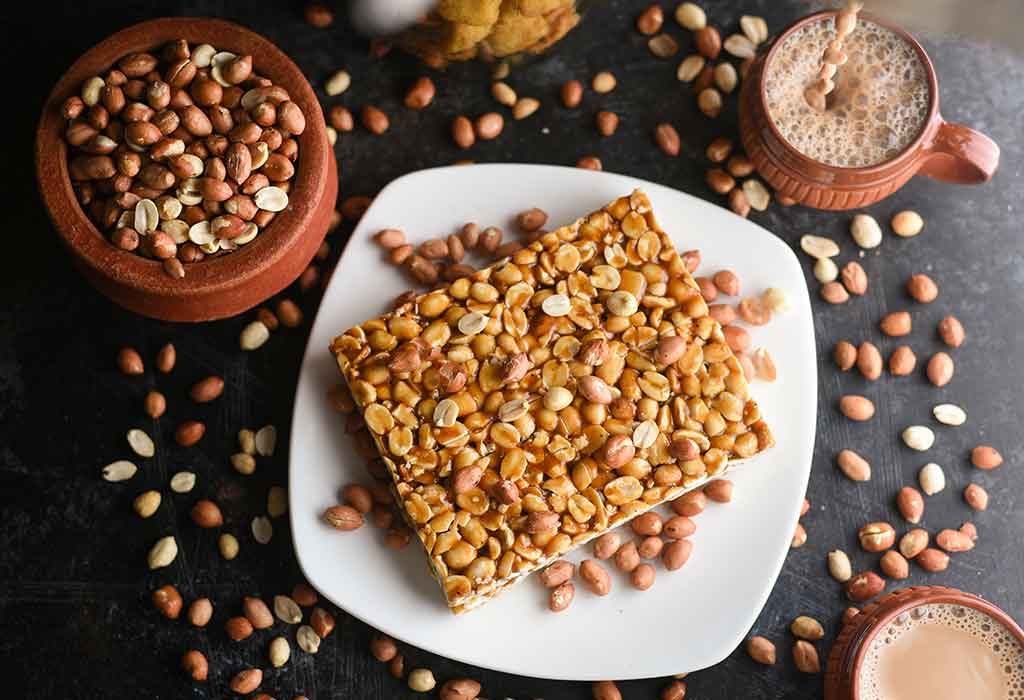 Ingredients
1 cup of unsalted, roasted peanuts

2/3rd cup of jaggery powder (or 1/2 cup of tightly packed jaggery)

2 to 3 tsp of ghee

1 to 2 tbsp water
How to Prepare
Remove the husk of the peanuts and coarsely grind them in a mortar and pestle.
Heat a heavy-bottomed pan and put the jaggery in it.
Add the water and bring it to a boil.
You may strain the syrup at this point if needed and follow the next steps.
After 2 to 3 minutes of boiling the jaggery, check its consistency by dropping some molten jaggery in a bowl of cold water. If the jaggery becomes firm yet brittle, it is ready. If not, boil it some more.
When the syrup is ready, add the crushed peanuts and mix it immediately.
Take a plate greased with some ghee and transfer the peanut and jaggery mix to the plate.
With the help of a butter paper, gently but swiftly flatten the mixture to your preferred thickness. You can also use a rolling pin and flatten the mixture on top of the butter paper.
Then, remove the butter paper and cut through chikki to form small squares.
Let the chikkis cool at room temperature.
Store them in an airtight container.
It is not difficult to plan your toddler's meals when you have enough options to choose from. These are just a few simple recipes, but Indian cuisine has several other ways of preparing delicious dishes with the same ingredients. Let your creativity take over and use imaginative ways to prepare and present healthy meals to your toddler to combat his mealtime quirks.
Also Read: Delicious Finger Foods That Your Toddler Will Enjoy Eating