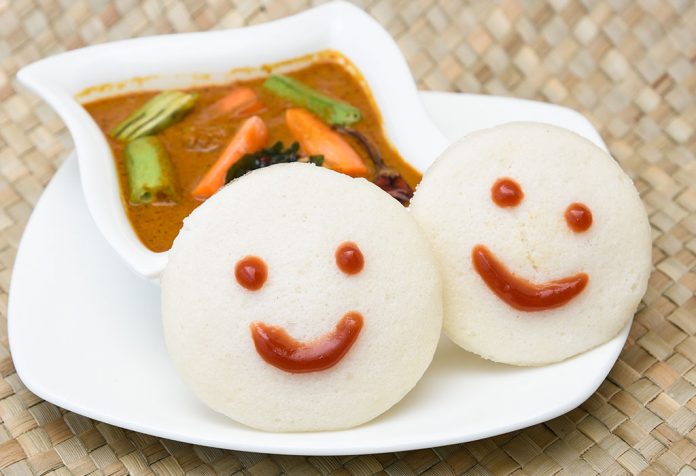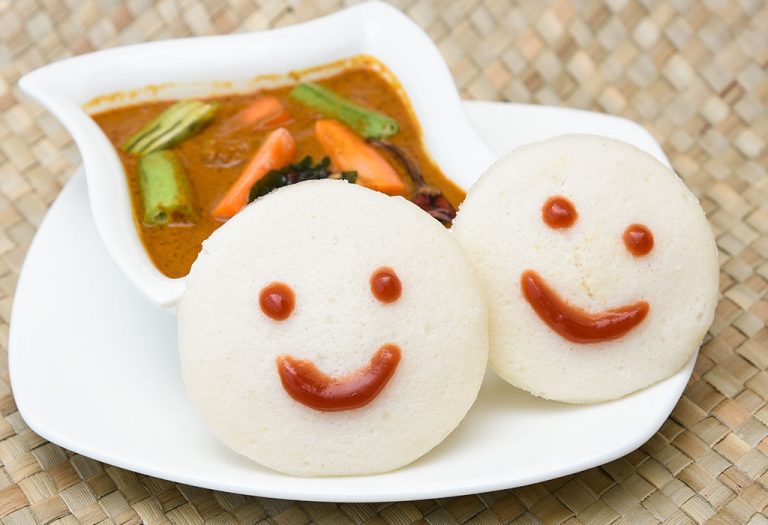 Last Updated on
Every parent wants their kids to develop healthy eating habits. But toddlers can be very selective when it comes to food. Making a toddler eat nutritious food can be challenging. So, stock up on an assortment of appealing and tasty recipes that may tempt your toddler to try them out.
10 Easy and Tasty Indian Recipes for Toddler
Some easy and tasty Indian recipes for toddlers can be:
1. Chickpea Pumpkin Cakes
This recipe is nutritious and yummy. Some fabulous plating and an interesting dip may make it exciting for your toddler.
Ingredients
400 gms pumpkin (peeled and chopped into chunks)
¼ tsp cinnamon powder
400 gms chickpeas (washed and boiled)
Cumin
An egg
1/3 cup breadcrumbs
Lemon juice
Salt and pepper to taste
Olive oil
How to Prepare
Take a baking tray and place the pumpkin chunks on it. Drizzle some oil and sprinkle cinnamon powder over them. Preheat the oven and bake the pumpkin in it for 20 minutes or until tender.
Put rest of the ingredients in a blender and grind it to a paste.
Add the baked pumpkin and mix everything well.
Shift the mixture to a different bowl and cover it with a cling film. Place the bowl in the fridge for 30 min so that the mixture becomes firm.
Then shape the mixture into flat cakes, roll them in breadcrumbs and cook each side in shallow oil for few minutes or until they are golden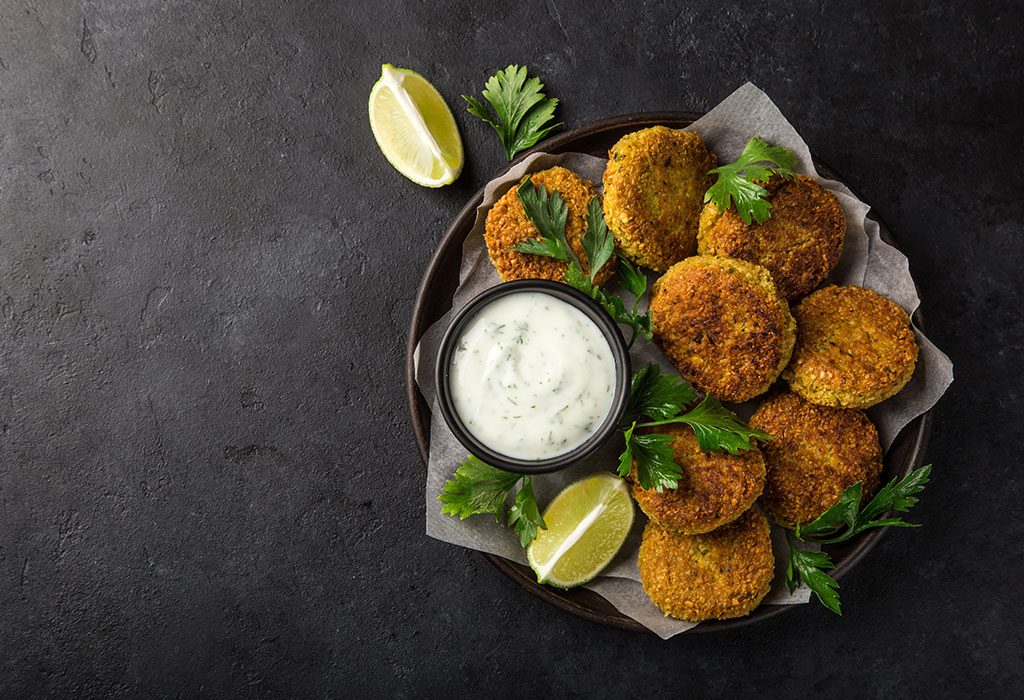 2. Moong Dal Chilla
Indian breakfast recipes for toddlers can include this healthy recipe made from sprouted green gram
Ingredients
1 ½ cup sprouted moong dal
2 tbsp besan
2 tbsp suji powder
Coriander
salt
How to Prepare
Mix sprouted dal, coriander in a blender. Add ½ cup of water to make a smooth paste.
Transfer the mixture to a bowl and add besan, suji and salt. Combine everything well.
The consistency of the mixture should be dosa-like.
Take a non-stick pan, drizzle some oil on it and spread it all over the pan.
Place a greased cookie cutter on the pan and pour some batter into it using a spoon. After 2 min, separate the cookie cutter from the chilla.
Then gently flip the chilla to cook the other side.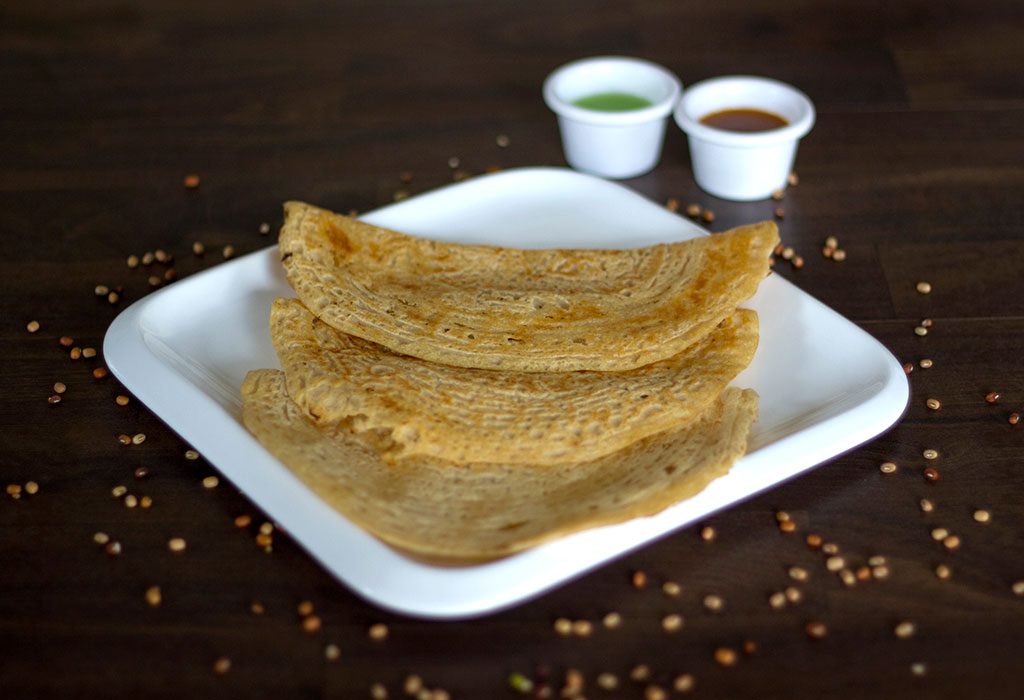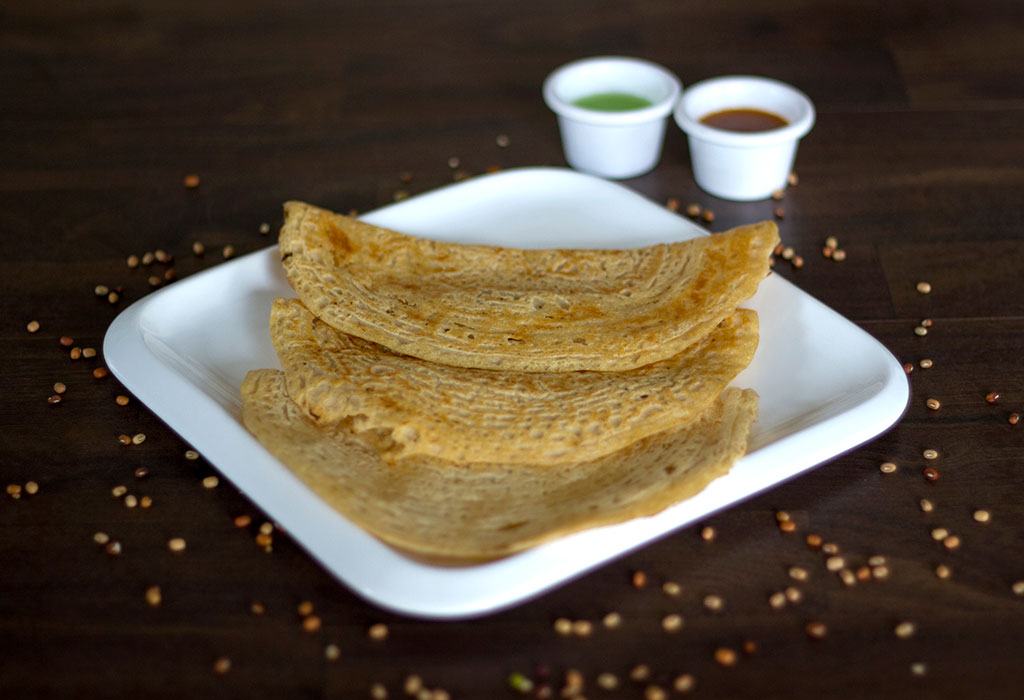 3. Carrot and Beetroot Raita
This delicious raita with its bright colour can be a winner with toddlers.
Ingredients
Curd
Carrot (grated)
Beetroot (grated)
Roasted and powdered cumin seeds
Salt
Sugar (optional)
How to Prepare
Combine all the ingredients in a vessel.
Whisk it properly to mix well and serve cold.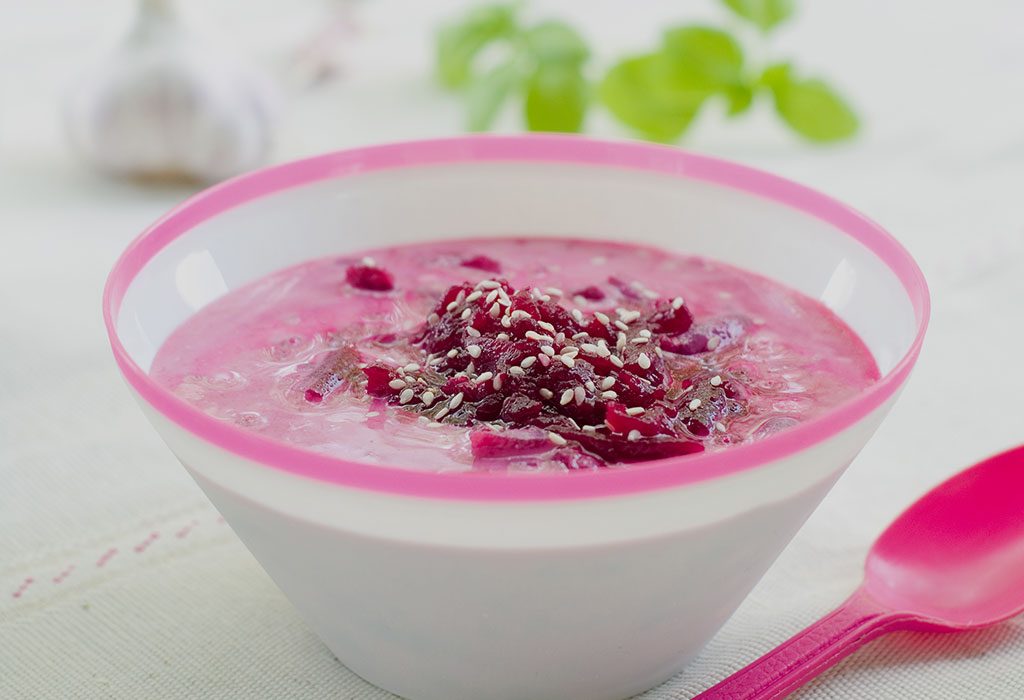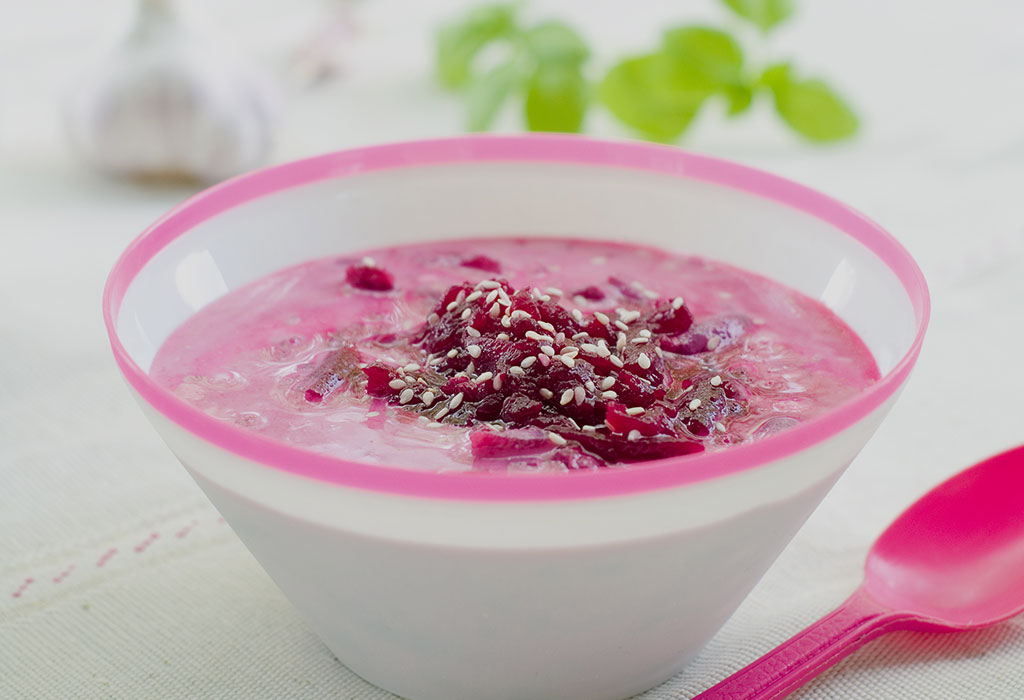 4. Cheesy Zucchini Slices
This amazing recipe is simple and can be served as snacks as Indian recipes for toddlers 12 -18 months.
Ingredients
Zucchini (cut into medium size slices)
Cheese Slices
Pepper to taste
Salt to taste
Mixed herbs (oregano, rosemary, chilli flakes) optional
Olive oil
How to Prepare
Heat a non-stick pan and pour some olive oil on it.
Place the zucchini slices on the pan and sprinkle all the herbs and salt on them.
Cook each side of the zucchini slices for a few minutes or until they are golden brown.
Scatter grated cheese on the slices and put a lid on the pan.
Let it cook for a while or till the cheese melts.
5. Carrot and Spinach Puri
Naturally coloured puri in attractive red and green shades may be one of the ideal Indian recipes for picky eaters.
Ingredients
Spinach (blanched and pureed)
Carrot (seamed and pureed)
Pinch of Hing
Pinch of turmeric powder
Carom seeds (Ajwain)
Salt to taste
1 ½ cup wheat flour
Oil for kneading
Oil for frying puris
How to Prepare
Add carom seeds and salt in the wheat flour and divide it into three portions.
Add carrot puree in one portion, add spinach puree in the other and add a little water to the third.
Add a little oil to each portion and knead it to form a stiff dough.
Take some dough from each portion and roll to make small balls.
Roll out the three coloured balls to form thin roti of about 5 inches in diameter.
Now place the green roti first, spread a little oil over it, then lay the white roti on it.
Spread some oil over the white roti and then put the orange coloured roti on it.
Now roll the three roti tightly together and slice the roll into 1-inch pieces
Take one piece roll it out form a puri.
Deep fry the puri in sufficient oil.
Repeat the process and fry all the puri.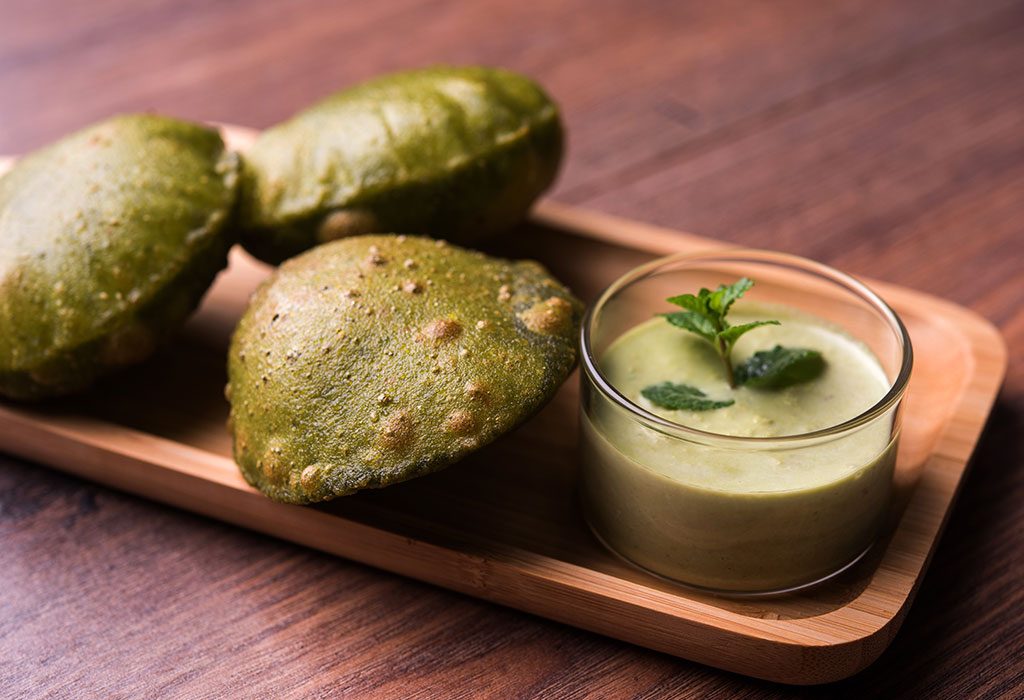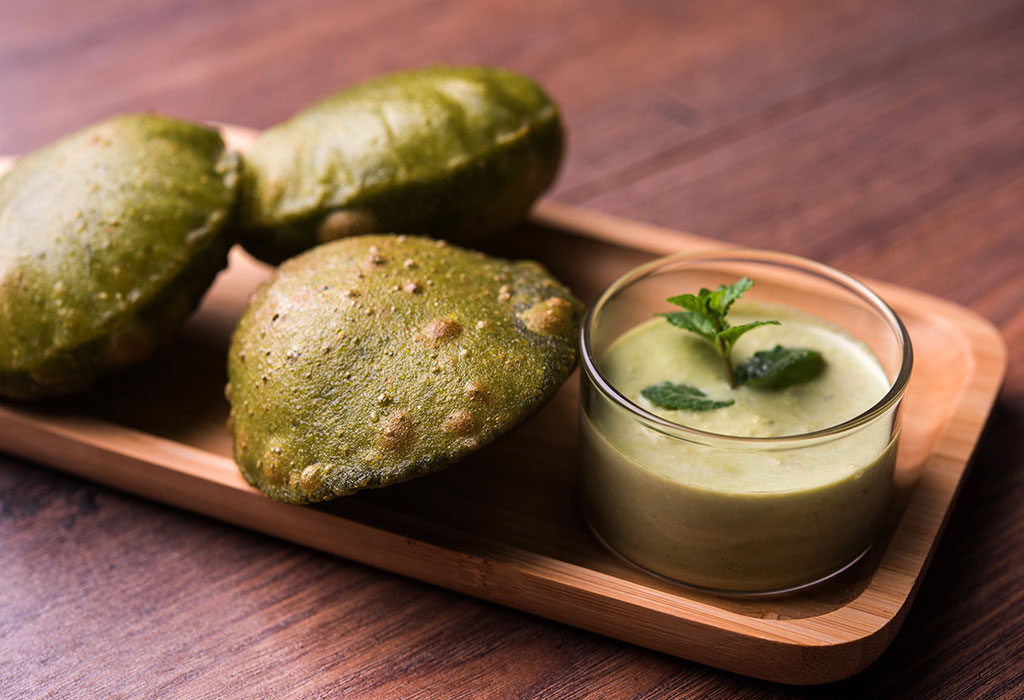 6. Banana Sheera
If you desire Indian recipes for toddlers to gain weight, then banana sheera may be the right choice.
Ingredients
3 tbsp suji
Pinch of cardamom powder
½ cup milk
Bananas (3 small)
Desi Ghee
How to Prepare
Add desi ghee to a pan and heat it.
Add suji and roast it till it is light brown.
Pour the milk and cook it until the mixture thickens a little.
The mixture should be in runny consistency.
Sprinkle the cardamom powder and remove the mixture from the flame.
Cut the banana into pieces and grind it to a smooth paste in a blender.
Combine this banana paste into the suji mixture and serve warm.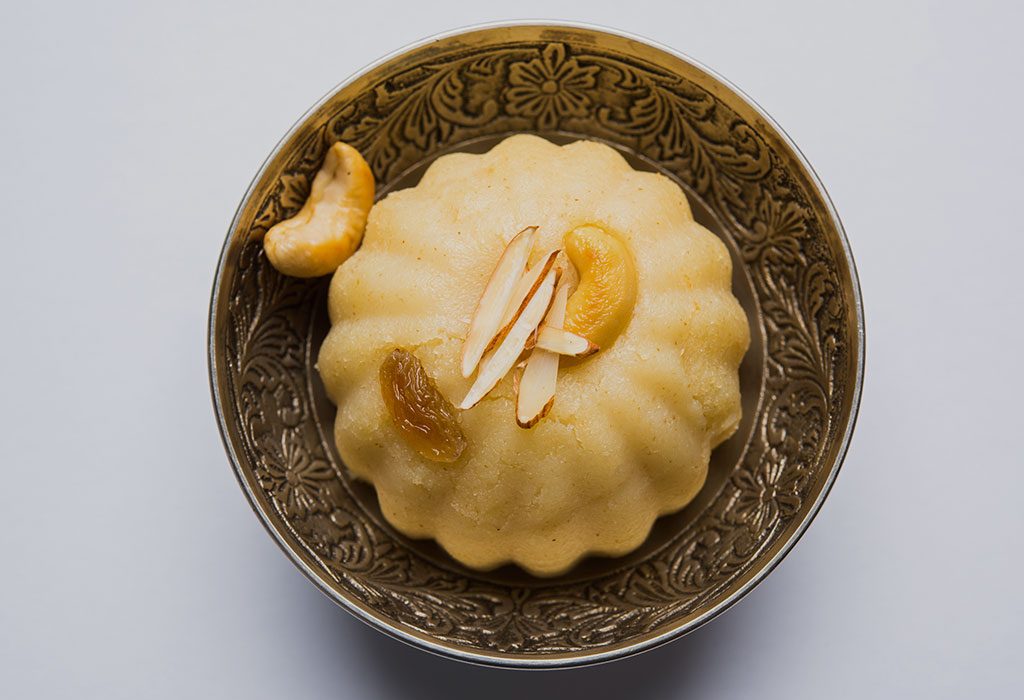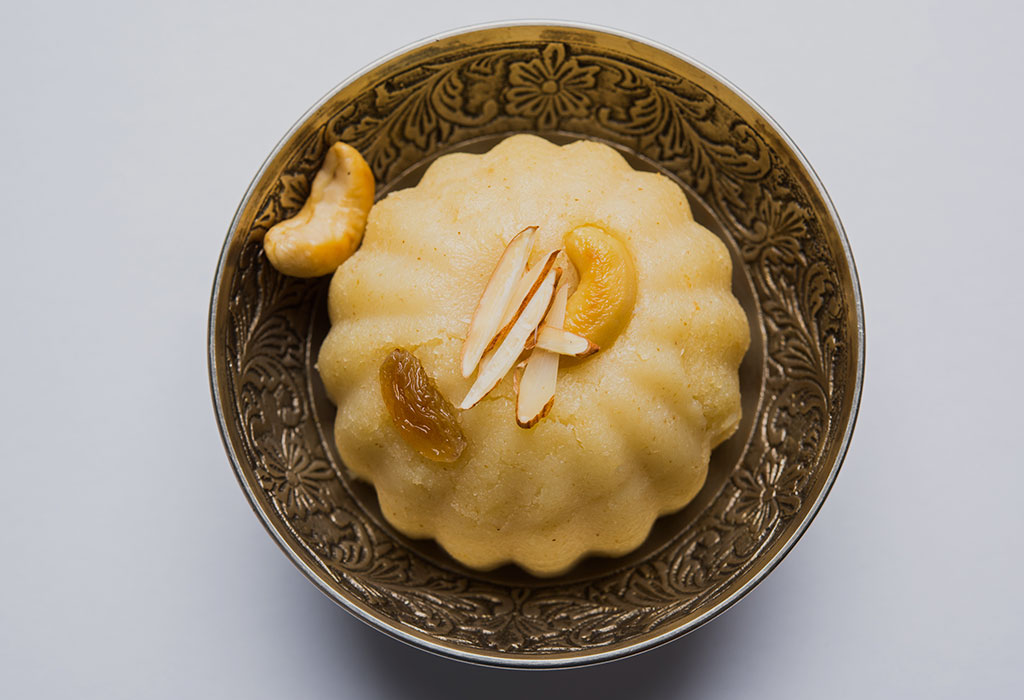 7. Mango Shrikhand
This delightful dish is sure to become your toddler's favourite.
Ingredients
Curd
Mango pulp
Cardamom powder
Sugar
How to Prepare
Take a muslin cloth and transfer the curd into it and hang it till all the water drains from it.
Blend the curd, mango pulp, cardamom powder and sugar to a smooth consistency.
Serve cold.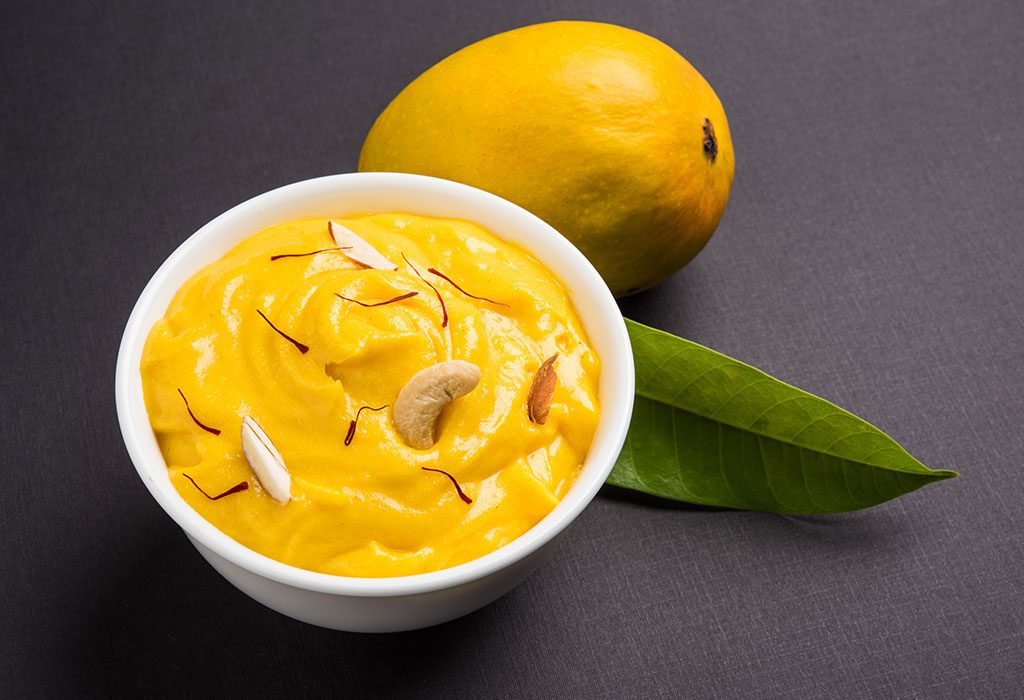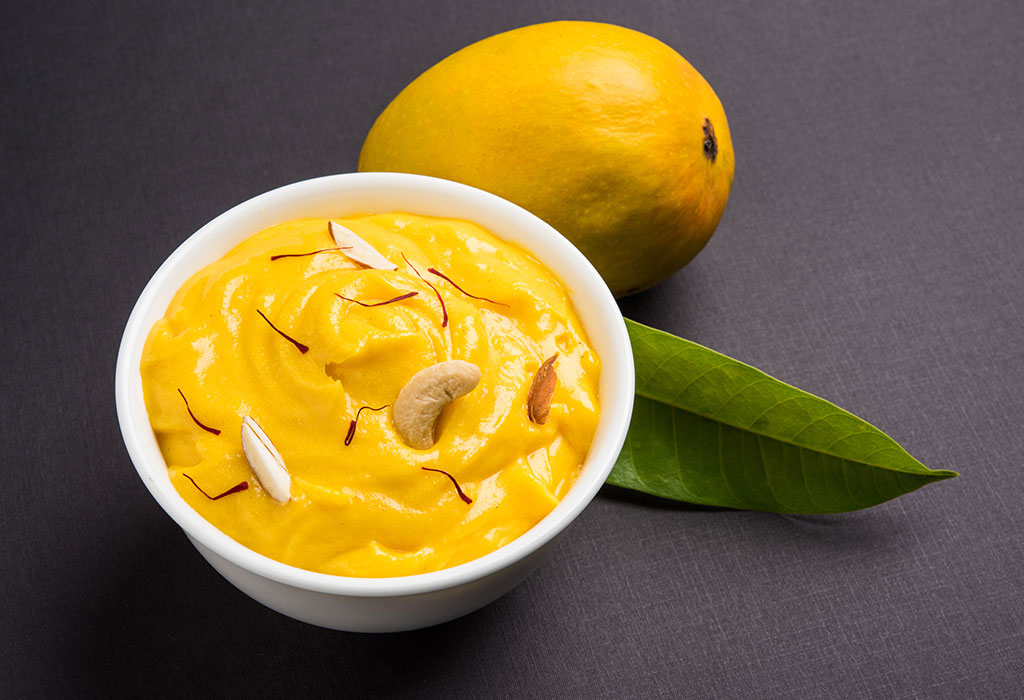 8. Chocolate Banana Smoothie
This quick treat is bound to bring a huge smile to your toddler's face.
Ingredients
Bananas (preferably ripe)
200 ml fresh cream
Three tsp cocoa powder
Half tbsp honey
Milk
How to Prepare
Blend the cut bananas.
Add fresh cream, cocoa powder, honey and combine well.
Get desired consistency by adding milk.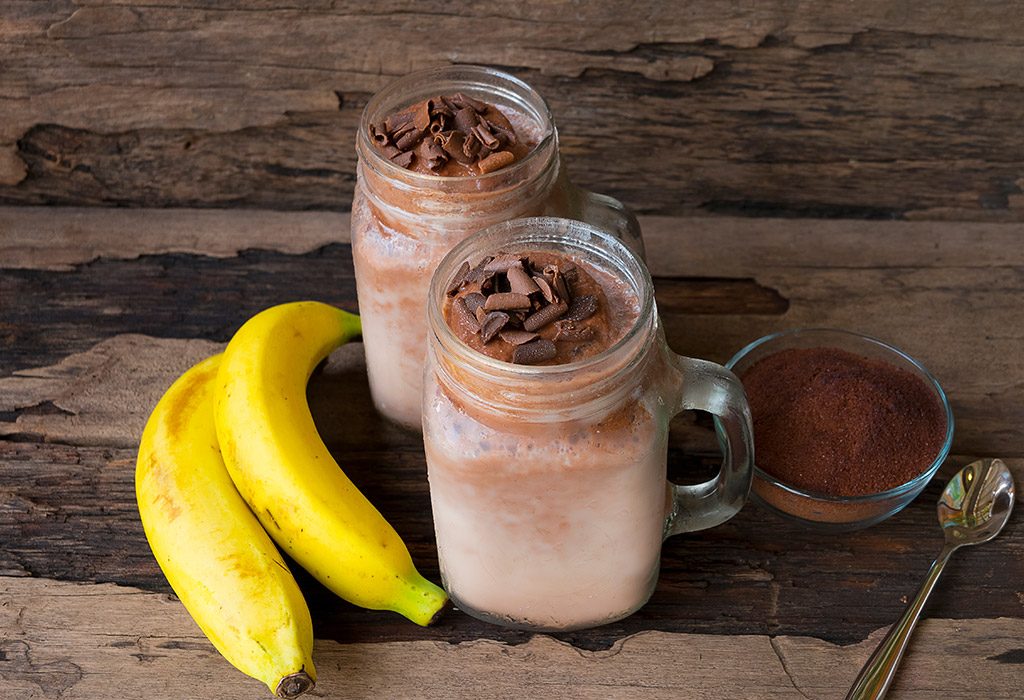 9. Corn and Potato Soup
This delectable soup is high in both taste and nutritive value.
Ingredients
½ cup sweet corn
Potato (1 or 2)
1 cup milk
Grated cheese
Salt to taste
Butter
How to Prepare
Boil the sweet corn and potato and blend them into a smooth paste.
Heat some butter in a pan
Add the paste and cook for a few minutes.
Add the milk, cheese and adjust the salt.
Allow the soup to simmer for 3-4 minutes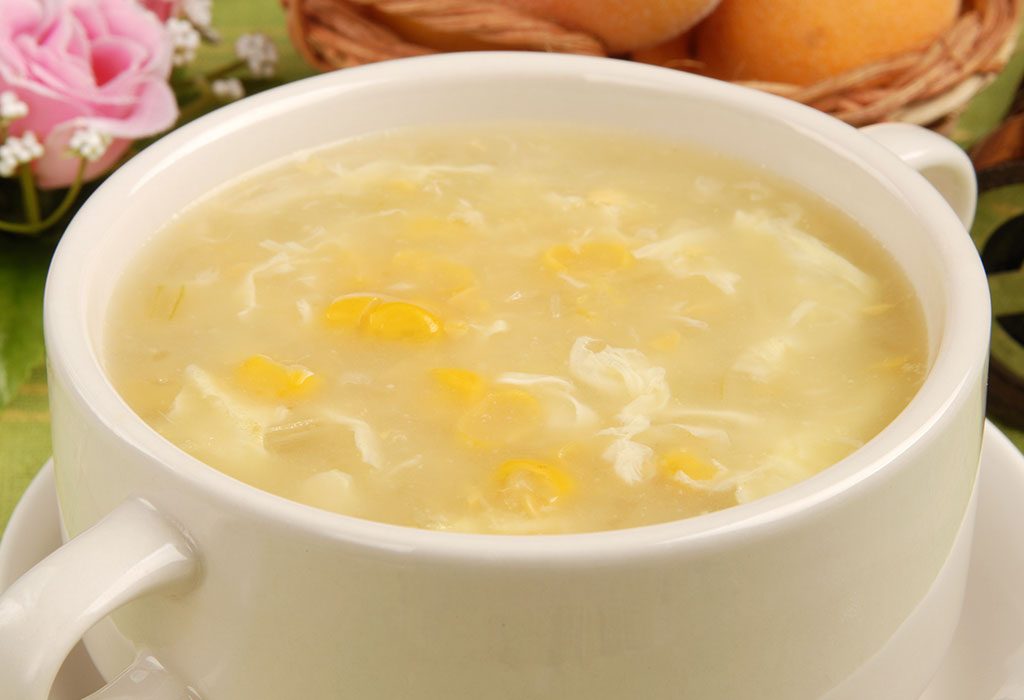 10. Carrot Scrambled Eggs
Scrambled eggs with a twist can be a wonderful option as Indian egg recipes for toddlers.
Ingredients
An egg
Carrot (finely grated)
Pepper and salt to taste
Butter
How to Prepare
Break the egg into a bowl and add salt and pepper as desired.
Add the grated carrot and whisk the mixture properly.
Heat a non-stick pan and add butter.
Pour the mixture.
Keep stirring and mixing the mixture till you get the scrambled look.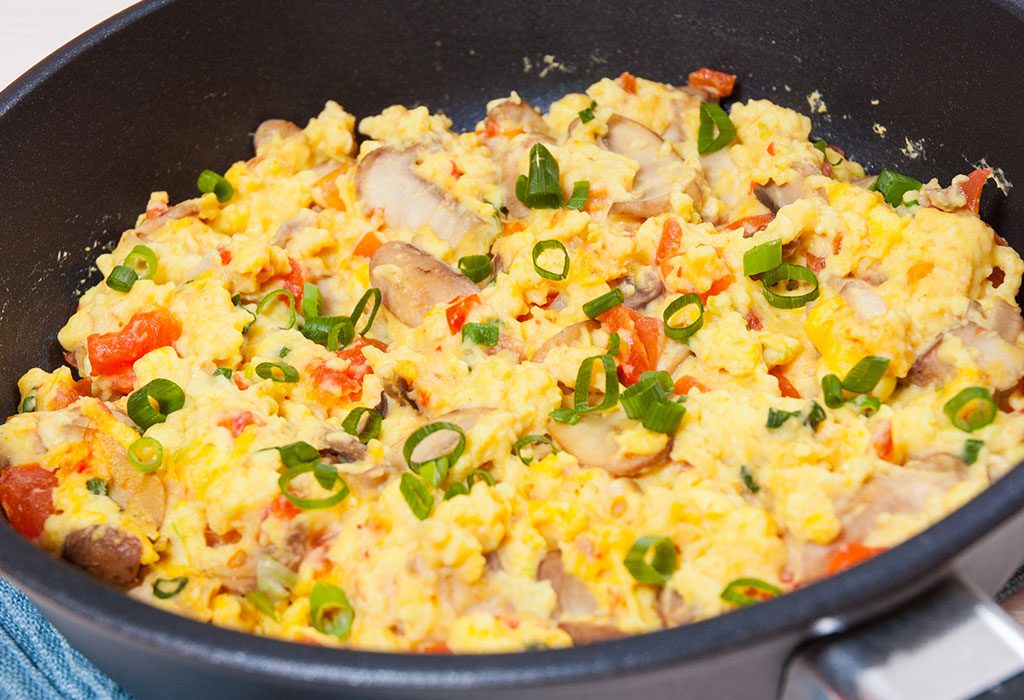 Let your creativity shine and use imaginative ways to prepare and present healthy meals to your toddler to combat his mealtime quirks.
Also Read: Delicious Finger Foods That Your Toddler Will Enjoy Eating