8 Indian Dinner Recipes Your Baby Would Relish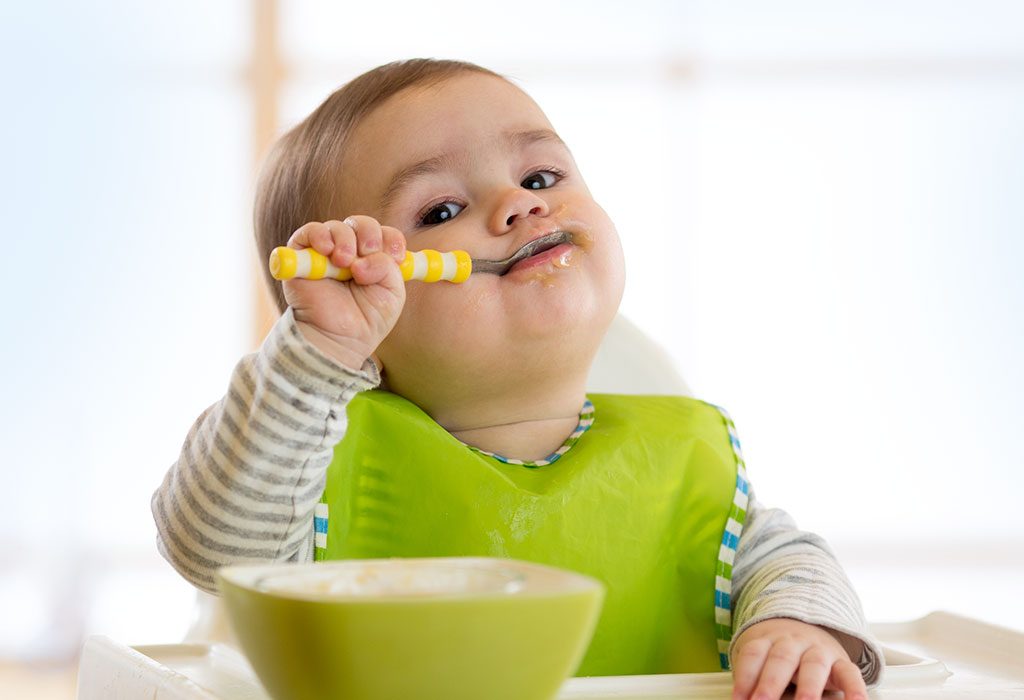 In this Article
Doctors recommend that babies should be fed exclusively with breast milk for the first six months of their life. Some mothers may feed their baby formula if they are unable to breastfeed their baby. Once your baby completes 6 months, you can start feeding her solids like fruit purees, dal, khichdi, etc. Babies can be fussy eaters and may not like the taste or texture of every food that you introduce to them. This article gives you dinner recipes for babies that are both flavourful and nutritious that your baby will surely like.
Babies should be introduced to solids slowly. Their food should not contain salt or sugar as these are bad for the baby's health. You can use date puree or other fruit purees to sweeten foods and use spices like cardamom powder, cinnamon powder, cumin powder, coriander powder, ginger, etc. instead of salt and sugar to make the foods flavourful.
8 Indian Baby Dinner Ideas
We have a variety of baby food recipes in India that are both tasty and healthy. Many of these recipes have been handed down through generations. Here is a list of healthy and flavourful Indian recipes for babies:
1. Mashed and Pureed Fruit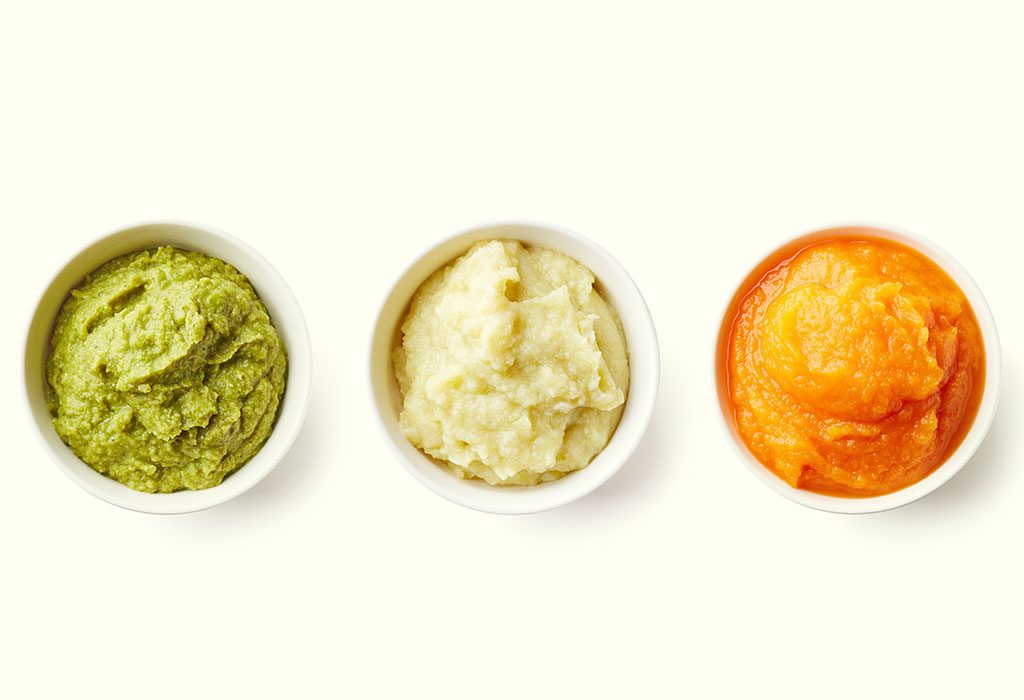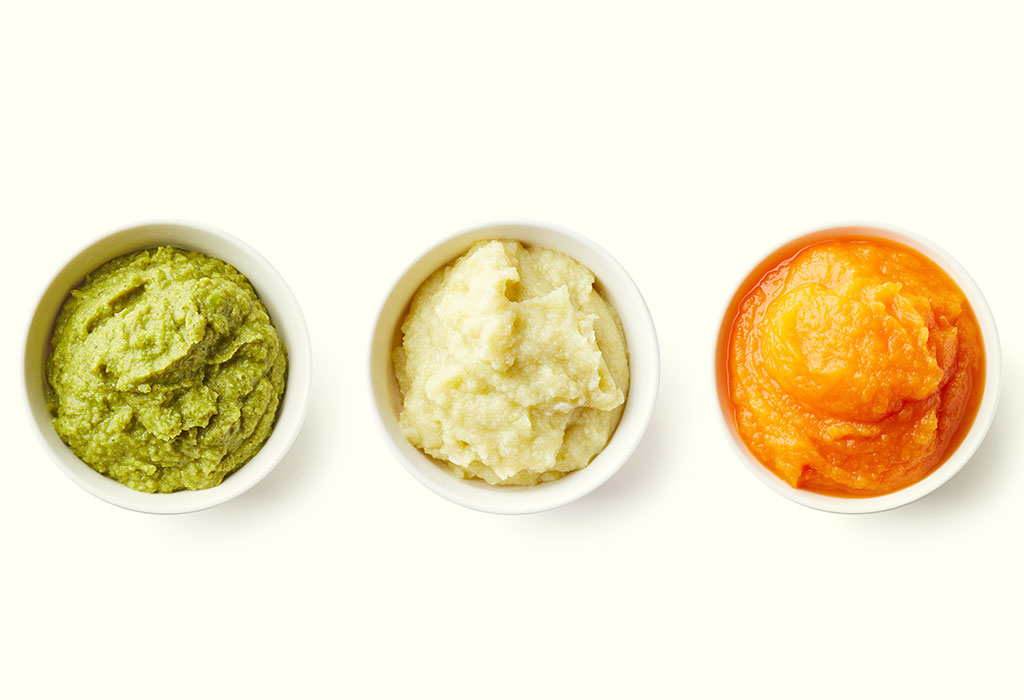 This is the simplest thing to make for your baby. It is a great starter baby solid food. Fruits are wholesome, nutritious, and naturally sweet. They are also easily digested. Most babies love mashed or pureed fruit. Babies as young as 6-month-olds can easily digest this.
Ingredients
FruitS, like banana, pear, apple, peach, mango or avocado. You can also use dates, chickoo, and berries like strawberry, blueberry or raspberry.
Water, for boiling or a shallow pot with a steamer basket for steaming.
Blender
How To Make
Banana can be mashed or pureed with a blender directly and fed to the baby. It does not need steaming.
Apple and pear need to be steamed. Blueberries and other berries can be boiled in a small amount of water. Avocado can be served plain without steaming. To steam, boil water in a pot. Put the fruit pieces into a steamer basket, place it in the pot and close the lid for 7-10 minutes. If you do not have a steamer basket, just boil the fruit pieces with a bit of water until the fruit is soft and cooked.
After steaming or boiling the fruit, blend it in a food processor until it is a smooth puree. Feed it to the baby.
You can try various combinations of fruit like apple and banana, apple and peach, banana and berries, avocado and banana or apple and dates.
2. Oatmeal With Fruit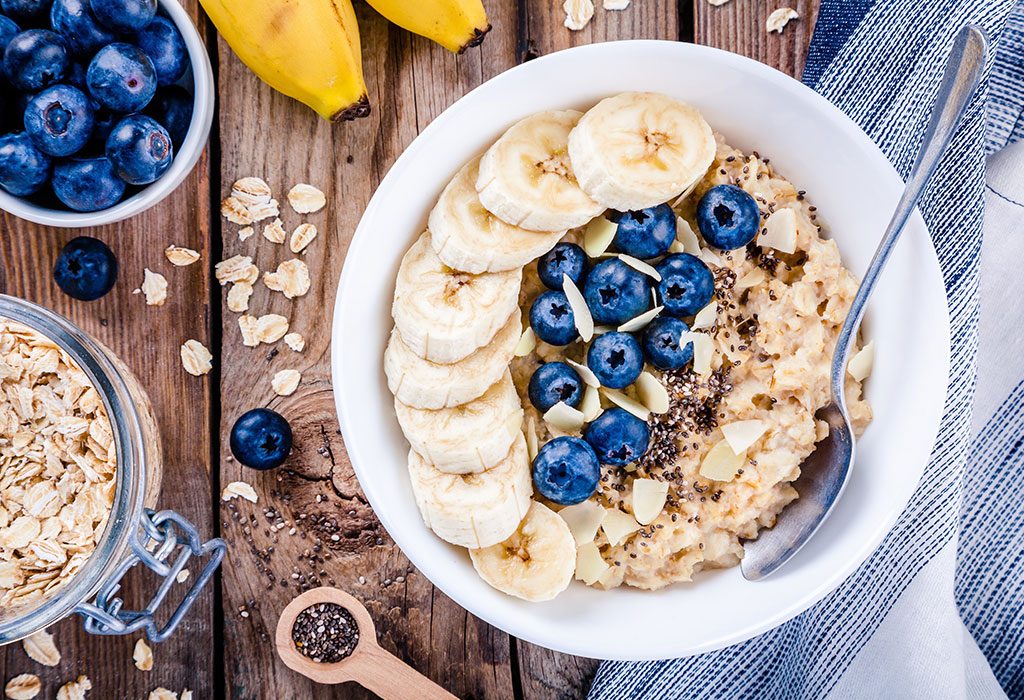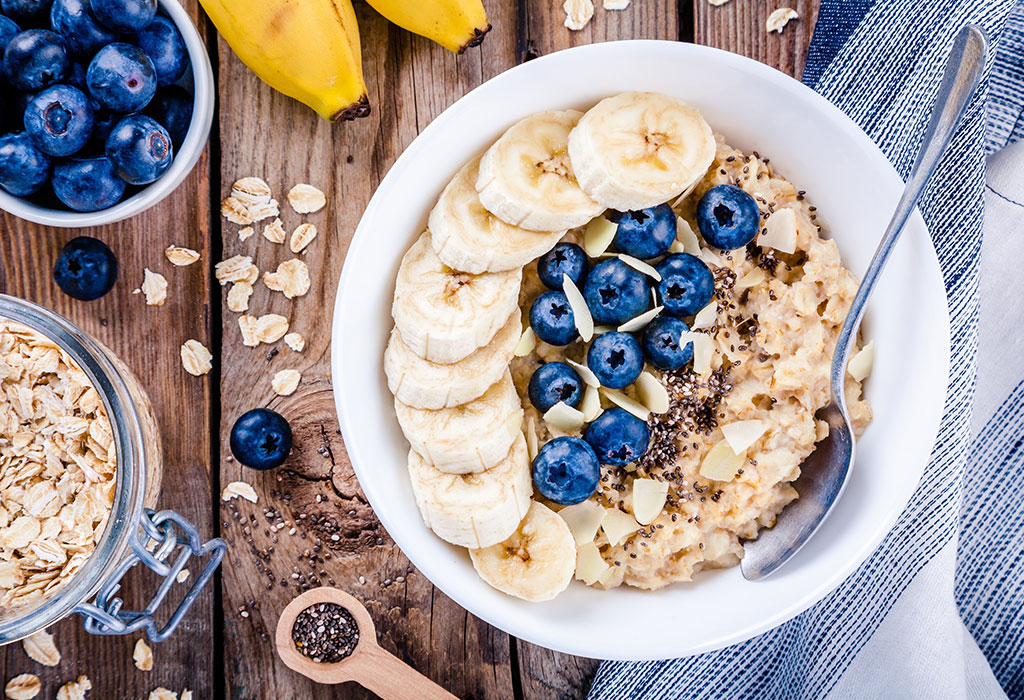 Oatmeal is a very safe and nutritious food for babies starting solids. Oats contain calcium, B-complex vitamins, protein, and fibre. Fruits are excellent sources of vitamins, minerals, and antioxidants that are essential for good health.
Ingredients
Powdered rolled oats
Pureed fruit like banana or apple
Water
A pinch of powdered cardamom for flavouring (optional)
How To Make
Add the water and oats powder together into a pan and cook over a low flame for about 8 minutes.
Stir continuously to avoid lumps.
Once it has finished cooking, remove it from the stove and let it cool down.
Mix in the fruit puree and add a tiny pinch of powdered cardamom if you want to make it more flavourful.
The oatmeal with fruit is ready for your baby.
3. Ragi Porridge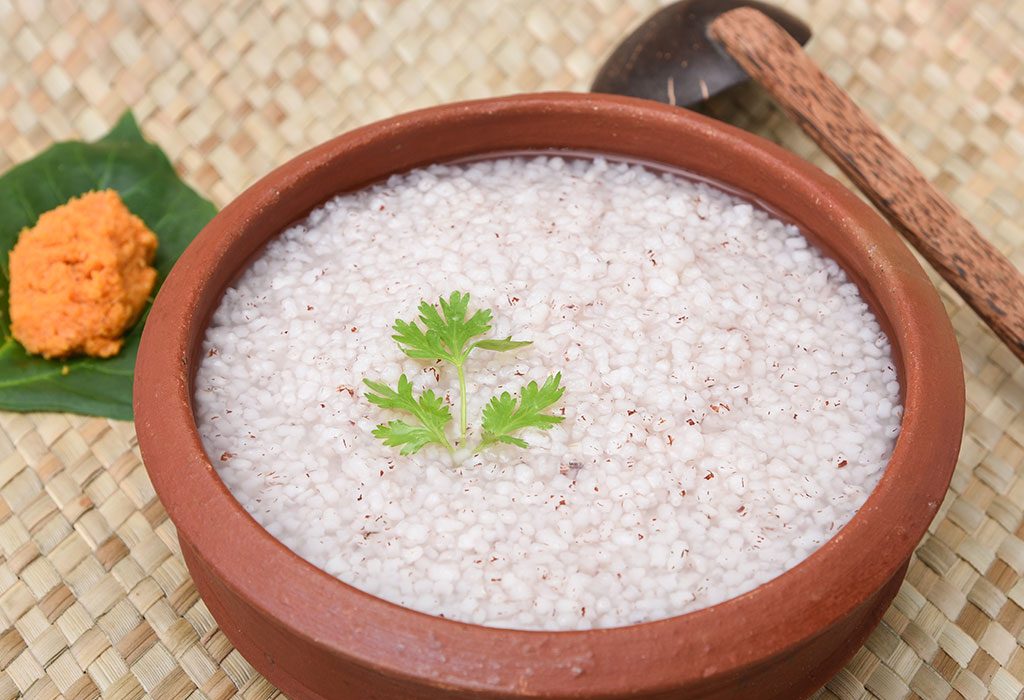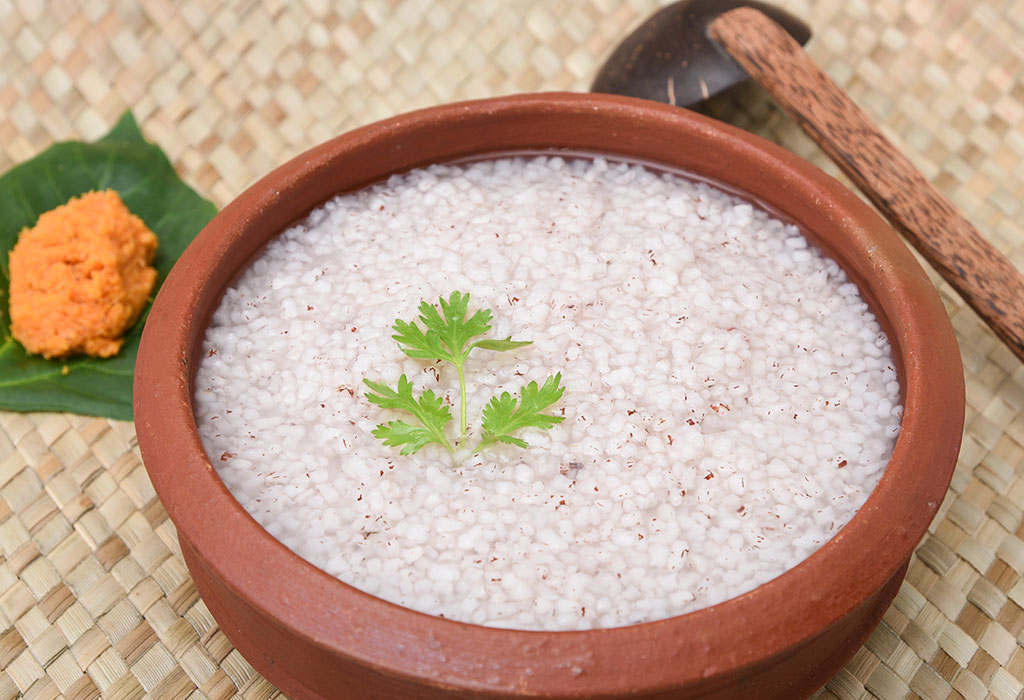 Ragi or finger millet is a whole grain that contains several nutrients that are beneficial for a growing baby. Ragi is high in calcium. It also contains iron and B-vitamins. Ragi contains around 80% of carbohydrates which provides energy to your active, growing baby. Ragi is also a good source of proteins and dietary fibre.
Ingredients
½ teaspoon ghee
A pinch of cardamom
Pureed dates or ½ teaspoon grated jaggery for sweetening
1 tablespoon ragi flour
Water
How To Make
Add the ragi flour to the water and mix thoroughly to make sure there are no lumps.
Add the ghee to a pan and melt on a low flame.
Add the ragi mixture to the pan and cook it on low flame, stirring continuously.
Add the powdered cardamom.
Once cooked, remove it from the heat and allow it to cool.
You can mix it in some fruit puree to this porridge if you wish.
Feed it to the baby.
4. Red Lentil Soup with Vegetables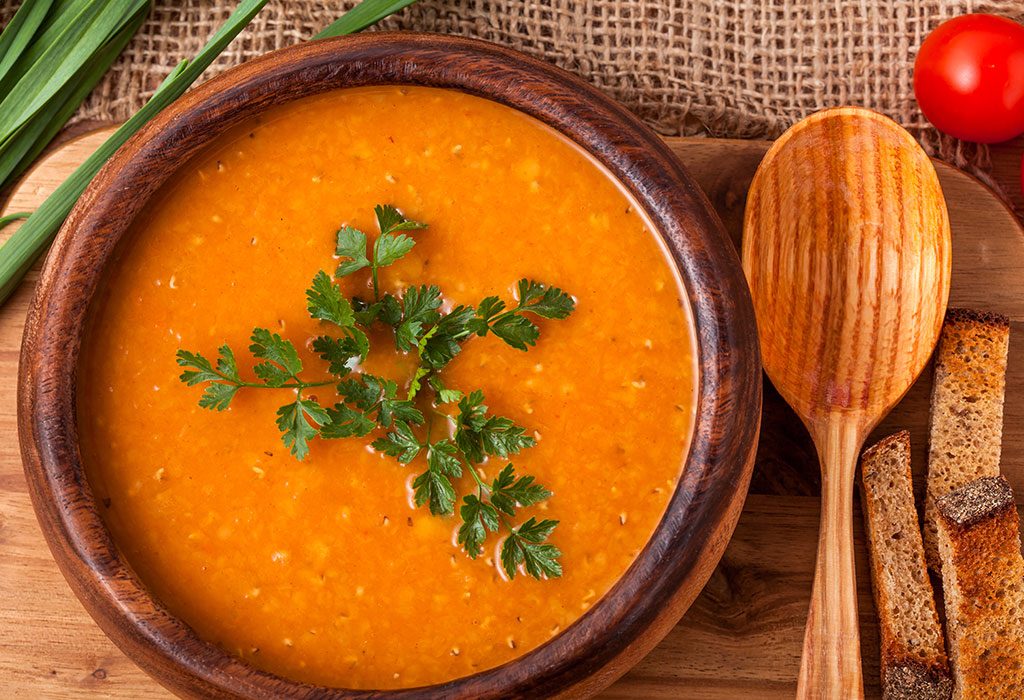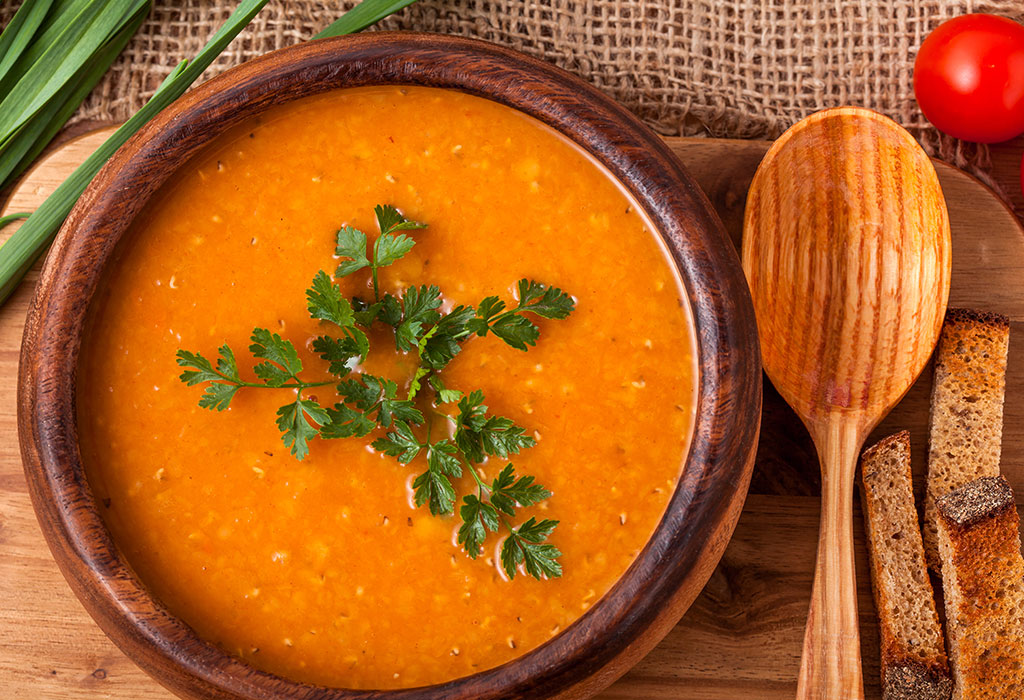 Red lentils (Masoor Dal) are high in protein and fibre. Red lentils cook really quickly. Red lentil is also easily digested by babies. The vegetables in the soup provide other valuable nutrients like vitamins and minerals that are essential for the healthy growth and development of your infant or toddler.
Ingredients
½ an onion, finely chopped
1 small carrot, diced
1 small sweet potato, cubed
½ teaspoon ghee
Water
2 tablespoons of masoor dal
How To Make
Add the ghee to a pan and heat on low flame.
Add the onion and sauté until transparent.
Add the carrot and sweet potato and sauté for a few minutes.
Add the masoor dal and water. Bring to a boil.
Cook for at least 20 minutes until the dal is completely done and the vegetables are soft.
Puree this soup in a food processor until it is smooth.
Feed the delicious lentil soup to your baby.
5. Dal, Rice and Carrot Khichdi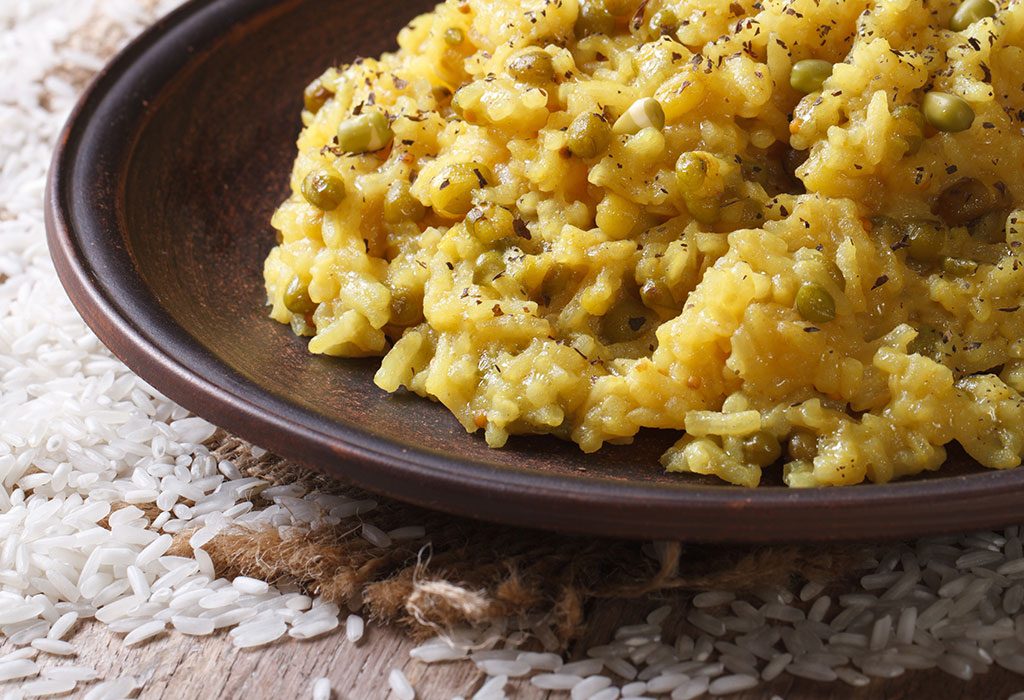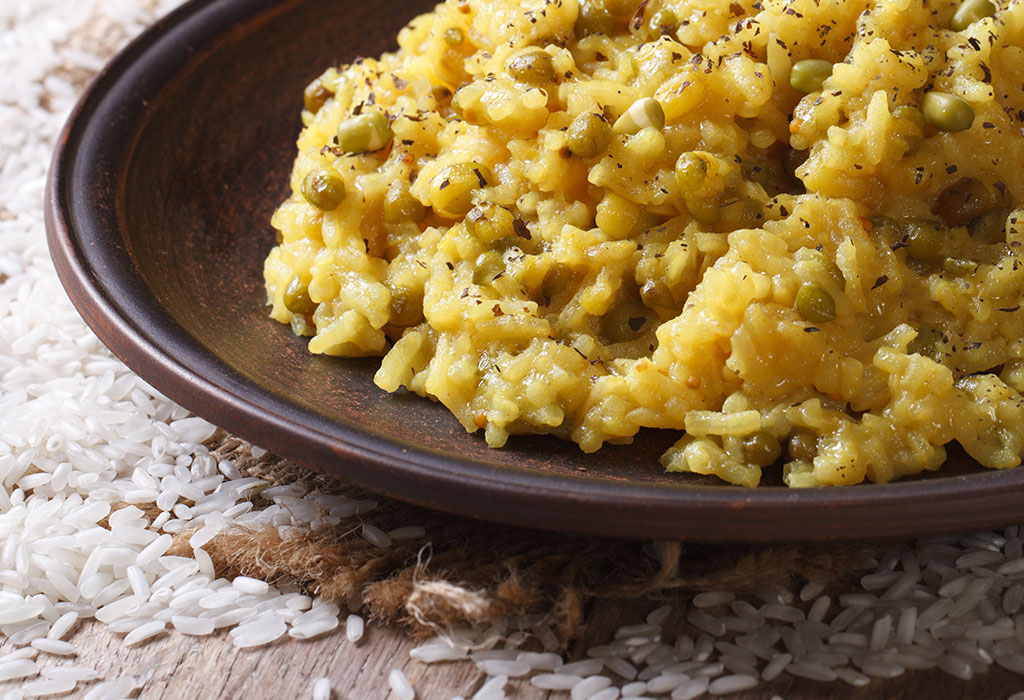 This makes a tasty and healthy dinner for a 1-year-old baby. You can add other vegetables like spinach or potatoes to the khichdi. The khichdi is a wholesome and balanced meal as it contains proteins from dal, carbohydrates from rice, and vitamins and minerals from the vegetables. The turmeric contains antioxidants and bioactive compounds that have anti-inflammatory and healing properties. Turmeric also has anti-microbial properties and help the baby fight viral and bacterial infections.
Ingredients
3 tablespoons moong dal
A pinch of turmeric
3 tablespoons of rice
1 small carrot, diced
Water
½ teaspoon ghee
How To Make
Wash the rice and dal together and then put it for soaking. It should take about 90 minutes to do the same.
Put the rice and dal along with carrots, turmeric, and water into a pressure cooker.
Cook the khichdi for about 4 whistles until it is soft and mushy.
Allow it to cool and feed it to the baby.
You can temper the khichdi with mustard and cumin seeds for babies older than 1 year.
6. Rice Porridge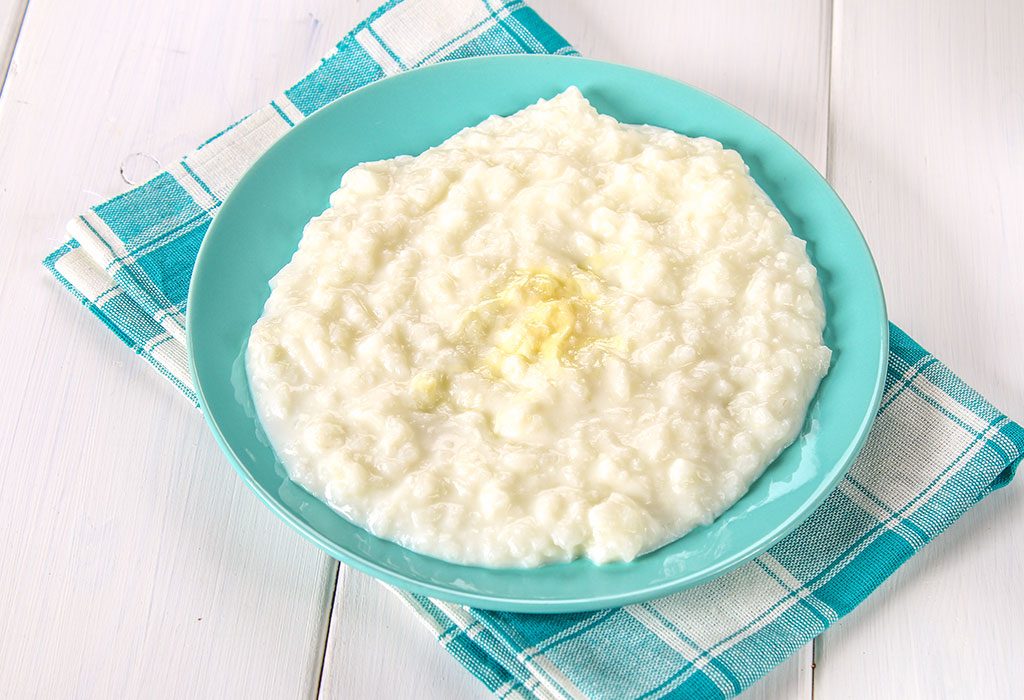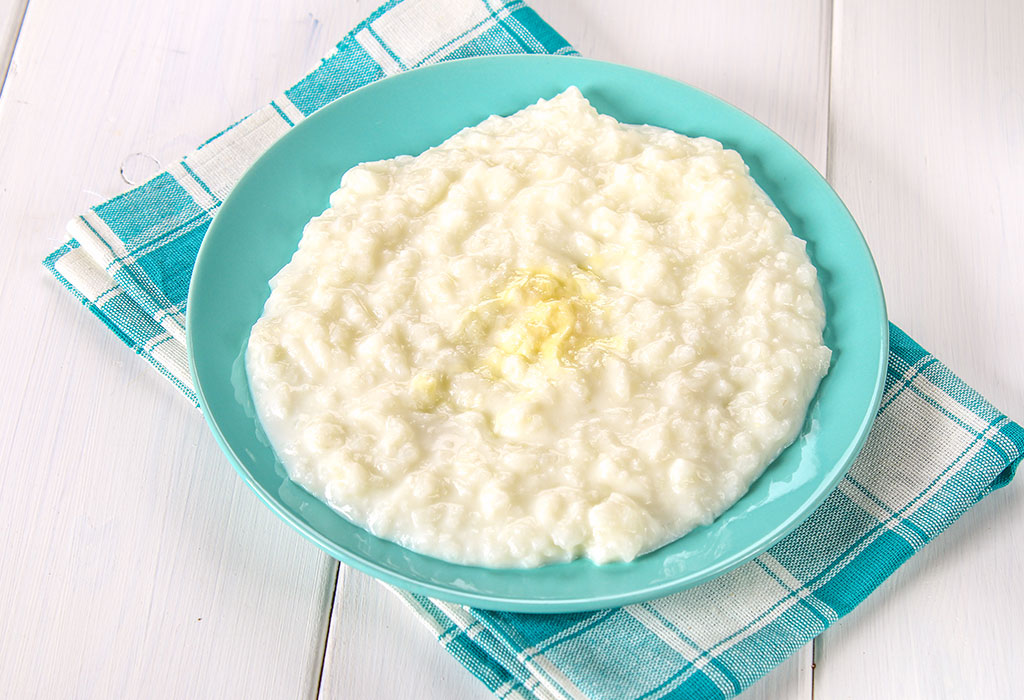 Rice is very safe and extremely gentle on your baby's stomach as it is very easily digested. Rice is rich in B-complex vitamins, carbohydrates and proteins. Feeding a baby rice porridge will give the baby an immediate energy boost.
Ingredients
3 tablespoons rice
Water or milk (If the baby is less than 1 year old, use formula or breast milk instead of milk.)
Powdered cardamom for flavouring
Pureed dates or ½ teaspoon jaggery for sweetness
How To Make
Pressure cook the rice with milk or water for 3 to 4 whistles until it is soft and mushy.
Add the cardamom powder and jaggery and blend the mixture until smooth.
Feed the rice porridge to the baby.
7. Vegetable Soup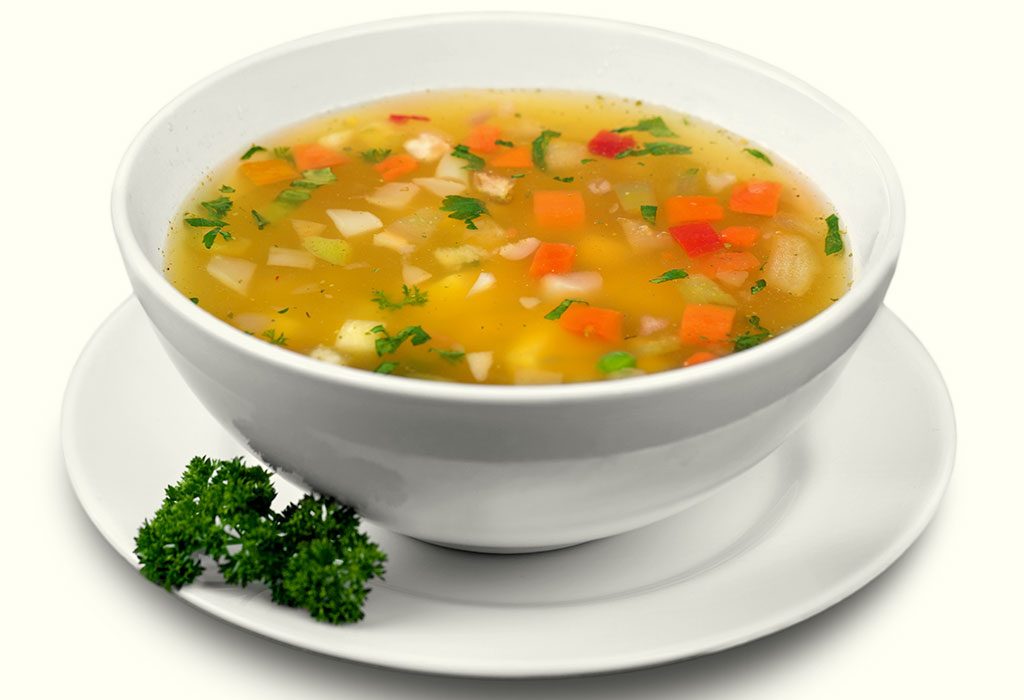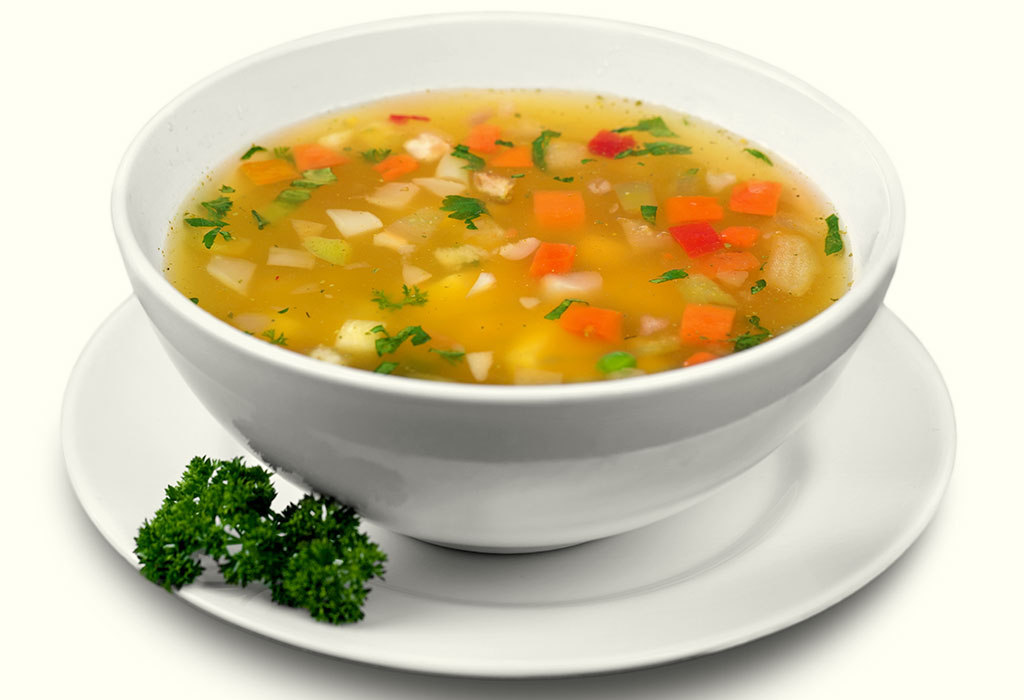 Vegetable soup is very nutritious and flavourful. You can enhance the flavour using a tiny pinch of asafoetida, cumin powder or coriander powder. This soup is made of vegetables like carrot, spinach, potatoes, and beans. Spinach is very beneficial for babies as it contains a great source of iron, folate, vitamins A, C, K and B-complex, dietary fibre, potassium, phosphorous, and calcium.
Ingredients
½ a carrot
5-6 Spinach leaves
1 baby potato
2-3 beans
A teaspoonful of peas
1 clove of garlic
Water
½ teaspoon ghee
How To Make
Chop all vegetables and put it in a pressure cooker along with water.
Cook for 4 whistles until vegetables are soft.
Add the ghee and blend the mixture until smooth.
Feed your baby this tasty vegetable soup.
8. Mixed Multigrain Porridge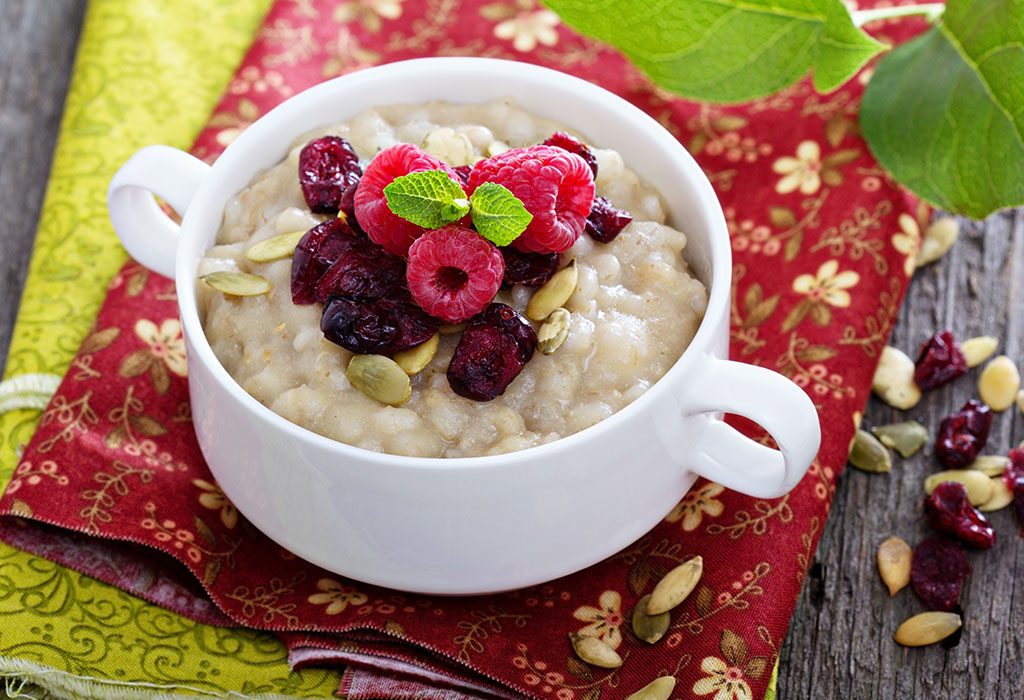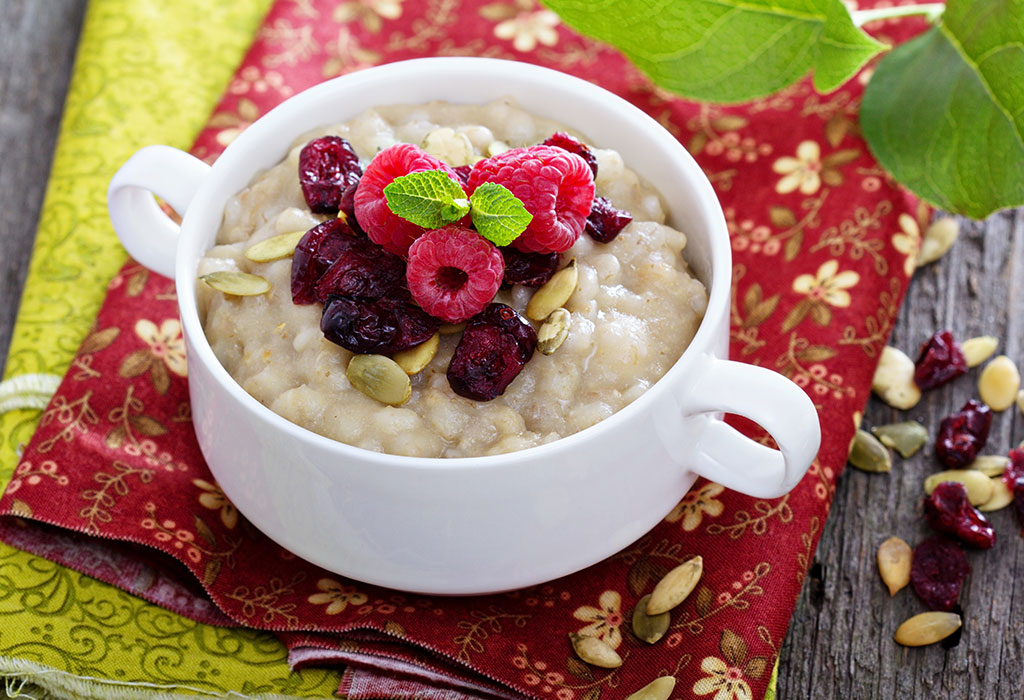 As this porridge is made of various whole grains, it is very high in nutritional content and is beneficial for your growing baby. You can make the multigrain porridge powder in a larger quantity and store it in an airtight container for a month. A few tablespoons of this powdered multigrain mix can be used to make the porridge whenever you need to feed the baby. You can make both a sweet version and a savoury version of the porridge mix. The combination of lentils, rice and wheat, make this porridge a good balance of proteins and carbohydrates. The nuts provide vitamins, minerals and dietary fibre.
Ingredients
1 cup green gram dal
½ cup yellow moong dal
1 ½ cups Rice
½ cup dariya (roasted gram dal)
7-8 cashew nuts
1 cup barley
½ teaspoon Caraway seeds (Ajwain)
7-8 almonds
1 teaspoon Cumin seeds (Jeera)
1 cup dalia (broken wheat)
1 cup masoor dal
1 cup urad dal (whole black lentils)
Powdered cardamom for a sweet version
1 teaspoon salt for the savoury version
How To Make
Dry roast all the ingredients until they are slightly golden brown.
Allow them to cool.
Next, you can add powdered cardamom if you want to make a sweet porridge mix or you can add salt if you want to make a savoury porridge mix.
Grind the roasted ingredients into powder using a mixer.
Sieve it to make sure the porridge mix is a smooth powder.
Store in an airtight container for up to a month.
To make the porridge, mix 1 to 2 tablespoons of this powder with water.
Cook this in a pan on low flame while stirring continuously to ensure that it does not get lumpy.
Once cooked, take it off the heat and allow it to cool.
Add fruit puree for a sweet porridge.
You can add vegetable puree for a savoury porridge.
Mix in ½ a teaspoon of ghee.
Feed your baby this nutritious porridge.
Babies and toddlers can be really fussy eaters. So, try a new food 3 to 4 times to see if they like the taste and texture. Babies less than a year old should not get more than 1 g per day of added salt from their food. So, use spices and herbs to flavour the food instead of salt. Sugar is also not good for babies.
You can use pureed dates or other fruits to sweeten the food. You can use honey for babies that are older than 1 year. Follow the 3-day-rule by introducing new foods slowly and increase the quantity every day. Give the baby 1 tablespoon on day 1, 2 tablespoons on day 2, and 3 tablespoons on day 3 to make sure she likes the food and is not allergic to it. For babies that are 1 year or older, you can try foods like lentil dosas, carrot and sooji idlis, oats upma, methi parathas, and oats and banana pancakes with egg. Using Indian spices and herbs to flavour the baby food will enhance the taste and your baby will surely relish it.
Also Read:
Oats Recipes for Babies
Porridge Recipes for Babies
Egg Recipes for Babies