12 Easy and Healthy Indian Snacks for Kids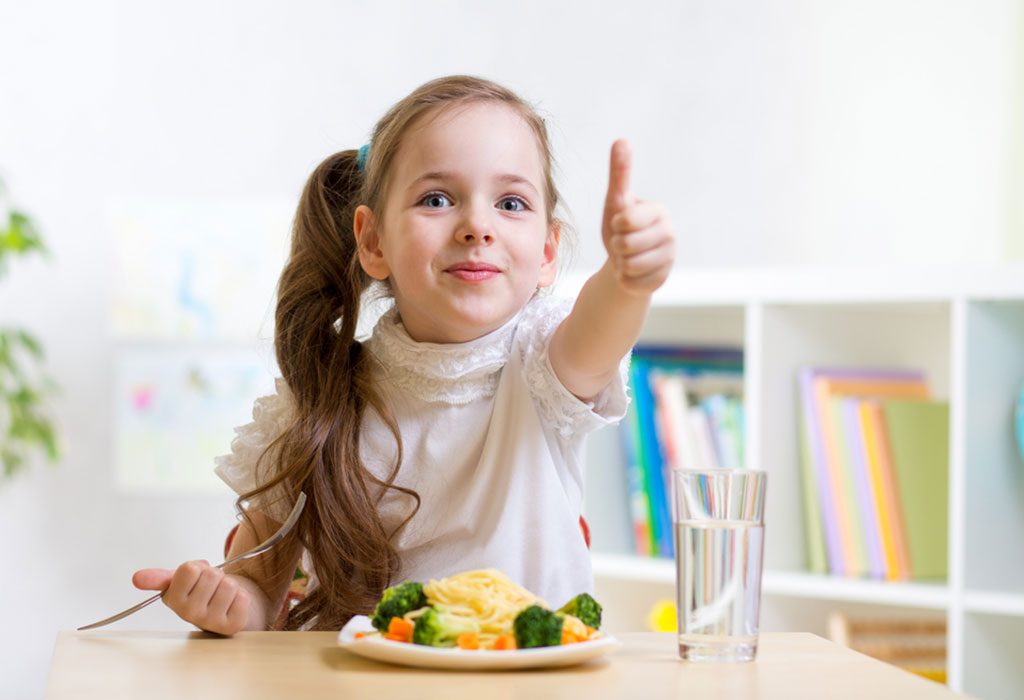 Children can be a fussy lot, especially when it concerns food. Nutrition is the last thing on their mind, as all they want is a tasty snack after a long and tiring day at school. As a parent, it is up to you to ensure that no junk food makes it to your child's plate. You may struggle between health and taste when it comes to snacks for children, and often, taste wins the battle. If you want your child to love the snacks you make, it is necessary to whip up some fun and tasty recipes. You could use these healthy snacks as an opportunity to sneak in some veggies and pulses your child would normally hate to eat, into his system.
Important Nutrients for Kids
Nutrients are essential for the growth and development of children. These are some nutrients that your children should get on a daily basis.
1. Protein
Protein is necessary for the development of muscles and tissues in the body and it also boosts immunity. Some great sources of protein are eggs, meat, and milk.
2. Fibre
Fibre is essential for digestion and a healthy gut. Fibre-rich foods include oats, flour, and fruits such as apples and guavas.
3. Calcium
Calcium builds strong bones and teeth in the body, and also ensures good bone health. Milk is the best source of calcium.
4. Vitamin D
Vitamin D is necessary for the absorption of calcium in the body. Vitamin D is fortified in products such as milk, but the best source remains sunlight.
5. Carbohydrates
Carbohydrates give children energy to take on the day and stay active. Flour and oats are good sources of carbohydrates.
6. Fats
Healthy fats are required for brain development and to boost metabolism. Flax seeds and vegetable oils are sources of healthy fats.
Quick and Nutritious Snacks for Children
Check out these healthy Indian snacks for kids, so you do not have to scour the internet for the right snack for your child:
1. Ragi Cookies
These cookies are packed with Calcium that is needed for strong bones and teeth in growing children. The goodness of ragi and cane sugar make it the perfect mid-meal snack. It is low in fat, and 100 grams of ragi contains about 330 Kcal of energy, making it a great energy booster.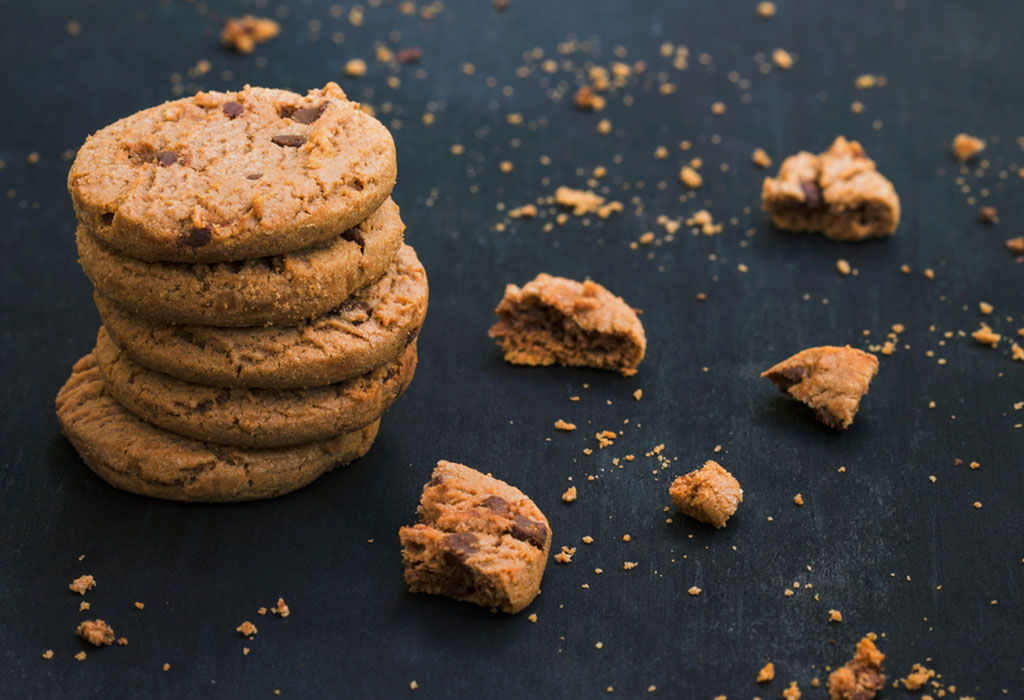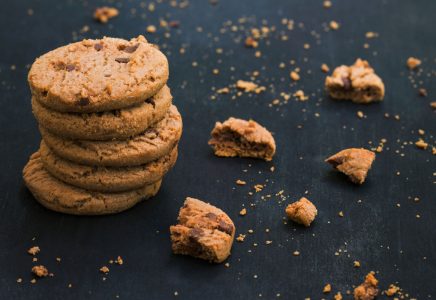 Mix 1 cup of ragi flour and a ½ tablespoon of cardamom powder in a pan and roast the mixture for a minute or two. Add a whisked egg, a ½ tablespoon of salt, and 2 pinches of dry ginger to the ragi and cardamom mix. Add ½ a cup of rice bran oil and mix it well till it turns into a dark dough. Make round balls from the dough, flatten them, and place them on a flat dish covered with butter paper. Pre-heat your oven and bake the cookies for 8 minutes at 180 degrees C.
2. Whole Grain Crackers
This snack contains whole grain wheat flour, which is packed with carbohydrates and fibre. This aids digestion and supplies enough energy to children to power them through the day. Flax seeds (one tablespoon) are enriched with calcium, polyunsaturated fatty acids, phytochemicals and dietary fibre, which acts like a superfood for the body.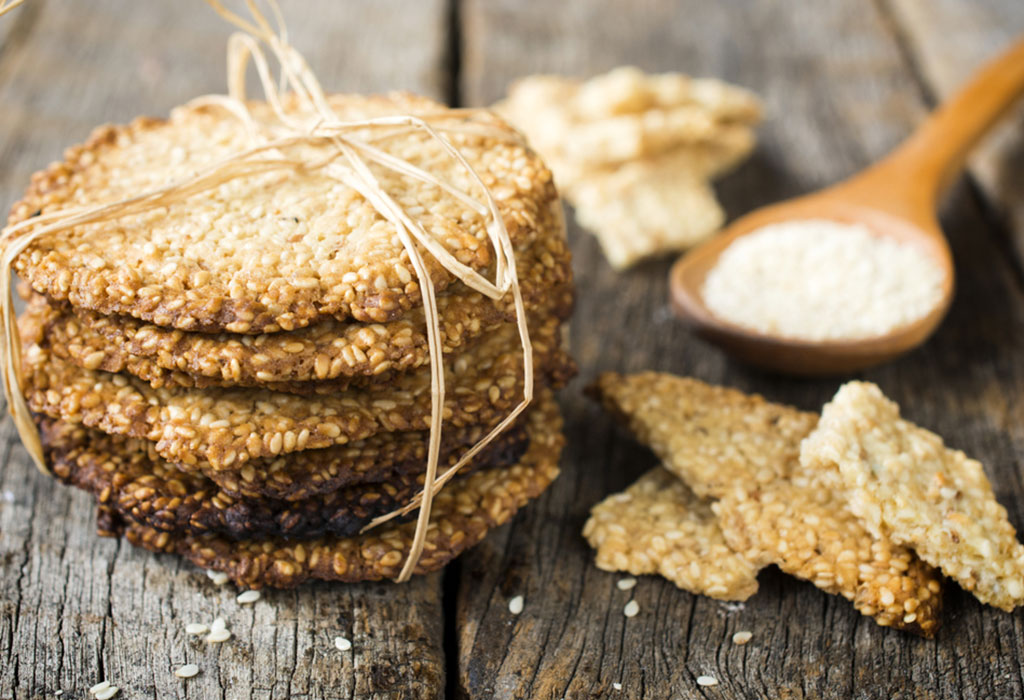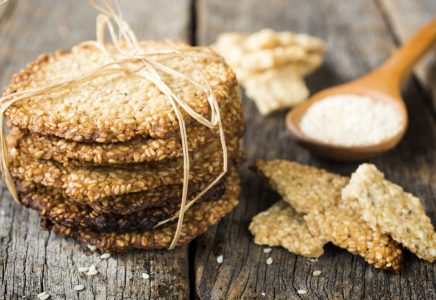 Take ½ a cup of whole wheat flour, mix 1½ tablespoons of oil, and knead it. Alongside, mix ½ a cup of ground oats, 2 tablespoons of flax seeds, 4 tablespoons of white sesame seeds, and 1 tablespoon of red chilli flakes, and grind them into a dry mix. Add this to the dough and then roll it. Using a cookie cutter, make round shapes and lay them out on a flat dish. Pre-heat the oven and bake this dough for 20 minutes at 180 degrees C. It is best to store these crackers in an air-tight container and serve them when needed.
3. Almond Granola Bar
This delicious and healthy snack contains white oats, which provide 51 gms carbohydrates, 13 gms protein and 8 gms fibre to make it a nutritious combination. Wheat contains important B vitamins like thiamine, folate and Vitamin B6 and minerals like manganese, zinc and magnesium.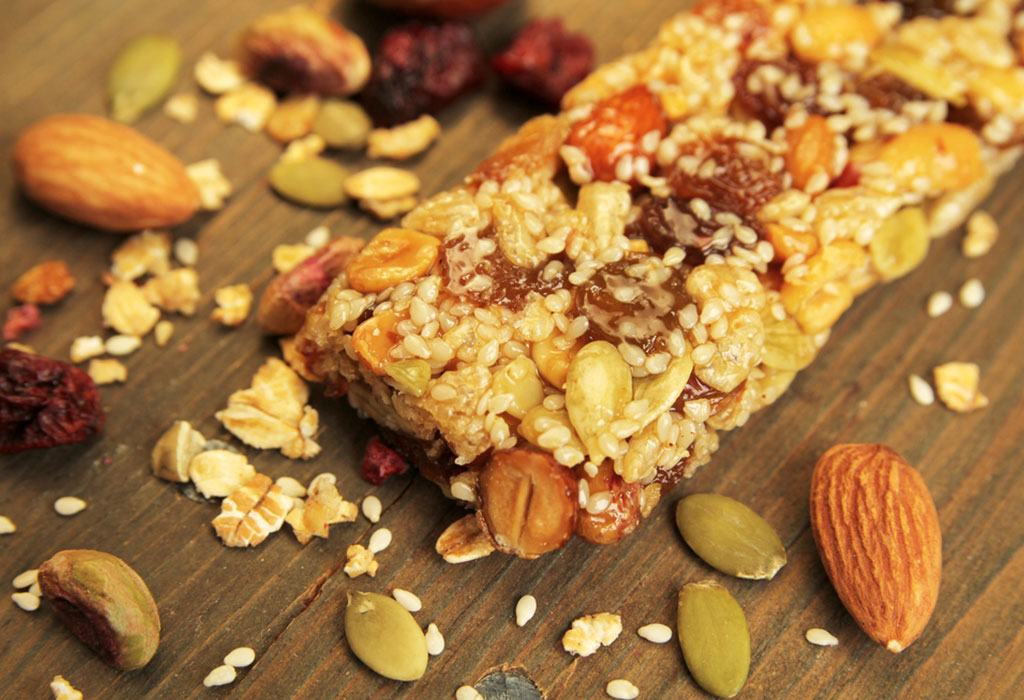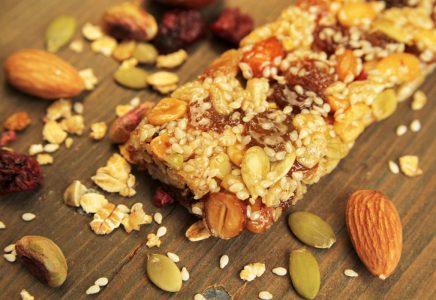 Take a deep vessel and boil water in it. Add 225 grams of jaggery and 150 ml of honey to it. In a pan, roast 225 grams of white oats, 90 grams of dry coconut, 200 grams of almonds, 25 grams sesame seeds, and 25 grams of multigrain seeds. To the jaggery and honey mix, add 200 grams melted butter, 5 grams baking powder, 100 grams apricot, and 100 grams raisin, along with the roasted mix. Layout a silver foil in a shallow tray and spread the mix. Bake it for 30 minutes at 180 degrees Celsius, and cut into pieces when it cools down.
4. Steam Dhokla
This traditional snack is packed with carbohydrates, fats and proteins, along with the goodness of magnesium, potassium and phosphorus. Besan flour is higher in protein content. 100 gms of besan contains 22 grams of proteins, 387 calories and 7 grams of total fat.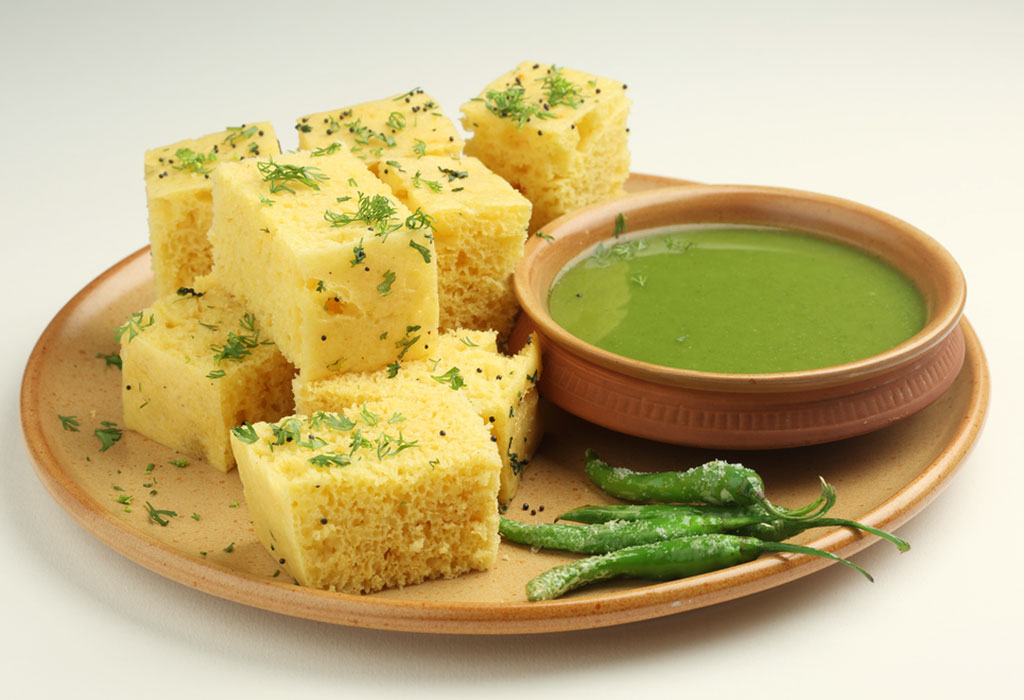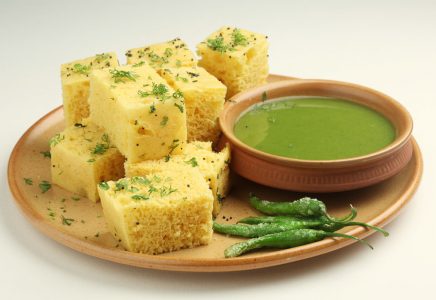 In a bowl, mix 1 cup of besan (gram flour), salt to taste, 1 tablespoon of sugar, turmeric powder, and 1 tablespoon of citric acid. Add water accordingly to create a medium thick batter. Dissolve 1 tablespoon of fruit salt or baking powder in a glass and add it to the dhokla mix. Pour the mix into a steaming tin, after you have greased it with some butter, and steam it for 20 minutes. For the tadka, add 1 tablespoon of oil, mustard seeds, 8 curry leaves, and 1 dried red chilly in a pan. Pour this mix over the dhokla and cut it into pieces.
5. Steamed Chinese Cabbage Parcels
Chicken can squash hunger and boost metabolism quickly, since it is full of proteins, sodium and fat, while cabbage is a great source of Vitamin B6, C and K.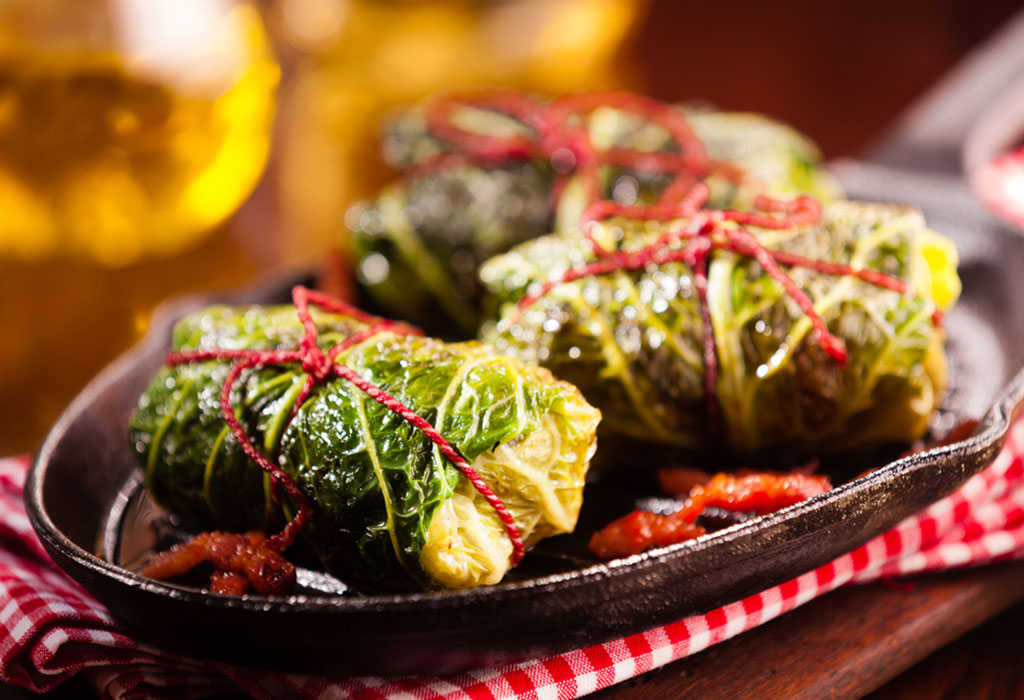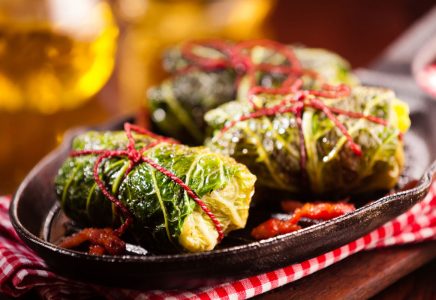 Take ¼ kg of chicken mince and marinate it well for a minimum of 4-5 hours using the following ingredients: 1 egg white, 2 tablespoons of chopped spring onions, 2 tablespoons of chopped carrots, 2 tablespoons of chopped mushrooms, 2 tablespoons of chilli garlic paste, 2 tablespoons of soya sauce, 1 tablespoon of sesame oil, and 1 tablespoon of chopped ginger. Add castor sugar, ginger juice, and black pepper to it, along with salt to taste. Place the cabbage leaves on the plate and put a tablespoon of minced chicken at its centre, and then tie it with the stem of spring onion. Use a steamer to steam it for 20 minutes and serve with the sauces your children love.
6. Oats Idli
These healthy idlis are low in carbohydrates and calories due to the oats and carrots in them. These are ideal for health-conscious parents who want to keep obesity away from their kids.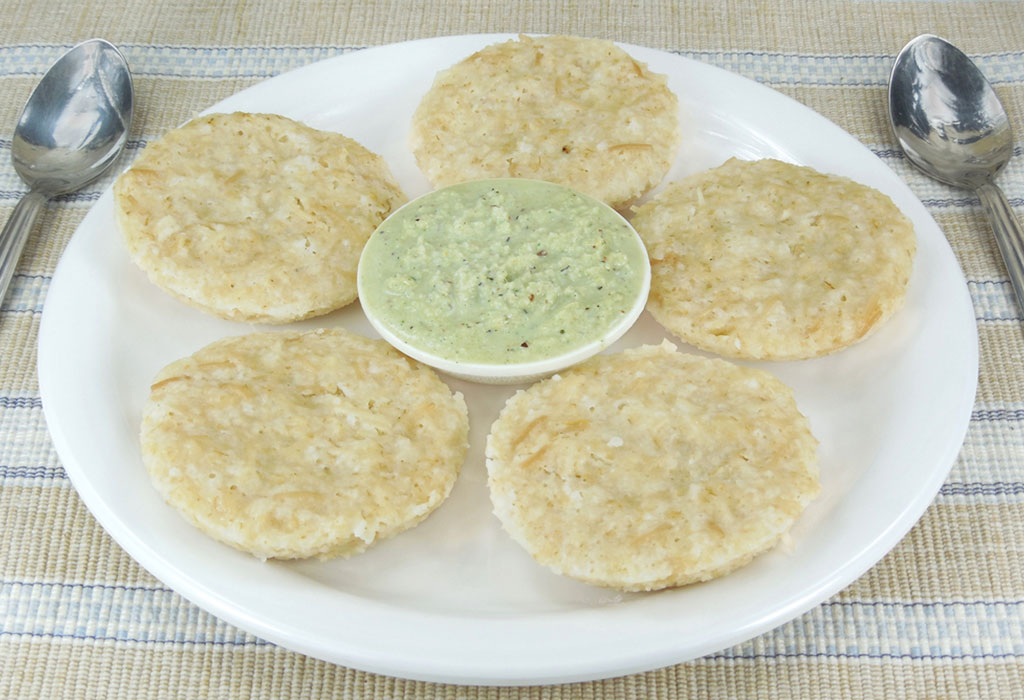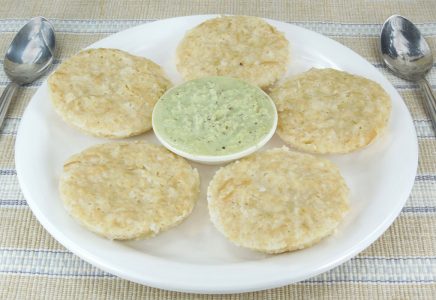 Dry roast 2 cups of oats on a tawa till they turn brownish, and grate them into a powder. Take ½ a tablespoon of oil in a pan, add 1 tablespoon of mustard seeds,1 tablespoon of udad dal powder and ½ a tablespoon of chana dal powder, and allow it to cook. Add 1 tablespoon each of carrots, coriander and chilli to the mix, along with turmeric powder, and fry for a minute or two. Add this mixture, along with 2 cups of curd to the oats powder to make a batter. Steam for 15 minutes and then serve it with a chutney of your choice.
7. Oats Apple Crumble
One serving of oats contains 62 gms carbohydrates, 13 gms proteins and 10 gms fibre thus making it a well-balanced nutritional composition. Apples are high in fibre and contain polyphenols which act as antioxidants.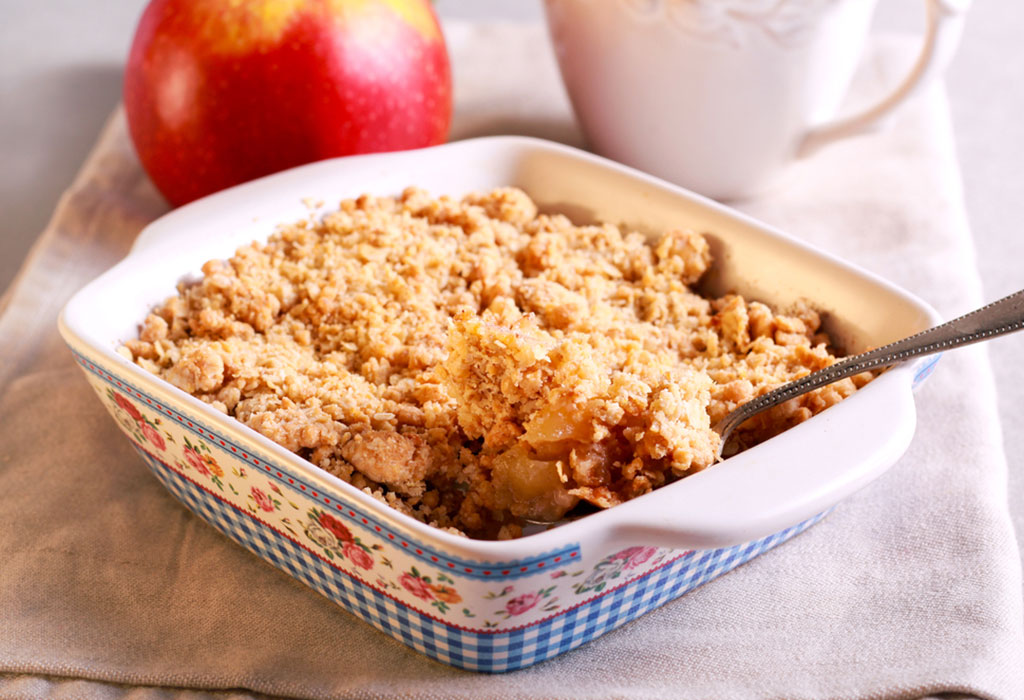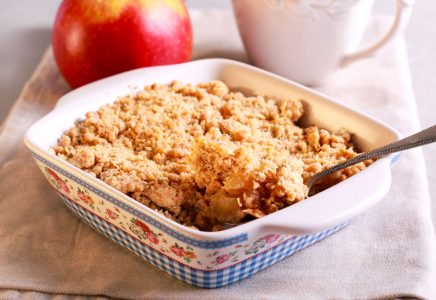 You will need 4 large apples, thinly sliced. Put them in a bowl and add the juice of 2 lemons, along with 1 teaspoon of cinnamon powder, grated lemon zest, and a pinch of nutmeg. Mix it well and leave for 30 minutes. In the meantime, make the oats mix with 1 cup of oats, 2 tablespoons of brown sugar, and ½ teaspoon of cinnamon powder. In a baking pan, spread a little oats mix at the base, add the apples, and pour the rest of the oats mix over it. Add 2 tablespoons of butter, and bake it for 40 minutes at 190 degrees Celsius, till the crumble turns brown.
8. Savoury Corn Tarts
Instead of using maida, this recipe uses gluten-free maize flour. Corn contains fibre, which aids in proper digestion of food in children. 100 gms makki atta (maize flour) carries about 334 calories, 9 grams of protein, and 65 grams of carbohydrates, making it a perfect meal for growing children.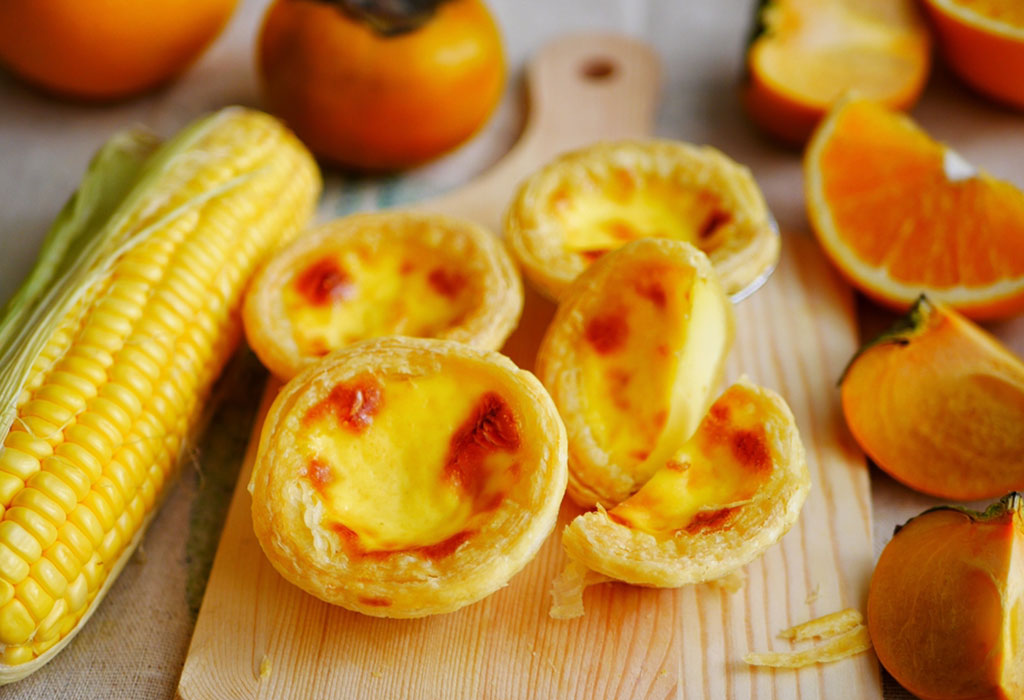 Take a bowl and pour into it 1 cup of makki atta/ cornmeal, ½ a teaspoon of thyme, ½ teaspoon of salt, and 1 tablespoon of sugar into it. Add 1 cup shredded cheese, and mix it well with the flour. Break an egg and 1 tablespoon of oil to create a dough. Put this dough into moulds and freeze it for 10 minutes. Then bake it in the oven till it turns golden brown. For the filling, add ½ a cup of mushrooms, ½ a cup of spinach leaves, and ½ a cup of boiled corn to hot oil. Add salt, pepper, and thyme. Shut the gas stove and add cheese, cream, and 1 egg. Pour this mixture into the tarts you made, add some grated cheese, and bake it for 20 minutes.
9. Dates and Cashew Laddoos
This is an energy-boosting snack. Dates contain Vitamin B6, copper and magnesium, which is great for healing functions, while cashew contains vitamins, minerals and antioxidants. These are one of the best evening snacks for toddlers.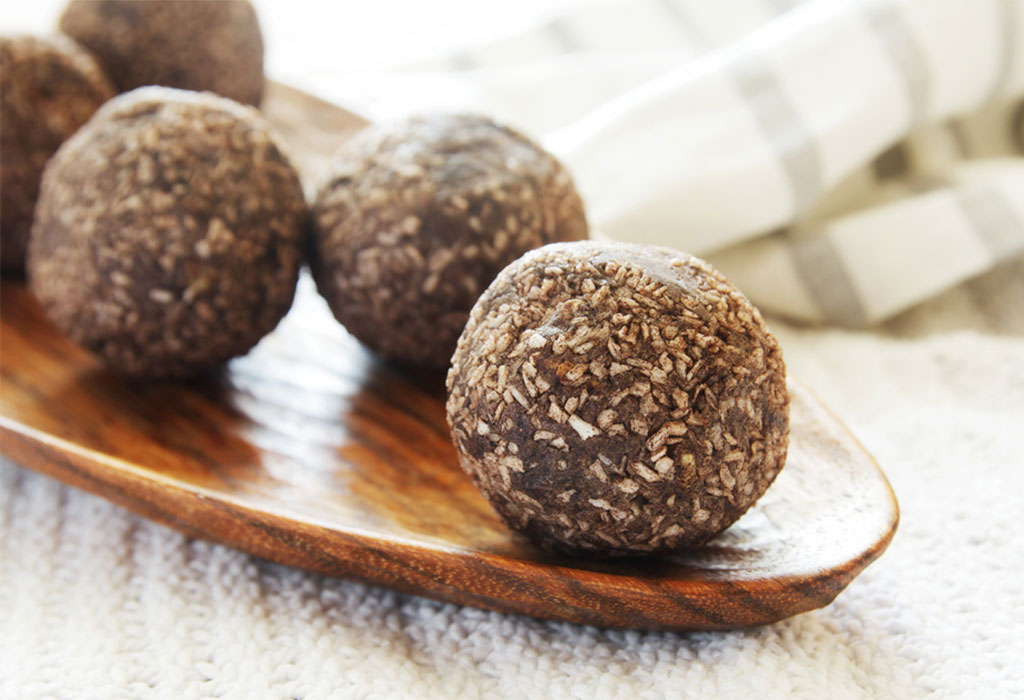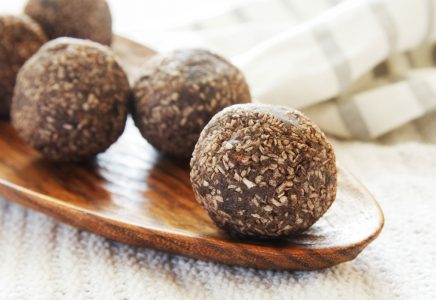 Soak one cup of de-seeded dates in water, for an hour, and then drain the water to dry them off. Blend 1 cup of cashew nuts and ½ a cup of grated coconut in the mixer before adding the dates, salt, and coconut oil and blending it once again. Once a sticky mixture is formed, roll into small balls, and place them on a baking tray. Refrigerate the mix for an hour before serving it to kids.
10. Herbed Potatoes
This quick snack contains potatoes, which are low in calories and are a great source of Vitamin C and B6, manganese, and phosphorus. The goodness of honey, garlic, and other herbs are a bonus. Honey consists of Vitamin B6, thiamine, pantothenic, and riboflavin.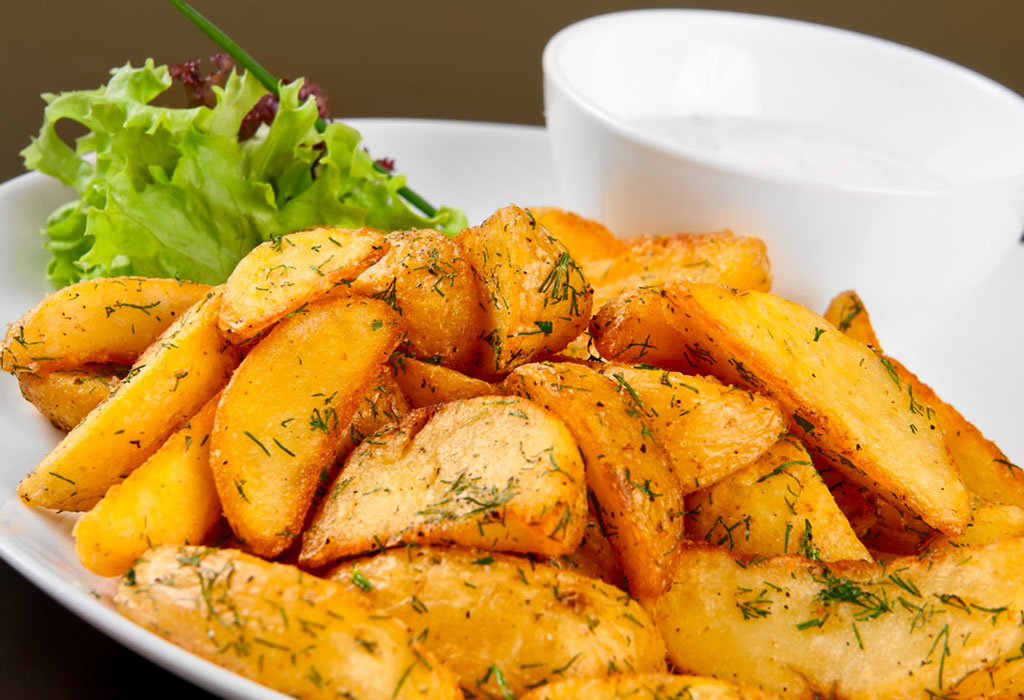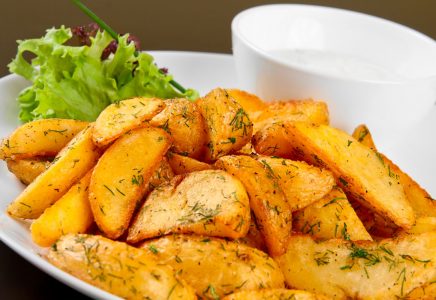 Take 2 large potatoes, wash them, and slice them into thin pieces. Put them in a bowl and add the following ingredients to it: 1 tablespoon of olive oil, four minced garlic cloves, 5-6 minced basil leaves, 1/2 a tablespoon of chilli flakes, 1 tablespoon of oregano, 2 tablespoons of honey and salt. Mix the potatoes around, till the potatoes are coated, and then put them on the baking tray. Bake them at 200 degrees C for about 10-15 minutes and serve hot. Due to the simplicity and gorgeous taste, they rank amongst the most delicious homemade snacks.
11. Surti Jowar Wada
Jowar is a part of the millet family and is the major ingredient of this gluten-free snack for kids. It is great for enhancing the protein and fibre content in the body the tasty way. One cup of jowar contains about 10 grams of dietary fibre, which is about 48% of our body's daily need for fibre.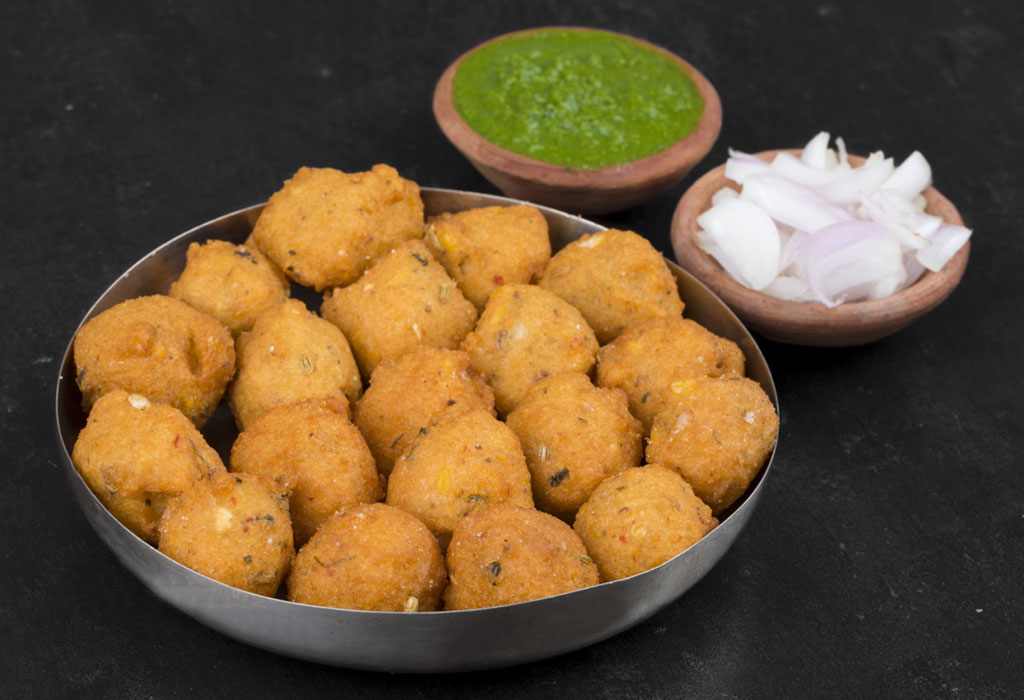 You need the following ingredients to make this snack: 1 cup of jowar, ½ a cup of besan (gram flour), chopped ginger, 4 cloves of chopped garlic, 1 cup of curd, 1 tablespoon of salt, 1 tablespoon of turmeric, 1 tablespoon of red chilli and 1 tablespoon of sesame seeds. Mix these items in a bowl and add water to create a sticky batter. Coat the pan with oil and heat it. Drop the batter into the pan and cook both sides till they are brown. Serve with sauce or chutney and watch your kids reach out for more.
12. Mixed Vegetable Sandwich
This is an all-time favourite snack for kids and mothers alike, due to the simple ingredients and great taste. Green vegetables like carrot, cucumber, cabbage and lettuce, are full of beta-carotene, calcium, magnesium, Vitamins C, A & K.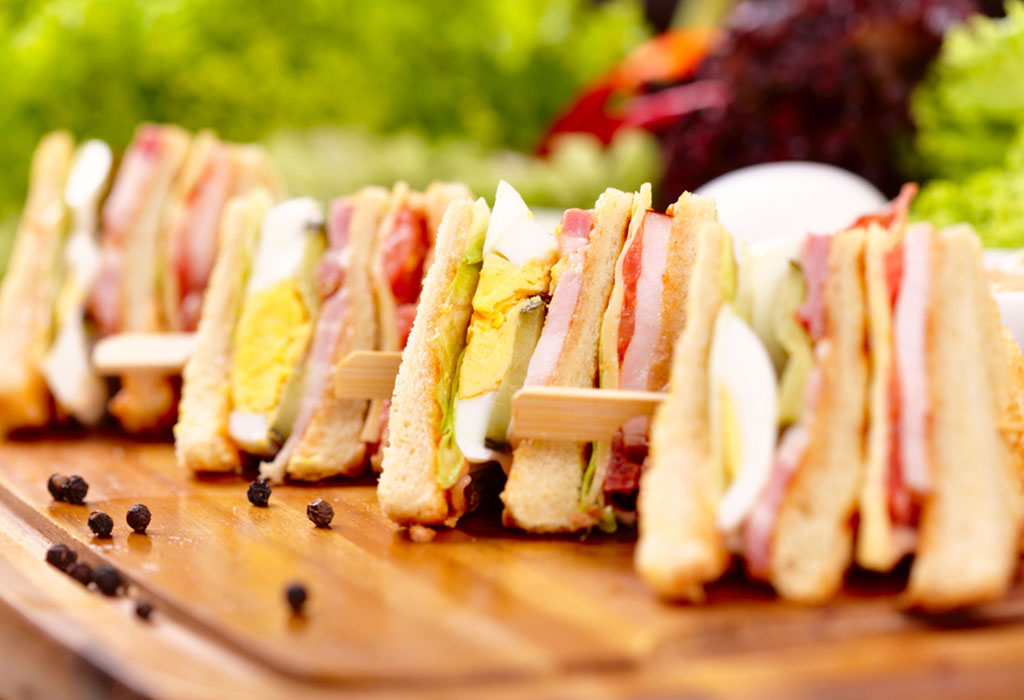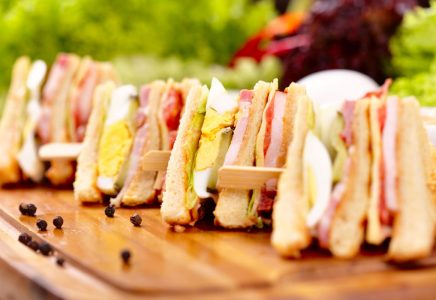 This recipe takes around 15-20 minutes of time to prepare and is simple and quick, too. Take 2 bread slices (whole wheat or brown bread, if you want to make it healthier) and spread butter or mayonnaise on one slice and sauce on the other. Slice 1 carrot, 1 cucumber, 1 tomato, some cabbage, and some lettuce, and spread them evenly on the bread slices. Lay a cheese slice or shredded cheese on the veggies and place the other bread slice over it. Heat the sandwich toaster, place the sandwich over it, and toast till the bread turns golden brown in colour. Cut the sandwich in two, and serve with tomato sauce and sweet-sour chutney.
Snacking is an essential part of growing up, and a lot of our memories are centred around it as kids. Children are bundles of energy and need healthy snacks to get over the hunger pangs. Parents should remember that snacks should never replace regular meals, and therefore, it is important to regulate and monitor the kind of snacks your child eats during the day.
Also Read: Calcium Rich Foods for Kids