Brown Rice for Babies – Health Benefits and Recipes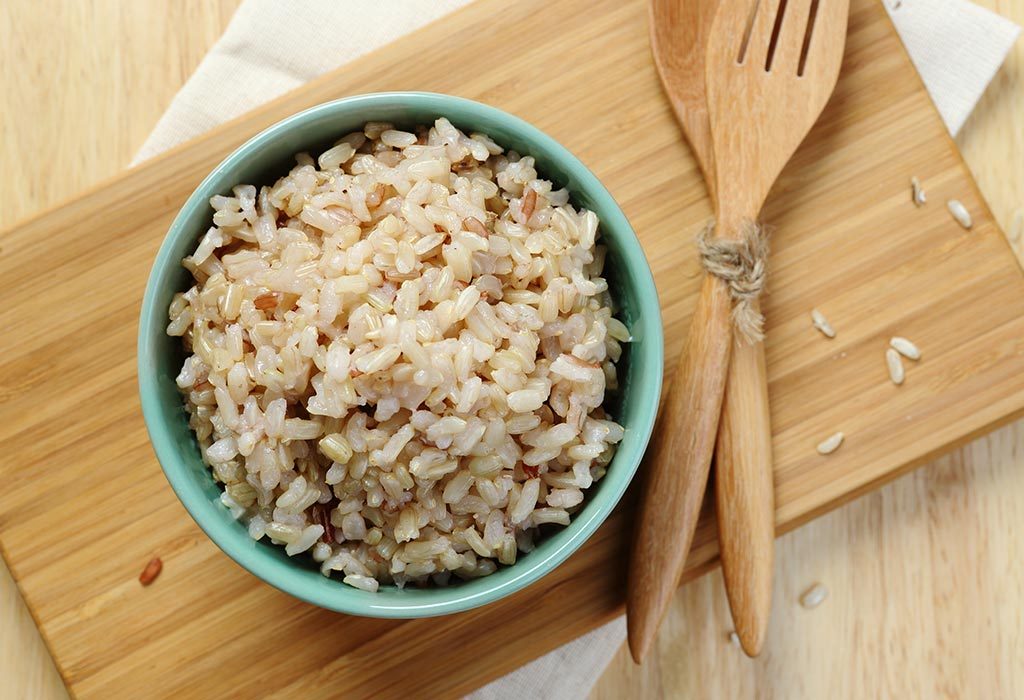 When asked to switch from normal rice to brown rice, the decision seems like a no-brainer for adults. But just like any other food item, it is important to know the right time to give it to your baby and the right manner of giving it.
Is Brown Rice Good for Your Baby?
Brown rice is known to have many nutrients in it and is also quite compatible with many other food items. Brown rice for baby's first food is a pretty good choice since the chances of it having any allergies to it is extremely low.
When Should You Introduce Brown Rice to a Baby's Diet?
Brown rice that is prepared at home is the safest option to give to your baby. Most people recommend introducing your baby to solid food items only after they turn 6 months old. Hence you can start giving brown rice to your little one once he turns 6 months old.
Nutritional Information on Brown Rice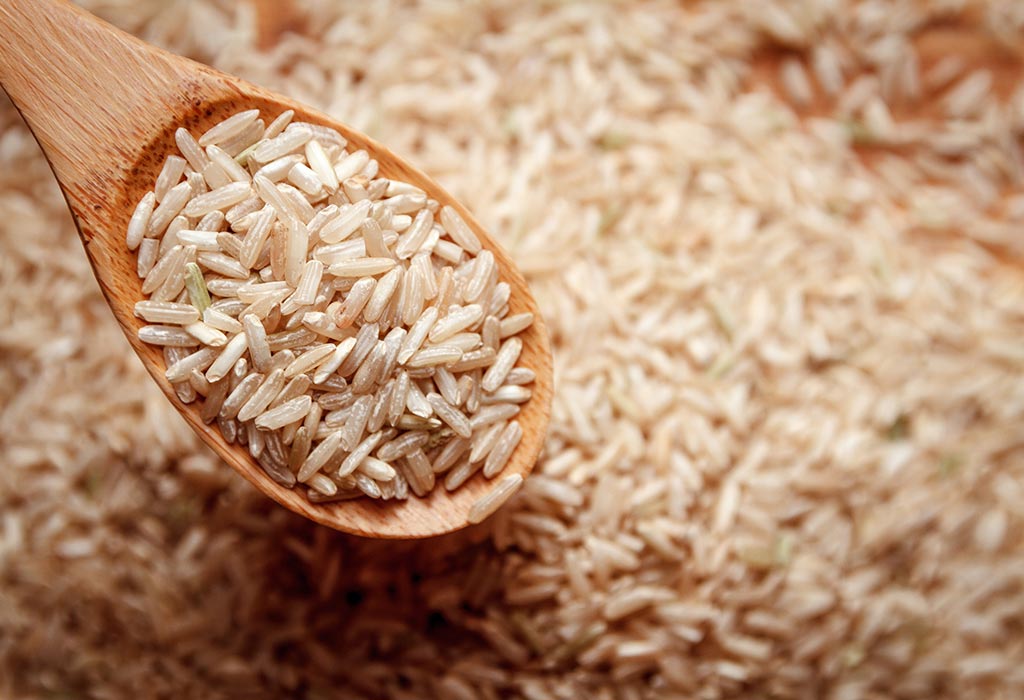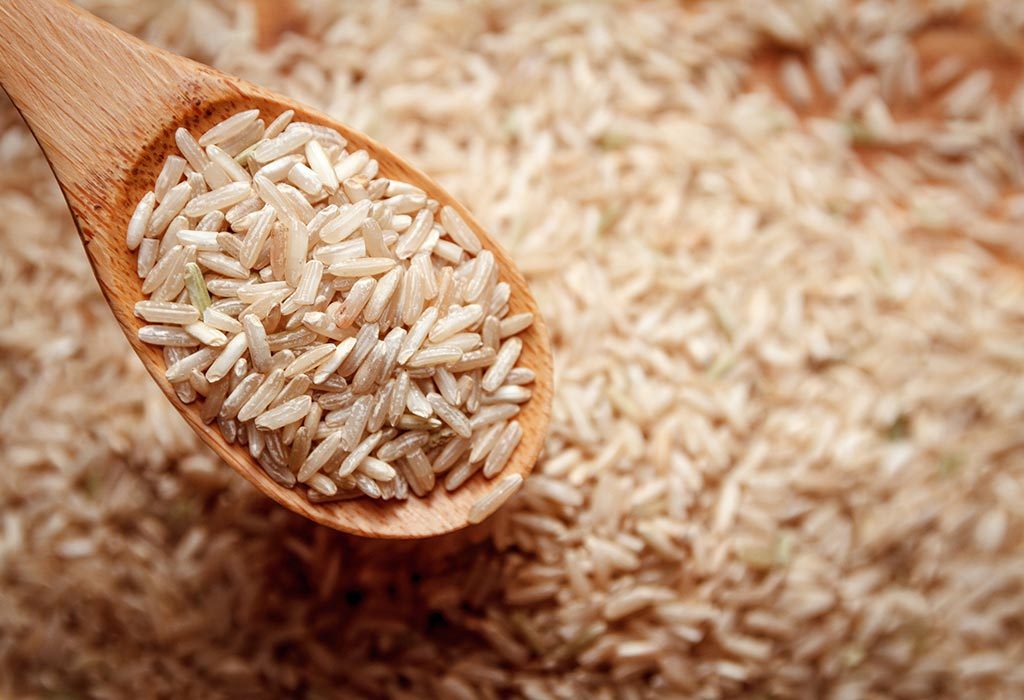 In a 100g serving of cooked brown rice, the nutrients present are as follows:
| | |
| --- | --- |
| Description | Quantity |
| Vitamin B1 | 0.401 mg |
| Vitamin B2 | 0.093 mg |
| Vitamin B3 | 5.091 mg |
| Vitamin B5 | 1.493 mg |
| Vitamin B6 | 0.509 mg |
| Vitamin B9 | 20 mcg |
| Carbohydrates | 77.24 g |
| Sugar | 0.85 g |
| Fibre | 3.5 g |
| Fat | 2.92 g |
| Proteins | 7.94 g |
| Water | 10.37 g |
| Calcium | 23 mg |
| Iron | 1.47 mg |
| Magnesium | 143 mg |
| Manganese | 3.743 mg |
| Phosphorous | 333 mg |
| Potassium | 223 mg |
| Sodium | 7 mg |
| Zinc | 2.02 mg |
Source: https://www.verywellfamily.com/brown-rice-nutrition-information-for-babys-first-year-284323
Health Benefits of Brown Rice for Babies
Following are some of the health benefits of brown rice for your baby.
Given the low possibility of brown rice containing any allergens, it acts as the perfect item to introduce your baby to the world of solid foods.
With copious amounts of fibre in the rice, it is the best food to be given to babies having constipation.
Selecting And Storing Brown Rice
Here are a few tips on how to store and choose brown rice.
1. Uncooked Rice
When purchasing any packets of uncooked brown rice from the market, double-check the expiry dates on them.
At home, these rice packets should be stored in the fridge. The reason is that the brown rice still has the oily germ cover on it, which is not present in white rice. If this is exposed to room temperature, the heat can turn the rice rancid.
2. Cooked Rice
Once cooked, the bacteria present in the rice can multiply rather quickly on storage. Ideally, the rice can last for up to 4 days in the fridge. However, it is best to cook only the amount of rice that is required and throw away any leftover to avoid infection.
Another way to store cooked brown rice is to cool it down quickly after cooking and freeze it immediately. Such frozen brown rice packets can be stored in the freezer for as long as 6 months at a time.
Best Way to Cook Brown Rice for Infants
A brown rice puree for baby is the best way to introduce your baby to brown rice. This is done by cooking brown rice inside a cooker. A quarter cup of rice powder mixed with a couple of cups of water should be stirred properly and constantly.
Risk of Brown Rice Consumption for Babies
In very few cases, trace levels of arsenic have been observed in brown rice. On a general level, however, the chances of encountering arsenic are negligible when purchasing authentic brown rice or organic brown rice, and the health benefits are much higher.
Allergic Reactions to Brown Rice
Any allergic reaction that a baby has after consuming brown rice is probably because of other ingredients present in it. These are primarily gluten and wheat, which are mixed with brown rice, and may result in an allergic reaction.
Easy and Healthiest Brown Rice Baby Food Recipes
You can try these simple and healthy brown rice recipes for kids.
1. Brown Rice Khichdi
What You Will Require
Brown rice
Green gram or yellow peas
Water
How to Prepare
Take the rice and wash it well. Soak it in water for about 30 minutes. Then, remove the water.
Take a pressure cooker and add the rice along with the gram or peas to it. Add water and close the cooker.
Let the rice cook until the cooker has whistled thrice.
Open the cooker and add ghee to the rice to enhance the flavour.
2. Brown Rice Thick Broth
What You Will Require
Short grain brown rice
Diced apricots
Water
Salt
How to Prepare
Wash the rice well. Place the rice with water in a cooker, along with the apricots.
Place the cooker on high heat and let it cook for about 5 hours.
Open the cooker every hour or two and stir the mixture well.
Add water to adjust the consistency of the broth.
3. Brown Rice Pumpkin Porridge
What You Will Require
Brown rice
Skinned and deseeded pumpkin
Water
How to Prepare
Wash the brown rice properly and soak it in water for 30 minutes.
Wash the pumpkin and cut it into small pieces.
Put the pumpkin pieces in a steamer and steam them for half an hour.
Add the rice, water, and the pumpkin pieces in a blender and blend it all together.
Adjust water to make it as smooth as possible.
Pour the mixture into a pot and boil it on high heat for a few minutes.
Reduce the flame and let it cook for a few more minutes.
Let it cool and the brown rice porridge recipe for baby is ready to serve.
4. Brown Rice and Fruit Pudding
What You Will Require
A paste of cooked brown rice
Butter
Maple syrup
Nutmeg
Chopped ripe banana
How to Prepare
Take a pan and mix all the ingredients in it properly.
Place the pan on medium flame and let it cook for half an hour.
Once all the liquid has been absorbed completely, remove the flame and serve.
5. Brown Rice With Apple and Pear
What You Will Require
Apple juice
A paste of cooked brown rice
Chopped pear peeled completely
Chopped apple peeled completely
Raisins
How to Prepare
Take a saucepan and mix all the ingredients in it properly.
Heat the pan and boil the mixture.
Stir it properly, reduce the flame, and cover the pan.
Let it cook for half an hour until the juice is completely absorbed.
Once done, serve it.
6. Brown Rice Fish Casserole
What You Will Require
Brown rice
Canned tuna
Grated cheddar cheese
Diced zucchini
Chopped celery
Dried estragon
Water
How to Prepare
Wash the brown rice well and soak it in water. Boil the rice.
Reduce the flame, cover it, and let it cook for half an hour.
Take it off the flame and add milk, tuna, celery, yoghurt, estragon, and zucchini to the mix.
Pour the entire mixture into a baking dish. Place it in the oven and bake it for half an hour at a temperature of 180 degrees.
Once done, take it out and top it with some grated cheddar cheese.
7. Brown Rice Cereal
What You Will Require
Brown rice powder or organic rice
Water
Breast milk or formula-based milk
How to Prepare
Take water in a bowl and boil it. Add the rice powder to the boiling water, while continuously stirring it.
Let the mixture simmer for 8-10 minutes while stirring it, so as to avoid forming any lumps.
Add breast milk or formula-based milk to it along with some sugar.
Remove the flame and organic brown rice cereal for babies is ready to be served.
8. Baked Brown Rice
What You Will Require
Brown rice
Homemade broth or water
Celery stick
How to Prepare
Prepare the oven by heating it to a temperature of 180 degrees.
Take a pan and add rice to it. Place it on medium flame and cook it while stirring continuously. The rice will turn golden brown in colour.
Chop the celery stick into small pieces and saute it.
Take a baking dish and add the rice, celery, and homemade broth to it.
Place the dish in the oven and let it bake for about 45 minutes until all the water has been absorbed by the rice.
Take it out and blend it together. Once cool, it is ready to serve.
FAQs
1. Does White Rice Cook More Quickly Than Brown Rice?
Yes, brown rice takes a comparatively longer time than white rice to be cooked properly. However, the cooking time can be reduced by taking the required amount of brown rice in advance and soaking it through the night the previous day itself. The same soaking water can then be used for cooking in order to retain all nutrients.
2. Is Brown Rice Syrup Safe for Babies?
The presence of arsenic in brown rice is something that has been observed in a few samples. In research, brown rice syrup was known to have an amount of arsenic that was nearly 6 times more than the safe amount. Although most people use brown rice syrup to sweeten food items, most baby foods do not and should not make use of artificial sweeteners or sugars.
3. Can Brown Rice Milk Be Given to a Baby?
In case the baby is lactose intolerant or has an allergy to soy, brown rice milk can be given to the baby, after consultation with the doctor.
4. Is Fermented Brown Rice Safe for Infants?
Fermentation increases the nutritive value of the rice. However, it is important that the fermented rice is stored properly in the fridge for use before feeding the baby.
5. Is Brown Basmati Rice Good for Infants?
With long grains, the absence of gluten, and a higher amount of amino acids, brown basmati rice builds on the existing nutrition and is great for babies.
6. Can You Give Instant Brown Rice to Your Baby?
The nutritive value of instant brown rice is highly reduced due to the process it undergoes. Therefore, it is best to give normal fresh brown rice.
The nutrition of brown rice and the versatility of use in various recipes makes it extremely useful as a food item for babies. In any case, get a quick recommendation from your doctor about the amount of brown rice to be added to your baby's diet and you are all good to go!
Also Read: Rice Water for Infants