Palak Masoor Dal Soup Recipe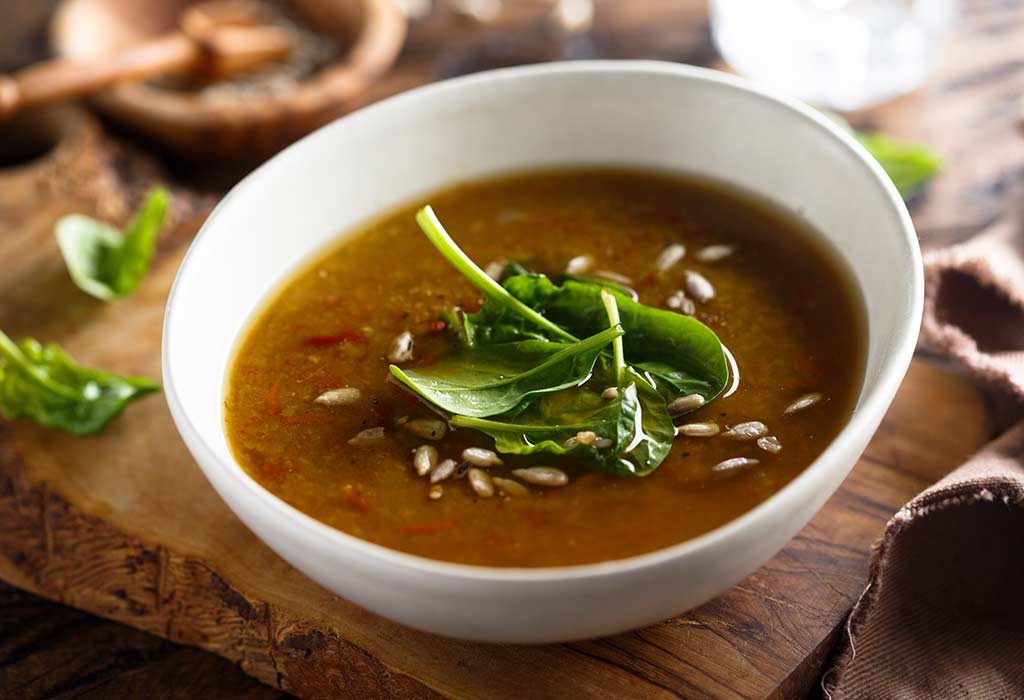 In this Article
Learn how to make Palak Masoor Dal Soup for your toddler to start their solid food diet. It is a great beginning to introducing solid food and getting them to wean from breast milk. Watery, light yet equally nutritious, this soup is an ideal meal plan to include in the diet timetable for your munchkin!
Cooking Time:
| | |
| --- | --- |
| Type | Time (hh:mm:ss) |
| Preparation Time | 00:10:00 |
| Cook Time | 00:20:00 |
| Total Time | 00:30:00 |
Total Servings:
3-4
Suitable For:
Babies above 7 months of age
Cooking Method:
Gas Stove, Induction or Microwave
Meal Schedule:
Appetizer, Mid-Day Snack or Main Meal
Recipe Type:
Appetizers or Snacks
Ingredients
| | |
| --- | --- |
| Ingredients | Quantity & Volume |
| Split Red Lentil (Masoor Dal) | ¼ cup |
| Chopped Tomatoes | 2 cups |
| Chopped Spinach | ¾ cup |
| Butter | 2 tsp |
| Chopped Onions | ½ cup |
| Chopped Garlic | 1 tsp |
| Black peppercorns | 2-3 |
| Salt | As per taste |
| Lemon Juice | 1 tsp |
Instructions
Making Palak Masoor Dal Soup for babies is a very simple process. Follow this step-by-step procedure to get the perfect consistency.
Heat butter in a pressure cooker and add chopped onions, garlic and peppercorns. Sauté on a medium flame for a minute.
Once it becomes translucent, add masoor dal, tomatoes, salt and 2 cups of water. Close the lid of the pressure cooker. Pressure cook for about 3-4 whistles.
Allow the steam to escape before opening the lid.
Let the mixture cool completely and blend it in a mixer into a smooth puree.
Now transfer the puree to a pan, add the spinach. Add ½ cup of water, mix well and bring to a boil. Stir the mixture occasionally until it comes to a boil.
Remove the soup from the flame and add the lemon juice.
Mix well and serve hot.
Recipe Tips
Wash the dal, tomatoes and spinach leaves well before cooking.
Wash the spinach leaves several times in water as they may have a lot of dirt. If you do not wash them well, the soup will be filled with the dirt and will lose its taste.
Chop the spinach well so that it gets cooked easily when added to the cooked dal.
Chop the onions and tomatoes finely so that they get blended well into the mixture when mixed in the blender.
Make sure to take the seeds out of the lemon juice if there are any once you squeeze it.
Instead of chopping the garlic, you could also grate it for the flavours to be infused into the dal.
You could also add grated ginger if you want a slightly different taste.
Nutrition Information Serving Per 100 Grams
| | |
| --- | --- |
| Nutrient | Value |
| Energy | 97 kCal |
| Protein | 4.8 gm |
| Total Carbohydrates | 14.7 gm |
| Fat | 2.1 gm |
| Cholesterol | 5 mg |
| Sodium | 41.86 mg |
| Fibre | 3.7 gm |
Health Benefits
Spinach is a good source of iron and is also rich in antioxidants.
Tomatoes are a good source of Vitamin C and help prevent cold and flu symptoms.
Spinach and tomatoes are source of folic acid that helps in increasing haemoglobin levels.
Masoor dal is rich in protein and helps to nourish bones and teeth.
Masoor Dal is also good for the skin and helps to moisturize the skin.
Garlic has medicinal properties and is anti-inflammatory. It can combat sickness and help relieve symptoms of cough and cold.
Buying Guide
A few tips to remember when buying ingredients for this homemade Palak Masoor Dal Soup baby food recipe.
Masoor dal is sold in packages and is available in all super markets. Make sure you check the expiry date on the packaging.
Spinach leaves must be fresh and should be properly separated from the stalk. Make sure the leaves are not wilted.
Tomatoes must be firm and juicy. If they are not firm they will not cook well.
Buy lemons that are ripe and juicy. Ripe lemons tend to be more juicy and you can squeeze more juice out of them.
This simple Palak Masoor Dal Soup for babies is a perfect dish to introduce to your weaning baby. Healthy and tasty, this soup with its perfect consistency will soon become your baby's favourite. It is ideal to kindle you little one's appetite and you can follow it up with a rice dish like khichdi. This dish lets you tick all the boxes for nutrients, vitamins and minerals that you wish for in a day for your toddler's diet.