Appe Recipe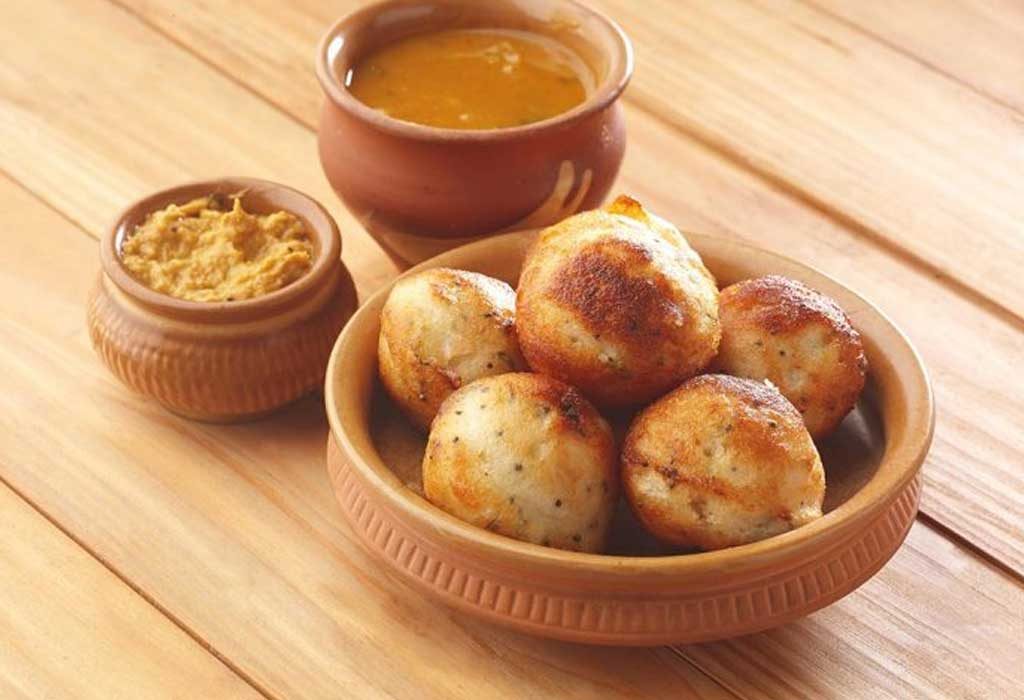 In this Article
Appe is a great evening or mid-morning snack for toddlers. It is made of a fermented batter comprising of rice and urad dal, appes are crisp on the outside and spongy inside. They are made in appe moulds, and the shape of the snack can excite the curiosity of any toddler. The homemade appe recipe needs some patience, but it is certainly worth it. Read on to know how to make some delicious appes for your little one.
Cooking Time:
| | |
| --- | --- |
| Type | Time (hh:mm:ss) |
| Preparation Time | 08:30:00 |
| Cook Time | 00:30:00 |
| Total Time | 08:30:00 |
Cooking Method: You'll need a grinder, gas stove, and an appe mould to make this recipe.
Type of Meal: Vegetarian
Suitable For: Toddlers aged 18 months and above
Meal Schedule: Breakfast, mid-morning snack, and evening snack.
Recipe Type: A main dish for breakfast or a snack in between meals.
Ingredients
| | |
| --- | --- |
| Ingredients | Quantity and Volume |
| Rice | 1 cup |
| Urad dal | ¼ cup |
| Cumin Seeds | 1 tsp |
| Mustard Seeds | 1 tsp |
| Curry Leaves | 8-10 |
| Asafoetida | ¼ tsp |
| Green Chillies | 1 tsp, chopped finely |
| Onions | 2 tbsp, chopped finely |
| Peanuts (optional) | ¼ cup, crushed finely |
| Salt | To taste |
| Oil | 5-7 tbsp |
Instructions
Here's how you can make some delicious appe for your baby. You will need to have an appe mould to get that perfect round shape like a spherical ball.
Combine the raw rice and urad dal together and rinse it a couple of times with potable water.
Then, soak it in enough water in a large bowl. The rice and dal should be completely submerged in water. Soak it for 2 hours at least.
Once the rice and dal are soaked enough, drain the water.
Grind the soaked rice and dal along with ½ cup of water, until you get a smooth paste. Transfer the mixture to a large bowl. Cover the bowl and keep it in a warm place to ferment for about 8 hours.
Once the batter is fermented, heat about 2 tablespoons of oil in a small non-stick pan.
When the oil is hot, toss the cumin seeds, mustard seeds, curry leaves, asafoetida and green chillies. Saute them on a slow flame for a few minutes.
Once they are done, add the onions and crushed peanuts and saute on a medium flame for another 3-4 minutes.
Now, add this tempering to the rice and dal batter.
Add salt to the batter and mix well.
Grease the appe mould with some oil and heat it on a slow flame.
Pour about 1 teaspoon of oil into every mould. Wait until the oil is hot and pour about 1 tablespoon of batter into each mould.
Cook until you see the sides turning brown and then flip the appe using a fork or a long stick. Let the other side cook as well.
You can pierce the appe to see if the batter sticks to the fork. When the batter does not stick, the appes are completely cooked.
Repeat the same process for the remaining batter.
Serve the appe with coconut/tomato chutney and sambar.
Recipe Tips
There are a few things you must remember while making appe for your child. Let's take a look at them –
Use good quality raw rice and urad dal, preferably organic. If you cannot buy organic stuff, then choose rice and urad dal in packaged versions.
Wash the rice and dal well before soaking them in water.
Make sure you soak the rice and dal for at least 2 hours in clean, boiled water.
The batter must ferment for at least 8 hours to taste good.
The smoother you grind the batter, the softer the appe will be.
You can avoid using peanuts if your child is allergic to them.
Nutrition Information (Per 100 Grams)
| | |
| --- | --- |
| Nutrient | Value |
| Energy | 100 kcal |
| Protein | 1.4 g |
| Carbohydrates | 7.6 g |
| Fibre | 0.7 g |
| Fat | 7.1 g |
| Cholesterol | 0 mg |
| Vitamin A | 59.1 mg |
| Vitamin C | 0.1 mg |
| Potassium | 15.9 mg |
| Sodium | 0.8 mg |
| Zinc | 0.2 mg |
| Folic Acid | 3.4 mg |
| Calcium | 5.5 mg |
| Iron | 0.2 mg |
Health Benefits
Some health benefits of homemade appe baby food recipe are listed below:
The combination of rice and urad dal is perfect to meet your baby with the daily carb and protein requirement. Your baby needs them during his/her developmental stage.
Appes are easy to digest and light on the stomach.
Rice and urad dal are good sources of B vitamins.
Buying Guide
Make sure you buy branded rice and urad dal.
It is advisable to use good quality rice as it can be easily cleaned, washed and soaked.
Do not buy urad dal that is sold loose as it tends to have stones that appear just like the dal.
You can also use ghee instead of oil if you want to make the appes taste richer.
Your 18-month-old is now taking his first steps to having foods of different textures and tastes. With their set of teeth sprouting, you'd want to introduce food that can be easily chewed and masticated. Appe is a dish that can be smashed into tiny pieces for your toddler to hold, put in their mouth and chew as well.