Almond Date Milkshake Recipe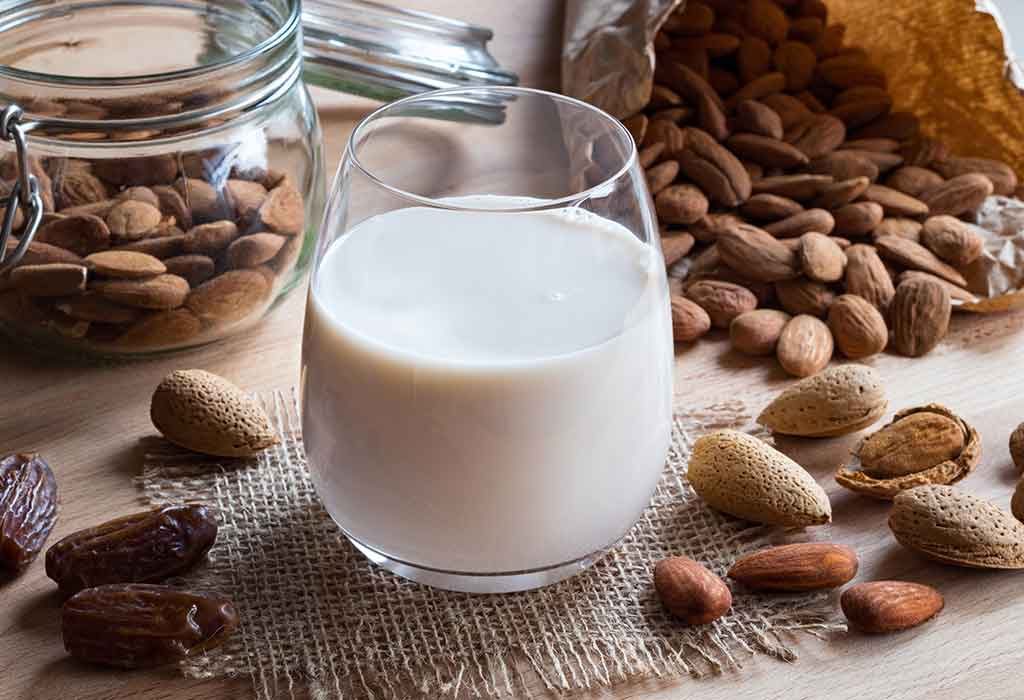 In this Article
A super food, dates are rich in a lot of nutrients essential for the healthy development of children. Together with almonds, dates make a powerful food that can be fed to your growing kids for immense development. Rich in antioxidants, calcium, fibre, and magnesium, Almond Date Milkshake for babies is a recipe for success in your list for your toddler. Include this easy to make the recipe to get your toddler used to different tastes and have their daily dose of milk without a fuss.
Cooking Time
| | |
| --- | --- |
| Type | Time (hh:mm:ss) |
| Preparation Time | 02:00:00 |
| Cook Time | 00:15:00 |
| Total Time | 02:15:00 |
Cooking Method
Blender, Gas Stove
Type of Meal
Vegetarian
Suitable For
Any baby above 16 months of age
Meal Schedule
Breakfast, mid-morning, evening snack
Recipe Type
Main dish for breakfast or a snack between meals
Ingredients
| | |
| --- | --- |
| Ingredients | Quantity and Volume |
| Dates | 10-12 |
| Almond | 8-10 |
| Chilled or cold milk | 2.5 cups |
| Hot Milk | 2.5 cups |
| Sugar or Jaggery (optional) | 1-2 teaspoon |
Instructions
If you are wondering on how to make Almond Date Milkshake, then follow this simple step by step guide to prepare the dish for your toddler.
Rinse and soak the 10-12 dates in half hot milk for about 30 minutes.
Rinse and soak the 8-10 almonds in the remaining hot milk for about 2 hours.
Make sure to soak the almonds in hot milk as they will soak faster and the skin will peel off easily
Once you have soaked the dates, deseed them and chop them into small, tiny pieces.
Chop the almonds into tiny pieces after peeling them.
Put the pieces of almonds and dates in the blender and stir it.
Blend it till it becomes a paste and then add the hot milk and cold milk.
Keep whisking until the dates and almonds mix completely.
Stir occasionally to see if the mixture is blending with the milk.
Once the drink is prepared, empty it into a jug.
Add the sugar or jaggery if you need and stir well.
Pour it in a glass. Serve chilled.
Recipe Tips
A few points to remember before making homemade Almond Date Milkshake for your baby. It is simple but there are a few things that you must remember: –
Soak the almond and dates before making the milkshake.
Soak them in hot milk as they will soak and soften quicker.
If you want the almonds and dates to become a fine paste, it is better to chop them before putting it in the blender.
Whole or full-fat milk is ideal for this recipe.
Boil the milk and cool down before adding it to the date and almond mixture.
You will need to whisk the mixture for a couple of time before you empty into the jug.
Always wash your hands before making the dish.
Nutrition Information (Per 100 Grams)
| | |
| --- | --- |
| Nutrient | Value |
| Energy | 350 kcal |
| Protein | 7 g |
| Carbohydrates | 50 g |
| Fibre | 7 g |
| Fat | 53 g |
| Cholesterol | 20 mg |
| Vitamin A | 2% |
| Vitamin C | 17% |
| Potassium | 500 mg |
| Sodium | 91 mg |
| Sugar | 28 g |
Health Benefits
Health benefits of this easy Almond Date Milkshake recipe are listed here: –
Dates are rich in iron and fibre.
Dates are rich in calcium and magnesium, which are helpful for the bones.
Dates are a great laxative and a perfect antidote to constipation.
Almonds are rich in antioxidants and Vitamin E.
Both dates and almonds are a rich source of iron and prevent anaemia. Increased blood and iron will help to carry oxygen through the body.
Almonds are perfect for kids who have skin problems like dry skin and eczema.
The easy Almond Date Milkshake recipe is ideal for toddlers over 12 months of age as it gives much-needed nutrition.
Buying Guide
Ensure you buy organic dates and branded ones. Check the expiry date before you buy the product.
Almond shells must be of the same size and must not rattle heavily when you shake it. If you rattle them and they make a sound, then they may be old.
Almonds must be bought with the skin and do not purchase the almonds without the skin.
Buy organic dates and almonds for quality.
Whole milk with full fat is the best for the recipe. It will blend with the almonds and dates to enhance the taste.
Once your baby starts with cow's milk after their first birthday, you will find that they will dislike having plain milk. Rather than buying store-bought milk additions like Horlicks, Bournvita or any other mixture, you could choose to make this milkshake. This healthy drink is a wholesome meal and can make up for a full breakfast for your toddler.