Stuffed Paneer Palak Paratha Recipe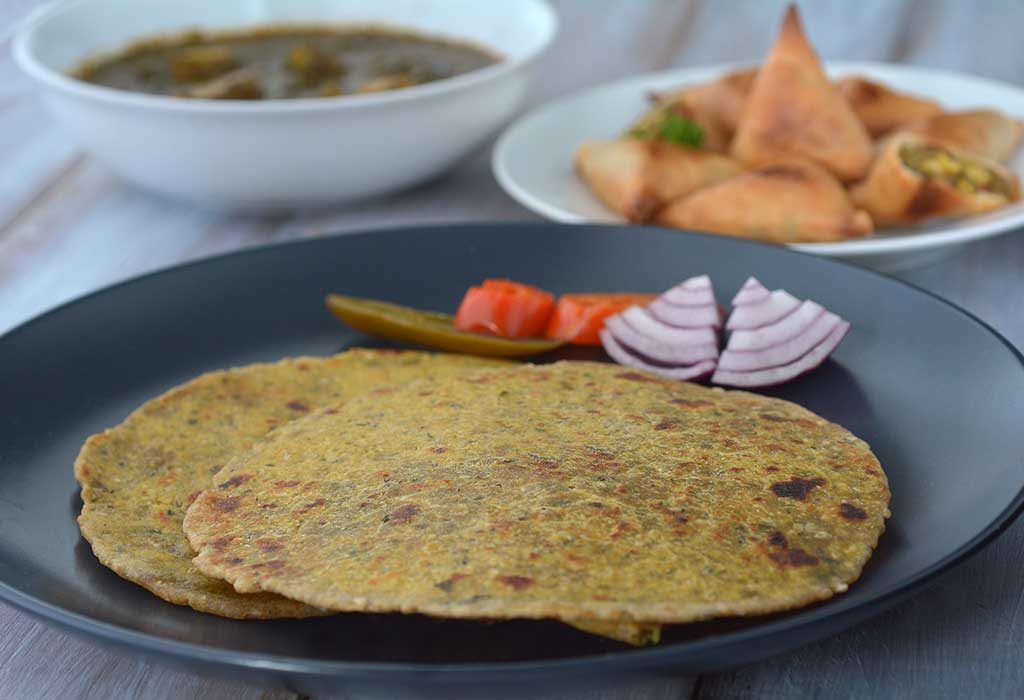 In this Article
Finding it difficult to feed green vegetables and some dairy products to your little one? We have a fantastic recipe for you. It is called the Stuffed Paneer Palak Parantha. It is easy to prepare and can be eaten by one and all.
Paranthas have always been a great food choice among Indians, whether North or South. We have grown up eating paranthas, and now our kids should love them too! It would be amazing when these paranthas get filled up with so much nutrition. I know you must have already started liking the idea of it and thinking about how to make stuffed paneer palak paranthas. So, without much adieu, let's begin the recipe!
Cooking Time
| | |
| --- | --- |
| Type | Time (hh:mm:ss) |
| Preparation Time | 00:10:00 |
| Cook Time | 00:30:00 |
| Total Time | 00:40:00 |
Cooking Method
Gas
Type of Meal
Vegetarian
Suitable For
Weaning babies older than 13 month of age
Meal Schedule
Breakfast, Mid Morning Snack, Lunch or Evening Snack.
Recipe Type
Main Dish
Ingredients
| | |
| --- | --- |
| Ingredient | Quantity |
| Whole Wheat Flour | 1 cup |
| Spinach(tightly packed) | 0.75 cup |
| Onion(finely chopped) | 1/3 cup |
| Paneer | 100 grams |
| Ginger(grated) | ½ tsp |
| Coriander leaves(chopped) | 1 tbsp |
| Dry Mango Powder | ½ tsp |
| Roasted Cumin Powder | ¼ tsp |
| Oil | For frying |
| Salt | As per taste |
| Green Chilly(optional) | 1 in number |
| Red Chilly powder(optional) | As per taste |
Instructions
Here we come to the step by step instructions to prepare delicious stuffed paneer palak paranthas:
Wash the spinach leaves properly and put it in the blender and make a smooth paste out of it. Water can be used while preparing the paste. But don't make it too watery.
Take the whole wheat flour and mix the spinach paste into it. Add salt as per your taste into this mixture. Now make a soft dough out of this mixture. Water can be added in preparation of the dough.
Cover the dough and let it rest for some time. Till then prepare the paneer filling.
In a large bowl take grated paneer. Add in a little bit of salt. Remember the dough also has salt. Add all the dry spices, grated ginger and finely chopped coriander leaves. Mix everything. The filling is ready.
Now make lemon sized dough balls out of the dough.
Take a griddle and keep it on the gas stove.
Take a dough ball and start rolling it. When approximately it turns out to be a 4-inch circle, fill 3 tbsp of paneer filling.
Now bring the ends of parantha together and start rolling it again very gently. This time the parantha should be around 6 inches in size. The size of the parantha depends on you entirely.
Put the rolled parantha on the griddle.
Let it cook on one side slightly. Now flip the parantha and apply oil on the slightly cooked side. Flip it again and press with a spatula so that it cooks nicely. Now apply oil on the second side as well and flip again.
Cook until the parantha turns out brown both sides.
The parantha is ready to be served with curd or pickle!
Recipe Tips
Following tips should be kept in mind while preparing this simple stuffed paneer palak paratha recipe:
Do not keep the prepared dough for too long in the refrigerator as it may get spoiled.
Please do wash the spinach leaves very carefully.
Nutrition Information (Per 100 Grams)
| | |
| --- | --- |
| Type | Value |
| Energy | 361 kcal |
| Fat | 14 gm |
| Carbohydrates | 47 gm |
| Protein | 15 gm |
| Sodium | 641 mg |
| Potassium | 232 mg |
| Calcium | 260 mg |
| Iron | 2.3 mg |
| Vitamin C | 2.4 mg |
Health Benefits
Following are the benefits of feeding this homemade stuffed paneer palak parantha baby food recipe to your child:
Spinach is bestowed with a high number of nutrients. It has a good amount of water in it and hence keeps the little one hydrated for long.
Spinach's high nutritive value protects the body from catching infections easily.
Children suffer from gastric issues during the early years. Spinach helps in the resolution of such problems and improves bowel movement.
Spinach and Paneer are a great source of calcium, protein and vitamins. So, these help in the development of strong bones and muscles.
Buying Guide:
Following ingredients should be bought carefully while making stuffed paneer palak parantha for toddlers:
Please do try to buy spinach leaves from an organic vegetable store. This ensures safer methods of farming and that your child doesn't intake some chemicals with the recipe.
Spinach with tender and crisp leaves is considered fresh. Do not buy the yellowish or brownish colour of leaves.
Do prepare these super-delicious paranthas for your baby and feed nutrition with taste. And I am sure the elders will love this recipe too! Till then, Happy Motherhood.