Wheat Banana Sheera Recipe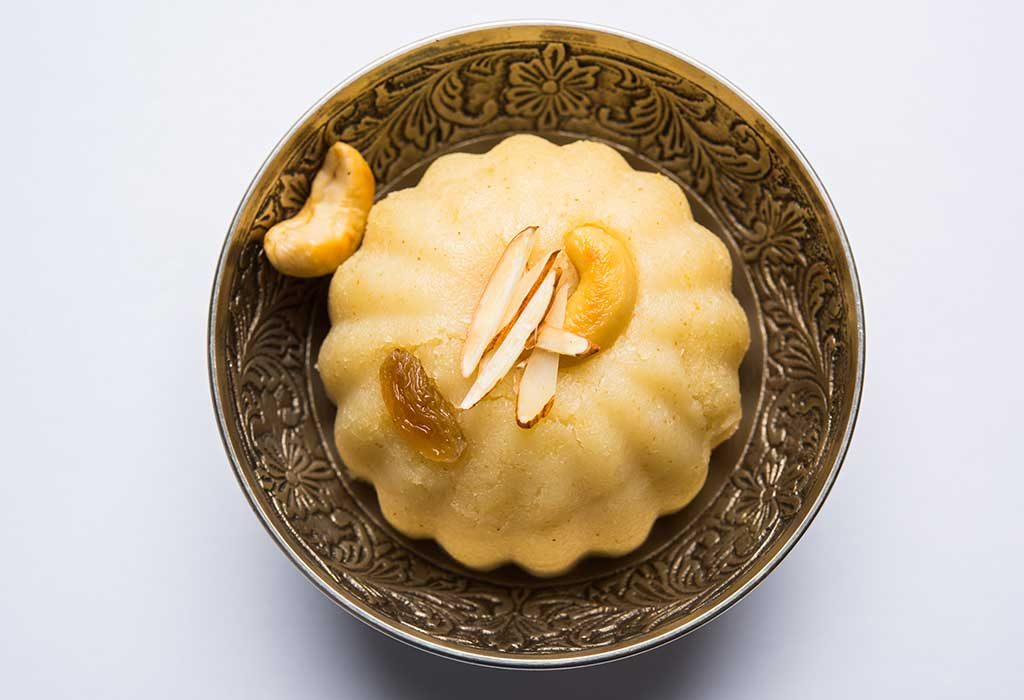 In this Article
Banana is considered as one of the perfect first food for weaning babies. The nutritional content of the banana is high and it is a great source of potassium. Easy Wheat banana sheera recipe is a combination of milk, suji (semolina), mashed banana and ghee (Clarified butter) and this combination is highly recommended for a healthy weight gain of toddlers. The natural sweetness of the banana gives a fresh taste to this dish without getting heavy on the digestive system of the babies. Introduce your baby to this delicious weaning food loaded with the goodness of suji.
Cooking Time:
| | |
| --- | --- |
| Type | Time (hh:mm:ss) |
| Preparation Time | 00:05:00 |
| Cook Time | 00:15:00 |
| Total Time | 00:20:00 |
Cooking Method
Gas
Type of Meal
Vegetarian
Suitable for
Weaning babies more than 9 months
Meal Schedule
Breakfast, Mid-morning breakfast, Lunch
Recipe Type
Main dish
Ingredients
| | |
| --- | --- |
| Type | Quantity |
| Semolina or sooji | 1 cup (250 ml) |
| Ripe Banana | 2 or 3 |
| Almonds or cashews | 8-9 |
| Raisins | 10-12 |
| Green cardamoms, powdered | 2-3 |
| Ghee | 3 tsp |
| Sugar | 1-2 tsp |
| Water or milk | 2.5 Cup |
| Saffron | A pinch |
Instructions
Here are step by step directions to make delicious wheat banana sheera for babies.
Heat the pan and add ghee into it.
After ghee gets hot, add suji to it and roast it until it becomes light golden.
Add hot water or milk to the pan and stir it slowly.
Stir continuously and cook for 2-3 minutes on low flame.
When the mixture starts to thicken add cardamom (elaichi) powder to it and mix well.
Add sugar or jaggery to the mixture.
Lastly, add mashed banana to the mixture and give it a quick stir.
Now add saffron to it.
Mix everything well and allow it to simmer for 1-2 minutes and then switch off the flame.
Garnish it with coarsely chopped dry fruits, this step is completely optional.
Serve hot or lukewarm.
Recipe Tips
While frying the sooji in ghee, when you smell the nice aroma coming out from the pan, then you can add water.
Water should be added slowly and stirred continuously otherwise lumps will be formed.
Do not over roast the suji, otherwise, it will destroy the taste of the sheera.
Always take a ripe banana for making this recipe.
Start serving the wheat banana sheera made by using water and when your baby gets familiar with the taste, try making it with milk.
You can roast the suji and keep it in an airtight container for a longer period.
If you have a leftover ripe banana and you want to use it after some days then peel the skin, cut it into pieces and freeze them in a ziplock bag. You can use it whenever you want.
Nutritional Information (Serving Per 100 Gram)
| | |
| --- | --- |
| Type | Value |
| Energy | 285 Kcal |
| Protein | 2.7 gm |
| Carbohydrates | 42.5 gm |
| Fiber | 0.5 gm |
| Fat | 11.2 gm |
| Cholesterol | 3 mg |
| Vitamin A | 136.3 mcg |
| Vitamin C | 1.9 mg |
| Vitamin B9 (Folic Acid) | 11.9 mcg |
| Calcium | 45.8 mg |
| Iron | 0.4 mg |
| Magnesium | 20.4 mg |
| Phosphorous | 48.2 mg |
| Sodium | 15.4 mg |
| Potassium | 50.2 mg |
| Zinc | 0.2 mg |
Health Benefits
Now you have known about how to make wheat banana sheera. Learn about some of the health benefits of this recipe.
Milk provides calcium and promotes strong bones.
Ghee is a good source of energy for babies.
It helps in brain development and provides them stamina.
Banana has high potassium content and low sodium content that makes it a superfood for babies.
Suji is a good source of magnesium and phosphorous and hence it helps in maintaining the nervous system healthy.
It is good for improving eyesight and prevents anemia.
This recipe is loaded with nutrients that help in the overall development of the mind and body of a toddler.
Buying Guide
Look for bananas that are bright yellow and plump. Avoid ones having bruises.
Dark, moist and depressed skin of the banana is a sign of bruised food, do not buy this.
Also, do not buy a green and hard banana for making this recipe.
Check for the quality of suji before buying it. It should be fresh and clean.
Always check for the expiry date of the product if you are using packaged suji.
Homemade wheat banana sheera baby food recipe is a delicious option for including in the meal of toddlers. You can make a healthy and yummy banana sheera in no time and your little one will love it.