Rajma Recipe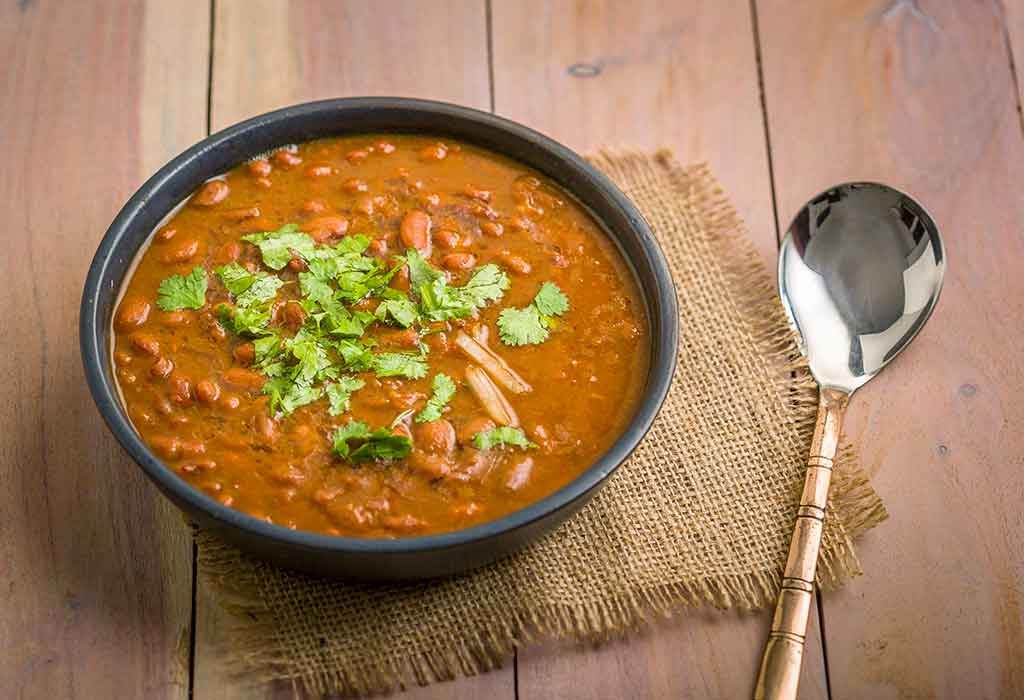 In this Article
Rajma is a staple North Indian delicacy that is usually relished with rice, naan or roti. If you are looking for a kid-friendly rajma recipe, we have it for you! We shall be sharing a simple and tasty recipe that can be enjoyed by your toddler as a main meal option. Read the following post and learn how to make a simple Rajma recipe for your little bundle of joy!
Cooking Time:
| | |
| --- | --- |
| Type | Time |
| Preparation Time | 00:15:00 |
| Cook Time | 00:30:00 |
| Total Time | 00:45:00 |
Cooking Method
Gas or microwave
Type of Meal
Vegetarian
Suitable For
Toddlers over 13 months of age
Meal Schedule
Lunch or Dinner
Recipe Type
Main Dish
Ingredients
The following table shows all the ingredients that you will require for making this yummy homemade Rajma baby food recipe:
| | |
| --- | --- |
| Type | Quantity /Volume |
| Rajma | 1 cup |
| Onion (finely chopped) | 2 mediums-sized |
| Tomato (finely chopped) | 2 medium-sized |
| Ginger paste | 1 teaspoon |
| Garlic paste | 1 teaspoon |
| Ghee | 1 tablespoon |
| Turmeric powder | ½ teaspoon |
| Coriander powder | ½ teaspoon |
| Garam masala powder | ½ teaspoon |
| Salt | To taste |
| Green coriander leaves (finely chopped) | 1 tablespoon |
| Water | 2 ½ cups |
Instructions
Here are step by step instructions on how to make Rajma:
Wash rajma under running water and soak it overnight in clean water. Alternatively, you can soak rajma in boiling water for a couple of hours in the morning.
Put rajma with water in a pressure cooker. Add turmeric and salt, cook on a medium flame for 20 to 25 minutes or until rajma becomes tender.
In a wok, heat ghee.
Add onions and cook until they turn translucent.
Add ginger and garlic paste. Cook for a minute or two.
Add tomatoes and cook covered until the mixture is cooked nicely or the ghee separates from the masala.
Add coriander powder and mix well.
Add boiled rajma and cook covered for a few minutes until the gravy thickens.
Add garam masala and cook for a few more minutes.
Garnish with freshly chopped coriander leaves.
Serve with boiled rice, parantha or naan.
Recipe Tips
Follow these recipe tips when making Rajma for toddlers:
You can add a pinch of asafoetida, to lend an earthy flavor to the dish and to make it easily digestible.
You can add deghi mirch or kashmiri mirch to add bright color and flavor to the dish for older kids.
Adding whole black cardamom while boiling rajma will lend more aroma to the dish.
Rajma can be mashed before feeding to your munchkin as the beans are comparatively bigger than usual lentils or pulses.
Nutrition Information (Serving per 100 Grams)
Here is the nutrition that this yummy rajma recipe contains in it:
| | |
| --- | --- |
| Type | Value |
| Energy | 130 Kcal |
| Carbohydrates | 14 gm |
| Protein | 5 gm |
| Fiber | 1.5 gm |
| Fat | 4.5 gm |
| Cholesterol | 4 mg |
| Vitamin A | 170 mcg |
| Vitamin C | 7 mg |
| Folic acid | 80 mcg |
| Iron | 1.2 mg |
| Sodium | 17 mg |
| Phosphorus | 90 mg |
The table mentions approximate nutritional value present in 100 grams of rajma, however, the actual nutritional values may vary slightly.
Health Benefits
Following are some health benefits that your munchkin can get by eating rajma:
Loaded in fiber, rajma is a great food option for babies as it keeps them fuller for longer and also reduces untimely hunger pangs.
The fiber quotient of rajma is great for your growing baby's digestive system and helps in regulating bowel movements too.
Loaded with antioxidants, rajma helps in preventing free radical damage in kids.
High amounts of protein in these beans are great for muscle development in babies.
Rajma beans contain high amounts of potassium and calcium, which aid in proper growth and development of babies.
Folate present in kidney beans helps in brain development in growing toddlers.
Buying Guide
Keep some of these tips in mind when buying kidney beans or rajma for your little one:
Buy organic kidney beans, which are readily available in most supermarkets and gourmet stores.
Though rajma does not go bad easily, however, old beans may not only taste bad but also not healthy for your little one. Check the date of packing on the packet.
Rajma or kidney beans are loaded with ample nutrients that help in the optimum growth and development of a growing kid. If you haven't introduced these yummy beans to your munchkin until now, try this easy to make rajma recipe and we are sure your little one will not stop licking his fingers!