Homemade Mava Barfi Recipe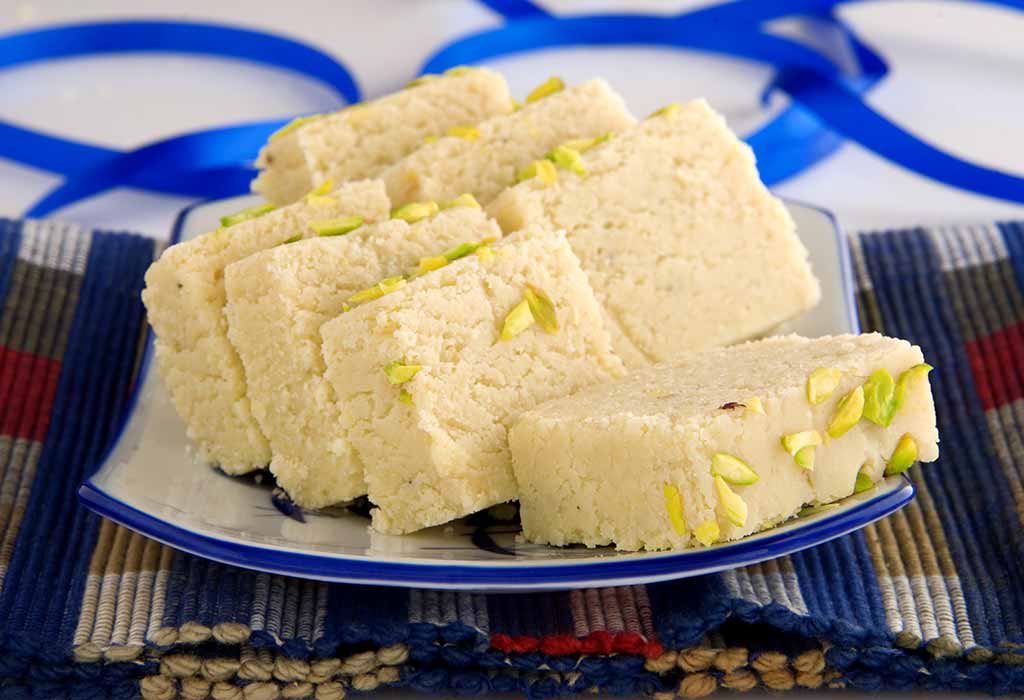 In this Article
Barfi is a traditional Indian sweet prepared during festivals and is relished with everyone. There are many variations to barfi. Mava barfi being one of them. Mava barfi is a unique preparation made by mixing dried evaporated milk solids with sugar. Mava or khoya forms the base of most sweets. The extra creaminess of the mava makes this barfi melt in the mouth as soon as you put in your mouth. Whether . Note down how you can make mava barfi and you'll be surprised to see how the result is worth the effort.
Cooking Time
| | |
| --- | --- |
| Type | Time (hh:mm:ss) |
| Preparation Time | 00:05:00 |
| Cook Time | 00:20:00 |
| Total Time | 00:25:00 |
Cooking Method
Gas
Type of Meal
Vegetarian
Suitable For
Toddlers above than 18 months of age
Meal Schedule
Breakfast, After Lunch or dinner
Recipe Type
Dessert
Ingredients
| | |
| --- | --- |
| Type | Quantity |
| Crumbled mava | 2 ½ cups |
| Sugar | ¾ cups |
| Cardamom powder | 1/8 tsp. |
| Ghee | 1 tsp. |
| Saffron | 1 pinch |
| Almond/pistachios | 2 tbsp. |
| Milk powder | 2 tbsp. |
Instructions
Here's a step-by-step guide on how to make yummy homemade mava barfi:
Grate and crumble the unsweetened mava.
Heat ghee in a large pan. Add the chopped nuts and fry until golden brown. Set aside.
Soak saffron in a small bowl of milk for about 5 minutes. Set aside.
Add the crumbled khoya in the pan and stir on low flame for a couple of minutes. Add in the sugar, cardamom powder, roasted nuts, and saffron milk to the mava mixture. Give it a good mix.
As the mava and sugar start melting, stir uniformly until the mixture thickens.
Transfer the prepared mix into a greased mould layered with a baking paper. Pat it gently to smoothen the mixture.
Sprinkle some chopped nuts on top. Let it sit for 1-2 hours. Alternatively, you can refrigerate for 30 minutes.
Unmould and cut into pieces and serve.
Recipe Tips
Here are some tips that you should follow while making mava barfi at home:
This simple mava barfi can be made aromatic by adding rose essence.
Mava barfi can be stored in an air-tight container and stored in the refrigerator for 4-5 days.
If your barfi doesn't set or turns sticky, add milk powder and mix well. You can cut the mould into squares, diamonds, or any shape of your choice.
Adding dry fruits to this homemade mava barfi is optional but it makes it delicious.
Use only fresh khoya for making this barfi.
Spread the mixture evenly keeping the thickness of 1 inch at the edge.
Nutrition Information (Per Serving)
| | |
| --- | --- |
| Type | Value |
| Carbohydrates | 16gram |
| Calories | 165gram |
| Protein | 6gram |
| Sodium | 90gram |
| Saturated Fat | 5gram |
| Fat | 5gram |
| Potassium | 12gram |
| Calcium | 229mg |
| Vitamin C | 0.3mg |
| Calcium | 229mg |
| Sugar | 8gram |
| Vitamin A | 155IU |
| Iron | 0.1mg |
| | |
Health Benefits
Homemade mava barfi has some of the best health benefits that will surprise you. Here are some of the reasons that will inspire you to try your hand at this recipe:
The fatty acid present in ghee helps in brain development for a child and keeps them energized all day.
Being a milk product, mava is rich in calcium that is good for strengthening bones and teeth of young children.
Nuts like almonds and pistachios are a powerhouse of nutrients like vitamins, healthy fats, minerals, antioxidants, and dietary fibres. They all contribute to the overall physical and mental development of a child.
Buying Guide
Purchasing top-quality ingredients for making any dish needs a clear understanding and experience of shopping for food items. This buying guide for making mava barfi will help you choose the finest quality ingredients required for making mava barfi.
If you're making mava at home, then use pasteurised milk alone. If you are buying it from a store, make sure that it is fresh.
You will find enough and more options in sugar; granulated super-fine and confectioner's sugar, dark brown sugar, cane sugar, and palm sugar are some of the varieties of sugar you can choose from.
Buy only branded saffron from a good store.
Check the ingredients panel on the sealed pack of dry fruits before buying to avoid any additives or preservatives in them.
Royal in taste and luscious in texture, homemade mava barfi is the perfect dessert for babies and adults alike. It also gives a convenient way to incorporate dry fruits and milk solids in a fussy eater's diet. As children have an innate preference for sweets, make this barfi for your child occasionally. It's okay to let him indulge once a while!