Broken Wheat Porridge Recipe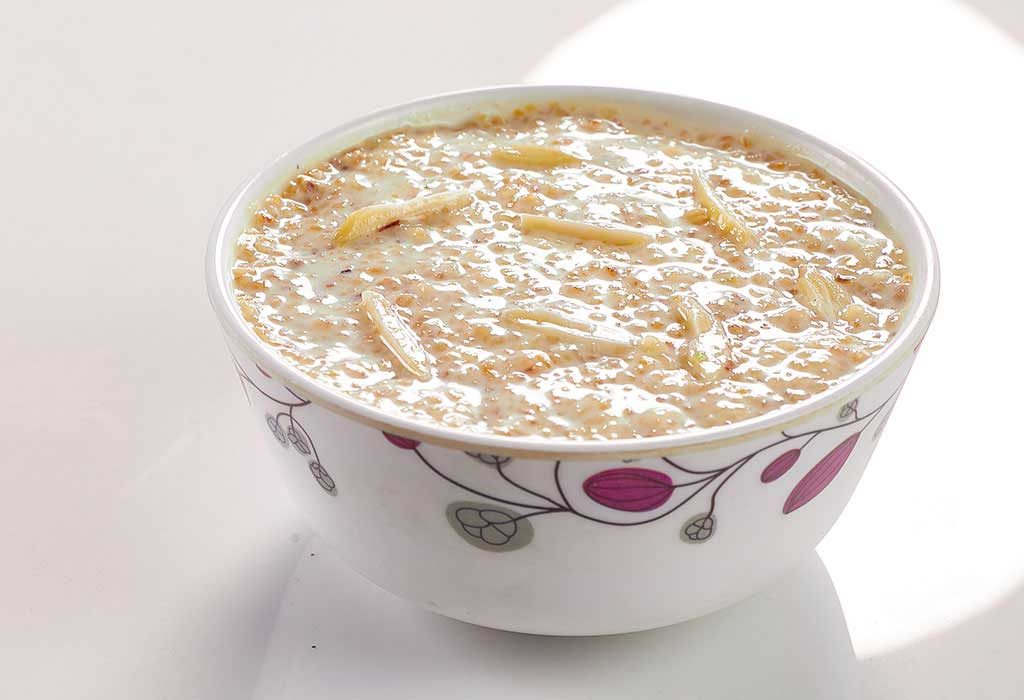 In this Article
Broken wheat porridge for babies is healthy and calcium-rich food. Broken wheat or Dalia takes some to prepare but it keeps the little tummies full for longer hours. Broken wheat is a rich source of calcium, iron, vitamins, and carbohydrates which are essential for the growth of a baby. You can start feeding your baby with this porridge once they are 8 months old. You can add cow milk to this recipe if you are making this for your 1 year or older baby.
Cooking Time
| | |
| --- | --- |
| Type | Time (hh:mm:ss) |
| Preparation Time | 01:00:00 |
| Cook Time | 00:15:00 |
| Total Time | 01:15:00 |
Cooking Method
Gas
Type of Meal
Vegetarian
Suitable For
Babies of 18 months age and above
Meal Schedule
Breakfast, Lunch or Dinner
Recipe Type
Main Dish
Ingredients
| | |
| --- | --- |
| Ingredients | Quantity and Volume |
| Broken Wheat | 1/8 cup |
| Dates | 1 or 2 |
| Soaked almonds | 3-4 |
| Ghee | 1 tbsp |
| Water | 3/4 cup |
| Boiled milk (For babies after 1 year) | 2-3 tbsp |
| Jaggery syrup | 2 tbsp |
Instructions
Check out these step by step instructions for making this easy broken wheat porridge recipe.
Soak almonds in hot water for 30-40 minutes and soak broken wheat in normal water for 40-50 minutes.
If using cow's milk for the recipe, then boil it and keep it aside.
Take a pressure cooker and put the soaked broken wheat and de-seeded dates.
Peel off the skin of the soaked almonds and add it to the cooker.
Add 3/4 cup of water and close the lid. Pressure cook the ingredients for up to 3 whistles.
After 3 whistles, switch off the flame and open the cooker after 5 minutes.
Transfer the cooked broken wheat into a blender and add 2 tbsp of jaggery syrup. Blend everything together until it is smooth.
Heat a separate pan and transfer the blended mixture of broken wheat into it. Allow it to boil for 5-8 minutes.
Add water (if required) and if you are making it for babies over 1 year of age then add ½ cup of milk.
Stir occasionally otherwise it will stick to the bottom.
Boil the porridge until you get the desired consistency. And then switch off the flame.
Your delicious and nutritious broken wheat porridge is ready to serve.
Recipe Tips
Here are some tips that will help you make your homemade broken wheat porridge baby food recipe in an easy way.
If you do not have jaggery syrup, you can make it using dry jaggery cubes or powder. Add half a cup of water and required amount of solid jaggery or powdered jaggery into a pan and allow it to boil until the jaggery melts completely. Strain. And your homemade jaggery syrup is ready to use.
Switch off the flame a few seconds before you get the desired consistency because after cooling, the porridge becomes thick.
If you have forgotten to soak almonds then you can boil it in water for 5 minutes and it will be ready to use.
When you are introducing this recipe for the first time to your baby, then make the porridge watery and gradually make it thick if your baby likes it.
Add a minimum amount of sweetener until your baby is one year old.
You can also add banana, carrot or apple for added benefits.
Nutrition Information (Per 100 Grams)
| | |
| --- | --- |
| Nutrient | Value |
| Energy | 340 cal |
| Protein | 1.4 gram |
| Carbohydrates | 11 gram |
| Sugar | 0.2 gram |
| Fiber | 0.6 gram |
| Fat | 0.3 gram |
| Iron | 3.6 miligram |
| Calcium | 2.1 miligram |
| Magnesium | 4.8 miligram |
| Potassium | 188.8 miligram |
| Sodium | 26.4 miligram |
| Zinc | 2.1 miligram |
| Phosphorous | 4.3 gram |
Health Benefits
Broken wheat provides a good amount of protein which is essential for growth.
It increases the metabolism rate of the body.
It is very rich in fiber.
It is easy to digest and contributes to overall digestive health.
Broken wheat is the natural source of vitamin B and minerals, hence it is ideal for growing babies.
It is easy to cook and you can mix numerous other healthy options with this.
Buying Guide
Always go for the premium quality of broken wheat or Dalia.
Check the expiry date before buying the product.
Check the ingredients of the packet, if there are some added preservatives or chemicals then don't buy it.
It is best to buy organic broken wheat.
Now, you know how to make broken wheat porridge. Give this recipe a try and your child will love it. In fact, giving something like this to your child can satisfy you as well for the fact that your child is having home-made healthy and nutritious food that is free from any kind of chemicals and safe for your baby.