Aloo Wadi Recipe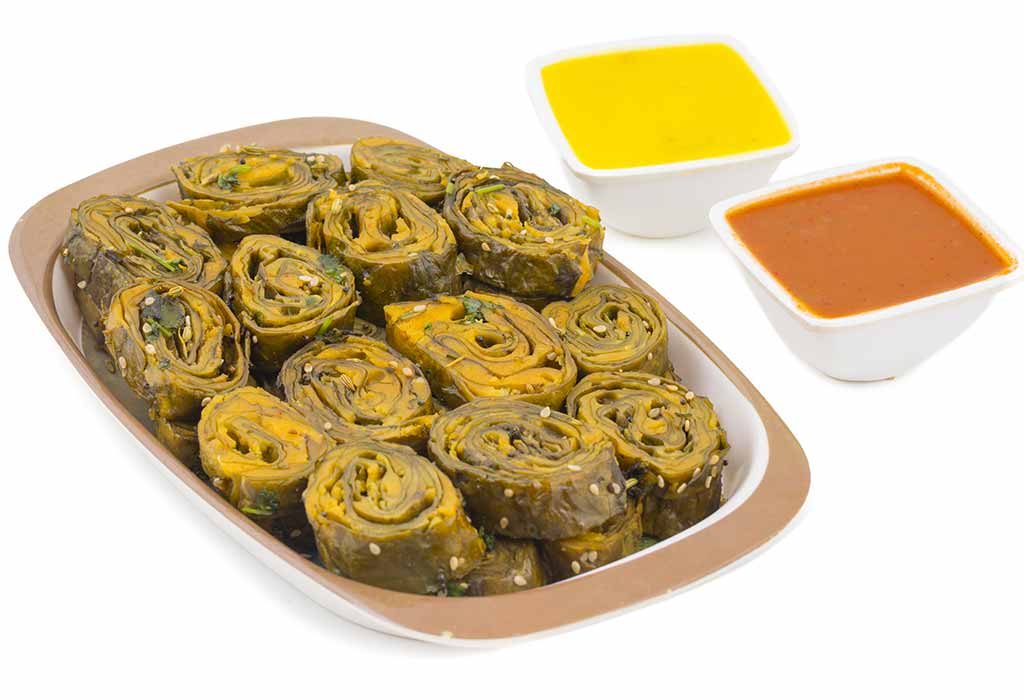 In this Article
Popularly known as Patra in Gujarat, this simple Aloo Wadi recipe for babies is a delectable snack. It is made from colocasia leaves, combined with a smooth paste of besan to form a sweet, savoury and tangy flavour. Rolled and steamed, the snack is a healthy alternative to fried ones.
Cooking Time
| | |
| --- | --- |
| Type | Time (hh:mm:ss) |
| Preparation Time | 00:15:00 |
| Cook Time | 00:30:00 |
| Total Time | 00:45:00 |
Total Servings
3-4
Cooking Method
Gas stove or induction
Type of Meal
Vegetarian
Suitable for
Toddlers over 15 months of age
Meal Schedule
Breakfast, Lunch, Dinner or between-meal snack
Recipe Type
Side dish or snack
Ingredients
For the Patra
| | |
| --- | --- |
| Ingredients | Quantity & Volume |
| Colocasia leaves | 12 medium sizes |
| Oil | 2 tablespoon |
| Mustard Seeds | 1 teaspoon |
| Sesame seeds | 2 teaspoon |
| Asafoetida or Hing | A pinch |
For the Besan Mixture
| | |
| --- | --- |
| Ingredients | Quantity & Volume |
| Besan | 2 ½ cups |
| Ginger and Green Chilli paste | 1 teaspoon |
| Turmeric Powder | ½ teaspoon |
| Red Chilli Powder | ½ teaspoon |
| Asafoetida or Hing | ½ teaspoon |
| Grated Jaggery | ¾ cup |
| Tamarind water | 3 tablespoon |
| Salt | As per taste |
For the Garnish
| | |
| --- | --- |
| Ingredients | Quantity & Volume |
| Grated Coconut | 2 tablespoon |
| Coriander finely chopped | 2 tablespoon |
Instructions
Follow this three-part step-by-step guide to learn how to make Aloo Wadi for toddlers:
For the besan mixture, Add and mix all the ingredients in a big bowl. Add about 1 cup of water to it and whisk well with a whisker. Mix till the jaggery dissolves, and the mixture becomes smooth. Cover and keep aside.
For the patra, first, place the colocasia leaf with the side of the vein facing upwards on a clean surface. Next, take the vein out with the help of a knife.
Clean the leaf with a damp cloth on both sides.
Repeat this step for all the leaves.
Now place the colocasia leaf on a flat surface. Make sure the lighter green side faces upwards.
Spread a little besan mixture evenly on the leaf.
Place another colocasia leaf on top of this with the light green side facing upwards. This time the tip of the leaf should be facing the opposite direction.
Repeat the step with another 2-4 leaves.
Now fold the leaves to about 2 inches on both ends.
Now roll the stacked leaves tightly from one end to the other and keep applying some besan mixture in between the folds. Secure the end with some besan mixture and keep aside.
You can now make two more rolls with the rest of the leaves.
Place the rolls in a steamer with water—steam for about 20-25 minutes. Keep checking in between to see if they have become firm.
Once done, cool it for about 15 minutes.
Once they are cooled, cut the rolls in thick slices (cylindrical) of about ½ inch in diameter.
Now heat a pan and add some oil. Crackle the mustard seeds and add asafoetida. Saute on a low flame for a few seconds.
Add the patra pieces and coat them gently with the mustard seeds.
Remove from the heat and garnish with grated coconut and coriander.
Recipe Tips
A few tips to perfect this homemade Aloo Wadi baby food recipe:
Make sure you use colocasia leaves with a black stem while making Aloo Wadi.
Whisk the besan well so to make sure there are no lumps. It will help to spread the mixture evenly and coat the leaves thoroughly.
Nutritional Facts (Per 100 g)
| | |
| --- | --- |
| Nutrient | Value |
| Calories | 604 Kcal |
| Protein | 24.5 gm |
| Carbohydrates | 93.2 gm |
| Fibre | 20.8 gm |
| Fat | 14.8 gm |
| Cholesterol | 0 mg |
| Sodium | 75.1 mg |
Health Benefits
This Aloo Wadi recipe for babies has numerous health benefits:
Colocasia leaves are rich in Vitamin C, Vitamin A, folate and calcium. They are rich in disease-fighting antioxidants and super booster for immunity. Their high fibre content makes it ideal for digestion.
Besan is rich in protein and helps to keep the tummy full for longer. Besan contains vitamins and minerals that satisfy your kid's daily intake of nutrients.
Buying Guide
This recipe takes some time to perfect as it involves some careful precision while making. You can, however, follow these tips to make sure you try to get it right:
While buying the colocasia leaves, make sure they have a black stem. Remove the thick vein or stalk with scissors or a knife.
When you remove the stem, make sure the side of the stem is facing towards you. Remove the stem gently with the help of a knife or scissor and make sure you do not tear the leaves.
Besan must be bought from shelves in supermarkets. Check the expiry date before using it.
Aloo Wadi is a delicious snack that can be served during lunch as an accompaniment to the main meal or as a between-meal snack. It is steamed, and that is what makes it even healthier. A great alternative to store-bought snacks, this makes a perfect filler for in-between meals.