Besan Laddoo Recipe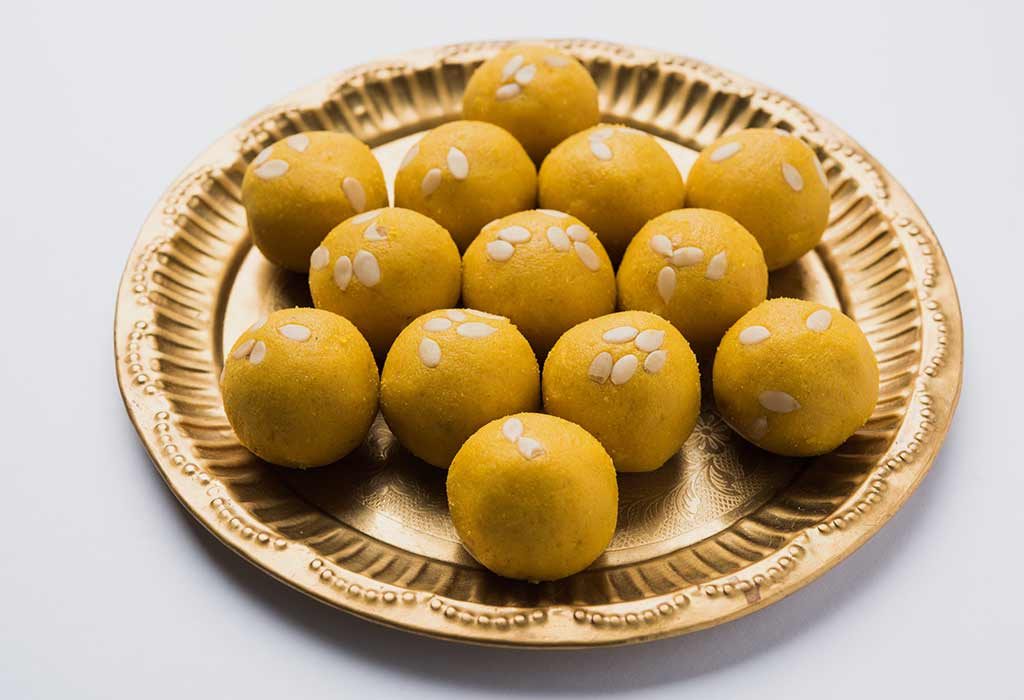 In this Article
Besan or gram flour is a versatile ingredient to prepare a number of varied dishes. Along with being rich in protein, it is also a gluten-free option for those who prefer their kids to be gluten-free. It also helps in building muscles which is needed for those growing bodies. Besan Ladoo for toddlers is an extremely easy dish that requires very less cooking time and not many ingredients. It is a lip-smacking snack that kids would love to gorge on. It is an age-old dish which has been relished in most households for ages. This is a dry dish, and is hence ideal for carrying when you travel. This recipe does not include sugar but jaggery as a sweetener as jaggery has health benefits and also does not cause problems which sugar might.
Cooking Time
| | |
| --- | --- |
| Type | Time (hh:mm:ss) |
| Preparation Time | 00:10:00 |
| Cook Time | 00:20:00 |
| Total Time | 00:30:00 |
Cooking Method
Gas Stove
Type of Meal
Vegetarian
Suitable For
Any baby above 12 months
Meal Schedule
Mid-morning snack, dinner snack
Recipe Type
Snacks
Ingredients
| | |
| --- | --- |
| Ingredients | Quantity and Volume |
| Besan (Gram) Flour | 1 cup |
| Jaggery | ¾ cup |
| Almonds | 3-4 |
| Walnut | 2-3 |
| Cardamom powder | ½ teaspoon |
| Ghee | 3 tablespoon |
Instructions
Now let us look into how to make Besan Ladoo. As mentioned earlier, this is a quick recipe for a quick and tasty snack, hence it is going to be a simple affair.
Below are the step by step instructions to prepare Besan Laddoos:
Sieve besan flour to ensure there are no lumps.
Heat ghee in an iron wok.
Once the ghee has melted, add the besan flour in it.
Keep stirring besan so that no lumps are formed and roast it till it has turned golden brown and you can smell its aroma. Keep the flame medium or low as we do not want to get the flour burnt and spoil the taste.
Once you get the golden brown colour, sprinkle some water on it which will make the flour grainy. Stir the batter till it settles down. Once the desired form is achieved, turn off the stove.
Transfer the roasted flour in a separate wide bowl so that it gets cooled quickly.
Chop the dry fruits, almonds, and walnuts into small chunks.
Now, prepare jaggery to make it usable for the dish, by heating water and adding jaggery to it.
Keep stirring the mix till the jaggery has completely melted.
Sieve the jaggery mix to remove any impurities.
Heat the jaggery syrup again until you get a paste-like consistency.
Now add the flour mix, cardamom powder and the chopped dry fruits to the jaggery paste.
Let the whole batter get cooled to a level you can touch and roll them into a ball.
To roll the laddoos, take the little amount in your palms and give it a round shape like a ball.
Keep rolling till you get a smooth surface.
Roll remaining mixture similarly. For standard size of a Laddoo, you should get 6-8 from this batter.
If you want to use sugar instead, then you should take ½ cup sugar and mix it in the besan flour after roasting it. Steps 7-11 will not be needed in that case.
Recipe Tips
It is good to keep in mind some points when you are using this easy Besan Ladoos recipe.
Do not roast besan flour on high flame else you will get a burnt taste and your kid might not appreciate it.
If using almonds, always soak them overnight and wash thoroughly with 2-3 rounds of freshwater as almonds have lots of toxins on the surface. If you forget to soak them, then skip adding them and go for cashews or raisins instead.
If you use sugar instead of jaggery, then do not add them to the flour when it is hot since that will make the sugar melt completely and you will not get a crunchy texture.
While stirring besan to roast it, you should stir continuously without even a break of few seconds as lumps would form quickly.
Nutrition Information (Per 100 Grams)
| | |
| --- | --- |
| Nutrient | Value |
| Energy | 502 cal |
| Protein | 10 grams |
| Carbohydrates | 57 grams |
| Fat | 26 grams |
| Cholesterol | 61 mg |
| Vitamin A | 14% |
| Calcium | 2.3% |
| Iron | 12% |
| Sodium | 28 grams |
| Potassium | 378 grams |
Health Benefits
This home-made Besan Ladoos baby food recipe brings a lot of goodness to your child:
Rich in protein, besan or gram flour would give instant energy to your baby.
A healthy gluten-free option for those who are allergic to gluten.
It can fight cold and cough and clear nasal tract as besan is a powerhouse of antioxidants.
Added with nuts and seeds, they are great immunity boosters, especially during winters.
Jaggery is known to cure constipation and will help in better bowel movements of your little one.
Jaggery has loads of minerals like zinc and selenium which is helpful for brain growth.
Buying Guide
Check the expiry date of all products before you buy.
It is preferable to use organic products as the pesticides in non-organic products could harm your child's delicate system. Almonds specifically have more toxins if not organic.
If you buy roasted gram flour, it might require you less time to get the golden brown colour.
Besan laddoos are something your baby would eat gleefully, and you do not have to worry about forcing them, as they are really yummy. But do use them in moderation as some kids might be prone to yeasts and other gut issues, so any kind of sweetener including jaggery, might aggravate it.