Seviya Kheer Recipe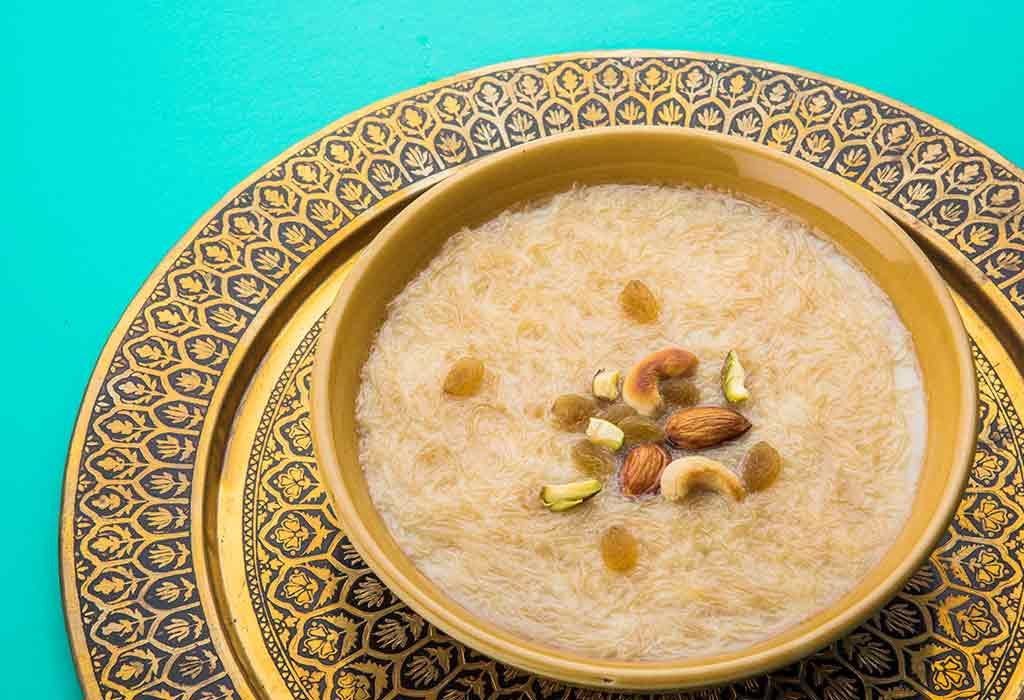 In this Article
Sevai kheer for babies is a delicious and rich flavored dish which they would surely find inviting. The taste and texture is something that even adults would enjoy and is also considered a royal treat for the family as per old traditions. Though having it chilled is a more preferable choice but for babies, it is best to serve them fresh and warm. It tastes great either way, hot or cold. This is a quick recipe for a quick dessert or even as a breakfast option for smaller kids. So you can prepare it once and serve it hot to your kid and serve it chilled to your guests in the night, you have hit a bull's eye with this dish! We have used coconut milk here as it is the safest choice of milk and suits most kids too.
Cooking Time
| | |
| --- | --- |
| Type | Time (hh:mm:ss) |
| Preparation Time | 00:05:00 |
| Cook Time | 00:15:00 |
| Total Time | 00:25:00 |
Cooking Method
Gas stove
Type of Meal
Vegetarian
Suitable For
Any toddler above 14 months of age
Meal Schedule
Breakfast, dessert
Recipe Type
Main dish, dessert
Ingredients
| | |
| --- | --- |
| Ingredients | Quantity and Volume |
| Vermicelli or sevai | ½ cup |
| Water | 1.5 cups |
| Coconut milk | 1.5 cups |
| Jaggery | ½ cup |
| Cardamom powder | ¼ tsp |
| Cashews | 5 |
| Raisins | 1 tbsp |
| Ghee | 1 tsp |
Instructions
Now let us look at the step by step procedure of making this kid-friendly kheer.
Prepare jaggery syrup by boiling jaggery in ½ cup water and then filtering it. This removes the impurities.
If you do not have roasted vermicelli, then dry roast them in a saucepan for a couple of minutes till you get a golden brown color.
Add the water to the pan and cook the vermicelli covered till you get a transparent color and it is soft.
In another pan, warm ghee and roast cashews and raisins in it.
Add the jaggery syrup and cardamom powder to the vermicelli and let it cook for another minute.
Boil milk and add it to the prepared vermicelli and also add the roasted nuts to it.
Mix the kheer well before serving.
Recipe Tips
This is one super easy Sevai kheer recipe for a baby which you could also store for later use. The twist of jaggery in this recipe imparts a savory flavor to the whole dish.
Do not dry roast sevai on high flame as it might burn and give bitter or burnt taste which your kid might not like.
Milk should be added at room temperature so that there is no curdling.
If you would like to replace coconut milk then do it with formula milk for a young baby and cow's milk for little older ones.
You could add more nuts like almonds and pistas, but that would depend on whether your child has nut allergies or not. Avoid nuts for younger kids.
If adding nuts, make sure they are small and won't be difficult to swallow for your child.
Switch off flame when kheer is only slightly thick as it tends to thicken after cooling down.
Nutrition Information (per cup)
| | |
| --- | --- |
| Nutrient | Value |
| Energy | 373 Kcal |
| Protein | 7.7 gm |
| Carbohydrates | 36.5 gm |
| Fiber | 0.1 gm |
| Fat | 18.1 gm |
| Sodium | 30.1 mg |
| Calcium | 319.5 mg |
| Iron | 0.8 mg |
| Potassium | 178.5 mg |
| Magnesium | 45 mg |
| Phosphorous | 217.7 mg |
| Zinc | 0.2 mg |
| Vit A | 300.9 mcg |
| Vit B1 | 0.1 mg |
| Vit B2 | 0.2 mg |
| Vit B3 | 0.3 mg |
| Vit C | 1.5 mg |
| Folic acid | 11.5 mcg |
Health Benefits
This homemade Sevai kheer baby food recipe is a powerhouse of nutrition and the addition of jaggery to it gives it a sweetness and flavor of its own.
Sevai is whole wheat which has been processed in a certain way to give it noodle-like shape. Wheat flour is the main ingredient here and you get all the benefits of fiber and carbohydrate which comes with wheat.
With the addition of coconut milk and nuts you get a high protein, calcium and many other essentials vitamins and minerals in this dish.
Buying Guide
Buy organic ingredients as you do not want to risk your precious child's health and development with non-organic things.
When buying jaggery look for dark-colored ones which are aged as they have minimal chemical residue.
We hope this recipe explained how to make Sevai kheer for a child in clear steps and you are inspired to try it for your child pretty soon.