Mung Dhokla Recipe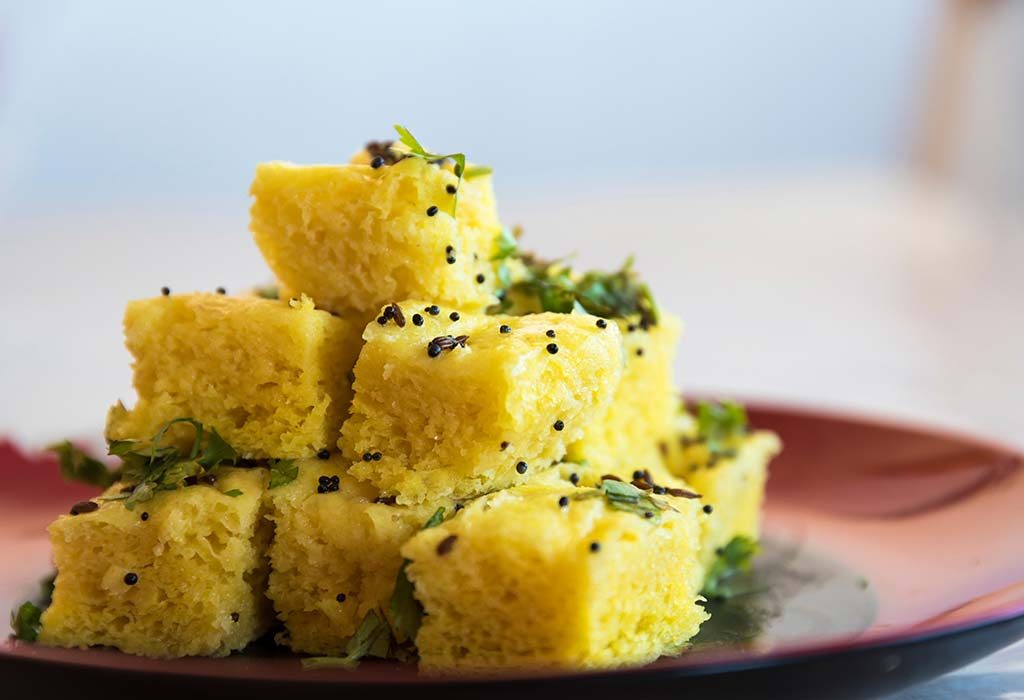 In this Article
Dal is an excellent source of protein, and proteins are known as the building blocks of muscles, bones, skin, blood, and cartilage. Once the babies turn six months old, they are fed with dal-water to fulfil the protein requirement. Try easy mung dhokla recipe when you know your little one's ready to chew more solid food.
Usually, kids don't like the taste of dal. But this recipe will make them love dal! The combination of mung dal, spices, and ginger turns out to be amazing. Not only kids, but the elders will love it too.
Musing about how to make mung dhokla? The batter preparation may take longer. Once the batter is ready, the recipe takes just 15 to 20 minutes. So, let's get started.
Cooking Time
| | |
| --- | --- |
| Type | Time (hh:mm:ss) |
| Preparation Time | 06:00:00 |
| Cook Time | 00:25:00 |
| Total Time | 06:25:00 |
Cooking Method
Gas Stove
Type of Meal
Vegetarian
Suitable For
Toddlers older than 18 months of age
Meal Schedule
Breakfast, Lunch, or Evening Snack or Dinner
Recipe Type
Side Dish
Ingredients
| | |
| --- | --- |
| Ingredient | Quantity |
| Whole green gram | 1 cup |
| Ginger paste | 1 tbsp |
| Coriander Leaves (chopped) | 1 tbsp |
| Water | ½ cup |
| Fruit salt | 1 tsp |
| Lemon juice | 1 tbsp |
| Salt | As per taste |
| Oil | 3 tbsp |
| Mustard Seeds | ½ tsp |
| Cumin Seeds | ½ tsp |
| Curry Leaves | 10-15 in number |
| Asafoetida | A pinch |
| Water (for tempering) | 2 tbsp |
| Coriander leaves (finely chopped, for garnishing) | ½ cup |
| Grated Coconut (optional) | ¼ cup |
Instructions
Below are the step by step directions to make mung dhokla.
Batter Preparation
Wash whole mung dal properly by rinsing with water 5 to 6 times.
Now soak the dal in enough water for 6 to 7 hours or maybe overnight.
The next morning drain the water. Now take the dal in a grinding jar along with 1/2 cup coriander leaves and ½ inch ginger. Make a semi coarse paste.
The paste should not be very fine.
Also, don't make the batter very thin or thick.
Making Mung Dal Dhokla
Take a large pan and add 2.5 cups of water to it. Let it boil.
Take a round dhokla pan and grease it with oil.
Add lemon juice, ginger paste, and salt to the mung dal mixture. Mix well.
Now add fruit salt to the mixture and mix thoroughly.
Immediately add the prepared mixture into the greased pan.
By now, the water in the larger pan must have started to boil. Put the greased pan with moong dal mixture onto the larger pan.
Cover the larger pan with a lid and let it steam for 15 minutes. After 15 minutes, check the dhokla by putting a knife into it. If the mixture doesn't stick to the knife, then it is cooked.
Tempering preparation
Heat 2 tbsp oil in a small pan.
Once the oil is hot, add mustard seeds and cumin seeds to it.
Once they start spluttering, add asafoetida, curry leaves, and 1 tbsp lemon juice.
Now add 3 tbsp water to the tempering. Bring it to boil.
Now add the tempering all over the prepared mung dal dhokla.
Garnish it with chopped coriander leaves and grated coconut.
Cut the dhokla into medium size cubes and serve it with coriander chutney or mint chutney to your little one!
Recipe Tips
Following points must be taken care to enhance the taste of homemade mung dhokla baby food recipe.
Do not prepare a fine paste out of mung dal; this may degrade the flavour of dhokla.
After mixing fruit salt, immediately put the dhokla batter for steaming. Otherwise, your dhokla will not be spongy.
Nutrition Information (Per 100 Grams)
| | |
| --- | --- |
| Type | Value |
| Energy | 294 kCal |
| Protein | 22.5 grams |
| Dietary Fibre | 17 grams |
| Carbohydrates | 46.13 grams |
| Fat | 1.1 grams |
| Vitamin B6 | 0.35 mg |
| Magnesium | 3.24 mg |
| Iron | 23.32 mg |
Health Benefits
While you prepare this recipe, you must know the health benefits of mung dhokla for kids.
The recipe serves a good amount of protein to your child, hence aiding his/her growth.
This carbohydrate-rich recipe keeps your child full and energetic for long.
The recipe is also known to improve bowel movement in kids.
Buying Guide
Instead of the whole green gram, you can even use the yellow mung dal.
Also, you can keep the prepared dhokla in the refrigerator for 3 to 4 days and finish it off.
Each dhokla piece is in itself a piece of nutrition. Feed it to your munchkin any time of the day, and they will love it!