Thalipeeth Recipe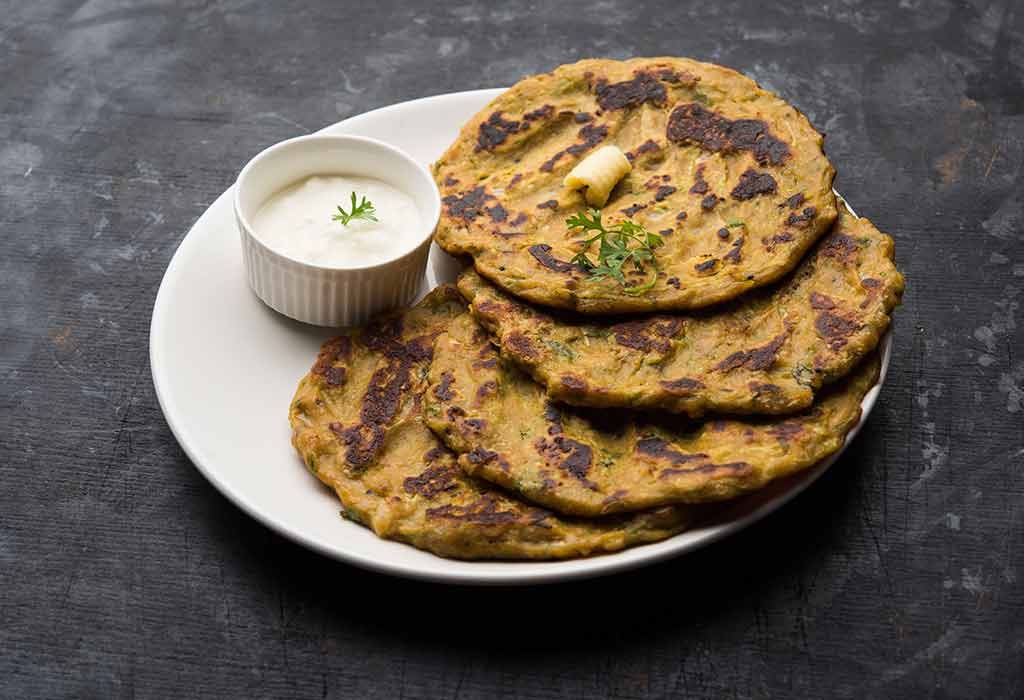 In this Article
Thalipeeth is a staple food that is usually enjoyed all over Maharashtra. However, in this post, we shall be getting you acquainted with a recipe for this super nutritious flatbread that can be whipped for babies and toddlers. This nutrition-dense meal option is a great food for growing babies to give them the added punch of energy. Browse this post and learn how you can make this simple and yummy flatbread for your baby!
Cooking Time
| | |
| --- | --- |
| Type | Time (hh:mm:ss) |
| Preparation Time | 00:12:00 |
| Cook Time | 00:25:00 |
| Total Time | 00:35:00 |
Cooking Method
Gas
Type of Meal
Vegetarian
Suitable For
Ideal for toddlers over 12 months of age
Meal Schedule
Breakfast, Lunch, or Dinner
Recipe Type
Main Dish
Ingredients
| | |
| --- | --- |
| Type | Quantity/Volume |
| Whole wheat flour | 3 to 4 tbsp |
| Besan or gram flour | 3 to 4 tbsp |
| Jowar or white millet flour | 3 to 4 tbsp |
| Tomato (finely chopped) | 1 medium-sized |
| Onion (finely chopped) | 1 medium-sized |
| Coriander leaves (chopped) | 2 tbsp |
| Cumin powder | ½ teaspoon |
| Turmeric powder | ¼ teaspoon |
| Coriander powder | ½ teaspoon |
| Ghee for greasing | 1 to 2 tablespoons |
| Salt | To taste |
| Water | As required |
Instructions
Here are step-by-step instructions for making thalipeeth for your little one.
Take wheat, gram and millet flour, sieve in a deep bowl and mix well.
Add cumin powder, turmeric powder, coriander powder, and salt and give a thorough mix.
Add chopped onions, tomatoes in the flour mixture and mix it nicely.
Add water to make a pouring consistency.
Heat a flat pan and grease it with ghee.
Pour a ladle of thalipeeth mix on the pan and pat it gently with your hands to spread the batter on the pan. Cook well from both sides or until it turns golden brown.
Serve hot with ghee.
Recipe Tips
Keep these tips in mind while making thalipeeth for babies.
You can add a handful of oats, powdered dal such as chana, moong, etc to add more nutritional punch to the recipe.
Instead of making the batter in pouring consistency, you can knead the dough using water. Roll out the thalipeeth on the rolling plate using your hands and then cook on a flat pan until they turn golden brown.
You can make thalipeeth for later use also. Make sure you stack them in a casserole and heat them well before feeding it to your munchkin.
Serve thalipeeth with curd to make it easy for your baby to eat and digest.
Nutrition Information (Serving Per 100 Grams)
| | |
| --- | --- |
| Type | Value |
| Calories | 60 |
| Carbohydrates | 9 g |
| Protein | 1 g |
| Fats | 2 g |
| Calcium | 7 mg |
| Iron | 0.6 mg |
| Vitamin A | 170 IU |
| Vitamin C | 0.6 mg |
| Potassium | 45 mg |
| Sodium | 110 mg |
The above-mentioned values are approximate values present in 100 grams of thalipeeth. The actual nutritional content may vary.
Health Benefits
Here are some health benefits of homemade thalipeeth baby food recipe.
This yummy and nutritious meal option is loaded with protein. Ample amounts of protein help in building and repairing cells, hormones, enzymes and also provide your baby with the much-needed energy.
This multi-grain diet option is loaded with energy and keeps your baby feeling satiated and fuller for longer durations.
The high fibre content of thalipeeth is healthy for your baby's gut and keeps the digestive system in place too.
If whole wheat flour is skipped from this easy thalipeeth recipe and substituted with other options such as oats or ground dals, this meal option can become an ideal option for the babies or toddlers with gluten sensitivity.
Onions are a powerhouse of antioxidants and the presence of vitamin C in them helps in building better immunity in babies.
Buying Guide
Now that you have learned how to make thalipeeth for your baby, there are a few things that you should keep in mind while picking up ingredients for it. Here are some things that you should pay heed to.
All kinds of flour stay good for 3 to 12 months (depending on their type), if stored under hygienic conditions. However, it is important that you check the expiry date of any flour that you wish to pick for your baby. Skip buying the ones closer to the expiry date.
Buy organic flour, vegetables, and other such products as it reduces the chances of your baby coming in contact with any harmful chemicals.