Egg Custard Recipe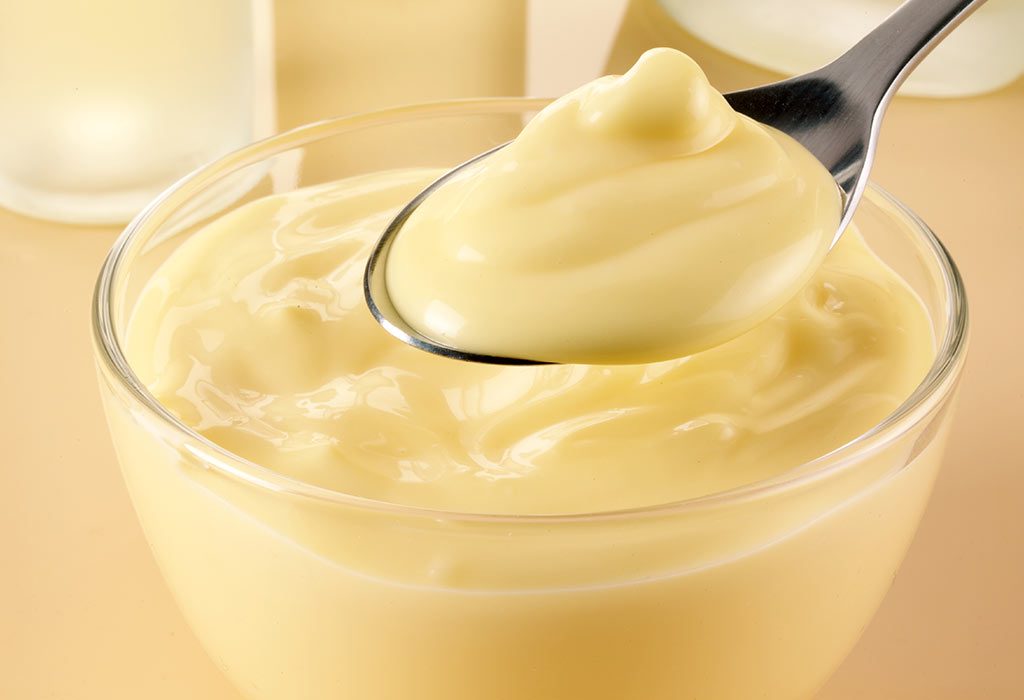 In this Article
When it's time to begin solid food for babies, custard can be a good choice. Egg custard can be a delicious dessert that not only completes a meal but is easy for kids to eat. Custard has been a part of European cuisine since ancient Rome. In modern times there are different variations to this dish depending on your preference like fruit custard, oats custard, and more. This wholesome food is suitable for babies above eight months due to the presence of egg as an ingredient. Considered as one of the best protein and calcium-rich snacks, it is light, easy to digest, and can be prepared using ingredients from your kitchen. Bookmark this recipe of how to make egg custard and serve it as an occasional treat for your entire family.
Cooking Time
| | |
| --- | --- |
| Type | Time (hh:mm:ss) |
| Preparation Time | 00:10:00 |
| Cook Time | 00:10:00 |
| Total Time | 00:20:00 |
Cooking Method
Gas
Type of Meal
Non-Vegetarian
Suitable For
Toddlers older than 20 months of age
Meal Schedule
After Lunch, Snack Time, After Dinner
Recipe Type
Dessert
Ingredients
| | |
| --- | --- |
| Type | Quantity |
| Egg Yolk | 4 |
| Cornflour | 3 Tbs |
| Milk | 2 Cups |
| Sugar | 3 Tbs to taste(Optional) |
| Vanilla essence | 1 Tsp |
| Butter | 40gram |
Instructions
The step by step directions given here will make your job easy to whip up the best egg custard you've ever eaten.
Place milk in a saucepan and bring it to boil.
Combine egg yolks, sugar, and cornflour in a separate saucepan and whisk them over low heat.
Add a few tablespoons of milk into the yolk mixture. Gradually add the rest of the milk and whisk over medium heat.
Continue to stir as the custard thickens and remove it from the heat.
Scrape the custard into a small bowl placed over an ice bath.
When the custard gets slightly cooled down, add butter in 3-4 instalments and stir continuously until everything is mixed well.
Add vanilla essence, mix and pour the mixture into a bowl.
Refrigerate to serve chilled.
Recipe Tips
This simple egg custard recipe can be tastier by adding a dash of maple syrup or honey on top for older children.
Do not add the sugar whilst on heat as it will get stuck to the pan.
Avoid sugar for babies below one year of age.
You can add jam as a topping for extra flavour.
This homemade egg custard baby food recipe can be made in an oven by baking the mixture at 350 degrees for 45 minutes.
Make sure you whisk the mixture evenly without leaving any lumps. Also, be careful not to burn the mixture.
If the cream is used of milk your custard becomes thicker and richer in taste.
Sometimes flour or gelatin is also used to thicken the custard.
Combine with fruit slices to make it look colourful and increase its nutritional value.
Serve with cornflakes for breakfast.
Nutrition Information (Per 141 g serving)
| | |
| --- | --- |
| Type | Value |
| Carbohydrates | 15.5gram |
| Calories | 146.6gram |
| Protein | 7.1gram |
| Sodium | 86gram |
| Cholesterol | 118.4ram |
| Fat | 6.5gram |
| Potassium | 208.7gram |
| Calcium | 150.9mg |
| Magnesium | 15.5mg |
| Phosphorous | 159.3mg |
| Iron | 0.5mg |
| Zinc | 0.8mg |
| Thiamine | 0.1mg |
| Riboflavin | 0.3mg |
| Total Omega | 30gram |
Health Benefits
Packed with the goodness of egg protein and calcium from milk, egg custard has some exceptional health benefits for children. Here are some of the good reasons for eating custard:
A delicious addition to a child's diet, egg custard gives extra energy to kids due to the presence of sugar.
Egg yolk contains omega-3 fatty acids along with Vitamin A, D, E, and K which acts as an antioxidant for preventing your baby from illness.
Containing the right amount of calories, protein, and fat, it makes a baby feel fuller for a longer duration.
Milk contains calcium that is good for healthy bones and teeth.
Butter is a good source of Vitamin A which is good for skin, immune function, and healthy vision.
Buying Guide
This buying guide ensures you buy quality products for preparing the tastiest egg custard without compromising on your child's health.
Buy pasteurised milk without the presence of added sugar. Fortified milk contains vital calcium and vitamins. Leaky milk packets should be avoided.
Look for the expiry date of the products bought from the supermarket shelf.
Buy unsalted butter for younger babies. Branded butter is preferable.
Look for unblemished clean eggs that are not broken.
Natural vanilla essence is always better than artificial ones.
Sweet and satisfying, homemade egg custard for babies is always preferable than pre-packed ones available in jars in the supermarket. This classic dessert will always stand out for its mild flavour and can be refrigerated for up to 2 days. Try it and it is sure to a mood booster for any fussy baby.